February 1999

Monarchy Audio SE-100 Delux Mono Amplifiers

by Frank Alles


Class-A monoblocks that
you can hold in your hands
but deliver big sound.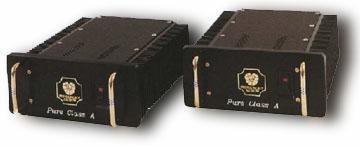 Review at a Glance
| | |
| --- | --- |
| Sound | Improvement in the treble, bass and low-level resolution over the previous version of these diminuitive amps. |
| | |
| --- | --- |
| Features | XLR and RCA inputs; 100 watts of class-A power; very petite chassis, yet a robust look. |
| | |
| --- | --- |
| Use | Tiny amps that can fit easily on any rack or stand; older versions can be upgraded inside and out for the difference in cost. |
| | |
| --- | --- |
| Value | Completely unique -- class-A, 100-watt monoblocks for less than $2400 -- and sound great too. |

Delux redo
Some of you may recall my enthusiastic review of Monarchy's SE-100 Delux monoblock amplifiers that was published right here at SoundStage! mid-July of this year. Among the list of virtues, I had praised the SE-100s for having a very lovely and natural-sounding midrange. In fact, I noted that their reproduction of vocalists, both male and female, was exceptional. You may also remember that right at press-time, Monarchy CEO C.C. Poon had made the decision to revise this product in an attempt to improve upon the weaker areas of its performance. In my original review I had cited a loss of pinpoint focus, (i.e., a mild smearing of the treble) and a somewhat anemic bottom octave as being the prime areas for concern. How well did Mr. Poon accomplish his task? We shall see....
Just to refresh your memory, the SE-100 Delux is a single-ended class-A monoblock amplifier that employs eight matched power MOSFETS per chassis and can deliver 100 watts into 8 ohms and 200 watts into 4 ohms. There is one balanced and one single-ended input as well as an IEC receptacle for use with detachable AC cords. These units are tiny, measuring only 5"H x 11"W x 12"D and weighing in at 26 pounds each. They have very robust faceplates and black-chrome rack handles mounted in gold decorative brackets. For more details on the construction and circuit highlights, please refer to my earlier manuscript, located in the SoundStage! archives.
The changes that were made to the original model are as follows: A current mirror has been added to the input stage to reduce high-frequency distortion and a cascode circuit has been incorporated in the output driver. The cascode arrangement presents a very high-impedance load to the driver, which is claimed to result in increased operational linearity and allow for slightly higher input sensitivity. Additionally, a new circuit board with other refinements is now on-board the latest version, which is easily recognizable by the change from gold to black-chrome rack handles.
Accordingly, Monarchy has adjusted the pricing to reflect the improvements. The Delux model moves from $980 USD each to $1179 USD each, with the Basic now priced at $890 USD each, up from $750 USD each.
Setup
Initially I used a Krell KAV-250cd CD player into a Coda 04r preamp, which then fed the Monarchy SE-100s. The interconnects were Full Spectrum Audio Signatures and the speaker cables were a biwired 10' pair of WireWorld's Equinox III. The speakers were Paradigm Reference Studio/100s with custom-built add-on super-tweeters by George Mueller. I also used the Monarchy amps briefly to power the electrostatic panels of InnerSound's Eros speakers, replacing the Clayton Audio M-70 monoblocks in that system, which shared the same Krell CD player but a different preamp, an AHT tube line-stage. Power cords by Clayton Audio fed AC to the SE-100s.
Later I substituted the R.E. Designs LNLSA-1 preamp for the Coda 04r, and a Parasound D/AC-2000 Ultra converter with the Parasound C/BD-2000 belt-drive transport traded duty with the Krell standalone CD player. Other amplifiers used during my evaluation were the Belles 150A and the Coda 10.5.
With my previous review samples of these amplifiers I'd mentioned that there was a mechanical hum problem with one of the monos. The revised amps had almost no mechanical hum and very low levels of electrical hum and noise that could be heard only in close proximity to the speakers. The Monarchy amps performed flawlessly with the sole exception of a mild snap (switching transient) that could be heard through the speakers whenever the power was switched on or off. C.C. Poon explained that this is normal for the amplifier, and though it could be considered a minor annoyance, it's perfectly harmless.
Hear ye, hear ye!
My first glimpse of the SE-100's sonic prowess came from the Led Zeppelin tribute album Encomium [Atlantic 82731-2], specifically Cracker's lip-biting rendition of "Good Times Bad Times." I play this cut mainly because of its abundant treble energy, which through the Monarchys sounded simply effervescent -- as it should be. In listening to "The Real Blues" by The Ray Brown Trio from Summerwind [Concord Jazz CCD-4426], I quickly became aware that the high-frequency reproduction of these new SE-100s had been improved for the better. Cymbals shimmered with clouds of air that seemed to have texture and detail. Hmmm, this was hopeful. Moreover, it appeared that I was hearing more low-level information from this live recording, such as people in the audience talking and making noise, than was apparent with the previous amps.
Proceeding on to the King Singers for a taste of a cappella from good vibrations [RCA 09026-60938-2], I cut to their cover of Paul Simon's "Fifty Ways to Leave Your Lover," and was very pleased to find that the SE-100s hadn't lost any of the midrange magic (particularly noticeable on vocals) that I had loved about the earlier units. Additionally, the lip-rolls employed by the singer to mimic the rat-a-tat of the snare were very convincing. This is one instance where I can honestly say that I enjoyed getting the raspberries!
Since I'd thought that the reproduction of stringed instruments, especially violins, sounded a mite smeared with the original SE-100s, I broke out my copy of Igor Stravinsky's L' Histoire du Soldat, [Everest EVC 9049] and went to Track 6, "The Little Concert," where I found that the solo violin sounded well focused and that the trumpet and other brass instruments were rendered natural and authentic with the proper timbre and bite. What's more, when I selected Chopin's Scherzo, Op. 11 from PopeMusic's Reel 3 Sampler [PopeMusic PMG04], the opening bars of the piano were somehow smoother and less hard-sounding than I've heard through many other amplifiers. The harmonic and dynamic structure was intact, yet the notes failed to make me cringe as they usually do. Whether or not the Monarchy's rendition is entirely accurate or not is a debatable point, but I assure you it is easier on the ears and welcome.
I've been listening to an interesting album of Black Peruvian music lately that has a poignant Latino flavor and some very snappy ethnic percussion that speaks volumes regarding the reproduction of fast transients. The album is entitled The Soul Of Black Peru [Warner Bros. 9 45878-2], and Track 7, "Prendeme La Vela" left little doubt in my mind that the feisty SE-100s were up to the challenge. Here, with all manner of percussive instruments flailing away at high levels, the transient edges remained sharp and clearly defined as did the lead and backing vocals.
The bass was another area where I felt that the original SE-100s fell short. Though their bass was fairly taut, it was noticeably truncated in relation to some of the competition. Playing through some bass-heavy material from Dead Can Dance's Into The Labyrinth, [Warner Bros. 9 45384-2] and the aforementioned Encomium, it became evident that the bass of the new amps possessed more impact and heft than did their predecessors'. This brought it to a level commensurate with other respected amplifiers in the same price range. To put this in perspective, I would say that the bass of the new Delux is on par with the overachieving Belles 150A, and while the Coda 10.5, at $3000, does manage to dig a bit deeper than the diminutive SE-100s, I no longer suffer from bass withdrawal when listening to the Monarchy amps.
Summary
In my opinion, Monarchy has succeeded in making a very good amplifier demonstrably better. I touted the original version for having vocal reproduction that could rank it among the very best units in that regard. Happily, this exquisite level of performance has been retained in the new Delux and the few weak areas that I noted in the original review have all been improved.
The treble is now more focused and refined, the bass seems to plumb half an octave lower, and I believe that the low-level resolution has also come up a notch or two. For the asking price, I can think of NO other amplifier that I'd prefer to listen to, with the possible exception of the Rogue Eighty-Eight, which is a tube unit with a lower output rating (especially in triode mode, where it sounds its best at 35Wpc). That, for me, would be a tough contest, with the SE-100s besting the Rogue in terms of overall refinement and accuracy. Still I confess I enjoy the slight euphonic embellishments the Rogue brings to the equation. Curiously, I would say that the solid-state Monarchys are actually smoother through the midrange than the tube Rogue Eighty -Eight, which exhibits a trace of roughness there.
I'm also happy to report that there is good news for those of you who bought the earlier version of this amplifier. Monarchy is willing to modify older units for the difference in price between the two versions. This will include all circuit changes including a new PC board as well as a cosmetic facelift to the new black-chrome rack handles. For this kind of commitment to consumer satisfaction, Monarchy is to be applauded. I wish things worked this way with all high-end companies, but sadly they sometimes do not.
In keeping with my findings I must recommend the Monarchy SE-100 Delux monoblocks as a truly outstanding bargain at and around their price range. Well, what are you all waiting for? Check these little guys out!
...Frank Alles
frank@soundstage.com
Monarchy Audio SE-100 Delux Mono Amplifiers
Price: $1,179 USD each for revised version (SE-100 Basic, $890 USD each)
Warranty: One year parts and labor

Monarchy Audio
380 Swift Ave., #21
S. San Francisco, CA 94080
Phone: (650) 873-3055
Fax: (650) 588-0335

E-mail: monarchy@earthlink.net
Website: www.monarchyaudio.com