December 2006
Flying Mole CA-S10 Integrated Amplifier
by Philip Beaudette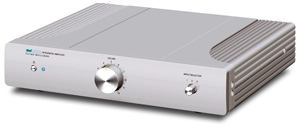 Review Summary
| | |
| --- | --- |
| Sound | "Ultra-refined" and "rather revealing of everything on each CD." "The CA-S10 wasn't fatiguing and presented music with extraordinary clarity against a quiet background." "Like crystal -- as transparent and uncolored as I've heard." |
| | |
| --- | --- |
| Features | "The CA-S10 stereo integrated amplifier...boasts 100Wpc into 8 ohms (160Wpc into 4 ohms) and features dual-mono construction. It employs Flying Mole's proprietary Bi-Phase PWM Amplification circuit to provide sound quality the company claims is tube-like." "In terms of connectivity, the CA-S10 is pretty basic. There are three sets of gold-plated RCA input jacks and a single set of pre-out jacks." |
| | |
| --- | --- |
| Use | "My biggest complaint about the CA-S10 was that it did not come with a remote control, nor is it an option. I like to change the volume without moving from my listening chair, so the lack of a remote was a definite inconvenience, not to mention a sticking point for buyers who expect remote control for integrated amps made today." |
| | |
| --- | --- |
| Value | "What the Flying Mole CA-S10 lacks in flexibility it more than makes up for in sonic refinement, especially its notable clarity. This is an illusive goal at any price, but at $1795, the CA-S10 qualifies as a very good audio buy." |
Often when an audio company introduces a new component, it does so because its engineers have found a way to improve the sound of a pre-existing design. This seems reasonable. I mean, why re-invent the wheel if modifying an earlier model can improve its performance? Sometimes, however, a new way is found to deal with an old problem. If the idea successfully addresses previous shortcomings without degrading sound quality, the new design may gain acceptance among engineers and audiophiles alike.

I don't think there's a better example of a revolution taking place in high-end audio than the increasing number of digital amplifiers. Digital amplifiers aren't new. The head unit in your car stereo uses one, as do many subwoofers and some home theater-in-a-box systems. Digital amplifiers don't use large transformers. As such, they can be contained in relatively small spaces, making them less expensive to build and buy. Furthermore, since they emit very little heat, they're far more efficient than their analog counterparts.

Flying Mole Electronics is a Japanese company intent on exploring the audio possibilities of digital-amplification technology. Although the company's name may turn some heads, it makes a little more sense when you understand what Flying Mole is trying to do: overcome what many see as impossible, whether it be making a mole fly or building a truly musical digital amplifier. Flying Mole has set the bar high, but can it fly over it?

Description

The CA-S10 stereo integrated amplifier ($1795 USD) boasts 100Wpc into 8 ohms (160Wpc into 4 ohms) and features dual-mono construction. It employs Flying Mole's proprietary Bi-Phase PWM Amplification circuit to provide sound quality the company claims is tube-like. The circuitry functions by splitting the pulse-width-modulated signal into two broader signals in order to prevent wave fluctuations that introduce distortion. Flying Mole asserts its technology offers excellent resolution and linearity at all listening levels. Furthermore, "active control circuitry" is used in the CA-S10's preamplifier section to provide accurate volume control. According to Flying Mole, the signal-to-noise ratio of the CA-S10 is 120dB and channel separation exceeds 70dB at 20kHz.

In terms of connectivity, the CA-S10 is pretty basic. There are three sets of gold-plated RCA input jacks and a single set of pre-out jacks. Three inputs were enough for me, but obviously they won't accommodate everyone. The gold-plated speaker posts are sturdy and fit snugly with the banana plugs on my speaker cables. Additionally, the power cord can be removed for those who want to experiment with different cords.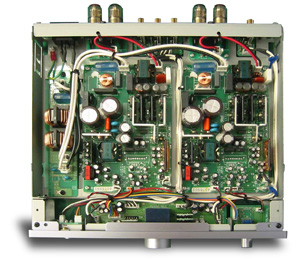 The svelte little CA-S10 measures 11 1/16"W x 2 1/8"H by 9 15/16"D and weighs just under 9 pounds. It is encased in a beautiful aluminum outer chassis. The front panel has a volume knob, input selector dial and power button. These are also machined from aluminum. The CA-S10 is small and sleek -- it could fit into the decor of almost any room in the house. Unlike traditional integrated amplifiers that are larger and more visually obtrusive, the CA-S10 disappears better than any component I've had in my listening room. In fact, I wish Flying Mole made a CD player that matches the CA-S10 cosmetically. The two would look stunning and occupy a very small footprint.
My biggest complaint about the CA-S10 was that it did not come with a remote control, nor is it an option. I like to change the volume without moving from my listening chair, so the lack of a remote was a definite inconvenience, not to mention a sticking point for buyers who expect remote control for integrated amps made today.
Can moles fly?
Almost immediately the CA-S10's sound reminded me of that of the Arcam integrateds that I've heard. This is an ultra-refined sound that is rather revealing of everything on each CD. The CA-S10 wasn't fatiguing and presented music with extraordinary clarity against a quiet background. On "Take It with Me" from Tom Waits' Mule Variations [Anti/Epitaph 86547-2], the hoarse sound of Waits' voice was placed between the speakers and sharply outlined in space. This was accompanied by the subtle sound of Waits moving in his seat and of his fingers finding their way across the piano keys. The CA-S10's articulate sound allowed me to hear such inner clearly.
Similarly, while listening to Sarah McLachlan's "Fumbling Towards Ecstasy" from the CD of the same name [Nettwerk W2-30081], the CA-S10 revealed the sound of her lips moving and each breath she drew. That's detail! On the same track I heard a short buzz in the right speaker at 4:14 that I'd never noticed before. I switched the PSB M2 speakers with a pair of Energy RC-70s to confirm that the crackle was on the CD and not caused by one of my speakers. The RC-70s produced the same sound. Does exceptional detail such as the sound of a crackle in the tweeter make the music more satisfying? Not particularly, but that's the price you pay for clarity. Everything is laid bare.
Associated Equipment
Loudspeakers – PSB M2 and Energy Reference Connoisseur RC-70.
Integrated amplifiers – NAD C372, Simaudio i 5.3.
CD player – NAD C542.
Interconnects – AudioQuest Copperhead.
Speaker cables – AudioQuest Type 4.
Like Tori Amos, Sarah McLachlan has made recordings with a discernible soundstage that is sometimes bigger than life, though her vocals always draw the attention. "Hold On" from Fumbling Towards Ecstasy is a song that builds in intensity throughout, reaching a crescendo in which McLachlan's voice occupies a diffuse sonic bubble between the speakers. At high volumes I found the sound a touch bright, but this was the recording's fault, not the CA-S10's. As the song builds, the guitar and percussion pick up speed, moving forward with incredible drive. Through the CA-S10 the instruments were well separated and easy to locate. The sound was like crystal -- as transparent and uncolored as I've heard.
One of the real treasures on Fumbling is the second version of "Possession" that follows track 12. In it McLachlan performs the song alone at the piano. I like this particular track because I think it sounds more natural than other songs on the disc, which strike me as more vibrant in comparison. It has an almost haunting quality that's very entrancing, as the lyrics record the thoughts of an obsessed fan. Again the CA-S10 reproduced the singer's voice with excellent clarity and emotion, causing me to stop scribbling listening notes and focus on the music.
The CA-S10's bass reproduction is outstanding. Don't let its diminutive size fool you. This little guy has loads of power and can handle the low frequencies with plenty of authority. Thom Yorke's new album The Eraser [XL Recordings XLCD200] demonstrated this well. The electronic bass goes very deep if your speakers can keep up, and the CA-S10 is equal to the challenge. Bass is powerful and distinct; you hear notes rather than ill-defined rumbles.
The CA-S10 is outstanding in so many regards that it's very difficult to fault its performance in any serious way, especially given its asking price. My major sonic criticism is that music was played back in such a clean and refined manner that there were times the sound became analytical. This wasn't the case with all music. Often the sound was very engaging, but the sense of analysis, as opposed to a more musical flow, just didn't disappear.
Comparisons
I had two units on hand to which I could compare the CA-S10: my reference NAD C372 ($899) and the Simaudio i 5.3 ($3000, review forthcoming). As you might have already guessed, the Flying Mole integrated wins hands down over the C372 when it comes to transparency and clarity. Its sound is so polished, embodying the exceptional cleanliness that seems to be at the core of digital technology. However, there were times when I found its clean sound less involving and actually preferred the warmth of the C372. This was most obvious while listening to "Out on the Weekend" and "Harvest" from Neil Young's 1972 album Harvest [Reprise CD 2277]. No one will accuse the CA-S10 of straying to the warm side of neutral. Rather, these songs sounded cooler than when played through the NAD integrated, giving them a more clinical sound than I'm used to. Realistically, the Flying Mole integrated was more honest in its presentation, but sometimes at the expense of musicality. At least when listening to Neil Young, I preferred the NAD C372. Even so, if I could own one or the other, I'd definitely choose the Flying Mole integrated, because the things it does well, it does really well.
In regard to the low frequencies, I actually thought the Flying Mole integrated was bass deficient until I hooked up my NAD, played the Thom Yorke disc again and realized my own integrated made the bass bloom, giving it added weight and warmth. Again, the Flying Mole was the hands-down winner in terms of bass quality, even though the C372 seemed to offer more quantity.
Price considerations aside, the Simaudio i 5.3 is much closer to the Flying Mole CA-S10 in terms of sound quality. Both are fantastic. The CA-S10 is a bit more laid-back relative to the more forward-sounding i 5.3. It tends to place music between and behind the plane of the speakers. At higher volumes the music obviously projects forward more, but when listening at more reasonable levels, it was set back in the soundstage. It was easy to hear this on A Feather on the Breath of God: Sequences and Hymns of Abbess Hildegard of Bingen [Hyperion CDA666039]. On "Ave Generosa," soprano Margaret Philpot's voice is very open and easily conveys the huge sense of space in which the recording was made. The clarity of the Flying Mole integrated made the vastness of the cathedral readily apparent, and its well-balanced sound made for a very smooth and immersive presentation. Philpot's voice has a more distant perspective than I've become accustomed to when hearing this piece on other integrated amplifiers. The Simaudio i 5.3 projects voices forward, giving vocals an immediacy I found involving.
Conclusion
The digital-amplifier revolution promises to be good for lovers of music and its reproduction, not only by decreasing the size and weight of power and integrated amplifiers, but hopefully by bringing down prices as well. What the Flying Mole CA-S10 lacks in flexibility it more than makes up for in sonic refinement, especially its notable clarity. This is an illusive goal at any price, but at $1795, the CA-S10 qualifies as a very good audio buy.
Flying Mole has staked its company, and unusual name, on the notion that digital amplification has a bright future in high-end audio. Judging by the CA-S10, it appears that the future is already here.
...Philip Beaudette
philipb@soundstage.com
Flying Mole CA-S10 Integrated Amplifier
Price: $1795 USD.
Warranty: Three years parts and labor.

Flying Mole Electronics Corporation
4918 Robinhood Ave.,
Temple City, CA 91780-4030
Phone: (310) 787-7280

Website: www.flyingmole.co.jp, www.flyingmole.net