October 1999
Essential Sound Products The Essence Power Cord and Power Distributor
by Marc Mickelson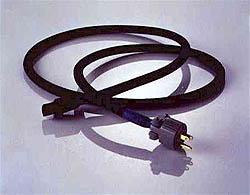 The Essence power cord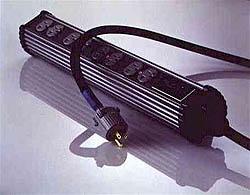 The Essence Power Distributor
Review Summary
| | |
| --- | --- |
| Sound | Slight "sweetening" of tone and noticeable increase in drive and large-scale dynamics; "broad applicability," but had most pronounced effect with SimAudio solid-state gear. |
| | |
| --- | --- |
| Features | Power cord has hermetically sealed plug and IEC connector; Power Distributor uses hospital-grade/isolated-ground outlets; mature products from a company that's been at it for a while. |
| | |
| --- | --- |
| Use | The Essence power cords are stiff but easy to shape; the Power Distributor is large, but it can sit behind equipment rack on the floor. |
| | |
| --- | --- |
| Value | Not cheap, but certainly less expensive than other power cords, sometimes far less expensive, and with commensurate improvement too. |
As I search through my mental audio scrapbook of products auditioned, reviewed, bought and sold, I come to the revelation that Essential Sound Product's The Essence was the first after-market power cord I used. I had just bought a CAT SL-1 Signature and was looking for ways to maximize its performance. Sound familiar? I had gotten good results with specific NOS tubes and then heard about this power cord that Ken Stevens himself, who had said the CAT's stock cord was the best to use, recommended. So I was able to hear a very early example of The Essence, and I was disappointed. My system at the time -- CAT, Threshold amp, Mirage speakers -- was dark and friendly to the extreme. The Essence power cord only exacerbated this, making its effects infinitesimal at best.
Discouraged, I swore off power cords, but then broke down after some equipment upgrades and bought some Tara Labs Affinity cords, which were worthwhile additions. Since then I have dabbled, never going to the lengths of some to hunt down and hear the bulk of the power cords available (yes, I'm referring to Grant Samuelsen, our in-house power-cord guru, whose comments you can read below). After seeing The Essence power cords -- and other ESP products -- at last year's CES, I thought it might be time to revisit the cord I had heard so many years before.
Knowing the details
Given the history of Essential Sound Products, as company president Mike Griffin, conveyed to me, I suspect that the first cord I used was one of the earliest examples Griffin produced, maybe even a prototype. His power cords have changed since then, but what led up to ESP's genesis as a company is interesting.
Griffin is a design engineer of electro-mechanical devices and an avid audiophile. Years ago, after borrowing a power cord from a local dealer and being surprised by its effects, he pulled out his physics books and approached the design of a power cord with no preconceived ideas as to how the finished product might look or be constructed. Over the next six months, he experimented, and then attended the summer CES, where he met Ken Stevens of CAT. Griffin had just bought an SL-1 Signature preamp, and he proposed to Stevens a swap of a couple of his power cords for a backup set of tubes for his preamp. Stevens agreed.
The power cords that Ken Stevens received after the Chicago CES were still prototypes; the first actual ESP power cords were still a ways off. Griffin tinkered with the shielding of his prototypes, but not the geometry, which he considered "the original design embodiment" of The Essence power cord. Development of the cords continued through 1995, and eventually review samples were supplied to a writer at Fi, who loved the cords and wrote about them. This happened in 1996, and at that point, as Griffin told me, "Essential Sound Products was on the map." Since then, The Essence has had one major upgrade that incorporated design refinements and a thorough enhancement of materials and the manufacturing process. This occurred in 1997, at the same time Griffin introduced the Power Distributor.
These days, The Essence power cords come packaged in silver-tone zippered bags with a user's manual and protective "nubs" over the prongs of the AC plug, all nice touches. The standard length, and the one that costs you $499, is two meters. You can also get the cords with 20-amp connections as well as special 90-degree-right and downward connectors for special applications. The cords are very nicely constructed and covered in a black mesh. They are a little stiff, but easy enough to bend and shape. The AC plug and IEC are hermetically sealed to protect internal contacts; the external contacts are copper and seem to be of very good quality.
The Power Distributor does just what its name implies: provides power to the components plugged into it. According to ESP, it also does some passive filtering because of its hard-wired The Essence power cord, but it offers no power-line conditioning or surge protection. I was expecting something about the size of a standard computer surge suppressor, but instead the Power Distributors arrived in their own rather large boxes and ended up being almost 20" long and as big around as my forearm. They appear to be incredibly well made, having four banks of hospital-grade/isolated-ground outlets, and they are even fuse protected. The outlets are wired in parallel, which, according to ESP, means that analog and digital components can be plugged into the same Power Distributor and not contaminate each other as long as you use the outlets in pairs. Griffin admits that many customers are buying the Power Distributor first and then his power cords, to get the full ESP effect.
System
Essential Sound Products supplied me with six power cords and two Power Distributors, enough to outfit my entire reference system and the various review products that moved into and out of it: Lamm ML1 and ML2 mono amplifiers, Audio Aero Capitole and SimAudio W-5 stereo amplifiers, Lamm L1 and SimAudio P-5 line-stage preamps, Timbre TT-1 2000 and Bel Canto DAC1 digital-to-analog converters, Mark Levinson No.39 and Linn Ikemi CD players, Audio Magic Tubed Interconnect. I used JPS Labs Superconductor2 interconnects and NC Series speaker cables as well as Power AC and Digital AC power cords for comparison. I also had API Power Link and Audio Magic Sorcerer power cords on hand. Speakers were my reference ProAc Response Fours. Bright Star products are in liberal use throughout my reference system, along with two sand-filled Target equipment racks. My listening room is 14'W x 20'L with a 10' ceiling.
As I mentioned, the ESP cords are easy to bend, so snaking them behind my equipment racks was a cinch. Coming from a Marigo AC Distribution Center, which sits on my rack like a component, I found the floor-dwelling ESP Power Distributor easy to use and locate. The pair of them just sat behind my equipment racks and thus were very accessible.
No believer
I am not one who believes that add-on power cords maintain their character with every piece of equipment. Power amps and DACs, for instance, have very different requirements, and so I've noticed that some power cords work better on amps (and better on tube or solid-state amps) and others better with DACs. JPS Labs did something smart when they brought out power cords tailored to specific pieces of audio gear, and for those of you who doubt that power cords can sound different with different pieces of equipment, try putting a JPS Labs Digital AC cord on your power amp. You'll hear what I'm talking about.
However, this said, the ESP products that I used were unique to me in terms of their broad applicability. They maintained their sonic characteristics from component to component, producing the same effects with all of the equipment I had on hand. For whatever reason, they did seem to produce more pronounced effects with solid-state gear than tubes, but in both cases they had the same identifiable influence on the sound.
The thing I noticed immediately about the sound of my system with the ESP products in use was a new kind of connection between noise and the music that emerges from it. I started with a pair of The Essence cords on my amps and immediately noticed that individual sounds -- singers, instruments, spatial cues -- emerged from a deep blackness and with a quick, immediate quality, perhaps due to a decrease in the noise floor of my system. As the cords broke in, this effect increased slightly, and then increased more as I began to use the cords all over my audio system. But this description alone doesn't quite capture the effect; I began to realize that the power cords were also enhancing my system's large-scale dynamics, making the music sound as though it had more oomph and power behind it. Was this also due to a reduction in noise? Hard to say for sure, but the music was very unfettered and elemental as a result of the combination of traits that the ESP products were bringing to my system.
Perhaps as a sidelight to the lower noise floor, the tonal qualities of my system took on a bit of sweetness, the music sounding more poised and natural overall. On Dave Moore's wonderful Breaking Down to 3 [Red House CD132], I noticed a distinct sense of ease to the sound, the tonality of my system taking on texture and shading that I hadn't noticed previously. This disc was reviewed by SS! music writer Marc Rigrodsky, and I think I like it even more than Marc did, especially the first song, "Mr. Music," which is a sort of invocation of the muse. Moore's chesty voice is recorded well and sounds nothing but easy on the ears with the EPS cords in my system. Throughout "Midnight," a drum pulses in the background, and this emerges from the serene background that the ESP products help cast with a palpable quality. It sounds like the heartbeat of the song, which may be the intention, and not just another instrumental detail. Very cool.
What Grant Heard
I had auditioned a full system of Essential Sound Products power cords several years ago and came away from the experience impressed with their performance, so I was happy to accept Marc's offer to listen to and comment on ESP's latest power cord. For break-in, The Essence power cord spent over 100 hours powering my Mark Levinson No.39 CD Processor. It remained powered an additional 80 hours before my listening notes were completed.
Differences in sound while using ESP power cord to deliver AC were readily apparent and easy to distinguish from the sound of other power cords in its price class. The Essence excelled at presenting music with natural weight and tonal gradations from the deepest bass through the midrange. Female vocals and piano works in particular benefited from its full, palette-like presentation of midrange color. The ESP cord also conferred an accurate rendition of the scale and body of an instrument or voice, creating a more visceral musical experience. From the midbass to the lowest octaves, I noted superb weight and extension. Even when getting into bottom-heavy music at absurd playback levels, I couldn't get the ESP's bass delivery to become excessive or unnatural-sounding.
As I've found with many power cords in its price range, the ESP cord had a definable character that I believe will make it more enjoyable in some systems than others. From the uppermost midrange through the treble, I perceived the ESP cord to have a slight but noticeably scaled-down or darkish character. The light, air and ambience of a recorded venue were less distinguishable than I was accustomed to. When listening to marginally recorded rock or blues for foot-tapping excitement, I found this character to be very pleasing. But when I wanted to hear into a recording and experience the natural sense of space, air and transient decay I knew to be there, I came away wanting more. I know Mike Griffin of ESP feels that his power cords need to be evaluated using them throughout a system to unveil his cables' true contribution to the music. As I was unable to use the ESP cords throughout my system, you should qualify my remarks accordingly.
Overall I found The Essence to imbue music with warm, rich tonal color through a clean, uncluttered window. The ESP cord presented music over a quiet background, allowing for good depth perspective and layered image placement within the soundstage. Give 'em a try.
...Grant Samuelsen
grant@soundstage.com
There's another recording we reviewed last month that I had to have: astroPuppees' Pet [HighTone HCD8105], our pick of the month and a very worthy one. Pet is a collection of smart and acutely observed pop tunes that has its guitar-driven flourishes here and there. This disc does not overcome its thin-sounding character, however, even with the ESP products in use. But it does sound more tonally rich than usual, which is good in its case. Now, of course, an already rich-sounding disc like Spain's The Blue Moods of Spain [Restless 72910] doesn't need the help of the ESP cords, but then putting together an audio system is almost always a matter of tradeoffs. To their credit, though, the ESP power cords and Power Distributor are wildly positive additions and may be absolutely perfect in every way for some systems that need a bit of humanizing, which the ESP products do in a multifaceted manner.
One interesting thing I did discover about The Essence power cords is that they seemed to like solid-state equipment, in my case the SimAudio P-5/W-5 preamp/power amp combo, even more than the tubed gear. Without letting too much out of the bag for my future review of the SimAudio gear, the characteristics of the power cords that I mention above remain intact, but the SimAudio gear seems to take to them very well, especially the slight sweetening of tone. The SimAudio gear can sound a bit cool, but the ESP power cords filled them out some and deepened their soundstage, perhaps because of the low noise floor. I also noticed that the W-5's bass had more bloom, which could be construed as a very slight loosening of the amp's tight grip on the bottom end -- not a bad thing in this case. If you own SimAudio electronics, I would strongly suggest borrowing a pair of The Essence power cords to use along with it. The combination sounded synergistic to my ears.
In comparison to my reference JPS Labs, API and Audio Magic cords, the EPS power products retain the strengths I talk about above. However, my reference cords have their merits too, many of which overlap with those of the ESP products. The JPS Power AC, for example, let all amps used with it display noticeably greater bass heft and perhaps even a smidgen more extension too. The Power AC doesn't present as quiet a background as The Essence cord, but neither does it seem in any way additive in this regard when I put it back in my system. The JPS Labs Digital AC is easily the equal of The Essence when it comes to reducing noise from digital equipment, but it does have one problem that the ESP cord doesn't: I can use only one of the Digital AC cords in my system before I hear a reduction in dynamics. Luckily, one sounds just right to my ears, and I can say that it worked very well along with an ESP cord on my transport. Finally, the API Power Link cords are splendid for their price and, like The Essence, are good all-around performers. However, the ESP power cord has a more suave presentation, perhaps due to its combination of slightly sweeter tonality and enhanced drive. I really like the API power cords for their reasonable price, but if the ESP power cords are within your budget, you should try them.
Reading my mind
Essential Sound Products' The Essence power cords and Power Distributors were a success in my system, making the music sound graceful and able to soar at the same time. The power cords they replaced for this review are very fine too and have strengths that the ESP cords can't match, but as a system, The Essence power cords and Power Distributor, all $4900+ of them, were a treat to use. I especially liked the way the products dropped the noise floor and cranked up the punch, and they did this with every piece of equipment I tried them with, doing their best work with the solid-state gear I had on hand, but also doing their thing with tubes.
The Essence power cords are not cheap overall, but they now seem so given the escalating prices of power cords these days. The price of the Power Distributor could buy you many models of line conditioner, including the highly touted PS Audio Power Plant. I can't comment on which I would buy given that I haven't used power conditioning for such a long time. I will say that the Power Plant intrigues me, but the ESP Power Distributor worked well in my system, especially with an entire set of the power cords. It also accommodates eight components of varying power needs.
The wares of Essential Sound Products may seem like old hat because they've been around for so long, but maybe they've been around so long because they work, which they did in rousing fashion in my system. I recommend you listen to a few of The Essence power cords, and throw in a Power Distributor too if your budget will permit. You may lose the will to look any further.
...Marc Mickelson
marc@soundstage.com
Essential Sound Products The Essence Power Cord and Power Distributor
Prices: The Essence power cord, $499 per two-meter length; The Essence Power Distributor, $995.
Warranty: Five years.

Essential Sound Products, Inc.
P.O. Box 81998
Rochester, MI 48308-1998
Phone: (248) 375-2655
Fax: (248) 375-2701

E-mail: esp@gtemail.net
Website: www.essentialsound.com