September 2007
Esoteric SA-10 CD/SACD Player
by John Crossett

Review Summary
| | |
| --- | --- |
| Sound | "What I heard was a CD player that offered acute retrieval of low-level detail, the ability to sort out massed voices and instruments, better-than-average dynamic prowess, a wide and deep soundstage, and excellent reproduction of vocals." But with SACDs, "that's the format with which [the SA-10] really shines." "Its ease was addictive" and "detail retrieval…was the best I've heard in my system." |
| | |
| --- | --- |
| Features | "The SA-10 is strictly a two-channel player." The SA-10 uses "Esoteric's proprietary VOSP (vertically aligned optical stability platform) transport." "After the data leave the transport, they encounter a pair of Cirrus Logic CS4398 DACs, then a dual-mono analog output stage." "The SA-10 doesn't perform DSD-to-PCM conversion, as earlier Esoteric digital players have. Each format is kept native right up to the analog output stage." |
| | |
| --- | --- |
| Use | "One last point that's important if you audition an SA-10: Don't even think about giving it a serious listen until it has at least 250 hours on if -- preferably more. Esoteric stresses this, and I heartily agree." |
| | |
| --- | --- |
| Value | "The SA-10 is the digital source for audiophiles on a budget, allowing us to jump off the equipment merry-go-round and get on with the enjoyment of our music collections. It's Esoteric and affordable." |
What's this? An Esoteric CD/SACD player for $3500? Doesn't Esoteric design and manufacture strictly high-priced digital gear? After all, Esoteric is TEAC Corporation's high-end division, specializing in cutting-edge audio equipment. If you want inexpensive digital, you buy the TEAC brand; if you want the best, you buy Esoteric.
So isn't a $3500 Esoteric player a bit like a cut-rate Ferrari? Well, yes and no. If Esoteric can produce a CD/SACD player that meets its lofty standards and sell it for less than its other megabuck digital products, that's good for audiophiles. However, as with Ferrari's manufacturing methods, it would be patently impossible to produce an Esoteric digital product without cutting some corners.
But if you think that the SA-10 signals a trend and that Esoteric is about to lower its standards or trade on its name and make its products even more accessible, think again. The SA-10 is Esoteric through and through, just a less extreme version of the company's well-established products.
Build
Simply put, the SA-10 is a large, heavy silver box that measures in at 17 3/8"W x 5 7/8"H x 13 7/8"D and weighs a robust 28 pounds. There's nothing overly fancy about the chassis, but where would you rather the money be spent -- outside to make it look nice, or inside where it counts for making music? I'll take inside myself. With my eyes closed concentrating on the music, I'm not looking at the SA-10 anyway.
So how did Esoteric get the SA-10 to come in at $3500? Well, for one thing, the SA-10 is strictly a two-channel player. Sure, at some point in the future Esoteric will come out with an I-Link board and connection that can be retrofitted into the rear of the SA-10's chassis should you wish to spend the money for the upgrade to allow multichannel playback. Also, while the SA-10's chassis is made from anodized aluminum, it's not as fancy-shmancy as those of its more expensive brethren. You'll find no engraved company name on the top of the unit, no smoothly rounded edges, no excessive buttons and LEDs. Instead, Esoteric settled for a single row of rectangular push buttons and only two LEDs on the front panel. The display is also small and tough to read from across the room. Internally, the SA-10 eschews FIR and RDOT filters that other Esoteric players provide.
Still, what you do get is impressive. First there is Esoteric's proprietary VOSP (vertically aligned optical stability platform) transport. No off-the-shelf or modified unit for Esoteric, the company designs and builds its own transports to ensure absolute rigid stability, thereby enabling the player to read the information encoded on your discs properly and transmit it to the DACs with a minimum of error and jitter. It costs a fair bit to conceive and build a transport mechanism. That Esoteric can include the VOSP in a unit at the SA-10's price speaks volumes for the company's commitment to sound quality.
Internally, Esoteric has isolated the different sections -- analog, power and digital -- to keep interference and vibration to an absolute minimum. After the data leave the transport, they encounter a pair of Cirrus Logic CS4398 DACs, and then a dual-mono analog output stage. You can connect the SA-10 via single-ended or balanced outputs. However, in its case, the output levels are the same -- 2.2V. A fully balanced circuit normally has double the voltage of a single-ended one, but in the case of the SA-10 the balanced output voltage has been cut in half at the first gain stage. Thus, when the balanced output is summed, it is only 2.2V, the same as the single-ended. Why did Esoteric do this? My only guess would be out of concern for overloading certain preamps with the greater balanced voltage. I did try both single-ended and balanced connections, and I preferred balanced for their greater clarity. The SA-10 doesn't perform DSD-to-PCM conversion, as earlier Esoteric digital players have. Each format is kept native right up to the analog output stage. As you may have already gathered, the SA-10 supports CD and SACD only.
The SA-10 comes with Esoteric's standard big, heavy remote control, and there are a number of buttons on it that you won't be using. Still, all the standard options are there -- open/close, on/standby, display dimming and a setup feature you'll use when you configure the SA-10.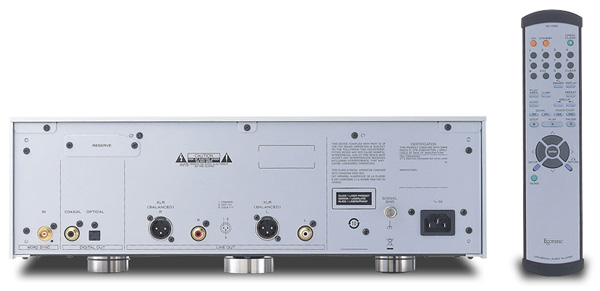 The back panel is a model of simplicity. There are a Word Sync Input jack for connection to Esoteric external clocking units, a spot for the optional I-Link connection, the digital outputs -- both TosLink and coaxial -- the balanced and single-ended analog outputs, a ground connection, and the IEC receptacle for use with the included power cord. That's it. You won't be getting confused when it comes time to connect the SA-10 to your system.
One last point that's important if you audition an SA-10: Don't even think about giving it a serious listen until it has at least 250 hours on it -- preferably more. Esoteric stresses this, and I heartily agree. In fact, the SA-10 sounded increasingly better in every way during the time I had it in my system, and I put over 500 hours on it. Luckily it's easy to break in a digital player: Just load a disc and set the player to repeat all tracks.
Sound
Because most of us have many more CDs than SACDs, I was interested first and foremost in the SA-10's good ol' Red Book abilities. What I heard was a CD player that offered acute retrieval of low-level detail, the ability to sort out massed voices and instruments, better-than-average dynamic prowess, a wide and deep soundstage, and excellent reproduction of vocals. Despite being a multiformat player, the SA-10 handled CDs extremely well.
The SA-10's reproduction of low-level detail -- the fine points often obscured in the music -- was impressive. With Sonny Rollins' latest CD, Sonny Please [Emarcy B0008], the percussion instruments in the background were not buried in the mix but were also not thrust out more than would be natural. Instead, everything was just there, placed in the soundstage as it would be had I been present in the studio.
Massed voices, such as those on the Turtle Creek Chorale's new CD Serenade [Reference Recordings RR-110], were well delineated, and big-band music was sorted out well. Take the new Charles Tolliver CD Big Band With Love [Blue Note 0946 3 69315 2 4]. What I heard was no formless blob of sound, but rather a soundstage cluttered with individual instruments that I could follow easily.
Associated Equipment
Loudspeakers – Magnepan MG1.6.
Power amplifier – Bryston 4B SST.
Preamplifier - Audio Research LS17.
Analog - VPI HW-19 Mk IV turntable with TNT platter and bearing, Super Arm Board, VPI/Rega VTA adjuster, and VPI dropped counterweight; Butternut Audio-Modified Rega RB300 tonearm; Clearaudio Maestro cartridge; Audio Research PH5 phono stage.
Digital sources – Marantz SA-8260 CD/SACD player, Stello CDA320 CD player/DAC, Oppo DV-981HD universal player.
Interconnects – Analysis Plus Solo Crystal Oval.
Speaker cables – Analysis Plus Solo Crystal Oval.
Digital cables – DH Labs D-75 coaxial cable, Monster Cable TosLink cable.
Power cords – Harmonic Technology Pro AC-11.
Power conditioner – Monster HTS-1000.
Accessories - Salamander Archetype racks; Symposium Roller Blocks, Ultra Platform, Svelte Shelves, Isis shelf, Fat Padz and Roller Block Jr., Furutech deStat.
The SA-10's ability to handle wide swings in dynamic range was shown with the well-known Sheffield Labs Track & Drum Record [Sheffield Labs CD-14/20]. Listening to both solo drum sets imparted the sense of hearing two distinctly different drummers. Whether using sticks or brushes, snapping a snare roll or smacking a cymbal, each was reproduced in a realistic manner. Every technique was identifiable. No, the SA-10 wasn't perfect. There was a slight sense of the transients being foreshortened, but not enough to be easily noticed unless you're comparing the SA-10 to a better and far more expensive player.
When it came to reproduction of vocals -- always one of the major factors in judging any piece of audio equipment -- the SA-10 did a fine job. From the hip-hop vocals of Speech to the sultry soul/blues of Bettye Lavette through the pop sound of I-Nine, all of which I listened to on the Paste Magazine Sampler #19 [no catalog number], the SA-10 made each sound distinct. These very personal vocal styles and vocal inflections came through loud and clear, despite all the different production values.
All in all, I wouldn't say the SA-10 is one of those CD players that will make you question why anyone would need to listen to another format, but it does a more-than-satisfactory job of reproducing CDs, and it does so with little or no digital-induced fatigue. But CD replay isn't the major reason for purchasing the SA-10. If you're considering the SA-10, you likely have a number of SACDs, because that's the format with which it really shines. Its ease was addictive. I listened for as long as I wanted, the time spent reveling in its sound limited only by the clock and my schedule.
Detail retrieval with SACDs was the best I've heard in my system. I just received the new 2L Grieg/Mozart dual-piano disc by the Dena Piano Duo [2L 40]. Grieg was an admirer of Mozart, and, for a lark, he wrote a completely new piano sonata for four of Mozart's. This was to be played simultaneously with Mozart's on two pianos. The SA-10 easily sorted out both the musical lines as well as the dual pianos. This disc is great fun to listen to on any SACD player, and thanks to the SA-10's abilities, it was even more so.
The SA-10 made acoustic instruments sound completely natural, both in tone and timbre. The first Closer to the Music sampler [Stockfisch Records SFR 357 4003.2] is a case in point. Packed with singer/songwriter acoustic music, its reproduction via the SA-10 was an exercise in enjoyment. The shakers on the Alan Taylor cut, "The Beat Hotel," sounded just like seeds enclosed in a small resonant cavity. The Chris Jones track, "No Sanctuary Here," gave a full and realistic representation of his acoustic guitar -- in size, shape and tone. I could follow Jones's fingers on the strings, hearing whether he was strumming, picking, or a combination of both. The Paul Stephenson song "Captain of the Loving Kind" gave a completely different sense of an acoustic guitar than that on the Chris Jones track -- more whole and less a matter of technique. Also, the vocals of Taylor, Jones and Stephenson were well differentiated, just as they should be.
Well-recorded SACDs, like the Herb Ellis/Joe Pass recording Seven, Come Eleven [Concord SACD-1015-6] were superbly handled through the SA-10. Not only were the two guitars set in different space, but they were also tonally separate as well. Plus, the SA-10 allowed the instruments to bloom, just as they do live, filling the recording venue with sound in a three-dimensional manner. I could close my eyes and "see" the musicians.
But how would the SA-10 respond to over-processed rock? With some trepidation I pulled Aimee Mann's Bachelor No. 2 [Mobile Fidelity UDSACD 2025] from the shelf. This isn't a great recording, but the music is superb. The SA-10 sorted out this music as it had all the other music I'd listened to. Sure, I could hear the recording's faults, but there was nothing added by the SA-10. The instruments came through loud and clear. Mann's voice, one of the more distinctive in rock, was wispy and fragile, just as it should be.
As has become my norm, I did the bulk of my listening to SA-10 just as it came, with the supplied power cord. However, when I swapped in a Harmonic Technology Pro AC-11 power cord and some Symposium Roller Blocks and a Svelte Shelf beneath and atop the SA-10, everything improved to a great degree. While I won't say that these accessories are mandatory with the SA-10, they do allow it to reproduce music to its fullest capabilities.
Comparisons
If you think that you can buy top-level high-resolution sound for under a grand, think again. Yes, my Marantz SA-8260 ($995 when new; it has now been discontinued in favor of the new SA-8001) is a fine-sounding CD/SACD player, and it was highly regarded in its day. It offers a taste of what makes SACD such a noteworthy digital medium. But when stacked up against the wares of a company that specializes in designing and building state-of-the-art high-resolution digital gear, it falls short and you can't help but hear the differences.
One of my favorite jazz CDs is Andy McCloud's Jazz for Bighead [Mapleshade 07832]. Through the Marantz SA-8260, it was enjoyable without being involving. McCloud's bass was clear, but not all that realistically rendered. The vibes didn't shimmer as much as they should. The SA-10 conveyed not only a better sense of the size, shape, and makeup of McCloud's bass, but more of the wooden sound from the big cavity of the instrument as well. I could also picture McCloud standing there playing. As for the vibes, they not only shimmered, but I got a much better sense of how Steve Nelson was using his mallets.
When I played the CD through my Stello CDA320 CD player ($1995), the results were much, much closer. Both the CDA320 and SA-10 imparted the sense of McCloud standing there playing his bass, but the Stello player went one important step beyond and added a sense of acoustic space that just eluded the Esoteric. But it was close -- the results barely falling on the Stello's side.
With SACD, specially Allison Krauss's Now That I've Found You – Collection [Rounder SACD 11661-0325-6], the Esoteric SA-10 went beyond the Marantz SA-8260 in terms of resolution and conveying the identifying traits of Ms. Krauss's voice. The SA-10 allowed me to hear how her voice emanated from her body, and it went one giant step further, conveying how her voice interacted with the space around her and with the balance of her band, Union Station. Both players captured the angelic quality of Krauss's voice, but the Esoteric player allowed that voice to sound more like it would live.
If I had to rank all of these digital players in terms of their CD performance, coming in last would be the Marantz. It couldn't reproduce all the aspects of the performance in as realistic a manner as either the Stello or the Esoteric. Second, by a whisker, would be the Esoteric. In terms of SACD replay, the SA-10 was leaps and bounds better than the Marantz.SA-8260, conveying more of what made the recordings I played unique. And the SA-10 was better than the SA-8260 to a greater extent than the difference in price between these two players -- which is significant -- would indicate.
Summing up
So, the SA-10 offers very good CD replay and beyond-reproach SACD playback. Is it $3500 worth for both? Absolutely. I could live with the SA-10 as my single digital source into the foreseeable future. The SA-10 isn't the ultimate in either CD or SACD playback -- it doesn't offer all that the megabuck players and separates do. Its CD replay in particular doesn't equal that of some top-flight standalone players, but it's very good nonetheless.
However, the SA-10 certainly lives up to the high sonic standards Esoteric has set for itself -- and if you check the SoundStage! archives, you'll see that many of us here have been favorably impressed with Esoteric products in the past. The SA-10 is the digital source for audiophiles on a budget, allowing us to jump off the equipment merry-go-round and get on with the enjoyment of our music collections. It's Esoteric and affordable.
...John Crossett
johnc@soundstage.com
Esoteric SA-10 CD/SACD Player
Price: $3500 USD.
Warranty: Three years parts and labor.

TEAC America, Inc.
7733 Telegraph Rd.
Montebello, CA. 90640
Phone: (323) 726-0303
Fax: (323) 727-7656

Website: www.teac.com/esoteric/