September 2004
Eastern Electric MiniMax CD Player
by Aaron Weiss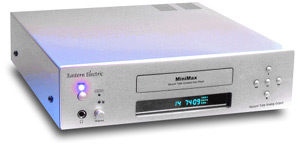 Review Summary
| | |
| --- | --- |
| Sound | "Smothers [electric guitars] with love -- in the form of incisiveness and warmth"; vocals are "velvety, dripping honey"; produces "a wide soundstage full of air, but not unnaturally so"; "a slight degree of friendliness at the bottom edge," deep bass seeming "slightly shallow." |
| | |
| --- | --- |
| Features | "The $900 USD MiniMax CD player features Burr-Brown 1732 DACs and accepts two 6922 or 6DJ8 tubes, with a pair of the 6922s included and pre-installed. A custom toroidal power transformer was designed specifically for the MiniMax. The player supports both conventional and HDCD-encoded compact discs." |
| | |
| --- | --- |
| Use | "The remote control itself is a mixed bag…. Unlike many cheap, plasticky remotes the MiniMax's is a solid brick of metal. It feels weighty and important. The buttons, however, are extremely small and feel clunky," and "every button is identical." |
| | |
| --- | --- |
| Value | "For tube lovers, giving the MiniMax CD player a listen is a no-brainer. And for those who are either curious or skeptical about tube designs, the MiniMax offers a practical hybrid that leverages the convenience of digital and the warmth of analog." |
Years ago there was a series of television ads for Reese's Peanut Butter Cups depicting "accidental" peanut-butter-and-chocolate collisions, resulting in what Reese's claimed was a new kind of delicious cross-contamination. The tag line was "Hey! You stuck your peanut butter in my chocolate!" "No, you stuck your chocolate in my peanut butter!" Ha ha. Of course these days we have come to accept peanut butter/chocolate hybrids and nobody raises an eyebrow no matter what you stick in your peanut butter.
By now you're either very hungry or wondering where I'm going with this. Well, there is a niche-within-a-niche evolving: CD players that use tubes. It almost seems like a paradox -- what could be more digital than a CD player? Yet, engineers like those at Eastern Electric have begun to pair digital sources with tube output stages. Hey, you stuck your chocolate in my peanut butter! But the apparent paradox actually makes a lot of sense because this design lets manufacturers introduce some of that tube vibe further upstream in the system and perhaps even at a more wallet-friendly price.
Tubular
Eastern Electric products are engineered by Alex Yeung in Hong Kong, built in China, and imported into the United States by Morningstar Audio's Bill O'Connell. The entire Eastern Electric lineup shares the yin-yang-like MiniMax name and includes a tube preamp, a tube power amplifier, and our current unit of interest, a tube CD player. Eastern Electric maintains a website with a somewhat active message forum to which Bill O'Connell contributes -- a nice touch and something it would be nice to see more of from manufacturers.
The $900 USD MiniMax CD player features Burr-Brown 1732 DACs and accepts two 6922 or 6DJ8 tubes, with a pair of the 6922s included and pre-installed. A custom toroidal power transformer was designed specifically for the MiniMax. The player supports both conventional and HDCD-encoded compact discs, and includes a small LED to tell you when the latter is spinning. The unit also supports homebrew CD-Rs.
The MiniMax's derriere is equipped with one pair of RCA analog outputs plus one S/PDIF coaxial digital output, which you might use to connect the MiniMax as a transport to an external DAC. The IEC power cord is removable and thus can be replaced with a sexier number if that's your thing.
Eastern Electric products exhibit a clean, metallic design aesthetic that is subdued but classy. The MiniMax CD is well built and sturdy. At about 13 pounds, 12 1/2" wide, just over 13" deep and just under 4" high, the glossy unit is about average sized for a CD player but not featherweight like some -- no doubt thanks to its toroidal transformer. The Phillips CD12 transport mechanism and CD7II servo circuit result in robust and silky-smooth mechanical operation. On its face the unit offers several standard push buttons -- on the left, main power; and on the right, forward, back, play/pause and stop buttons, plus tray open. Besides the power button on the left side is the HDCD indicator, a headphone jack, and a headphone volume control. The coolly lit display of the MiniMax can be dimmed to two levels below full brightness using the remote control, but it cannot be turned off completely.
The remote control itself is a mixed bag. High-end audio manufacturers seem to have issues in the remote-control department, not unlike high-performance European cars' lack of sufficient cup holders. That may sound very fanny-pack picky, but convenience is an American art form. Unlike many cheap, plasticky remotes the MiniMax's is a solid brick of metal. It feels weighty and important. The buttons, however, are extremely small and feel clunky. Because every button is identical you can't rely solely on "lazy man's Braille" to operate the remote, which is unfortunate when listening in the dark (the remote is not back-lit). Oddly, the stop button is nowhere near the other playback controls. There is a shuffle button that works as advertised. And, finally, the procedure for changing the two AAA batteries requires a screwdriver. It is easier to change the MiniMax's vacuum tubes.
Review system
The MiniMax occupied the top shelf of my equipment rack in place of my incumbent Marantz CC-65SE CD player. DH Labs BL-1 interconnects strung the MiniMax into the Audio Harmony TWO filter and then into my Primare A60 integrated amplifier. Canare 4S8 speaker cables are run in single-wire configuration to a pair of ProAc Response 2S loudspeakers mounted on four-pillar, sand-filled, back-breakingly heavy stands. One of my exciting discoveries of 2003 was that despite the ProAc's biwire design, they exhibit stronger bass in single-wire configuration.
Press play
Two recent passings in the news led to a couple of revealing selections for the MiniMax. First there was the death of guitarist Robert Quine, whose skittery, feverish guitar work balances Matthew Sweet's sappiness on Sweet's 1991 Girlfriend [Zoo/Volcano Records 31015]. The MiniMax shines a spotlight on Quine's work with a very open soundstage, particularly for a pop/rock recording. Often with discs of this genre the instruments get squished together into a kind of gelatin -- the title track, "Girlfriend," is the best example from the disc of how open and live the recording actually sounds. Although Quine's best work on the disc is as accompaniment rather than in showy solos, he never gets lost in the mix, the MiniMax seeming to sense where the real action is.
The endlessly touring Phish also reached a point of closure, although thankfully they haven't yet given up their mortal, squirming coils. They're just not going to be Phish anymore. Although enthusiasts will tell you that their live performances are the thing, rather than the studio recordings, the fact is that the discs are still filled with pretty amazing musicianship. Plus, by not seeing Phish in person, you don't have to look at them. Or smell the kids next to you. Rift [Elektra 61433] is a very warm-sounding CD that does possess a certain veil. Phish cuts bounce between two poles -- corny, and not corny -- often within the same track. The standout "not corny" track on Rift is "Horn" which is built around a dreamy, cascading mid-section. Trey Anastasio's distinctively hollow custom-guitar sound is practically put on a pedestal through the MiniMax. The MiniMax really caresses every nuance that Anastasio draws out of those strings. It is a lush rendition, almost unsubtle, but wonderfully so. The MiniMax doesn't rid the disc of its intrinsic veil, but it lavishes the guitar work with such sublime beauty that you soon forget the production shortcoming.
For anyone who "gets" Phish, the MiniMax is spot on. Both "Reba" and "Run Like An Antelope" from Lawn Boy [Elektra 61275] will convince you that the MiniMax is infatuated with electric guitars. It smothers them with love -- in the form of incisiveness and warmth. From feedback to staccato playing, the MiniMax seems to have an intuitive sense of the fretboard that will thrill guitar aficionados.
Resisting the temptation to simply throw one guitar god after another at the MiniMax, I switched gears to test its range beyond the amped-up six-string. There aren't many guitars on Portishead's Dummy [Go! Discs 422828553]. Sure, there is the moody, trembling solo at the end of "Glory Box," but we won't even talk about that. Most of these tracks are infused with dub atmosphere and cinematic studio effects. Beth Gibbons' crystalline voice is absolutely milky on the MiniMax -- velvety, dripping honey -- need I go on? The almost hyper-real glide of her soprano reminded me of the image conjured up by packages of "silken tofu." It does not sound as though the MiniMax is squeezing out detail for the sake of doing so. Near the end of "It Could Be Sweet" Gibbons lets out a sigh whose breathy puff sounds like she's trapped inside the left speaker driver. In this case, that's a good thing.
"Wandering Star" is propelled by a distinctive bass knock that thumps and beats the track forward. Here I detected a little wanting from the MiniMax, a slight degree of friendliness at the bottom edge. The knocking bass should sound a little sharp, like a knuckle rapping at a door, but it's softer with the MiniMax.
This same geniality at the deep end can be heard on Afro Celt Sound System [Virgin 7243 8 41736 2]. At first you notice the soaring openness of the tracks. The MiniMax produces a wide soundstage full of air, but not unnaturally so. The "Serengeti Plains" feel of this disc's opening ten minutes draws richly on a sense of space. The MiniMax produced such an enveloping soundstage, wide and with African rhythms, that at one point, when my small cat came racing through the listening room like a flash (for reasons only she will ever know), I almost mistook her for an antelope. However, this disc is grounded by a deep, propulsive bass foundation that does seem a little shallow with the MiniMax. The bottommost energy rolls off too soon. You sense the slightly shallow bottom end again on "Alligator Crawl" from Red Rose Music Volume One [Red Rose Music RRM 01]. The track breathes wonderfully and has plenty of space to bounce sprightly. But those lowest, rumbling keys on the August Forster -- maybe they're not quite ready to rumble.
But let's put this one shortcoming into perspective. Consider the music on The Sheffield Jazz Experience [Sheffield Lab 10046-2-G]. This disc is a very important reminder that, ultimately, musicality trumps technicality. Sheffield's claim to fame is the reference-quality sonic mastering. But the actual music on the Jazz Experience is a few letters away from muzak. It would not sound out of place on the Weather Channel. Pat Coil's track "Sierra Highways" indeed sounds perfect -- perfectly lifeless. Listening to the MiniMax dutifully lend its considerable beauty to reproducing music of such blandness is a surreal experience. It sounds like it should be great, but it isn't. Jazz Experience proves that the MiniMax doesn't need a crutch. It doesn't need to be fed gold-plated discs with 20-bit recording processes to sound great. It just needs great music, which the MiniMax will render in its best light.
There isn't a finer demonstration of the MiniMax's magic powers than Alison Moyet's four-track EP Solid Wood [Columbia 662326 2]. Both "Ode to Boy" and "There are Worse Things I Could Do" are very in-your-face recordings. Lesser audio gear trembles under their weight. The tracks themselves are not terribly busy -- Moyet's towering voice, strummed guitar, some percussion. But the microphone on these tracks is red hot -- it sounds as if it was three centimeters away from Moyet's lips. While this can easily overwhelm, the MiniMax's rendition was a revelation. Its expert sense of space and air lend a powerful physical realism to these tracks. And Moyet's voice never comes close to overwhelming the loudspeakers -- it remains sure, solid and tangibly three-dimensional.
It is clear that the MiniMax loves to breathe. Its wide open soundstage sounds liberating. Its muscular renditions of vocals and particularly electric guitar are deeply satisfying. It is only on selections where deep, defined bottom end is crucial that the MiniMax gives a little.
Comparison
The incumbent Marantz CC-65SE ($500) is something of a practical choice. I am lazy. (Recall the finicky remote-control discussion). The Marantz features a five-disc carousel and was, at the time of purchase, one of the few changers with at least entry-level-audiophile credibility. It's become evident for some time that the Marantz was perhaps the one component in my system not quite on a par with the rest of the equipment, particularly the ProAcs.
The MiniMax has made this all too clear. Granted, the MiniMax lists for $900 whereas the Marantz, purchased new about eight years ago, was a little over half that price. In particular, the CC-65SE lacks the ultra-wide soundstage and airiness of the MiniMax. The Marantz is not nearly so self-assured. Is this because the MiniMax is a tube player, noted for said qualities? Or because the Marantz is what it is, and the MiniMax is what it is? I can't say for certain.
I can say that the Marantz does deliver that little extra edge at the bottom end. And, of course, it holds five discs. That's worth something to us lazy folk. But there is no doubt that the MiniMax is musically at another level.
Conclusion
For some people, like myself, owning a tube amplifier isn't really in the cards. My amplifier is the heart of a system that is used for a variety of purposes, including a PC-based home theater. It seems a waste to expend valuable tube hours on sounds pumped from a computer soundcard. Besides that, the tube amplifiers I have evaluated haven't turned my world inside out, although they were very listenable.
But the tube MiniMax CD player does lead one to pause and consider. It certainly sounds beautiful -- open, airy, musical, yet strong and confident. As a source component it's more practical to power on only when needed, and the tubes are rather unobtrusive.
For tube lovers, giving the MiniMax CD player a listen is a no-brainer. And for those who are either curious or skeptical about tube designs, the MiniMax offers a practical hybrid that leverages the convenience of digital and the warmth of analog. You stuck your chocolate in my peanut butter! And it was delicious.
...Aaron Weiss
aaron@soundstage.com
Eastern Electric MiniMax CD Player
Price: $900 USD.
Warranty: Two years parts and labor, 90 days for tubes,

North American distributor:
Morningstar Audio Imports, Inc.
44 East University Drive
Arlington Heights, IL 60004
Phone: (847) 255-1150
Fax: (847) 255-1878

E-mail: morningstar@eeaudio.com
Website: www.eeaudio.com