January 1999
California Audio Labs
CL-20 CD/DVD Player and Alpha DAC
by Dave Duvall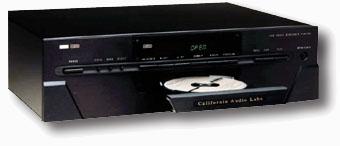 Review at a Glance
| | |
| --- | --- |
| Sound | CL-20 – Rich, warm midrange that's kind to vocals; bass is punchy, but a little loose; can bring out the sense of space and air on well-recorded CDs, DADs, and SADs. Alpha – Warmish sound, yet seemingly more transparent than CL-20; sense of rhythm, pace and coherence slightly lessened than through CL-20 alone. |
| | |
| --- | --- |
| Features | CL-20 – All the bells and whistles found on top-performing DVD and CD players; no 24/96 output for consumers -- yet. Alpha – Tubed; coax, AES/EBU, TosLink, and AT&T glass inputs. |
| | |
| --- | --- |
| Use | CL-20 – Standby mode keeps circuitry warm and at the ready; full-function remote. Alpha – DH Labs Silver Sonic AES/EBU cable bettered several coax cables. |
| | |
| --- | --- |
| Value | CL-20 – Cheaper than many high-end CD players and two-box (or more) setups -- and plays movies. Alpha – Ready for 24/96 DVD-based audio if and when industry allows such output from players and transports. |
Heard it at the shows -- time to live with it for a while
Twenty-four bit/96kHz and DSD are the hot terms in high-end audio these days, and for good reason. We've been stuck with the 16-bit/44.1kHz CD format for more than a decade, and even though the improvement over the years has been great, listening sessions with standard CD have oft times left me wanting. Having abandoned analog completely, mainly to eliminate another financial obsession, I have high hopes and expectations for the next wave in digital recording and playback. I need one of the new higher-data-rate formats to take off, and I need a software inventory to develop, but before that I need to know that these will be the solutions to what's lacking with current CD playback.
The California Audio Labs CL-20 DVD/CD player and Alpha DAC are two soldiers of the high-end brigade attempting to steer the audio community towards 24/96 PCM audio as the new standard and are based on the current DVD-audio-for-video specifications. The CL-20 was shipped 24/96 enabled through the digital outputs, but for review purposes only. This functionality will be disabled for public use as is currently dictated by the International DVD Consortium. As the CL-20 manual states; "In the future these outputs can be user-enabled with a function-key combination, to be specified publicly once the format is formally included into the DVD Standard." While Version 1.0 of the DVD audio specification has just recently been released, the CAL products adhere to the prior DVD-audio-for-video standards and do not currently have the Meridian Lossless Packing (MLP) zip/unzip capability incorporated. From what I'm hearing on this end, MLP is not backward compatible with any DVD product currently on the market, and Dolby Labs is not ready to move forward with implementation and engineering support for MLP at this time.
Nonetheless, Bob Altenbern, vice president of sales at CAL, doesn't believe that audiophiles and music lovers should hesitate buying into the current crop of DVD players. CAL decided to move forward with these products because of the confusion in the market. "We are very happy with the performance of two-channel 24/96-encoded material. In fact, it may be the best way to move forward for the next 10 years. As members of the DVD Consortium; members of WG1,4,6,and 9, we see the future of 'multi-channel music' as very sketchy indeed. To this point, all forms of it have failed: Ambisonics, Q-Bifonics, Circle Surround, Dolby Digital and DTS for music." Altenbern continues, "For the guy who wants to wait for the 'next new superior format', I say, 'Don't buy anything now!' Wait until you only have 24 hours to live. Then go out and buy everything that is most current! Then you will have lived the rest of your life on the leading edge."
CL-20 DVD/CD player
The CL-20 uses a single laser, dual-focus hologram pickup mechanism, so there is no mechanical switching between multiple lenses to play DVDs and CDs. The video section is spec'd at 500-line resolution with S-video and composite-video outputs via 9-bit/three-channel video D/A conversion. On the audio side of things, the CL-20 incorporates the Pacific Microsonics PMD-100 HDCD decoding filter for HDCD-encoded discs and 44.1 and 48kHz recordings, a Burr-Brown 1710 filter running at double speed for other sampling frequencies (both on a CAL-developed separate circuit board), CAL-developed analog-section power supply, two 20-bit/96kHz Burr-Brown 1702 DACs, Matsushita DVD disc transport with Matsushita power supply and main circuit board, and CAL-developed digital outputs for 20/96 audio and 20/48 for Dolby Digital. CAL has utilized an internal copper noise shield to separate the CAL PCB from the transport and main PCB/power supply. CAL also incorporates an "isolation sub-chassis" claimed to reduce vibration; their trademarked "'Power Boss Power Supply Regulation"; and multiple separately regulated reference supplies, which include one-Farad battery capacitors, said to provided the ultimate in stability for critical mixed-signal and analog processing.
The CL-20 can decode CDs and DVD audio signals. Audio resolution is limited to 20 bits at the analog outputs, even with 24/96-recorded material, due to the DACs being 20-bit. Twenty-four-bit/96kHz DACs (as equipped in the Alpha DAC) can net, at best, 20-bit resolution (110dB S/N ratio) with 24/96-recorded material, as no analog stage currently developed can produce the required 146.24dB S/N ratio required for true 24-bit resolution. Dynamic range is slated at 100dB, THD at .005%, audio output voltage at 2V rms, and output impedance at less than 50 ohms.
The rear panel amenities of the CL-20 include an IEC-type receptacle for a detachable power cord, .5 amp slow-blow fuse holder, analog outputs on RCA jacks, composite (coaxial) and S-video output, Dolby AC-3 PCM outputs (both coaxial and TosLink), 96kHz PCM audio outputs (both coaxial and AES/EBU) and an RS-232 interface port to enable the CL-20 to be connected to computers, home-theater control systems, and local-area-network (LAN) expansion cards.
The front panel is a nicely sculpted creation with angled lines on both lower corners as well as on the transport drawer, finished in basic audio black. Function buttons across the front are standard for CD players, with the push buttons you don't recognize being for DVD video playback. The main power button turns off the display functions while leaving other circuitry in a warmed-up standby mode -- a nice feature. The supplied remote control replicates all front-panel functions, plus has a joystick for DVD menus as well as buttons to turn off the front display panel, set program markers, and operate most brands of television. Questions about any or all of these functions are well covered in the owner's manual, so I won't bore you with further detail. The CL-20 measures 17"W x 5"H x 15.25"D and feels solidly built at 20 pounds in weight.
Alpha DAC
The Alpha DAC that was shipped to me has been upgraded to 24-bit/96kHz capability from its former 18-bit/44.1kHz incarnation. The PCB for the 24/96 upgrade is supported above the original circuit board on the bottom of the unit, and the two are electronically coupled with pin connections, excepting the power supply which is hard wired to the DAC board. The Alpha is a Burr-Brown 1728 enhanced multi-level Delta Sigma (single-bit) DAC design, with eight separately regulated power supplies, and a dual 12AX7 tube discrete analog stage. The Crystal CD8414 low-jitter input receiver is present and input sampling frequency is specified at 28.4kHz to 96kHz with a frequency response of 5Hz to 40kHz (+/- 1dB). THD is rated less than 0.005%, output voltage is 2.0V rms, output impedance specified at 2k ohms, and channel separation in excess of 80dB. The Alpha DAC will not decode HDCD signals, though the HDCD indicator on the CL-20 when used as a transport will light.
The front panel of the Alpha DAC has push buttons for standby mode and input selection. The standby button brings the DAC back to life from its continual warmed-up mode, assuming the unit is plugged in and the main power is turned on from the rear panel. This allows the low-voltage supply to the two 12AX7 tubes to be dropped, while higher-voltage supplies to transformer and filter caps are maintained. Bottom line? Your tubes will live longer and you'll avoid long warm-up periods. The Alpha has a one-minute mute cycle once the standby button is pushed, so don't go crazy trying to figure out what's wrong when you don't hear music from the starting gun.
The rear panel is all business, with an IEC receptacle for the supplied or your favorite detachable power cord, rocker-type power switch, and RCA analog L/R outputs. Input options are coaxial 75-ohm RCA, balanced 110-ohm XLR, AT&T glass and TosLink optical. The Alpha measures 8.5"W x 4.75"H x 12.5"D, and weighs in at 10 pounds. It's no bigger than it needs to be, and quite easily placed in smaller spaces left in your rack.
Review system
Ran out of clever section headings for "review system." Sorry. I'll have my large support staff work on that for next time. Here we go: Muse Model Five CD transport with Muse Model Two Plus DAC (with HDCD, Bessel reconstruction filter, and W313 I2S connection), Audible Illusions L-1 linestage with Amperex 7308 tubes, Belles 150A 100Wpc solid-state amplifier (with Vampire binding posts and latest updates by Dave Belles), Cardas Golden Cross interconnects and speaker cables, Kimber Bi-FocalXL speaker cables and Power Kords, TAD Systems (Bybee) Power Purifier, PSB Stratus Gold and Quintessence Acoustics Standard speakers. Home-brew absorbers that look like hell all over the room, Dave's custom hardware-store racks, rookie-looking sandboxes and inner tubes, and Mod Squad Tip-Toes and Sumiko Counterfeet all fall into the accessories category.
I did a bit of DVD viewing with the home-theater gear, which adds an RCA RC5200P DVD transport (analog output 16-bit/44.1kHz, so I was unable to compare 24/96 music with the CAL products), Harmon Kardon ADP303 AC-3 processor, Fosgate Five Pro-Logic processor, Sony 32" XBR Trinitron TV, Belles three-channel 150A amplifier (center, rear), KEF Q-60 monitors (center, rear), AudioQuest Quartz and Ruby interconnects, a Mondial Magic Ground Loop Buster, Cardas Crosslink speaker cables and Cross interconnects. A Mitsubishi HS-U55 VCR sees primary duty in these digital days as a clock.
Down to work
The CL-20 is a pretty damn good standalone CD/DVD player. That's what I said on my taped notes, though I know it doesn't tell you much. I found it paired quite well with the PSB Stratus Golds and the Quintessence Acoustics Standard speakers, though they are two different birds altogether. The CL-20 presents a rich, warm sound that could use the transparency button turned up just a bit. I'm not talking about needing a boost in the high frequencies, but there's a slight haze to the overall presentation that quickly doesn't bother the listener once out of the critical listening mode. Resolution isn't hampered to where detail is lost. Listening to "57 Channels (And Nothin' On)" off of Bruce Springsteen's Human Touch [Columbia CK 53000] is a good example of the CL-20's ability to resolve detail. Bruce isn't normally a bass player, but on this cut he handles the driving bass line that makes up the vast whole of the song. You can easily discern that Bruce is using a pick and attacking the bass strings as he would a six-string guitar. Believe it or not, that contact of the pick on the strings can be heard as a sound independent of the note the string makes.
Bass is punchy, but not as taut as heard through the Muse combination. The midrange (male and female vocals in particular) has a wonderful richness with the resonance of the chest area heard as part of the voice, just as in real life. The Muse products lean more towards stripped-down sound through the vocals, letting you hear every nuance without frills. The sound is not so intimate that the CL-20 adds a distortion called romance to the mix; I believe it merely approaches the sonics on the disc from a different perspective. Neither is better, but they are different. Both types of sound provide hours of musical enjoyment. I was highly impressed with the sound of the steel strings of the acoustic guitar when listening to "Lonely Nights" on the latest release from Chris Isaak Speak Of The Devil [Reprise 9 46849-2]. Sparkle is a word I usually save for cymbals, but it applies fully here on the higher notes of the guitar. They don't sound like some mechanical clicking; they actually sound like steel strings.
One Saturday evening I was in a mood for the ladies to sing to me, so back to back came Emmylou Harris' Wrecking Ball [Asylum/Electra 61854-2] and Cowboy Junkies' Pale Sun Crescent Moon [RCA 66344]. I found myself emotionally attached to the music in both cases. If you don't sit around with 27 pieces of hardware going in and out of your system trying to make minute judgments, this CD/DVD player can provide the means. Where the CL-20 has shortcomings (there's that slight forgettable haze) they are offset by the fact that it simply lets you become emotionally involved with a musician's finest efforts. What are you striving for other than that?
Soundstaging was as expected from an audiophile product, maybe even a tad better in depth presentation on CD than the Muse combo. Events are placed in the overall stage as good as the speakers used will allow. I find speakers to have more to do with width and imaging than the electronics attached, when the electronics are typically of the caliber associated with audiophile listening, that is. Depth for some reason seems to be the exception, as I've heard electronics and speakers affect this quality time and again.
Twice during my time with the CL-20, the music died into silence in mid-song. While there was no loss of power to the unit, and the display kept on ticking, the output sputtered away into silence. Remembering similar problems with the Audio Alchemy gear of yore, turning off the unit and unplugging the power cord for five minutes did the trick. I suspected there was a microprocessor somewhere inside that needed resetting, which the service techs at CAL thought was correct. Engineering however thought that because of the switching of various clocks, that a simple field fix whereby snipping a small resistor that connects a couple of pins across an IC chip would better synchronize the various clocks. I performed the five-minute vasectomy of the resistor, and the problem has not returned. One other operational note: If you push the open/close tray button prior to depressing the power button, the unit will appear to power up and the display will show the disc playing after pushing play, but you may not get sound. Turn the power off with the power switch and then back on, and everything operates as it should. The tray button should not be thought of as the power on switch.
As a DVD video player, the 9-bit CL-20 appeared to perform quite well both sonically and visually. I used the S-video connection to my Sony television, which resulted in a picture that was vivid, but not as sharp as the RCA transport. Not that this was a bad thing -- I actually thought the CL-20 picture to be the better of the two, as the RCA tended to be more grainy, less refined. I was surprised to prefer the Monster Cable TosLink connection over the Cardas Video/High Speed coax cable. The Cardas sound was warmer, but the Monster was clearer, and with the Harmon Kardon ADP303 AC-3 processor the clarity of the Monster Cable won out. Different coax cables may provide different results.
The Alpha DAC makes its move
Using the Alpha DAC in conjunction with the CL-20 was a mixed bag. The transparency dial did get cranked up a little by linking the CL-20 and the Alpha DAC together, but I can't say it was so much better that you should cancel the short vacation to Lake Tahoe your better half insisted upon and buy the Alpha. Playing "Sunday at the Savoy" from 88 Basie Street [JVC JVCXR-0021-2] suggested to me that if jitter is still an issue, and I believe it to be, then that might explain why I sensed a level of "wholeness" when listening to the CL-20 alone that was lessened when tethered to the Alpha DAC. I heard the Basie large and small bands both swing together better from the CL-20 alone than when using the Alpha DAC. I also noticed more of a burnished tone to John Williams' baritone saxophone on this cut.
The Cardas Video/High Speed, HAVE Canare, or the late Audio Alchemy's DST powered coax cables all came in behind the DH Labs Silver Sonic AES/EBU cable. If it can't be I2S on separates, balanced may be the better connection; it was with the Alpha DAC. Using the coax input on the Alpha tended to create a slight smearing of the sound, less differentiation than when using the balanced connection. Coax is the default setting when the Alpha is brought out of standby (or first powered up), and the balanced line must be manually selected.
The areas that stood the CL-20/Alpha combo apart from the Muse Five/Two Plus products were in the realm of dimensionality and handling of dynamic passages. The CAL team gave a little better sense of space and depth, with the Muse being somewhat flatter in its presentation. When listening to an orchestra sweep into a crescendo the CAL products seemed to give a better sense of effortlessness, whereas the Muse gear tended to congest.
Using the CAL Alpha DAC with the Muse Model Five transport did not seem to be a synergistic match. Using the DH Labs Silver Sonic balanced cable or the HAVE Canare coax cable between the two created a sound that just came off as bland. The precision of the Model Five's sound should have, in theory, been complimentary to the warmth of the tubed Alpha. This was the first time I had heard a pairing of products that really seemed more indifferent to each other than just being "not quite good." The emotional attachment to the music I found with the CAL products together or the CL-20 alone was missing in action with the Muse/Alpha combo. I would suggest the Alpha probably has plenty of potential with other transports, but the Muse Model Five didn't supply it.
And what about 24/96?
While what today's 24/96 players and processors currently output is 20-bit resolution, due to noise floor limitations, there MUST be something going on with higher sampling rates. When playing Classic Records DADs or Chesky SADs, the CL-20 and Alpha DAC retain the sonic characteristics reported earlier, but the recordings come across in an improved, analoglike manner. Now don't get me wrong here. There are always going to be recordings that maybe don't come off as well as one would hope, but that's regardless of the format involved. But if more information is recorded initially (direct digitally or from analog tape), and then oversampled, it only makes sense that the waveform created will have smaller stairsteps between samples and will resemble more closely an analog waveform.
For instance, while Terry Evans' Blues For Thought [Classic DAD 1014] and John Lee Hooker's Mr. Lucky [Classic DAD 1007] don't impress me a whole lot (except that the music is great), they still show an improvement in spatial presentation and dynamics over the CD versions. Classic's A Time Remembered by Art Davis [DAD 1001] and Chesky's Sex Without Bodies from Dave's True Story [Chesky CHDVD174] are both outstanding performances with sonics that make you feel like you were invited to the recording sessions. Classical music really benefits from the openness that I am hearing on high-sampling-rate recordings. David Chesky's Three Psalms For String Orchestra [Chesky CHDVD181] and Rachmaninoff's Symphonic Dances; Vocalise [Classic DAD 1004] both give a better sense of orchestral size and the recorded acoustic. Three Psalms is a slower-moving, meditative piece enhanced by an excellent recording job, while the Rachmaninoff demonstrates how an old recording can be transferred to an optical medium successfully, maintaining a feeling of air and space. That's a real task for CD, though some of the better-recorded CDs manage to breathe a fair amount of life into the music. None of these comments could be made if the CAL products weren't capable of letting the benefits of DVD-video audio recordings be heard. They do so quite well.
It also seems that these discs seem to have a mind of their own. While CDs play as expected with the CAL products, DADs and SADs may replay themselves automatically after the last track, display elapsed time from the start of the disc rather than by track, and sometimes cause an electronic "click" to be heard after a number of the tracks. Still, it's early in the game.
You caught me in rebellious mood
Screw the notes. The CAL CL-20 DVD/CD player has done its job well enough that I've got to walk away from all my well-written, poetic scribblings and bring it on down to a base level. She's a maka music, momma, and Big Daddy Dave is shooting from the hip for a moment. This player isn't perfection personified, but I've dismissed this for the most part many listening sessions ago. There have been too many hours gone by that I've enjoyed the warm tonality that is the antithesis of all the nasty things "they" keep saying about CD replay. An investment of $2495 here will bring you a standalone player that you can feel good about throwing your hard-earned cash at. If it only had a volume control like its cousin, the CL-15 CD player, you'd have an all-in-one-box-sell-the-preamp setup that would ease a lot of guilt feelings about what you should have done with the bucks you spent on all those separates. And don't forget it plays movies too.
The Alpha will add a step up in refinement, but the CL-20 alone could put you close enough in touch with the music to keep you off the streets and hunkered down on the couch. Tradeoffs? Hmmm. Wholeness with the CL-20 that parallels the CL-20's rhythm and pace, a bit more natural tonality and transparency in two-box mode with the Alpha DAC. If $1495 isn't a deciding issue, then by all means pick up the Alpha along with the CL-20 and test drive the team for yourself. Either way you'll experience music without the brickwall digital filters found in 16/44.1 playback. With the CL-20 you can also enjoy the current batch of 24/96 DVD-based audio discs available, while the Alpha DAC is ready for use with any transport or player that currently allows 24/96 data output. However, the Alpha DAC could possibly provide better performance than your current CD or DVD player or transport at 16/44.1. Both are products to be proud of performance-wise, with the CL-20 particularly providing value for its versatility.
...Dave Duvall
dave@soundstage.com
CAL CL-20 CD/DVD Player and Alpha DAC
Prices: CL-20, $2495; Alpha, $1495
Warranty: Both one year parts and labor

California Audio Labs
Box 1218, 133 Taylor Way
Blue Lake, CA 95525
Phone: (707) 688-1736
Fax: (707) 668-1923

E-mail: info@calaudio.com
Website: www.calaudio.com