January 1998
Coincident Speaker Technology Super Conquest Sneak Peak
by Doug Schneider
It seems that with every change of season a new Coincident speaker enters my listening room. Fall 1996 brought the Triumph, a sub-$1000 bookshelf speaker that produced a balanced sound coupled with impressive bass, particularly for its size. It is a small speaker with high-end aspirations that easily earned its asking price. Winter 1997 was spent with the Troubador. Employing a coaxial driver in an odd-shaped asymmetric cabinet, the Troubador possessed a sonic signature as unique as its design. Although I admired certain aspects of its performance and certainly loved its appearance, I knew it was not a speaker for everyone. Spring and early summer were spent with the Conquest. The Conquest is a two-way design intended to improve upon the bass performance of Triumph, and do so in a cost-effective, floor-standing package. Priced at $1595 in its basic-black form, the Conquest produced a clean and detailed sound that brought the airiness and transparency of much more expensive speakers to a reasonable price point. With closer-to-full-range performance, the Conquest was also the most versatile of the Coincident speakers I'd heard.
As the Fall of 1997 began peeking around the corner, I was not surprised to find out that Israel Blume had yet another loudspeaker to send down the Ottawa Valley way. With mountain-bike season winding down and a lull before the winter movie-going season set in, I figured I could spend some time with the Super Conquest. Furthermore, I had a surplus of electronics on hand that I wanted to try with another pair of speakers.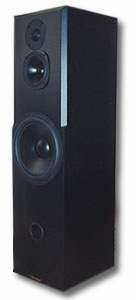 I must say that when I pulled the Super Conquest from its box I was pleasantly surprised because it was not what I expected. Anyone who has seen the standard black Conquest knows that it is not any beauty-contest winner. It is a black rectangular box--what more can I say? The Super Conquest, on the other hand, has a wee bit more styling--a wise move at its price. The front upper-half of the cabinet has been beveled on the edges, which reduces cabinet diffraction and gives it a slightly sleeker look. The improvement in appearance is a key point since the speaker, a three-way design, comes with no grills to hide its exposed drive units. Did I mention that each Super Conquest has a ten-inch woofer--front firing?
Although the Super Conquest is still somewhat techie in appearance, the black finish on the review pair appeared to have a nicer texture than what I had seen on the regular Conquest and Triumph. However, regardless of my favorable opinion of the new black finish, I had gotten the last of the breed. After mine were received, Israel informed me that once all the black models were out the door, any new speakers would come standard with a real wood veneer--cherry mahogany he called it. I hadn't an opportunity to see the finish myself, but I imagine wood lovers will rejoice. This new beveled appearance with standard wood veneer is not unique to only the Super Conquest. As of November, 1997, Coincident has released a Series II version of all their speaker models. These same features have been factored into the design and pricing of these models as well.
Despite the name and similar cabinet dimensions, the Super Conquest hardly resembles the standard Conquest. Where the Conquest was a two-way monitor with a one-inch fabric-dome tweeter and an eight-inch polypropylene woofer, the Super Conquest is a three-way model sporting a one-inch titanium-dome tweeter, a five-inch polypropylene midrange and a ten-inch polypropylene woofer. This is the first three way design from this company. Both the midrange and woofer drive units have cast magnesium baskets. Like the other Coincident models, first-order crossovers have been chosen. The woofer hands off to the midrange at 300 Hz, and the midrange passes to the tweeter at 3300 Hz. A port has been used at the bottom-front of the cabinet, and the bass response has been rated by Coincident down to 26 Hz (-3 dB point). All told, the standard model, replete with veneer and ready for single wiring with high-quality all-metal binding posts, clocks in at $2499. Substantially more expensive than other Coincident models, the Super Conquest nevertheless seems to share a common trait with the rest of the line: good value for money. Furthermore, the Coincident Technology traits of see through transparency and pristine detail have been improved upon with this model, along with impressive grunt and grumble in the low-end. At least this was my first impression.
Unfortunately, with deadlines crashing down and CES 98 around the corner, time is not on my side. The Super Conquests need a break-in period and are beginning to settle in. Like any speaker, they deserve a long listen with different components, accessories, and room settings before strict comparisons are conducted. Still, I know one thing for sure--with its highish sensitivity of 92 dB and impedance not falling below 7 ohms, this speaker is begging to be used with tubes. Luckily, I have on hand the excellent Sonic Frontiers Power 1 amplifier (55 watts per channel, $2495), and another favorite, the hybrid Blue Circle BC-2 (75 watts per monoblock, $6000), is coming full-circle back into my listening room. With a number of CD players and preamps to round out a collection of terrific components, as well as a box full of cables, some interesting experimentation is in order. Look for the full review in our March '98 issue.
...Doug Schneider
das@soundstage.com
Coincident Speaker Technology Super Conquest
Price: $2499 USD with wood veneer

Coincident Speaker Technology
51 Miriam Crescent
Richmond Hill, ON
L4B 2P8
Phone: 905-886-6728
Fax: 905-886-2627

Website: www.coincidentspeaker.com