March 1999

Cliffhanger Audio Systems
CHS-2/W-2 Loudspeaker System

by Doug Schneider


A monitor/subwoofer system
with a big list of sonic merits
and a small price.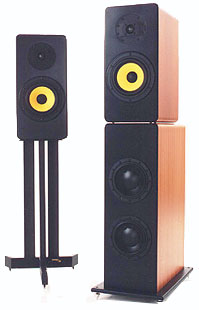 Review at a Glance
| | |
| --- | --- |
| Sound | The CHS-2 minimonitors alone are "neutral, fast and wonderfully transparent"; adding the W-2 subwoofer "frees the midrange a notch more, and adds first-rate bass performance." |
| | |
| --- | --- |
| Features | Fine overall build quality and parts; minimonitors and subwoofers integrate sonically and visually; no grilles; few dealers -- for now. |
| | |
| --- | --- |
| Use | CHS-2s perform well in small to medium-sized rooms; CHS-2/W-2 combination suitable in medium-sized and larger environments; 24" stands seemed optimal for CHS-2s. |
| | |
| --- | --- |
| Value | CHS-2 minimonitors alone offer exceptionally good value for their price; CHS-2/W-2 combination adds considerable bass depth, making for an outstanding full-range speaker system. |
Left hanging
When I first walked into Cliffhanger Audio's room at the Montreal hi-fi show two years ago, I was impressed with the system being played. Among other components, it consisted of a subwoofer and satellite speaker system called the Bedrock and CHS-1. Ian Smith, Cliffhanger company president, was sincere when he told me that he would be happy to send in a review sample -- he just didn't tell me when.
Almost two years had passed, and I figured that the company may have stopped hanging and somehow fallen -- or perhaps they just didn't want to talk to me. Luckily I was wrong; they were climbing -- improving the system I had heard. Cliffhanger Audio, a Canadian firm based in Sudbury, Ontario, is now ready to have its name known in the loudspeaker world -- and electronics are to follow very soon. In the time that passed, the speakers have changed model names. Gone are the CHS-1 and Bedrock, replaced by the CHS-2 and W-2. The CHS-2 minimonitor looks very similar to the CHS-1, but it is considerably more refined in terms of drivers and crossover configuration. The W-2 subwoofer is very different in terms of technology. Gone is the isobarik driver configuration in a large, square-box enclosure. Enter a sleek "dual-six" woofer stack in an enclosure of the same slender width as the CHS-2.
For audiophiles bent on an upgrade path, this type of configuration is ideal. The CHS-2 minimonitor, priced at $1495 for the pair, can be used as a standalone loudspeaker capable of bass performance down to a reported 46Hz. This is good for small to medium-sized rooms. The W-2 subwoofer modules, when added later, slip under the CHS-2 monitor in Wilson Watt-Puppy fashion. The price for a pair of the subs is $1799, bringing the total system price up to almost $3300. The result is a full-range loudspeaker that, as you will find out, is quite remarkable in performance for its price.
Description
The styling of both the CHS-2 and W-2 is identical. They each use an elegant dark-brown wood veneer that rounds around each corner. I found this rounding of the corners attractive and unique. Quizzing Ian as to how it is done, I learned that the very thin veneer is actually ironed onto the MDF enclosure. The front and back panels are, as the Stones would say, painted black. The CHS-2 is a two-way loudspeaker using a 6.5" paper/kevlar woofer, 1" soft-dome tweeter and dual ports flanking the rear. The crossover is second order with both drivers wired in phase. It is reasonably small, measuring 17.5"H by 8.5"W by 12"D. Except for the bright yellow woofer, it is fairly inconspicuous. Such audiophile goodies like silver solder, polypropylene capacitors, air-core inductors and metal-oxide resistors are used internally, and the crossover board itself is mounted on rubber to reduce vibration effects. Very well braced inside, the rock-solid CHS-2 is built to a high standard.
The W-2 measures 25 1/2"H, 8 1/2"W and is 15 1/4"D. Appearance is identical to the CHS-2 down to the high-quality, gold-plated input terminals on the rear. Quality of construction, as expected, is to the same level. The subwoofer has its own crossover designed to work exclusively with the CHS-2. The amplifier is connected to the W-2, which handles the frequencies below 220Hz. Supplied jumper wires attach from the woofer section to the CHS-2. Frequencies above 200Hz are passed to the CHS-2 monitors, in turn relieving them of the necessity to produce the low-end. Although the 6" woofers used in the W-2 look just like Dynaudio drivers, they are not. Instead they are designed in Canada and built in the Orient. This driver is also the same one that Totem uses in its new Forest model. At the 1998 audio show in Toronto, listeners were left slack-jawed when the Forest produced such explosive dynamics it had people wondering if Totem had now produced subwoofers and were hiding them somewhere unseen. Believe me, this driver can pound, and the Cliffhanger W-2 has two of them.
The CHS-2 has a reported 8-ohm impedance, while the W-2 is rated at 4 ohms. Each is designed, as they should be, with an identical 88dB efficiency and are magnetically shielded so they can be used near your TV or in a home-theater setup. All in all, I found the system to be an easy load for most reasonably powerful amplifiers to contend with. Despite the fact that Ian Smith says the W-2 dips to 3 ohms, my single-ended, 75Wpc Blue Circle BC-2 mono amplifiers and the 70Wpc SimAudio Moon I-5 integrated amplifier did just fine. In both cases, the amps drove the Cliffhangers to very, very, VERY high volumes, and at no time did I feel I was in need of more power.
In terms of construction, CHS-2/W-2 system is all finished very well, but one would hardly call it a statement in styling like, say, the Watt/Puppy combo. Nor is it breathtakingly gorgeous like the sculpted masterpieces Sonus Faber can dish out. Its cabinetry is pleasing and finished to a high standard, but the exposed drivers will only appeal to the audiophile crowd. This leads me to a strong criticism I have in terms of appearance -- get a grille! As it stands now, neither the CHS-2 nor the W-2 has them and that yellow driver, no matter how good it sounds, stares at you like an eyeball. Cosmetically, grilles would obviously help in a living-room setting, and more importantly they would protect the delicate drivers, mainly the tweeter, from prying, damaging fingers. Finally, although the black plinth that finishes the bottom of the W-2 is acceptable, I found the spikes used to be very ordinary, although Cliffhanger could argue that they are as good as the kind used with most loudspeakers -- which they seem to be.
Listening to the CHS-2 alone
This is a first-rate minimonitor -- one of the best I've had in my room and a bargain at its price. The overall character is neutral, fast and wonderfully transparent. Bass is tight, tuneful and surprisingly deep. The highs are clean, smooth and extended -- silky at times. And the midrange, oh that midrange is so darn fast while being seductively smooth and clean that its performance kept me spellbound through hours of listening. While other monitors do better the CHS-2s in some specific ways, the CHS-2's overall balance makes it an all-around winner and one to add to the list of really good loudspeakers that you should audition.
Ian Smith attributes the speed and smoothness heard from the upper bass through the mids to the choice of a paper/kevlar driver. He doesn't like paper alone or kevlar alone, but he figures the combination together brings out the strengths of each and negates the weaknesses. The tweeter integrates beautifully without a hint of spit or sizzle. Never chesty, never grainy, and never bloated, vocals and instruments soar from the box. Well-captured, full-scale piano works are produced with an incredibly natural tone, a lack of resonance, and impressive weight and definition. Male vocals, such Bruce Cockburn's on Charity of the Night [True North Records TNSD 0150], play without a hint of coloration and chestiness that plagues some loudspeakers. Female vocalists -- I can name off far too many to be of any use -- simply shine. Horns and guitars take on a pristine shimmer and sound stunningly clean.
The overall balance of this loudspeaker tilts, I would say, to the lean side, but never does it sound thin. Some loudspeakers have a more upfront midrange presentation than the CHS-2. In turn, this can make voice and instruments sound more fleshed out and more palpable. Some use words like warm and robust to describe it. The CHS-2 is closer to what I hear from really good electrostatics -- natural and realistic performance with ample detail but without exaggeration. The result from the CHS-2 is an airy, open sound with good dispersion that allows the box to disappear. It's like a veil has been lifted.
Bass performance is as good or better than that of most small speakers this size. Two exceptions to this are the Speaker Art Clef and Super Clef, which produce bass that approaches full-range floorstanding loudspeakers -- the kind with really big drivers. Listen to a number of tracks from the Titanic soundtrack [Sony Classical/Sony Music Soundtrax SK63213] and you will find out which speakers can really go deeeeeeep, and the Speaker Art models win out. The CHS-2 hardly lacks, mind you, and is every bit as robust and full as some of the best on the market and works very well in small to medium-sized rooms. It's just not quite in full-range territory. If you do want to pick up the low-end a notch more, closer placement to the rear wall will do that, but as with other speakers, you lose a bit of the soundstage and focus. I kept them four feet out with excellent results. Tony Overwater's acoustic bass on Turtle Records' holographic Up Close [Turtle Records 198119] raised a few eyebrows of listening-room visitors -- the texture and control were excellent and the dynamics simply outstanding for a small speaker.
Soundstaging and the ability to throw highly focused images is top-class. Of course, the ultimate result in this case depends on proper placement of the speakers in a given room, but when the setup is right, the CHS-2 disappears and presents well-defined images and an excellent sense of width and depth. The only speaker I could find that could cast a more rock-solid center image is the utterly minuscule, stupidly-good-at-the-price, $385 NSM Model 5, which shoots images in the room like a laser and beats out just about any speakers in this regard. The little NSM presents center-placed vocal images as if they are right THERE, like a softball hovering in the air. It's almost eerie and, no doubt, the Model 5's fit-in-the-palm-of-your-hand size helps. Nope, the CHS-2 was not quite that focused, but was close. Had it won I would have considered it a minor miracle.
In terms of transparency and resolution, this is an area where excellent minimonitors can rival full-range speakers costing much, much more. It is for this reason that I favor many minimonitors as reviewing tools. They give up a little in bass and gain a lot of ground in other areas and play like big speakers costing many thousands. The CHS-2 is one of the finest performers I've found in this area. In comparison with other minis, it only gets edged out only by the hyper-revealing Merlin TSM, particularly in its latest SE incarnation, which seems to clean the lens just that much more. The TSM is a tad more textured, seems to reveal a smidgen more detail as well as a little bit more depth and spaciousness. The CHS-2 is a close second in all these areas. It can easily reveal subtle nuances and intimate details, not only of your recordings, but of the other equipment in the chain. In fact, both of these speakers are excellent reviewing tools, particularly as vocal monitors, and I have no doubt that if recording engineers used either of these speakers as nearfield monitors that we'd have many more decent-sounding recordings than we do now.
I consider myself on a quest to find the ultimate bookshelf loudspeaker. B&W came very close when it released the Silver Signature. However, priced in the high thousands, it is just not a practicable loudspeaker in terms of price for most people. Cliffhanger has produced one of the finest-sounding minimonitors to enter my room. Like all small-speakers, the price, at $1495, is a little deceiving because you will need to spend a few hundred dollars on really good stands. I chose Osiris -- 24" seems an ideal height. However, for less than $2000, you get a lot of value. Save for the absence of a grille, I have little to nit-pick about. While it does not beat all the competitors in all categories, the CHS-2 places high right across the board, putting it up with the best in this class. Being reasonably easy to drive means it will likely mate extremely well in a variety of systems using anything from tubes to solid state. I used it with the beautifully built and wonderfully clean-sounding SimAudio Moon I-5 integrated amplifier, Nirvana S-L speaker wire and a Kenwood DV-S700 CD/DVD player using its el-cheapo out-of-the-box interconnect. The results were extremely good and reveal some of the best of what the high end is about. I could live with these. But, of course, there is something to say about a high-output bass performance.
Adding on a W-2
The CHS-2 perches atop the W-2, front panels evenly aligned. My Nirvana S-L speaker wire (excellent with both the CHS-2 alone and with W-2 combinations) was first routed to the W-2. Cliffhanger-supplied jumpers blazed the trail from W-2 to CHS-2. A flick of the amplifier and we're ready to rumble!
The W-2 does its thing with excellent control and superb dynamic agility. Most importantly, it does this without overpowering, muddying up, or otherwise destroying what the CHS-2s do right -- this is hardly the case with many subwoofer add-ons that don't integrate well. Of course, the W-2 is meant as a mate to the CHS-2 and is not something you would buy for other loudspeakers. The characteristics of each unit match seamlessly and the combination was no longer a minimonitor with subwoofer, but rather became a single full-range loudspeaker.
Much to my surprise the bass frequencies did not leave the largest impression on me at first. The first impression was that the upper bass and midrange improved just a little more in terms of soundstaging, and the imaging was a bit more exact. While I thought that the CHS-2 was very open and airy on its own, inclusion of the W-2 improved it just a little bit more -- indeed, this may now be classified as a minor miracle. How could this happen? Easy. The W-2 handles the notes below 200Hz, relieving the CHS-2 of the strain of producing moderate to deep bass. As a result, the paper/kevlar cone works in this new, small operating range just a little bit easier. It's a little more seamless with improved transparency and images that float a tad more effortlessly. Depth of image also improved a notch, likely because of better reproduction of room ambience.
Then it happened -- whoomph -- a REAL low note played, and I could tell that we weren't playing in minimonitor territory anymore. These woofers mean business and can deliver! The bass region takes on the best characteristics of the CHS-2 and simply extends them further. Quality of bass, even above 50Hz, improved. While the CHS-2 was going plenty low by itself, I realized that, in comparison to the full-range speaker I now had, the minimonitor alone missed some tightness and detail. With the addition of the woofer module, bass guitar, piano and drums all had more attack, detail and control.
Below 50Hz the W-2 really flexes its muscles. Extension, tightness and slam factor increase astronomically. Ian "conservatively" rates his speakers down to 33Hz, but real "in-room" response with a little lift will likely hit below the 30Hz range. It was deep, fast, tight and tuneful with hardly a thing to fault -- some of the best bass I've heard near this price and much higher. As for volume, the W-2s played VERY loudly with anything I threw at them, the drivers not even hinting at strain. I can imagine there is a limit, but I never came near it. Bass guitar, drums and the low-end of a piano resonate with lifelike clarity. Room resonance and rumble in various recording gave an eerie sense of realism.
The best combination of components I assembled with these loudspeakers included the Blue Circle BC3 linestage with BCG3.1 power supply and BC2 single-ended monoblock amplifiers. The Blue Circle equipment has extremely good resolution and can reveal subtle details while casting a soundstage with excellent width and incredible depth -- a fine match for the Cliffhangers. Digital source was all Theta components and all wiring was my faithful Nirvana stuff along with the new Nirvana T-2 digital link. All components were plugged into an API Power Wedge or Blue Circle Power Line Pillow. The result was not only some of the best sound I've heard in my own room, but some of the best sound I've heard from the majority of systems I've heard, regardless of price. Most amazing is the fact that the lowest-priced component, next to the wire and power conditioners, is the speakers!
Conclusion
I can't spread enough good news about both the Cliffhanger CHS-2 and the CHS-2/W-2 combination -- these are simply outstanding performers. One listener remarked, "These are a whole lot better than they should be at this price." I can't agree more. I've listened to the CHS-2 alone and with the W-2 for some time. Either version is very good value. At $1495 (plus stands), the CHS-2 is a fabulous bookshelf monitor that will satisfy plenty of listeners, particularly those with smallish rooms and those who don't want a large speaker capable of shaking walls. Depending on your pocket book, you may want to consider the CHS-2/W-2 combo up front. The combined price of the CHS-2/W-2 is a hair under $3300 -- call it a price-performance steal. It takes what the CHS-2 does, frees the midrange a notch more, and adds first-rate bass performance.
Whether it's the CHS-2 alone or in concert with the W-2, a 'Hanger-based speaker system performs in that rare category that few occupy -- extremely high performance that compares to speakers costing much more. The CHS-2/W-2 isn't the only one that do this, but Cliffhanger has made an Olympic-like long jump to be part of that select few. Unfortunately, finding these speakers may not be that simple. Cliffhanger is a smallish company without too many dealers. Still, good things come to those who wait and to those who phone, e-mail, drive and fly. Search them out because they are worth finding.
...Doug Schneider
das@soundstage.com
Cliffhanger Audio Systems CHS-2/W-2 Loudspeaker System
Price: CHS-2 loudspeaker, $1495 USD per pair; W-2 subwoofer, $1799 USD per pair
Warranty: Five years parts and labor

Cliffhanger Audio Systems, Inc.
1384 Marcel Street
Sudbury Ontario P3E 4G3 Canada
Phone: (705) 522-9661
Fax: (705) 522-6232

E-mail: info@cliffhangeraudio.com
Website: www.cliffhangeraudio.com