August 1998


Osiris Audionics Osiris Speaker Stands: Oh So Serious Business
by Doug Schneider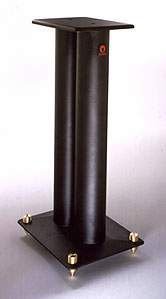 In January of this year, Marc Mickelson reviewed stands from Osiris Audionics, a relatively new name in high-end audio. This was the first published review of the company's first product, and many wanted to know exactly what Osiris was up to. Marc deemed the stands worthy of placement in a top-notch system, causing me to raise my eyebrows and pop off an e-mail to Michau Yuen, president of Osiris Audionics. High-quality speakers stands are always of interest to me because of the large number of two-way bookshelf speakers that I've tried, reviewed, and come to own. I've learned that the way to get the best performance from these speakers is to give them strong legs to stand on. And as a reviewer, I've come to know that having the best available ancillaries is crucial to ensuring that I'm hearing the best from a speaker.
In a short time, a large and very heavy box was being lugged down the hall by my increasingly unappreciative doorman who receives most of my UPS shipments when I'm not around.
"Damn," he muttered. "This is one of the heaviest ones yet. What's in here?"
"Speaker stands," I replied, "really heavy ones too. You should see your face. Do you need help?"
He raised his eyebrows, pursed his lips and gave me the look that meant back off. This is the same look he gave when I shipped the Von Schweikert VR-3s back still filled with sand! He hadn't forgiven me over those 150-pound boxes.
"I'm already up here. It's a little late, isn't it?"
I shrugged my shoulders and said nothing, knowing I had, for this moment anyway, avoided unnecessary work.
"Stands! This must be serious business," he muttered as he dropped the box close to my door. "I hope they're not going back!"
"Somehow I doubt it," I replied as a slid the carton into my apartment and quickly slashed apart the packing material. I was anxious to see the Mickelson-praised metal pedestals.
The doorman stared down for a moment, watched my knife fly, then shook his head and walked away.
"What, don't you find this exciting? Don't you want to see inside?" I said with more than a hint of sarcasm. "You should see what's coming NEXT week."
In no time I had completely unboxed the stands. Just as Marc indicated, they are very nicely finished with a high-quality look and a classic, unassuming appearance that will accentuate most speakers. I figure my doorman must be out of shape since they weigh in at about 40 pounds each, making the entire package about 85 pounds. I'll have to get some more heavier things in. Most importantly, the build quality of the stands is first-rate and solid as anything I've seen near their price.
When it comes to selecting stands for your speakers, you don't want just any old supports. In fact, some ordinary stands are worse than what a home brewer can whip up for a fraction of the price. For the best performance you want something rock solid and acoustically dead. This usually costs money. If you can't afford to buy a really good pair of stands, I usually recommend that you seek out some DIY solutions that can be quite effective for a much lower price. This is, of course, for those who don't deem appearance too important -- after all, home-brew gear is usually more functional than beautiful. However, the creative home handyman can accomplish great things with concrete blocks, MDF, and sand. Still, when the budget allows for some serious stands, the payoff in performance can be as rewarding as the improvement in appearance.
It didn't take long to confirm that the Osiris stands are more than just sharp lookers -- they are first-rate performers. With small splotches of Blu-Tak on the top plates, they supplied a rock-solid base for the Merlin TSM, Speaker Art Clef, and Gershman X-1 loudspeakers that I had in my room. The other stands I have on hand, the excellent, pre-filled BBC stands, didn't quite measure up in comparison. This was a little surprising because I felt the BBC stands were some of the best I had found. Improvements were most noticeable in terms of bass tightness, dynamics and image specificity. Of course, the stands themselves were not making the sound; rather, they seemed to provide an improved foundation to let the speakers really sing.
I believe that the fine performance is a result of the very sturdy, fully welded construction and thick metal walls. Each stand weighs in at 40 pounds empty. By filling their thick, cylindrical legs with sand or shot, you'll have as heavy and as dead a unit as you would ever want to lug around your listening room. Marc found that their weight increased to 60 pounds when filled, and although I didn't verify with a scale, I would say that this sounds right. Filling also provides the benefit of damping. Unfilled, the cylinders give off a slight ring. Once the stands are filled, the ring turns from bing to boink. To my ears, filling provided a subtle benefit, but frankly, not nearly the benefit that simply using the stock Osiris stands did.
Finally, there is a unique design aspect that I feel makes these stands really special. Marc described the supplied spikes as "the most substantial and user-friendly spikes I've seen," and I concur. These massive spikes not only give the stands a pleasing look, their performance is among the best I've tried. The spikes do a first-rate job of piercing through to solid ground to give the stands sure footing. Furthermore, their long thread length, longer than I've seen with competing stands, with easy-to-adjust slots on the tops, makes the stands even more versatile. Although the stands supplied to me were considered 24" high, I was able to adjust the thread so that they stood over 25" high, perfect for the Merlin TSM and the Gershman X-1. No matter what height the spike was threaded to, the stand still stood rock-solid.
Suffice it to say that I too am mighty impressed by the Osiris speakers stands. These are a first-rate pair of stands for use with the finest bookshelf monitors and have an appearance as fine as their performance. As a result, they are now my new reference. At $479, they are certainly not cheap, but when you want to get serious about your bookshelf speakers and want to squeeze the highest performance out of them, look no further than Osiris.
...Doug Schneider
das@soundstage.com
Osiris Audionics Osiris Speaker Stands
Price: $479 USD per pair

Osiris Audionics, Inc.
18-20th Street
Sunset Industrial Park
Brooklyn, NY 11232
Phone: 718-499-8826
Fax: 718-499-8926

E-Mail: info@osiris-audionics.com
Website: www.osiris-audionics.com