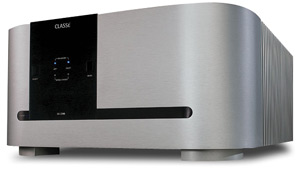 Review Summary
| | |
| --- | --- |
| Sound | "Foremost, the CA-2200 is transparent. Where some components let music flow through them as water flows through a pipe, the Classé amp opens the sonic dam; it removes itself from the equation as opposed to imprinting its thumbprint on every note." "Power? Check. Impact? Check. Instrumental separation? Check." |
| | |
| --- | --- |
| Features | "The fully balanced Delta CA-2200 is rated to deliver 200Wpc into 8 ohms and 400Wpc into 2 ohms"; uses J-FET, MOSFET and bipolar devices. "The power supply…is a large toroidal transformer with separate windings for each channel. A bank of mid-sized capacitors replace the typical arrangement of four larger cans." "Each amplifier in the Delta range operates in class-A bias to almost a third of its available output." |
| | |
| --- | --- |
| Use | "The heatsinks never became too hot to touch during my time with the amp, indicating only moderate power draw from the wall and/or efficient thermal management." |
| | |
| --- | --- |
| Value | "For $5000 you get an amp that crosses the threshold of the super-amp universe." |
I predict that Canada's Classé Audio is about to enter into an unprecedented period of growth and prosperity. Classé has revamped -- make that transformed -- its basic product line into the all-new Delta series. These are not cookie-cutter products. In fact, their physical form is refreshingly original. Sonically, I did not know exactly what to expect upon receiving the Delta CA-2200 stereo amplifier ($5000 USD) for review. I owned a Model 10 stereo amplifier many years ago, but beyond that I've had no experience with Classé products.
Classé Audio has historically been one of several amplifier manufacturers that come to mind when audiophiles want high-power, bulletproof transistor amps. Over the years, though, models from companies such as Mark Levinson and Krell have garnered much of the limelight. Times change. My stint with the Delta CA-2200 suggests that Classé Audio amplifiers are not just alternatives to anyone else's behemoths. They deserve to be an audiophile's first choice.
The new amp
Out of all of the Delta components, I was especially happy to receive the CA-2200 for review. Looking at the new Delta range on the Classé website helped me form several initial observations. First, the touch screen on the preamp, CD and universal players, and integrated amp are neat; they're very new-age-ish and should appeal to the high-tech geek in all of us. Each LCD-equipped model would make a very attractive review product if for no other reason than wanting to operate the touch screen. Second, the big CA-M400 monoblocks offer a whopping 400W each, and massive power in the form of mono amps can be the source of much audiophile delight.
So why was I so excited about the CA-2200 when the other Delta products appear sexier? For a company that produces only solid-state electronics, the case can be made that the top-of-the-line stereo amp is the defining component in a given line. It most likely inhabits a price point that audiophiles can stretch to meet, but it's not too far removed from the top of the range; it's the bread'n'butter product that, if it succeeds, can pull along its mates, not unlike the way a politician's coattails bring along his good-ol'-boy buddies.
The fully balanced Delta CA-2200 is rated to deliver 200Wpc into 8 ohms and 400Wpc into 4 ohms -- enough power for the vast majority of loudspeakers, including those that do double duty in home-theater systems. The exterior casework of the moderately sized amplifier (8 3/4"H x 17 1/2"W x 18 1/2"D and 80 pounds) is striking: the curved front fascia flows smoothly into heatsinks occupying the rear half of the amp's depth. There are no handles on either end, but the weight was manageable -- I easily moved the unit about my room. In the recent Classé tradition, both black and silver anodized aluminum mix in almost equal parts; the chassis' top is black, as is the inset panel on the faceplate that houses the channel-status LEDs. These communicate whether the amplifier is experiencing a fault, and whether you've chosen the RCA or XLR inputs via the adjacent Mode and Select buttons. The stand-by button is set into another black inset strip of aluminum and includes its own LED.
The rear is predictably simple. You'll find two pairs per channel of plastic-encased heavy-duty gold-plated binding posts, RCA and XLR inputs, RS232 and RJ-45 ports, and an IEC power-cord inlet. There's also a 12V trigger and an IR input, both on mini-jacks, and an AC line fuse. Navcom LimbSaver -- a spongy, rubber-like material designed to quell vibration -- is inset into four aluminum feet that are radiused to match the chassis's shape. Very art deco and quite functional.
The circuit, Classé is quick to point out, is no one-trick pony when it comes to design elements: "J-FET devices are utilized in the input stage because of their high input impedance and low offset current…. MOSFET devices… were chosen for the driver stage, where they deliver the necessary voltage gain while also being well suited to meet the current requirements of the output stage…. Bipolars, if driven with sufficient current, are excellent high-current output devices for amplifier output stages. Bipolars are also capable of superior low-frequency performance and stability compared with other alternatives." Everything but the kitchen sink.
The power supply -- the heart of any amplifier -- is a large toroidal transformer with separate windings for each channel. A bank of mid-sized capacitors replace the typical arrangement of four larger cans; Classé states that this arrangement is superior to others because the amplifier's audio circuits can instantaneously access power this way. Classé also says that each amplifier in the Delta range operates in class-A bias to almost a third of its available output. That translates into about the first 60W in the case of the CA-2200; the vast majority of your listening will be done within that 60W power envelope. The heatsinks never became too hot to touch during my time with the amp, indicating only moderate power draw from the wall and/or efficient thermal management.
Protection circuitry is included for output overload, DC offset, clipping, abnormal line voltage, and excessive temperature. The front-panel LEDs will blink in the event of one of these occurrences; once the fault is corrected, they'll return to normal. There were no operational hiccups during my time with the CA-2200; the amp worked flawlessly from start to finish.
Setup
I used the CA-2200 balanced with a Boulder 1010 preamplifier, which in turn was fed by the balanced outputs of an Esoteric DV-50 universal audio/video player. The speakers were Wilson Audio Specialties Alexandria X-2s. Though rated as 95dB sensitive, the X-2s are six-driver, four-way speakers that do ask for good control, especially in the bass range where they have 15" and 13" drivers. The system was tethered with a variety of cabling: Shunyata Andromeda speaker cables and Aries interconnects, and Nordost Red Dawn interconnects. Comparison amplifiers on hand were a Blue Circle BC206 and Accustic Arts Amp II-AC High Performance.
Classé performance
You'll note "performance" is this section's heading. That really describes my feelings about the Delta CA-2200 better than "sound." Performance implies that the component was actively involved in the proceedings, whereas sound, well, seems more passive. Make no mistake about it, the CA-2200 actively performs with great finesse and transparency, and those attributes can completely involve the listener in all types of music.
Foremost, the CA-2200 is transparent. Where some components let music flow through them as water flows through a pipe, the Classé amp opens the sonic dam; it removes itself from the equation as opposed to imprinting its thumbprint on every note. I've listened to almost all of my favorite demo discs with this amplifier and it has proven very hard to define or pigeonhole. The fact is that it really does nothing that I find sonically offensive, and its strengths are many.
The DVD-Audio version of Blue Man Group's The Complex [DTS 69286-01120-9-4] is as clean as a whistle and very dynamic. This disc allows you to hear any grain overlaid on notes, and any noise that would blunt or smear the leading edge of the crisp transients. With the Classé Delta CA-2200 anchoring the system the ample percussion and various instruments on "Time to Start" were sharp, impactful, and lightning quick. There was no noisy residue or tonal anomalies that caused me to perk up my critic's ears. Pace was appropriately frenetic, as you'd expect. Blue Man Group's recorded sound is not something you just relax into; it's an experience (or assault, depending on your perspective) that just begs for participation from the listener, much the same way the BMG's live performances do. It is also, well, complex music; there's a lot happening simultaneously and a component that bogs down the proceedings in any way will make you start thinking about upgrading. The CA-2200 didn't soften the Blue Man Group's approach to music or sound. In fact, it never appeared to break a sweat.
OK, so Blue Man Group isn't your first choice for testing the audiophile pedigree of a high-class audio component. How 'bout some Metallica? The opening to 1991's "Nothing Else Matters" from the Black Album [Elektra 9 61113-2] demands some real power and precision to sound as it does in concert. This song is an unlikely test track. A number of times through the years I've been disappointed by the way a system sounds reproducing this song. Bass often becomes muddied, and a lack of power and control can just turn it into a heavy-metal mess. Kirk Hammett's guitar serenades through the room until about a minute in, when James Hetfield's vocals and Lars Ulrich's drums join the procession to make this metal ballad come alive. Power? Check. Impact? Check. Instrumental separation? Check. The only fault I could detect while listening to this track was a slight lack of ultimate bottom-end oomph on the kickdrum. I'd bet that the CA-M400 monoblocks would improve over their stereo sibling in that particular performance area.
For vocal prowess and the ability to place performers properly within the soundstage (and a vast change of musical pace), I listened to Alison Krauss & Union Station perform the title track to New Favorite [Rounder 11661 0495 2]. The down-home flavor of Krauss's voice on this track shone through on a soundstage that showcased the adept accompaniment from her band. Although not as folksy as much of the Krauss repertoire, this song sounds singularly human and honest. Through the CA-2200 I clearly heard every nuance in Krauss's voice in a lifelike, full-sized locked-in-the-center image. Same thing with Johnny Cash on "Cry, Cry, Cry" (The Hits [Mercury 314-534 665-2]): honest and forthright, just as you'd expect Cash to sound. Acuity with well-recorded male and female vocals? Check.
Comparisons, international style
The Classé Delta CA-2200 is a viable alternative to the Accustic Arts Amp II-AC High Performance ($10,500) that I reviewed last month, and it costs less than half the price of that amp. Both the German Accustic Arts and Canadian Classé amps produced a focused, sharply defined soundstage that placed performers right where they ought to be. Both amps were also quiet -- both mechanically and sonically -- and had ample power reserves. They're both physically styled to set them apart from the pack and in each case the aesthetic design is tastefully done. Both beasts are also each backed by companies that appear to have great engineering and manufacturing talent -- important when considering long-term reliability, not to mention resale value. There's one big however, however. Because the CA-2200 does cost half what you would pay for the Amp II-AC HP, and because it virtually mimics the more expensive amp's performance, the choice becomes crystal clear. If I were buying, I'd pick the less-expensive Classé amp every time.
But don't think the CA-2200 is about as perfect as an amplifier gets. You don't get that for $5000. The CA-2200 won't cast the absolutely huge soundstage of the Canadian Blue Circle BC206 ($10,295), though it is sonically quieter and projects its sound from a blacker background. It also won't produce the tremendous energy and drive in the super-low bass that the Gryphon Antileon Signature ($24,000) will. Here's a case where the Dane's 150Wpc sound much more powerful and controlling than the Classé's 200Wpc. And lastly, the CA-2200 won't scale the upper registers with the same precision as the Halcro dm68 monoblocks ($38,000 per pair) from Australia.
But c'mon! The last two examples are crazy expensive, and with much of my music collection these observations disappear. The CA-2200 made me work to find its faults.
Frankly, it's those very comparisons -- with the big-buck heavyweights -- that bring this amp back down to earth. The Classé Audio Delta CA-2200 does compete at an exalted level, and as a reviewer, I had to find its limits. However, it's a testament to Classé Audio that I had to go to stratospheric price points to do so.
Conclusion
I stand by my initial prediction: Classé Audio will be very successful with the new Delta range. The across-the-board styling is at once a breath of fresh air but also classic enough to stand the test of time. The Delta range appears to be well structured, with price points that will make it attractive to consumers. And the products are designed to work, and look good, together.
As for the Delta CA-2200 specifically, it's a winner and a bargain. For $5000 you get an amp that crosses the threshold of the super-amp universe. Though it may not make it all the way through the door, the fact that it comes close is, frankly, remarkable. The CA-2200 is liable to cause a stir in dealers' showrooms if it is let near those pricier offerings. In my house the CA-2200 held its own against some mighty strong contenders, and came out performing pretty darned well.
...Jeff Fritz
jeff@soundstage.com
Classé Audio Delta CA-2200 Stereo Amplifier
Price: $5000 USD.
Warranty: Five years parts and labor.

Classé Audio, Inc.
5070 François Cusson
Lachine, Québec
H8T 1B3 Canada
Phone: (514) 636-6384
Fax: (514) 636-1428

E-mail: cservice@classeaudio.com
Website: www.classeaudio.com