August 2006
Bryston B100 SST Integrated Amplifier
by Philip Beaudette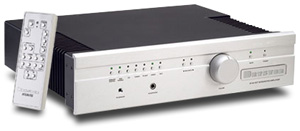 Review Summary
| | |
| --- | --- |
| Sound | "The B100 SST gives the sense of hearing everything on a CD…. The background was dead silent as the noise floor dropped to a level of inaudibility." "Bass reproduction was absolutely sublime.… The B100 SST has changed my perception of what good bass should (and can) be." |
| | |
| --- | --- |
| Features | Integrated amp "rated at 100Wpc into 8 ohms and 180Wpc into 4 ohms. As is Bryston's way, this is a conservative rating. The company goes to great lengths to ensure that all of its products exceed their quoted specifications." "Bryston is a firm proponent of using fully discrete circuitry rather than integrated circuits…. Hence, the B100 SST's circuitry is fully discrete." |
| | |
| --- | --- |
| Use | "The appearance and feel of this integrated amplifier make it obvious that it's built to last as long as its 20-year warranty would suggest." "It's difficult to attach a single adjective to the sonic character of this integrated, but the one that best describes it is 'neutral.' The B100 SST is a chameleon. It takes on the character of whatever disc is in the CD tray and has very little sound of its own." |
| | |
| --- | --- |
| Value | "Although the NAD C372 does many things very well and performs to a very high standard at its price, the Bryston B100 SST improves on all of these and performs to a very high standard, period." |
In previously published reviews, I've mentioned that I developed an interest in high-end audio while in college. As such, there were (and still are) limitations regarding the components I could afford. It's difficult to aspire to audio's state of the art when there's tuition that needs to be paid. But I'm hardly alone in this regard. I suspect most audiophiles are in the same position. All of us are looking for the most cost-effective means of acquiring the sound we want, but we also have bills to pay. This presents a challenge that requires knowledge of the market, but doing such research is a part of what makes this hobby so much fun.
I didn't know what to expect when I got the opportunity to review an integrated amplifier from the Canadian manufacturer Bryston. I was familiar with the company, but as a graduate student on a limited budget, Bryston products were beyond my means. Prior to reviewing the $2995 USD B100 SST, I wondered how much better an integrated amplifier could be than my reference. The answer came as a surprise, and it has forever changed my perception of what is possible with musical reproduction.
Built first to last
Bryston Limited is the oldest independent audio manufacturer in Canada. Formed over 40 years ago, Bryston has earned great respect and numerous accolades in Canada and around the world. If you want to read more about Bryston's history as well as their manufacturing and design philosophies, have a look at the Bryston Factory Tour article posted in our Features section.
While I won't rehash what appears in that article, I will state that Bryston gear is nearly bulletproof. The appearance and feel of this integrated amplifier make it obvious that it's built to last as long as its 20-year warranty would suggest. Its simple appearance and beautiful silver faceplate instill a sense of pride in owning something that is clearly the product of exceptional craftsmanship.
The B100 SST measures 19"W x 4 1/2"H x 10 1/2"D and weighs 19 pounds. To give the integrated a slimmer profile there is also the option of a 17" faceplate rather than the 19" one supplied with the review piece. You can also choose to outfit the B100 SST with a black faceplate rather than the silver. I preferred how the silver faceplate matched the brushed aluminum baffle of the PSB Platinum M2s I used for this review.
Bryston's B100 SST is rated at 100Wpc into 8 ohms and 180Wpc into 4 ohms. As is Bryston's way, this is a conservative rating. The company goes to great lengths to ensure that all of its products exceed their quoted specifications. Each channel has its own toroidal transformer. This prevents any chance of signal crosstalk between the channels.
Bryston is a firm proponent of using fully discrete circuitry rather than integrated circuits. In Bryston's view, ICs are inherently prone to phase problems and non-linearities that are avoided when discrete signal pathways are used. Hence, the B100 SST's circuitry is fully discrete. Even the optional onboard DAC benefits from its own power supply and is directly connected to a pair of proprietary Class A Discrete Operational Amplifiers rather than the IC chips one typically finds in other products. According to Bryston, this improves resolution and dynamic headroom.
Aside from a solid feel and ample power reserves, flexibility is another of the B100 SST's strengths. There are four sets of line-level RCA stereo inputs, one set of RCA stereo outputs, and one stereo tape loop. There is also the option of adding an onboard digital-to-analog converter to which four stereo devices may be connected. This has two optical and two coaxial inputs. The review piece was supplied with the onboard DAC, a $1000 option (see sidebar). Furthermore, you can also order an internal moving-magnet phono stage ($400).
Altogether, the B100 SST is a highly versatile one-box solution for those wanting to play back their entire music collections regardless of the medium on which it has been stored, but who do not want to be bothered with buying separate components to handle all of the necessary functions. However, even if you want to experiment with a different amplifier or preamplifier, this is possible because the B100 SST boasts pre-out/main-in jacks.
A full-function remote control adds $400 to the B100 SST's price. I was fortunate to have one of these sent along with the review sample, and I was shocked when I held it for the first time. The remote is hewn from a solid piece of aluminum and weighs about one pound. Furthermore, it can be programmed to be backlit under poor lighting conditions. Because the backlight only comes on in the dark, battery power is saved when there is sufficient light. This may seem a small detail, but things such as this really set the Bryston B100 SST apart from its competitors. I do much of my listening with the lights turned out, so I found the backlight really helpful. All other remotes I have touched since using the Bryston seem shoddy by comparison.
Reference sound?
I won't waste any time getting to the point: I loved my time with the B100 SST, and I've never listened to an integrated amplifier that I enjoyed more. Many listening sessions lasted well into the night -- hours that I would normally reserve for things like sleep, which I don't skimp on without good reason.
Listening to the B100 SST's optional DAC
Bryston uses a multi-bit delta sigma chip for the B100 SST's DAC. It both upsamples and oversamples. Data from the CD are upsampled to 96kHz and then oversampled eight times prior to reaching a digital interpolation filter to create a more analog-like waveform. The effect of the DAC is remarkable, especially because a single button on the remote control can easily switch between the Bryston's onboard DAC and the analog output of the CD player. This made quick comparisons very easy -- I never had to leave the listening chair.
When the onboard DAC was used rather than the CD player's DAC, it was as though a barrier had been taken down between the speakers and me. The CD player made music sound veiled in comparison to the Bryston DAC, the latter giving a greater sense of space and three-dimensionality to the music. The overall effect was a vastly improved sense of presence, a greater "live" feel to the proceedings. It was as though the CD player confined music to a bubble around the speakers, and the DAC removed that bubble and allowed sound to more easily fill the room. High frequencies were even more extended, and the soundstage had a better sense of width, height and depth. Much like the B100 SST itself, the DAC has the effect of lowering the noise floor and offers a clearer view into the music.
At $1000, the B100 SST's onboard DAC is not inexpensive. However, unless you already own an exceptional CD player, you should at least consider this option because it takes an already excellent product and makes it even better. Listening to the onboard DAC made me feel that I was missing something with my own CD player.
...Philip Beaudette
philipb@soundstage.com
The B100 SST gives the sense of hearing everything on a CD. "Beauty Queen" from Tori Amos's Boys for Pele [eastwest CD 82862] starts with a few sparse notes played on a Bösendorfer piano and is soon accompanied by Tori's voice at a level just above a whisper. The closely miked vocals give the song an eerie intimacy that puts Amos directly in the room with the listener. "Beauty Queen" has always sounded very good, even on equipment of lesser quality than the B100 SST. Through the Bryston integrated, though, the song was reborn, and in some ways it was like hearing it for the first time. The background was dead silent as the noise floor dropped to a level of inaudibility. The sound of the hammers striking the strings and the decay of the notes were reproduced with such clarity that the piano took on a presence in my listening room I had not experienced previously.
It's difficult to attach a single adjective to the sonic character of this integrated, but the one that best describes it is "neutral." The B100 SST is a chameleon. It takes on the character of whatever disc is in the CD tray and has very little sound of its own. If you value warmth or lushness in your music, look elsewhere. You won't find it here. As the second song, "Horses," began, a smile spread across my face as Tori started to plumb the depths of the Bösendorfer. The sound was forceful, powerful, but so easy to discern. Mid and deep bass notes were so well separated that they weren't obscuring one another. There was no overhang or bloat. It occurred to me that the B100 SST would be a perfect tool for revisiting my CD collection because it offered such an unrestricted view into each recording.
Hence, I would also describe the B100 SST as "extraordinarily transparent." Listening with it makes it very easy to hear what the recording engineer was trying to achieve. The soundstage is well laid out, and positions of instruments and voices are readily discernible. This was also something that became apparent with Boys for Pele. Channel separation was superb, and images took their precise place in distinct positions on the stage in front of me. There was no blurring of sound between the speakers, and everything was communicated as a musical whole. Not only did this have the effect of producing a great sense of realism in my listening room, I also found myself forgetting that I was listening to a stereo system and focusing more on the music itself -- always a good sign.
Because of its neutrality and transparency, I suspect that some listeners may consider the B100 SST's sound "bright." This was not my experience. In fact, I often found myself turning the volume up beyond where I normally listen. Distortion is often what causes music to sound bright, and although I know there was distortion present, it was obviously much lower than I was used to hearing. High frequencies never sounded piercing, only very extended. This was best demonstrated on Miles Davis's classic Kind of Blue [Columbia/Legacy CK 64935]. I've heard this album countless times, but with the B100 SST the experience was different. On some systems, John Coltrane's saxophone can turn harsh in the upper registers, so much so that the volume needs to be turned down. Not with the Bryston B100 SST. Coltrane's saxophone was very extended but never edgy. A friend of mine who loves jazz and knows Kind of Blue inside and out commented that this was the first time he had ever heard the horns reproduced without becoming harsh. This was quite a compliment coming from someone who is so familiar with the album.
Bass reproduction was absolutely sublime. Everyone has heard boomy bass at some time or other, and oftentimes people confuse this with good bass. Typically what people are actually hearing are loose low frequencies that are muddled and overlapping, without much definition or character. The B100 SST has changed my perception of what good bass should (and can) be. To test this, I played Underworld's Dubnobasswithmyheadman [Junior Boys Own JBO1001992] using the PSB M2s, but also the PSB 4T floorstanding speakers. The Image 4Ts employ a pair of 5 1/4" woofers in conjunction with a larger cabinet, so they can go deeper than the M2s. With the B100 SST powering the 4Ts, the song "Mmm Skyscraper I Love You" sounded as it hadn't before on these speakers. The beat of the drums had plenty of weight, but their "thump" was so tight and quick that the 4Ts sounded more agile. I've been listening to the 4Ts for four years, but they have never sounded so good as when they were connected to the Bryston B100 SST. You might be surprised what your speakers are capable of when connected to an integrated amplifier of this quality.
Comparison
Although it does not fall into the same price range as the B100 SST, I am very familiar with the sound of NAD's C372 ($899), making it the most suitable integrated amplifier for comparison. Although the C372 is an excellent option for someone looking to spend under $1000 on an integrated amplifier, the additional investment necessary to purchase the Bryston brings with it a number of significant improvements. Just by looking at each unit, the first difference you will notice is in build quality. Both are solid pieces of equipment, but the case work, faceplate and remote of the B100 SST all feel sturdier than the NAD's. This isn't a surprise. One should expect better craftsmanship as the price increases. However, when you consider that the Bryston also carries a 20-year warranty, it is obvious that your extra money is being spent on what the company intends to be a long-term investment.
Associated Equipment
Loudspeakers – PSB M2 and Image 4T.
Integrated amplifier – NAD C372.
CD player – NAD C542.
Interconnects – AudioQuest Copperhead.
Speaker cables – AudioQuest Type 4.
Digital cable – Esoteric Audio.
Build quality aside, there are many sonic differences. The B100 SST has a lower noise floor, so it has a more detailed, better-resolved character. The exceptional transparency of the B100 SST offers a clearer window into the performance. In terms of bass, the C372 offers plenty of powerful, well-controlled low frequencies, but the B100 SST does the same while adding improved definition and clarity. At the other end of the spectrum, treble sounds more extended and cleaner with the B100 SST.
If you like to listen at high volumes, you will be able to do so much more easily with the Bryston integrated. Its clarity makes it easy to listen to for hours without fatigue. The C372 is also very good in this regard and can play plenty loud, but demanding musical passages can make it sound a bit aggressive and bright at very high volumes. With the Bryston, I usually found myself turning the volume up, while with the NAD I reached a maximum loudness threshold much sooner.
Despite the discrepancy in their prices, both integrated amplifiers offer a great amount of functional flexibility. While the C372 does not have the option of an onboard phono stage, NAD builds a separate unit you can, of course, use with it. What you can't buy for the C372 is an onboard DAC.
Bottom line: Although the NAD C372 does many things very well and performs to a very high standard at its price, the Bryston B100 SST improves on all of these and performs to a very high standard, period.
Conclusion
I've spent the entire review lavishing praise on this integrated amplifier from Bryston and you might wonder whether I think it has any shortcomings. I haven't found any, and believe me I've tried! I am certain there are other companies that produce integrated amplifiers of similar or greater sonic abilities, and I'm equally sure that I would also find them highly enjoyable. However, to my ears here and now, the B100 SST is easily the best integrated amp I've heard, and it has raised my system to a much higher level than I have previously known. I spent countless hours going through my CD collection just to experience my music with it. At the end of a busy day, the B100 SST gave me something to look forward to, even with music I knew well. I can't give any higher praise than that.
...Philip Beaudette
philipb@soundstage.com
Bryston B100 SST Integrated Amplifier
Price: $2995 USD.
Warranty: 20 years parts and labor.

Bryston Limited
P.O. Box 2170
677 Neal Drive
Peterborough, Ontario, Canada K9J 7Y4
Phone: (705) 742-5325
Fax: (705) 742-0882

E-mail: jamestanner@bryston.ca
Website: www.bryston.ca