March 2008
Bryston 2B SST C-Series Amplifier
by Bob Wood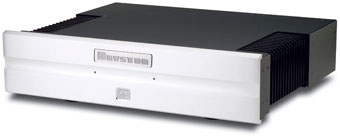 Review Summary
| | |
| --- | --- |
| Sound | "Clean and dynamic, quiet and powerful." "I have never, ever heard Paul Simon's voice reproduced so clearly as with the 2B SST C-Series amp…. There was clarity and nuance that I've never noticed with this particular CD. Lyrics were easier to discern, and I finally understood several which apparently I had always misheard." "This amp offers plenty of bass. In fact, on several cuts, I thought I was hearing too much bass." "An extremely quiet amplifier through which you'll hear an especially clear soundfield with no penalties at either end of the spectrum." |
| | |
| --- | --- |
| Features | "The latest iteration of a model which was introduced in 1979. A class AB, dual-mono design inside the chassis, it incorporates Bryston's SST circuitry and has twice the output power of the original amp: 100Wpc channel into 8 ohms." "Bryston has expended obvious effort to decrease noise, as two new lower-noise power transformers are used in the 2B SST C-Series amp. Power-supply capacitance has been increased to 30,000 microfarads per channel." |
| | |
| --- | --- |
| Use | "Despite the run-in torture test at the factory, it took several hours powered up with signal before the 2B SST C-Series reached its best sound. Once that was achieved, I left the amp on continuously. If it ever got hot, I wasn't able to detect the heat." |
| | |
| --- | --- |
| Value | "At $2650, the Bryston 2B SST is a very good value. You can also think of it this way: Over the course of that 20-year warranty, that's only $132.50 a year for a solidly built high-performance product that'll get you where you want to go sonically with minimum hassle." |
On Easter morning, my wife walked down the hall that leads to our dedicated listening room and felt wetness under her feet. Water squished from between the wooden floorboards, which sit on a concrete slab. Three plumbers later, floorboards, trim, and walls removed and trashed, we finally identified the pipe that leaked. Long weeks after that, everything is now back to normal. In mid-mess, the Bryston 2B SST C-Series power amp arrived, and I became even more impatient to be done with the repairs.
Bryston has been known in professional and audiophile circles for years as manufacturers of solid products, as evidenced by the 20-year warranty on each preamp or amp. Why can Bryston offer such a generous warranty? One reason is hand-built assembly in Peterborough, Ontario, Canada, using only premium parts. Another reason is that Bryston tortures its products one at a time, trying to identify any failure-prone components before the products reach the consumer's system. For four days, they cycle every amp on and off at full power. Then they'll test it again to be sure the unit exceeds target specs. Individual measurements are provided with each unit.
The 2B SST ($2650 USD) is the latest iteration of a model which was introduced in 1979. A class-AB, dual-mono design inside the chassis, it incorporates Bryston's SST circuitry and has twice the output power of the original amp: 100Wpc channel into 8 ohms, 180Wpc into 4 ohms, and 350 watts bridged into mono at 8 ohms. New cosmetics spiff up the 2B SST C-Series some, although many older, more industrial-looking units are still hidden in racks or closets at recording studios, delivering continuous service for years and years.
Bryston has expended obvious effort to decrease noise, as two new lower-noise power transformers are used in the 2B SST C-Series amp. Power-supply capacitance has been increased to 30,000 microfarads per channel. Connections are balanced or single ended, and sensitivity switchable from 1V to 2V. I noted nothing other than a sensitivity change via the 1V and 2V settings -- i.e., no audible change or fussiness other than an increase in volume. There's a bridging switch for conversion to mono. A seemingly generic removable IEC power cord is provided. RCA or XLR inputs allow interface with any preamp. The binding posts are a type I've not seen before; though plastic, they are pretty neat in how they grip spades and are easy to hand-tighten. The amp measures 17"W x 4 3/4"H x 16"D and weighs 28 pounds. You can have it in silver or black finish. A 12V triggerable connection is provided for turn on with the rest of your rig.
A simple rectangular push-in switch on the front panel engages the circuit, as indicated by twin red-then-green LEDs. The turn on cycle is quick -- maybe a second. There's a slight mechanical "click" within the chassis and the LEDs go from red to green with a very slight "poof" from the speakers. Once on, the green will flash red at clipping, or orange in the case of a thermal shutdown. There's absolutely no noise from the amp at any livable level.
Despite the run-in torture test at the factory, it took several hours powered up with signal before the 2B SST C-Series reached its best sound. Once that was achieved, I left the amp on continuously. If it ever got hot, I wasn't able to detect the heat -- perhaps it cooled before I put my hand on it, or those heat sinks do a great job. No fan is necessary, though Bryston does warn that you should have room for air to circulate around the amp.
Sound
As my gear has changed over the years, I have noticed with some head scratching that certain CDs sound good with one setup and not so good with another. One of them that I have found to be chameleon-like, and therefore a good test, is Paul Simon's 1987 Grammy Award winner Graceland [Warner Brothers 9 25447-2]. In this case, I can say without hesitation that I have never, ever heard Paul Simon's voice reproduced so clearly as with the 2B SST C-Series amp. This wasn't a function of loudness -- in fact, I was listening at very reasonable levels. There was clarity and nuance that I've never noticed with this particular CD. Lyrics were easier to discern, and I finally understood several which apparently I had always misheard. Snare drum also sounded very vivid -- there was obvious stick on skin -- and I think I could even hear the gentle compression used in the production of the album.
If you think about it, getting vocals right is a matter of many influences. Often the producer will have an artist sing into many microphones to find the perfect one for that voice. And the voice may be compressed, equalized, and limited on top of that sound. Then the CD process itself adds another signature, especially if the disc was manufactured in the mid-1980s. So while it might seem simple -- getting the voice just right, getting the singer to sound as if he or she is in your room -- it is darned hard. Don't assume an edge or stridency as a penalty with the Bryston amp's way with voices -- there aren't any of these maladies. Decidedly, the Bryston amp has midrange purity, not high-frequency emphasis that gives the illusion of purity.
Associated Equipment
Loudspeakers – Wilson Audio WATT/Puppy 7.
Power amplifier – NuForce Reference 9 SE V2 monoblocks.
Preamplifier – Audio Research LS5 Mk III modified to reference level by Great Northern Sound.
Digital – Sony SCD-1 CD/SACD player modified to VSE level 5+.
Interconnects – Audience Au24.
Speaker cables – Audience Au24.
Power cords – Electraglide Reference.
Accessories – Audience aR1p power conditioner (for preamp), Walker Extreme SST treatment, Aurios isolation footers, Salamander equipment rack, dedicated circuits fed by 100-amp box, Rives Audio-designed room with RPG treatments.
Imaging was just a little beyond the speakers with Graceland, and I would ordinarily say that depth was greater than I am used to, but that's not it. Lesser instruments or background singers were simply lesser: diminished, not as loud. Lyle Lovett and His Large Band's "I Will Rise Up/Ain't No More Cane," from It's Not Big It's Large [Curb/Lost Highway B0008966-02], features all 18 bandmates and singers plus Lovett wailing away in a gospel number that builds emotion as it rolls. This is a crystal-clear recording, and toward the end of the cut, the articulate sound includes the full-tilt band and choir with a horn section tastefully overlaid in great definition with no discernable congestion. The Bryston amp portrayed it all, including a soundstage that stretched forward and back, right and left.
I realized part of the way through my listening that I was gravitating to more organic-sounding recordings -- more real sounds in the space acoustic rather than processed pop. It could have been my mood, or was the amplifier steering me there? On "Temptation" by Diana Krall from The Girl in the Other Room [Verve B0001826-12], the vocal was, again, clean, clean, clean, and the imaging pinpoint. This cut sounded big and pure from the first drum hit. It was intimate, but the bass, which is mixed big anyway, was somewhat overpowering. On other systems the bass seemed to be more complementary and less obtrusive, even though in parts of this song it's the lead.
This amp offers plenty of bass. In fact, on several cuts, I thought I was hearing too much bass. The Bryston amp has a damping factor that's much lower than that of the amps I use as my reference, so I had expected less impact. But, again, prominent mixes resulted in prominent low frequencies. The bass wasn't as concussive as I remembered it with other transistor amps, nor was it as round as a tube amp might make it. It simply seemed more realistic through my switching amps. I finally came to the best way to explain the bass I was hearing -- it was as if the microphone was placed closer to the sound hole of a standup bass and away from the strings. I write "as if" because such was obviously not the case on electric bass, but that's the sound I was hearing.
I'd say the Bryston amp has less of a typical transistor sound than some of its competition. It's clean and dynamic, quiet and powerful. It lives in its own neighborhood. Throughout my listening, time and again, I noted good snare drum sound -- not that I specifically listen for that, but it was obvious. And vocals were delivered with a clarity-enabled emotion that I enjoyed very much.
One afternoon I began to file the many CDs that were scattered here and there from previous playings but never refiled in the rack alphabetically. To move the effort along, I put on some music, just something to distract from the tedium. When Boyz II Men's Motown -- A Journey Through Hitsville USA [Universal 1749550] began to play, I stopped, turned toward the speakers, abandoned my filing and sat in the sweet spot as I turned it up. As "Just My Imagination" began, this soulful, mostly vocal performance took me away. This was why I listen. A clean, clear, wide vocal mix made my day. The group mixes singing out and singing intimately, and both had great effect.
I then decided to go for a completely different sound. Dreamgirls [Sony Music 82876 88953 2] is a wonderfully recorded effort. You could call it pop meets Broadway meets big band meets Motown meets soundtrack. I cranked the volume and settled back. This would be something to play to impress the unexpecting visitor. It would surely convert mid-fiers into audiophiles. The wave of brass and vocals literally spread a full 180 degrees in a huge sweet spot. Let me be clear -- if I held my arms straight out, side to side as I sat in the chair, the soundstage was that wide. This effect appears to be a matter of more modern CD mixing, or even phase enhancement, as it is more prominent on newer material and only where obviously intended. With my reference amps and with my more normal music selections, it's common. Wow -- trumpets were clean. Vocals were more processed but clean.
Along with the amp, I was sent the BP-6C preamp, a slim, single-ended beauty. If the amp is pretty, the preamp is her sexy sister. This was not for a formal review, but just to check out the synergy between the two products. With the generous help of Audience, I was able to obtain some unbalanced interconnects to use with the two.
"Soft loud" is a term I'll coin to describe when you turn something up and it simply immerses you deeper into the soundfield. It seduces you into turning up the music even more. It's not that you have to -- you want to. "Hard loud" is when you turn something up and your ears signal, OK, that's enough! The BP6C and 2B SST welcomed me to the world of soft loud. More volume was more thrill with no penalty. Here was real synergy! And while this wasn't a review of the preamp, I will say that I think it's a little gem.
In combo I heard greater depth too. This was a world-class pair. Match these with the right source and speakers and you'll be mighty, mighty happy.
The 'Force is with me
I've auditioned several "digital" amps in my system, and to me the NuForce Reference 9 SE V2 mono amps ($5000 per pair) were clear winners over competitors and over my previous amp, an Audio Research VT100 MK II. They spirited me away from more than a decade of tubes, and although my Wilson Audio speakers are supposedly pretty sensitive, it seems as if the more power I give them, the greater sense of ease I get out. I suspect the huge damping factor and phase characteristics of the NuForce amps are a fortunate match, leading to real system synergy for me, and the NuForce amps are said to deliver zero phase shift, which may translate to more solid imaging.
However, when I put them back into my system after listening to the 2B SST C-Series amp, the difference was more subtle than I expected and was most apparent in terms of greater bass definition, smoother vocals, and more prominence deeper into the mix. NuForce claims -- and I believe them -- extremely low noise specs, as does Bryston. By comparison with the Bryston amp, the NuForce 9 SE V2s delivered a larger, wider, more dynamic sound, but either amp was impressive. Which one you prefer could come down to a coin flip or, more likely, which best matches and enhances your speakers and fits your tastes.
Conclusion
The Bryston 2B SST is an extremely quiet amplifier through which you'll hear an especially clear soundfield with no penalties at either end of the spectrum. Bass is prodigious -- perhaps too much so with some speakers or in some rooms -- and highs are realistic. Soundstaging depends on your source but can be amazingly wide, and, if the music is mixed that way, you will hear images outside the speaker positions. My room might be partly responsible for this last thing, but it's nice to know the amp can make glorious music under the right circumstances.
It's important not to overlook Bryston's 20-year warranty and the way this company stands behind its products. Bryston is truly dedicated to reliability. You have to wonder why other companies don't, won't, or can't follow their lead. What does a relatively puny three-year warranty say?
At $2650, the Bryston 2B SST is a very good value. You can also think of it this way: Over the course of that 20-year warranty, that's only $132.50 a year for a solidly built high-performance product that'll get you where you want to go sonically with minimum hassle. If only our house's plumbing were as reliable.
...Bob Wood
bobw@soundstage.com
Bryston 2B SST C-Series Amplifier
Price: $2650 USD.
Warranty: 20 years parts and labor.

Bryston Limited
P.O. Box 2170
677 Neal Drive
Peterborough, Ontario, Canada K9J 7Y4
Phone: (705) 742-5325
Fax: (705) 742-0882

E-mail: jamestanner@bryston.ca
Website: www.bryston.ca