August 2007
Blue Circle Audio SBD Digital-to-Analog Converter
by Philip Beaudette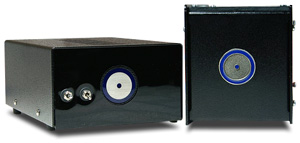 Review Summary
| | |
| --- | --- |
| Sound | "The sound was natural -- no part seemed unduly highlighted, everything remaining smooth and even." "The purity in the way it reproduced something as simple as the tone of an acoustic guitar or the whack of a kick drum was highly addictive." "As is often the case with really good equipment, the SBD didn't do much of anything in terms of applying its own signature to the music. It took on the personality of whatever CD I was playing at the time without really imparting any flavor of its own. It took me a bit of time to figure out that its greatest asset is what it doesn't do." |
| | |
| --- | --- |
| Features | "When I asked Gilbert what his goals were in designing the SBD, he told me wanted to build a small, high-performance D-to-A converter that would sell for under $2000." "The SBD has its own outboard power supply, something that was necessary if Gilbert was to keep the chassis compact while at the same time trying to overcome the restrictions the size limitations imposed." "The SBD is a fully balanced design -- a near miracle at its price." "I can't tell you what DAC chip the SBD uses because Gilbert isn't saying." |
| | |
| --- | --- |
| Use | "Other than the dark-blue glow of the logo, there are no other lights or gimmickry. Two toggle switches on the main unit allow the user to switch among the digital inputs as well as toggle phase. The SBD is on whenever it's plugged in." |
| | |
| --- | --- |
| Value | "You can pay much more than the SBD's price on any number of upgrades and still not get as close to the music that pours forth from it, making it an easy product to recommend." |
"Pragmatic high-end audio" might seem like an oxymoron given the opulent appearance of some speakers and electronics showing up today in increasingly greater numbers. However, for Gilbert Yeung's products, "pragmatic" is an apt description. The man behind Blue Circle Audio is a no-nonsense, no-frills sort whose philosophy can be summed up by a single sentence found on his website: "Keep the cosmetics to a minimum and put the money where it belongs...inside the chassis." Enough said.
I don't think you could find a better example of Gilbert's minimalist approach than his SB series of electronics. The SB line includes a solid-state line-stage preamp (the SBP), a tube line-stage preamp (the SBT), a solid-state stereo power amplifier (the SBS), a pair of solid-state mono amplifiers (the SBMs), a headphone amplifier (the SBH) and, the subject of this review, a digital-to-analog converter (the SBD). "SB" stands for "shoebox." Gilbert explained, "Someone said I should build something small enough to put it into a shoebox, so I did." No piece in the SB line is more than 5 3/8" wide, making it possible to place three components alongside each other in the space that would normally be occupied by just one. This diminutive size sets SB-series components apart from the rest of Blue Circle's catalog. The SBD is just 5 3/8"W x 3 1/4"H x 8 1/4"D, and its outboard power supply is smaller still -- 4"W x 5"H x 8 1/4"D. Side by side on a shelf, the DAC and power supply are less than 10" across, and they weigh 15 pounds.
When I asked Gilbert what his goals were in designing the SBD, he told me he wanted to build a small, high-performance D-to-A converter that would sell for under $2000 -- the SBD sells for $1895 USD. By "high performance," Gilbert refers to the ability of a component to play all types of music well, rather than do well with only certain kinds and not others. Of course, high performance is something I assume Gilbert demands from everything he builds.
Another goal of Gilbert's in designing the SBD was to overcome a problem he saw in other small DACs. He explained that with many small components the biggest problem relates to their poor-quality internal power supplies or outboard wall warts. The SBD has its own outboard power supply, something that was necessary if Gilbert was to keep the chassis compact while at the same time trying to overcome the restrictions the size limitations imposed. But, as Gilbert said, if his approach "costs a bit more, so be it, because it's worth every penny."
With regard to circuitry, the SBD borrows some of the design concepts of the BC501 and BC501ob, Gilbert's most expensive DACs. Obviously with the SBD, everything had to be made smaller to fit into the chassis. Still, all of the connections used in the pricier DACs can be found in the SBD. These include S/PDIF RCA (which I used), AES/EBU XLR and TosLink digital inputs, as well as single-ended and balanced analog outputs. The SBD is a fully balanced design -- a near miracle at its price.
I can't tell you what DAC chip the SBD uses because Gilbert isn't saying. When he dropped off the review sample and I asked him about this, he said that some audiophiles have biases toward one DAC or another and he was worried they might dismiss his product without hearing it, based solely on his selection of DAC. Rather than reveal what chip he has put inside the SBD, he'd rather have people listen and form their own opinions based on what they hear, not the parts he used. Makes sense to me.
Aesthetically speaking the SBD won't be winning any beauty contests. If you want bells and whistles, watch a boxing match because you won't find them here. Both the DAC and its power supply come in black cases, each with Blue Circle's logo on the front panel. Other than the dark-blue glow of the logo, there are no other lights or gimmickry. Two toggle switches on the main unit allow the user to switch among the digital inputs as well as toggle phase. The SBD is on whenever it's plugged in.
Sound
One of the first discs I listened to with the SBD was a recent favorite, Elliott Smith's Either/Or [Kill Rock Stars KRS 269]. Recorded in various places, including Smith's own house, Either/Or has a warm, intimate sound that perfectly complements his music and the mood evoked by the disc. Through the SBD, all of this was captured perfectly. The sound was natural -- no part seemed unduly highlighted, everything remaining smooth and even. On one track Smith's voice would be soaring on high while the body and weight of his guitar filled my room, and on the next song both could be soft and melodious, showing off his diverse songwriting abilities. Without intending to, I listened to all 12 tracks before realizing the time that had passed.
So the SBD was very easy to listen to. By this, I don't mean to imply that the sound was laid-back or the dynamics were squashed. The purity in the way it reproduced something as simple as the tone of an acoustic guitar or the whack of a kick drum was highly addictive. As I listened, I got to thinking that while I've never reviewed a piece of audio gear that didn't impress me at least in some way, there's a difference between the equipment that has you listening to your stereo and the equipment that has you listening to your music.
Associated Equipment
Loudspeakers – PSB Platinum M2.
Integrated amplifier – Bryston B100DA SST.
CD player – NAD C542.
Digital Cable – AMX Optimum AVC-31 coaxial cable.
Interconnects – Kimber Kable Tonic.
Speaker cables – AudioQuest Type 4.
For me, the difference is in the level of involvement. When I'm listening to my stereo I may be doing other things at the same time. At worst, I might even be distracted by something I don't like about the sound. But when I'm listening to music, nothing else is happening. I'm sitting, I'm relaxed, and I feel more involved with what I'm hearing. My time with the SBD was spent listening to music. As is often the case with really good equipment, the SBD didn't do much of anything in terms of applying its own signature to the music. It took on the personality of whatever CD I was playing at the time without really imparting any flavor of its own. It took me a bit of time to figure out that its greatest asset is what it doesn't do.
I listen to a lot of acoustic music, and lately Gordon Lightfoot's Complete Greatest Hits [Warner Bros./Rhino WTVD 78287] has spent a lot of time in my CD tray. The compilation opens with "Early Morning Rain," a good tune for showcasing how well the SBD handles acoustic guitar and male vocals. As Lightfoot sings and plays, his position is dead center, just slightly back of the plane of the speakers. Through the SBD, the strings of Lightfoot's guitar were wonderfully detailed, their crisp attack giving the song real drive. The vocals on this song (and many others on the disc for that matter) were captured well. There was so much detail in Lightfoot's voice that I could easily hear the slightest tonal changes. This gave the performance great presence. Subtleties that tend to get lost in veiled-sounding components were as clear as day with the Blue Circle SBD.
Even so, the SBD isn't detailed to the point of sounding sterile. If the recording sounds awful, you'll hear that. But at least with the SBD in your system you can shake your head and wonder what the heck the engineers were thinking when they recorded and mixed it. Besides, if I only listened to well-recorded material, I'd be denying myself some of the music I value most, and that's simply not an option.
Not surprisingly, the SBD was as at ease with female vocals as with male. I pulled out a few Tori Amos discs to see what the SBD was capable of when it came to reproducing a woman's voice. At this point in my listening it didn't come as a surprise that Amos's voice sounded as wonderful as Lightfoot's, and in part for the same reason. On Boys for Pele [eastwest CD 82862] Amos sounded much closer to the microphone than Lightfoot did on any of the songs on his album. With Amos you feel like you're hearing everything coming out of her mouth -- the sound of her drawing in each breath, the opening of her lips to enunciate words, and the sibilance that on lesser equipment can be heard on a song such as "Horses." Through the SBD there was no distracting hissiness to Amos's voice (at least no more than normal), but all of the subtleties, even something as simple as the pumping of her piano's foot pedal on "Blood Roses," were there to enjoy.
And enjoy is what I did with the SBD in my system.
Comparison
Given the configuration of my system -- I have a CD player that I use with a DAC inside my integrated amp -- I can't compare the SBD to another outboard digital-to-analog converter. However, I was able to compare the sound it helped produce to the sound of the two products I had on hand: my NAD C542 CD player ($500) and the DAC onboard the Bryston B100DA SST integrated amplifier (a $1000 option).
The C542 is a very good entry-level CD player and manages to hold its own very well in the face of more expensive competition. But with the SBD, the sound was more open and detailed, and basically just easier to listen to. The fact that I found the SBD an improvement over the C542 wasn't totally unexpected. It costs close to four times as much and still needs a transport, so you're actually paying more money for fewer functions. Regardless, I doubt whether someone looking to buy the Blue Circle DAC would also be considering the NAD CD player, because the two aren't direct competitors. However, someone like me might consider upgrading, in which case the SBD was a great success.
The DAC onboard the Bryston B100DA SST was a closer rival in terms of price as well as functionality. Like the SBD, the B100DA's DAC has a tightly regulated power supply. However, with the Bryston you're paying for a DAC and power supply that are add-ons to the integrated amplifier, so you will never see either, if that matters to you. The SBD's two separate chassis help explain its higher price.
In terms of performance, the sound of the B100DA SST's DAC is much closer to that of the SBD than to the NAD C542 used by itself. Both the Blue Circle and Bryston DACs created a wider and deeper soundstage, and both were very capable of filling in what was happening on that stage. The C542 sounded veiled by comparison. With both the Blue Circle and Bryston DACs, the veil was lifted, and I felt like I was closer to what's happening in the music. It's really that simple.
Although there was some similarity in the sound of the Blue Circle and Bryston DACs, the differences were striking. The Bryston DAC played with a bit more weight in the low end and produced a more full and fleshed-out presentation than the Blue Circle DAC. However, the SBD pulled ahead in terms of its clarity, focus, and the sheer ease with which it reproduced music. An example of this was "The National Anthem" from Radiohead's Kid A [EMI 7243 5 27753 2 3]. Listening casually one evening, I was enjoying this song through the SBD and decided to switch over to the Bryston DAC to see how it fared. What caught my attention was the sound of the tambourine. With the SBD, the ringing of the metal discs was crisper and produced with greater clarity than with the Bryston DAC, making the instrument sound much more real. It was as if there were more room around the tambourine, so that the sound had more space in which to resonate.
Both the Blue Circle SBD and the Bryston internal DAC are excellent products, and they produce digital playback superior to anything else I've heard in my system. They sound more similar than different, but I think part of that is owing to their function. I'd be lying if I told you I hear the kinds of differences with DACs that I hear with speakers, but all DACs don't sound the same. There was enough of a difference between these two digital-to-analog converters that some listeners will prefer one over the other. I enjoyed both and was pretty content with whichever one happened to be in use at the time.
Conclusion
While Gilbert Yeung wouldn't tell me what DAC he's using inside the SBD, I really didn't care. When a product is as consistently pleasing as the SBD, specs, advertising and buzzwords don't mean a thing. The goals Gilbert set out to achieve have certainly been realized in the SBD. It's "shoebox" small, and it performed superbly with all the music I played through it. As always, no product will be everything to everyone and some listeners will prefer more of one thing and less of another. Having said that, I'd be surprised if anyone who hears the SBD finds anything offensive about its presentation. Even if the SBD isn't your cup of tea, you shouldn't have trouble understanding what others will admire about its sound.
But let's say that you're like me -- a budget-minded audiophile who's always looking for ways to improve the system I've built but not pay a discernible amount of the GNP to get it. If you're more interested in sound quality than cosmetics, Blue Circle's SBD should be on your short list of worthwhile upgrades. You can pay much more than the SBD's price on any number of upgrades and still not get as close to the music that pours forth from it, making it an easy product to recommend.
...Philip Beaudette
philipb@soundstage.com
Blue Circle Audio SBD Digital-to-Analog Converter
Price: $1895 USD.
Warranty: Three years parts and labor.

Blue Circle Audio, Inc.
RR2
Innerkip, Ontario, Canada N0J 1M0
Phone: (519) 469-3215
Fax: (519) 469-3782

E-mail: bcircle@bluecircle.com
Website: www.bluecircle.com