October 2002
Blue Circle Audio CS Preamplifier
by John Crossett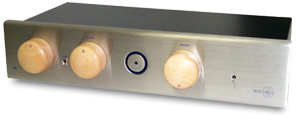 Review Summary
| | |
| --- | --- |
| Sound | "Images were vivid and sharply defined -- the CS preamp's listening perspective is front-row center"; "musicians are spread out on a wide but not particularly deep soundstage"; "pace and drive…were tremendous"; the CS preamp "should fulfill the wish lists of rock fans." |
| | |
| --- | --- |
| Features | Entry-level solid-state preamp with three inputs, tape loop, and one set of outputs -- all single ended; knobs are available in a number of finishes. |
| | |
| --- | --- |
| Use | No mute or on/off switches, so have this in mind if you decide to leave the CS preamp plugged in and your power amp on all the time; no phono stage; remote-control option will soon be available. |
| | |
| --- | --- |
| Value | "If I were just starting out on the high-end road, finding a line stage preamp for only $795 from a company with the reputation of Blue Circle would be a welcome beginning point." |
Lately, my audio life has been good. One day I'm enjoying the Reviewers' Choice Audio Research SP16 tube preamp together with my long-time reference Sunfire power amp, totally grooving to the sound, and the next I'm listening to the $795-USD entry-level solid-state Blue Circle CS preamp and hearing my favorite music in new ways. That old lyric "what a difference a day makes" keeps running through my head.
Blue Circle Audio has been building audiophile equipment for 12 years by adhering to a basic three-prong philosophy: "Simplicity, Artistry, Music." By always looking for the simplest way to build products, then hand-building them to ensure integrity, and finally voicing them to play music accurately, Gilbert Yeung, owner/head designer at Blue Circle, has created a reputation for superbly musical products that look intriguing and work well over the long haul.
The CS line is the result of Yeung's realization that there are a good many folk out there who might very well be interested in owning high-quality audio equipment but whose budgets may have been keeping them from examining Blue Circle's upper echelon. Hence, he created the entry-level CS line, consisting of the preamp under review here along with its companion 85Wpc power amp ($1095) as well as an integrated amp ($1150) for those listeners looking to simplify their musical lives. Since I'm not a big believer in audio equipment having to be expensive to have the ability to make beautiful music, the CS preamp, from a company with the reputation of Blue Circle, looked to offer much that I would find attractive.
Appearance and construction
The CS preamp lives up to Blue Circle's credo in both appearance and construction. Much smaller than my Audio Research preamp, this component will fit almost anywhere. Those just entering the high-end arena will no doubt refuse to dedicate a large portion of living space to the stereo system (well, at least not right away; but this hobby can grow on a person), so the size of the CS preamp is a good thing.
The CS preamp measures 17 1/2"W x 4"H x 9 1/2"D and weighs ten pounds. Its brushed stainless-steel faceplate and black powder-coated steel chassis make for a pleasant contrast. The CS preamp has Blue Circle's distinctive backlit circular logo in the center of the faceplate and a toggle switch on the far right for turning the logo on and off. Given that the CS is a solid-state unit, I left it on continuously during the course of the review. The preamp has three large wooden knobs (yep, wooden -- a Blue Circle trademark -- and available in a variety of finishes): two left of center, for input selection and balance respectively, and one on the right for volume. Another toggle switch, set between the input and balance controls, switches in the tape loop. Blue Circle will soon be introducing a remote-control option for the CS preamp; the price has not yet been set, but it will be announced on the company's website.
Around back things remain pretty basic. The CS has three gold-plated input jacks for line-level sources (alas, no phono stage), a tape loop, and one set of main outputs, all of the single-ended variety. Interestingly, Blue Circle has screened the identifying channel markings upside down, making them easier to read as you're bending over the top of the CS preamp, a nice touch. There is also a detachable power cord, a feature not found on all entry-level components. On the negative side of the ledger, there are no mute or on/off switches -- the CS is powered whenever it's plugged in. Not having a way to ground extraneous signals when the preamp and amp are on but not in use, short of unplugging the preamp, is somewhat worrisome.
In terms of setup, I don't have much to say, due in no small part to the size of the CS preamp, which fit easily into the spot I had for it. I was up and running in a matter of minutes. Of course, I allowed significant time for the unit to burn in -- a week or more -- before doing any serious listening.
Sound
There was life coming from the CS preamp, and there was music too -- good, quality music. Images were vivid and sharply defined -- the CS preamp's listening perspective is front-row center. The musicians are spread out on a wide but not particularly deep soundstage. The pace and drive of the CS preamp were tremendous. This unit should fulfill the wish lists of rock fans, but it does well on jazz too. For example, I dug out the newly remastered double CD of Little Feat's Waiting For Columbus [Warner Brothers/Rhino R2 78274] and was amazed at how well the images and overall sense of a live concert were drawn before me. The energy of the band, the adoration of the crowd, and the synergistic mix of the two were intoxicating to hear through the CS preamp.
Associated Equipment
Loudspeakers – Magnepan MG1.6/QR.
Amplifier – Sunfire Stereo.
Preamplifier – Audio Research SP16.
Digital – Rega Planet 2000 CD player.
Interconnects – Harmonic Technologies Pro-Silway II, Goertz Alpha-Core Triquartz, and DH Labs BL-1.
Speaker cables – Goertz Alpha-Core MI2.
Accessories – Target rack, homemade sandboxes, Golden Sound DH Cones and Squares, VPI 16.5 record cleaner, Michel Tenderfeet (under turntable).
A disc that drove home how well the CS preamp does in the pace, rhythm, and timing departments was Boogeyin', Swamprock, Salsa & Trane [Wildchild CD 02452]. The brass had the requisite bite, blat and drive that kept the music motoring right along. To use sports-car parlance, the pace of the music went from 0 to 60 and back in under eight seconds. But the pace and drive are not arrived at by sacrificing delicacy -- far from it, in fact. Listening to the soundtrack from the movie Kansas City [Verve CD 314 529 554-2], I lined up "Solitude," as played in duet by bassists Christian McBride and Ron Carter. All of the feeling these two musicians put into their playing and the subtle techniques used to elicit their unique sonic signatures were clearly evident. The tonal qualities of the two different acoustic basses were also easy to hear.
Lovers of symphonic classical music may find a bit more to fault with the CS preamp than popular-music fans. For instance, I popped the classical sampler from Silverline Audio/Pipeline Music [no catalog number] in my Rega CD player and gave a listen to the different performances presented. This CD offers excerpts from Russian radio and TV performances that have been ignored since their initial broadcast many years ago. Massed strings, especially violins, were just a tad too sharp, almost steely-sounding. And there was hardness to the overall sound that just didn't sit right with me. On the plus side, each of the sections of the orchestra was very easy to differentiate, and I could distinguish the difference between the recording venues. I wouldn't call listening to classical symphonic music via the CS preamp difficult; it's just that the drive that works so well with rock and jazz causes classical music to lose some of its finesse.
Smaller-scale chamber recordings fared much better, perhaps due to the CS's ability to fix the musicians in their own acoustic space and the fewer number of instruments involved. Dvorak: The Two Piano Quartets [Dorian DOR-90125] drove home this point. It was easy to tell the difference between violin, viola, and cello. None of the stringed instruments was anything but a joy to hear. The smoothness inherent in well-recorded chamber music stood out, a stark contrast to the hardness of the massed strings of the full symphonies I'd listened to.
Comparison
The biggest differences I heard between the CS preamp and more expensive preamps, especially tubed products such as the Audio Research SP16, fit into three broad categories.
First, there is three-dimensionality. By this I mean the full fleshing out of either a singer or an individual instrument. With the CS preamp, it just wasn't there to the same degree as with the tubed, and much more expensive, ARC SP16. I noted this while listening to the newest disc from Norah Jones, Come Away with Me [Blue Note 7243 5 32088 2 0]. Jones' voice was beautifully rendered, but that feeling of her being in the room, of her being a real person, was somewhat diminished. While this facet goes a long way toward making the sound more believable, you're going to pay much more than the cost of the CS preamp to get a healthy dose of it.
Second, there's air. I'm referring to the cushion of air that surrounds each instrument and is so apparent with good tube gear. It also was missing with the CS preamp in comparison to the SP16. But this is a failing inherent in much of the less expensive solid-state equipment that is generally available, so the CS's lack in this regard should be considered with this firmly in mind.
Third, we have the completeness of each note. The CS preamp handled the initial transient edge of each note very, very well. However, the full harmonic picture and especially the decay of the individual notes were lacking. I noticed this characteristic on the Dorian CD mentioned above. While each instrument's distinct sonic signature was easily heard, the decay of each note as it wafted into the auditorium was not present to the degree that I'm used to from my reference Audio Research preamp, a fact driven home by the overall quietness of the CS preamp.
Keep in mind that these all fall into the omission category and are much easier to listen around than if the CS preamp were adding something to the music. And while all these traits are attainable in other preamps, they're going to cost you. As always, it's your call as to whether or not they're worth the coin.
Summing things up
The Blue Circle CS preamp reproduced enjoyable music for as long as it was in my system. While its list of strengths and weaknesses differs from that of my reference preamp, I didn't tire of listening to the CS. And to me, that's the mark of well-made equipment -- you don't want to shut it off. If I were just starting out on the high-end road, finding a line-stage preamp for only $795 from a company with the reputation of Blue Circle would be a welcome beginning point.
So if you're an aspiring audiophile on a budget or perhaps building a second system that both looks and sounds great without taking up too much room or costing a small fortune, Blue Circle Audio's CS preamp (and perhaps the companion power amp) may be exactly what you're looking for. Well-built, wonderfully defined and vivid, and small enough not to take over your equipment rack, the CS preamp will undoubtedly serve you well for many years. Things are really beginning to look up on the entry-level front, and if the high end wants to survive and thrive, equipment like the Blue Circle CS preamp is a very good development.
...John Crossett
johnc@soundstage.com
Blue Circle Audio CS Preamplifier
Price: $795 USD.
Warranty: Three years parts and labor.

Blue Circle Audio, Inc.
RR2
Innerkip, Ontario, Canada N0J 1M0
Phone: (519) 469-3215
Fax: (519) 469-3782

E-mail: bcircle@bluecircle.com
Website: www.bluecircle.com