January 2003
Blue Circle Audio CS Stereo Amplifier
by Tom Lyle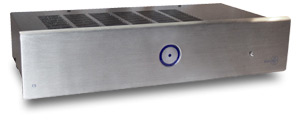 Review Summary
| | |
| --- | --- |
| Sound | "The CS's greatest asset is its midrange clarity" followed by its "midbass clarity"; " a warm, inviting sound and an overall purity that were quite comforting." |
| | |
| --- | --- |
| Features | Budget-priced 85Wpc amp from a well-known maker; no frills and no printed circuit boards. |
| | |
| --- | --- |
| Use | Sounded its best when paired with PSB Stratus Mini speakers that were more in line with the CS amp's price rather than Tom's floorstanding reference speakers. |
| | |
| --- | --- |
| Value | "An aspiring audiophile could build a more-than-decent reasonably priced system around this amp and not think of replacing it until many other upgrades have occurred." |
Blue Circle says, "In recent years the trend towards more features, more complexity and outrageous cosmetics with correspondingly high retail prices has served to exclude all but the well-heeled audio purist from shopping the high-end stores for electronics." This trend, they claim, has likely caused fewer people to take up audiophilia as a hobby. To combat this, Gilbert Yeung at Blue Circle has applied his company's motto of "Simplicity, Artistry, Music" to his entry-level CS line. This is reflected in the simple cosmetics and lack of unnecessary features that might interfere with musical enjoyment. Some might think the reasoning behind this lower-priced line is that not as many people are purchasing expensive products as they once were in healthier economic times. Regardless of the reason, less-affluent audiophiles now have the opportunity to taste of Blue Circle sound.
Blue Circle's $1095 USD solid-state CS stereo power amplifier is joined by the $1150 CS integrated amplifier and the $795 CS line-stage preamplifier. The small rectangular cabinet of the CS power amp is made of a black powder-coated steel with the now-familiar blue circular logo in the center of the faceplate. The logo is brightly lit when the unit is powered. The Blue Circle CS amp is a very basic component -- there are no extra features such as a mono switch for bridgeable operation, no voltage-input trigger, no audio outputs to daisy-chain amps, and only a miniature toggle switch on the front panel. Its rear panel has only gold-plated binding posts, RCA inputs, and an IEC inlet for a removable power cord. But contrary to its budget lineage, the CS uses metal-film resistors throughout the design, and the unit is completely hard-wired -- no printed circuit boards. Plus, the CS amp uses silver-plated Teflon-coated hook-up wire. The relatively small amp measures 17 1/2" x 3 1/2" x 8 1/2" and weighs 17 pounds. According to Blue Circle, the CS amp puts out 85Wpc into 8 ohms and 120Wpc into 4 ohms.
Proof of value
The proof of value for a budget component is in the listening. Even though the new LP reissue of The Stooges [Sundazed 5149] could hardly be called an audiophile recording, its musical power is undeniable. Iggy Pop's vocals were crystal clear via the CS amp, and it was easy to tell what a great reproduction of this straightforward recording the vinyl remaster was. Through a different pricier amplifier, this record sounds as if listening to the master tape -- and through the CS it didn't sound that much different, especially in its midrange, which was spot on. The amp was able to capture the recording's strengths, and it had enough power to come very close to the volume the recording's off-the-wall creators probably intended without getting too muddled.
Associated Equipment
Loudspeakers – Legacy Classic, PSB Stratus Mini, Velodyne HGS-15b subwoofer, Soliloquy 6.3.
Amplifiers – Atma-Sphere S-30, Krell KAV-250a.
Preamplifiers – Audible Illusions Modulus 3A with Gold MC phono board.
Analog – Basis Debut Mark V turntable, Wheaton Triplanar VI tonearm (with Discovery Cable wired directly to preamp), Lyra Helikon cartridge.
Digital – Pioneer DV-525 DVD player (used as transport), AH! Tjoeb 99 CD player (used as either CD player or transport), Meridian 263 DAC, Perpetual Technologies P-3A DAC and P-1A digital correction engine, Monolithic Sound P3 Perpetual Power Plant power supply.
Interconnects, digital cable and speaker cables – Cardas Quadlink 5 interconnects; MIT 330-plus and Terminator 2 interconnects; MIT Terminator 3 digital cable; MIT Terminator 2 biwire speaker cables.
Accessories – PS Audio P300 and P600 Power Plant AC regenerators, MIT Z-Cord II power cord, Target TT5-sa equipment rack, German Acoustics cones (under preamp), Vibrapod Model 1s (under digital gear), Winds stylus-pressure gauge, StaticMaster photo negative brush, LAST stylus cleaner, LAST Stylast stylus treatment, Record Doctor II record cleaning machine, Record Research Vinyl Wash, Premier! vinyl pre-cleaner, AudioQuest and VPI record brushes with which to apply record-cleaning fluid.
The instrumentation is very dense on Brian Ferry's latest, Frantic [Virgin 11984]. The CS easily sorted out each sound of the individual instruments and voices of the often-complex arrangements. The dynamic separation in the midrange was impressive for any amp, much less one in the $1000 price range. The CS's greatest asset is its midrange clarity. On "It's All Over Now, Baby Blue," Ferry's harmonica can be heard over acoustic guitar, electric slide guitar, strings, percussion, and the rhythm section. Even if this track were played through a mass-market receiver, I'm quite sure I would be able to decipher the melody of Ferry's harp. Through the Blue Circle amp, there was great separation of instruments -- each player occupied his or her own space in the soundstage. This made the solo much more poignant and much more involving too.
Sticking with rock, I spun the deluxe double-CD set of the Who's Live at Leeds [MCA 088 112 618-2]. Like the Stooges album, Live at Leeds is a great simple multi-track recording that has plenty of power. It was nice that the CS avoided stereotypical solid-state sound, such as displaying a grainy treble, but this came at the cost of overall polite high frequencies.
I later played the album through a pair of PSB Stratus Mini two-way speakers. The pairing brought to light the fact that the CS had a well-defined midbass. This quality added quite a bit to the sound of Keith Moon's kick drum and John Entwistle's bass. In fact, midbass clarity was another praiseworthy trait of the CS amp. With more and more folks using subwoofers in their two-channel systems, less emphasis is likely to be put on the deepest bass response from a power amplifier. Anomalies in the sound of the low frequencies from the midbass on up are made more audible, and the punchy midbass of the CS was clearly evident.
While I stuck with hard-hitting music, I played the UK pressing of the Bjork LP Post [One Little Indian TPLP51]. The tune "Hyper-ballad" has at its core a very imposing bass synthesizer that runs through the entire song. The fundamentals of the tone reside in the midbass, even though its foundation is subterranean. Although it wasn't perfect, the CS was able to produce this deep bass. As on the Who album, the CS somewhat reduced the energy of the very lowest tones, but the lowest wavelengths were still clearly audible. The fact that these lowest frequencies were still present was the surprising part. At high volumes, the midbass could become a bit plump, but this was more evident when playing through the largest speakers I had on hand, and was perhaps due to the amp beginning to run out of power.
But what about real bass? On the best jazz album ever recorded (it's a fact -- you can look it up), Eric Dolphy's Out to Lunch [Blue Note 2929], I could hear the woody tone of Eric Davis' bass even down into the lowest registers. In Rudy Van Gelder's studio in those days (and perhaps even today), deliberate electronic compression was unheard of. As a result, the variations in tone and volume that occur at different points along the neck of the bass are not masked. At least they're not when the record is played through good equipment, and the CS let me hear what was going on at all times.
The CS didn't have an extremely expansive soundstage, but it had a soundstage worth noting, which is more than I can say for some other amps I've tried over the years that are in the same price category as the CS. The CS's soundstage had images that were pinpoint, as long as the music didn't get too complicated or I didn't make great demands in terms of volume. When I connected the amp to the smaller PSB Stratus Mini speakers, there were no such problems -- the soundstage varied little with the type of music or volume.
I've heard a more musical-sounding midrange, more extended treble, and tighter bass, but only through amps with much higher price tags. The CS had a warm, inviting sound and an overall purity that were quite comforting. I never felt as if the amp was adding much, if any, of its own sound. An aspiring audiophile could build a more-than-decent reasonably priced system around this amp and not think of replacing it until many other upgrades have occurred.
I'd bet the farm
Since the only lower powered solid-state amps that I've had on hand were in my memory, they are hardly worth mentioning by name. But I'd bet the farm that the Blue Circle CS would compete with most of them, and beat out quite a few. It isn't really fair to compare the CS with the three-times-as-expensive Krell KAV-250a, which is a reference for solid-state performance in my system and shows what bass performance, transparency, soundstaging, imaging, and treble refinement are. The CS just didn't display the delicacy, extension, or realism of the KAV-250a.
When I played complex fare such as Mahler's Second Symphony with Gilbert Kaplan conducting the London Symphony orchestra [MCA 2-11011], there were moments that I would forget that I was listening through a "budget" amplifier. The CS had enough tonal neutrality to show that this version of the Second Symphony is worthy of its place in the ranks of the best. The recording is up front and fairly detailed, and through good equipment, the physical presence of each solo instrument should be apparent. Through the CS, it is. This quality was certainly not as obvious as when playing through my pricey Krell or Atma-Sphere amps, but the essence of the sound was certainly there. When the CS is directly compared to more expensive amps, it lacks the ultimate level of refinement, but it does not fall short as much as I would have expected.
Conclusion
I suppose it is easy to focus on the CS amp's shortcomings when compared to more pricey amplifiers -- at least that's what I tend to zero-in on when listening to lower-priced components. But the CS often surprised me. Most noticeable was its clarity and speed in the midrange, but also very noticeable was the dynamic separation of instruments in the midrange. Combined with pleasant treble and midrange were a very punchy, well-defined midbass and respectable low-bass performance.
It was very interesting to hook up the CS to the PSB Stratus Mini speakers. In this more modest system, the Blue Circle CS was as good an amp as anyone might need. If you match the CS with a decent preamp (perhaps Blue Circle's own CS preamp) as an upgrade from a stereo receiver or inexpensive integrated amp, you are definitely going to hear considerable improvement.
Throughout the review period the CS performed perfectly, without a hum, pop, click, or any other audible anomalies. And this just may be the deciding factor for most systems of which this budget-priced amp is likely to be part.
...Tom Lyle
tom@soundstage.com
Blue Circle Audio CS Stereo Amplifier
Price: $1095 USD.
Warranty: Three years parts and labor.

Blue Circle Audio, Inc.
RR2
Innerkip, Ontario, Canada N0J 1M0
Phone: (519) 469-3215
Fax: (519) 469-3782

E-mail: bcircle@bluecircle.com
Website: www.bluecircle.com