March 2000
Blue Circle Audio BC22 Amplifier
by James Causey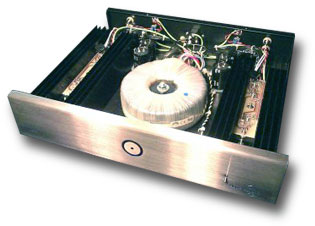 Review Summary
| | |
| --- | --- |
| Sound | "Full, rich sound, with excellent bass extension," but not the sine qua non of quietness or soundstage transparency. |
| | |
| --- | --- |
| Features | Balanced and single-ended inputs; extensive protection circuitry; Cardas binding posts. |
| | |
| --- | --- |
| Use | Designed to work best with vacuum tube preamplifiers in "hybrid systems," but mates well with passive line stages as long as your source components have enough output voltage; runs amazingly cool. |
| | |
| --- | --- |
| Value | "If you buy a 'budget' amplifier without listening to the BC22, you may be missing out on a musical experience with which you could be happy for a long time." |
How do you feel about change? If you're like most of us, you tell everyone from potential dates to future employers that you're a "dynamic individual who welcomes the challenges of a changing environment"; however, secretly, you eat the same breakfast cereal every morning, sing (badly) along with the same tunes during your daily commute, and change your underwear only when you run the risk of going to the emergency room.
There are a few mavericks out there, however, who are willing to mess with a good thing -- to tackle new challenges and branch out into new frontiers. One of these individuals is Blue Circle Audio's president and designer Gilbert Yeung. Blue Circle made a name for itself early on by developing reference-level products that justified their high price tags with top-notch sound. More recently, however, Blue Circle has branched out into affordable high-end audio with their new 20 series of components, which currently includes the BC21 preamplifier, the BC23 phono stage, and the subject of this review, the BC22 stereo power amplifier.
Blue Circle has earned a reputation for producing quality products, so when I was asked if I would be willing to review the BC22, I didn't hesitate. SoundStage! has reviewed a number of products from the small Canadian company, and I was eager to hear for myself if Yeung could mate the same level of quality with a real-world price point.
Bringing the Top of the Mark to Howard Johnson's
Designing an amplifier that appeals to more budget-minded audiophiles while still providing good sound forced Gilbert Yeung to rethink many of the design philosophies that brought so much success to Blue Circle's door. Most importantly, the vacuum tube/bipolar transistor hybrid designs found in Blue Circle's more expensive amplifiers simply could not be reproduced at 20-series price points. In order to maintain his goal of quality sound through simplicity, Yeung decided to split his traditional hybrid design across components, with the BC21 preamplifier using vacuum tubes while the BC22 amplifier uses a solid-state design. Blue Circle calls this approach a "system hybrid" design.
The BC22 carries Yeung's desire for simplicity even further. The BC22 takes advantage of a minimalist circuit design that uses only nine resistors per channel and no capacitors whatsoever. In order to reduce heat, the BC22 avoids Blue Circle's traditional class-A topology, instead using what the company calls a "fully balanced transistor design," which relies on an output transistor rather than an output transformer, to improve frequency response and phase performance without sacrificing output power. Yeung also experimented with different levels of feedback and bias current, using both instrumentation and extended listening tests to develop a design that would provide high power output with a minimum of feedback.
Blue Circle rates the BC22's sensitivity at 1.5V, a compromise between wide preamplifier compatibility and minimizing a system's combined noise floor. The BC22 also features comprehensive protection circuitry that will shut the amp down in the case of a shorted output or internal thermal overheating. The BC22's power supply uses a custom-built 625W toroidal power transformer that Blue Circle claims to be "serious overkill," and features internal wiring by Cardas.
The Blue Circle BC22 uses the standard 20-series black powder-coated chassis with a stainless-steel faceplate in lieu of hand-built wooden chassis; the BC22 does feature wooden feet on the bottom, however. All heat sinks are mounted inside the outer case, keeping them from being exposed to prying hands (or pets). The gorgeous faceplate features a backlit Blue Circle logo (which is, appropriately enough, a blue circle!); the impression left by the amplifier as a whole is modern, minimalist and solid. A good non-audiophile friend of mine who is a talented artist and designer was also extremely impressed by the little amp's simple but elegant cosmetics.
The BC22's back plate features both sturdy Cardas-sourced single-ended RCA inputs and balanced inputs, with equally well-built Cardas binding posts that accept bananas, spades, and bare wire. The amplifier as a whole weighs 30 pounds, making it easy to schlep from room to room, and it fits quite nicely on my home-brew amp stands (granite paving stones from the local building center).
The hand-built BC22 carries a suggested retail price of $2150, placing it in the thick of competition between high-quality "budget" power amplifiers. The amplifier includes a three-year parts and labor warranty, and is conservatively rated to provide 125Wpc into a continuous 8-ohm load. Each amplifier is broken in for 50 hours at the factory, with subsequent final listening tests assuring that each BC22 meets Gilbert Yeung's performance goals exactly.
Associated equipment
My main review system uses a Parasound C/DP-1000 CD player as the primary source, with a beautiful old Yamaha CT-1010 AM/FM tuner serving for occasional NPR news and music programming. I also used DVD players by Pioneer (DV-525) and Toshiba (SD-9100) for movies and, more importantly, 24-bit/96kHz audio DVDs. System control and volume are managed by a McCormack TLC-1 line stage. My McCormack DNA-1 amplifier served as a standard for comparison, both in its original incarnation and after upgrade to SMcAudio Revision A status (review pending).
The TLC-1, the Parasound, and all amplifiers were connected directly to electrical outlets using Essential Sound Products' excellent A/V Power-Flow power cords. All other components were powered by ESP's A/V sturdy Power-Flow Pro power strip. Interconnects included JPS Labs' Ultra Conductors and Kimber HERO; Ultra Conductor speaker wire was also used in conjunction with Kimber Kable 8TC featuring WBT heavy-duty banana plugs. All exposed electrical contacts and wire were diligently cleaned with Caig Labs DeOxIT spray, and treated with Caig's ProGold. All components except the tuner rest on granite paving stones on the shelves of a Michael Green Designs JustaRack in natural cherry; amplifiers were placed on granite paving stones that rest directly on the carpet of my listening rooms.
The BC22 drove, at different points of the review, my PSB 1000i floorstanding loudspeakers as well as my B&W CDM2SE minimonitors resting atop Target speaker stands. The stands were filled with painstakingly dried sand.
Gabby the Audio Cat has moved on to pursue more fruitful opportunities, but provided valuable setup assistance during the early stages of my review listening.
Sound
Although the BC22 received at least 50 hours of break-in at the Blue Circle factory before arriving at my home, I like to give equipment as much break-in time as possible. Between the many hours I spent away at work and the time the BC22 drove my loudspeakers with TV and DVD material, the amplifier received roughly 230 hours of additional break-in before I sat down for serious critical listening. I urge you to make certain that any amplifier you may audition has been extensively broken-in; the BC22, along with other designs, clearly benefited from the time spent.
As Marc Mickelson reminded us in his March editorial, men are visual creatures, and as I've mentioned in previous reviews, my first impressions of equipment are often colored by a device's visual impact. The BC22 was only boosted by its elegant cosmetics, but its svelte size made me fear for small-fry sound, much as I originally expected from the Alternate Audio CA35. With both amplifiers, however, my "bigger-is-better" aesthetic was dashed; neither amp can be dismissed as a lightweight.
The BC22 provides a full, rich sound, with excellent bass extension and control. While it might sound odd to refer to a less-than-top-of-the-line amplifier as "gutsy," the BC22 gave me exactly that impression. It was always up to the task of providing tight, pounding bass at realistic volume levels without sacrificing speed and detail in the midrange and treble department.
I was concerned about the BC22's compatibility with my TLC-1 line stage; the BC22 was optimized to work with Blue Circle tube preamplifiers with powerful outputs, but I normally run my TLC-1 in its fully passive configuration. At no time, however, did I feel like I was missing anything dynamically; switching to the TLC-1's buffered outputs produced no appreciable improvements in bass depth or musical power, a testament to the sensitivity of the BC22's input circuitry.
As I completed this review, Steely Dan released their first studio album in 20 years, Two Against Nature [Giant Records 9 24719-2]. I've been listening to it obsessively since I first laid hands on it, and particularly craved the precious time I spent listening to it on the BC22. Two Against Nature is quite well recorded for a major release, and the BC22 managed to extract its delicious nuances without ever edging into that unpleasant realm of audiophile neurosis. On the wonderful "Cousin Dupree," the amp reproduced Walter Becker's deep bass lines without failing to keep up the beat and detail of the rest of the song's vocals and instrumentation. The opening kickdrum on "Jack of Speed" came across tight and deep, and Fagen's vocals were crystal clear and carried weight and nuance, without a trace of monotony or chestiness.
This theme of reproducing deep, tight, fast bass without depriving midrange and treble richness and detail repeated itself again and again with the BC22. Sex Without Bodies by Dave's True Story [Chesky Records CHDVD174] provided another excellent demonstration of this trait. The 24-bit/96kHz DVD version of this recording, whether played on the Pioneer DV-525 or the Toshiba SD-9100, always came across as rich and smooth without ever becoming either edgy or laid-back. I was often lulled into believing that Kelly Flint herself was in the room, with instruments swinging away from a deep and wide soundstage around her. On the title track, bass guitar and kickdrum never stop making you wiggle and shake to the groove, while the keyboards and all-important vocal licks from Kelly Flint never suffered any sense of tightness or thinned dynamics.
Another delightful feature of the BC22 is its ability to extract musicality from less-than-perfect recordings. Guilty moments with Phil Collins' …Hits [Atlantic Records 83139-2] were never exacerbated by the normal wincing and pained disappointment that comes from listening to a heavily compressed mass-market pop album. While dynamics and instrumental detail never matched that of better recordings, I was still able to thrill to the heady '80s charms of "Easy Lover" and "Sussudio" without a hint of displeasure. I found similar sonic joy on the Cocteau Twins' Heaven or Las Vegas [Capitol/4AD 7 93669 2]. The band's rich, lush sonic waves rarely take advantage of the finest recording techniques, and some Cocteau Twins albums are absolutely unlistenable on a revealing system. This was not the case on the BC22, however; again, the musical presentation was smooth and musical, with well-defined bass, rich midranges, and crisp highs. Even the brightest electronic instrumentation came off without fatigue, and the heavily processed vocals on "Cherry-Coloured Funk" and "Iceblink Luck" lacked the grating, overly forward characteristic I've commonly noted when listening to the Twins on high-end systems.
The BC22's ability to produce tail-feather-shaking bass and good sound from not-so-good recordings scored big points with me. However, any device that makes weak recordings fun again immediately throws up a red flag in the mind of any card-carrying neurotic audiophile; isn't the ability to enjoy poor recordings antithetical to a truly revealing system? But further experimentation dispelled any beliefs that the BC22 was significantly veiled. The fabulous DCC remaster of Wes Montgomery's Goin' Out Of My Head [DCC GZS-1048] makes up for its somewhat segmented soundstaging by providing instrumental detail that is literally startling at realistic volume levels. Whether it was the force and blattiness of horns on the disc's title track, the swinging-yet-deep drums of the same song, or Montgomery's ringing guitar work throughout the album, instrumental detail was there in abundance. I got a real sense of experiencing the sort of accurate sonic attack and decay you get when you listen to jazz in a small club, without any of the harshness and etched minutiae you sometimes hear on an extremely revealing system.
Another superb recording that showed off the BC22's abilities to resolve fine detail was Paquito D'Rivera's Tropicana Nights [Chesky Records JD 186]. Both Tropicana Nights and its predecessor, Portraits of Cuba, feature big-band Cuban jazz recorded with incredible dynamic range, instrumental detail, and you-are-there soundstaging; in order to capture both gentle whispers and driving horn crescendos, the recordings require a higher-than-normal volume setting to produce realistic sound levels. A willingness to turn up the juice was rewarded by a fine presentation from the BC22; the amplifier displayed excellent speed and dynamics, with realistic instrumental reproduction and a soundstage that was both broad and deep. Instruments were well placed within the soundstage from left-to-right, with only a slight fuzziness in front-to-back placement.
Does the BC22 have any weaknesses? Well, for starters, it doesn't provide the world's lowest noise floor (or even the lowest noise floor in its class). While I never found the amp to be noisy in any way, it lacked the nth degree of a blacker-than-black background found on Alternate Audio's Class A CA35 amplifier. The BC22's noise floor was, however, a bit darker and less intrusive than that of the unmodified McCormack DNA-1.
The BC22 also gave some ground in the soundstaging department. On Orbital's In Sides [FFRR 697-124 087-2], the opening track "The Girl With The Sun In Her Head," is an impressive system test track that combines sweeping soundstage transitions with break-your-neighbors'-valuables deep electronic bass, driving rhythms, and pulsing high-frequency tones. While the BC22 admirably sorted out the various levels of instrumental detail and maintained the track's ever-quickening drive rhythms, it did not provide the same level of top-notch soundstage positioning, both for pulsing and sweeping tones, as the McCormack DNA-1 in either of its incarnations.
Comparison
Although much of the time that the upgraded DNA-1 was available as I wrapped up the BC22 review was spent with me being unable to hear anything with my right ear due to an ear infection, massive doses of antibiotics and decongestants finally cleared me up enough to perform some preliminary comparisons. Without giving too much away from my pending DNA-1 Revision A review, it is safe to say that the BC22 was not the equal of the more expensive ($2095 for the amp, $1200 for the upgrade) McCormack package in terms of maximum bass extension, soundstage precision (both front-to-back and side-to-side), rhythmic speed, or clarity. However, it never backed down from its larger, more intimidating rival in the most important measure of all: pure, integrated musicality. On Sinead Lohan's No Mermaid [Interscope INTD-90199], both amplifiers preserved the album's excellent pacing and Lohan's mesmerizing (though sometimes over-processed) vocals. The upgraded DNA-1 clearly showed its chops with deeper, tighter bass and a somewhat more detailed presentation. The BC22 still, however, provided a listening experience that was extremely musical, and transitions from tracks that were over-processed to more clearly recorded songs never detracted from the overall enjoyment.
I also have to point out one other aspect of the BC22's performance: this amplifier runs amazingly cool. Even at painful, sustained volume levels, the BC22's black case never felt more than slightly warm to me. According to Blue Circle, this cool behavior lets the amplifier be used in tight custom enclosures.
Wrapping up
The Blue Circle BC22 lets you listen to, and get in touch with, your favorite music, whether it be well-recorded audiophile masterpieces or heavily compressed bubblegum pop. Listening to music through the BC22 was always a joy, and never a burden. With highs that were detailed and clear without being fatiguing, bass that satisfied my desire for bump and thump on all types of music, and midrange performance that was never muddied by these qualities. Whenever I listened to music on the BC22, I had a difficult time focusing on the minutiae of the review process because I was really enjoying myself. While not always the best amplifier at any one particular sonic characteristic, the BC22 provides a unified, full-bodied sound that never failed to please me, regardless of the selected material.
There are certainly better amplifiers than the BC22 on the market -- Blue Circle makes a few. And I'm not comfortable saying that the BC22 is the best amplifier in its price range; with the wide range of quality equipment available in the sub-$2500 market, I don't think any conventional amplifier design can make that claim. However, I am comfortable saying that anyone auditioning amplifiers anywhere near this price range should consider it a necessity to audition the BC22 before making a final purchase. Such statements usually come across as a cop-out to avoid a recommendation, but I'm serious. If you buy a "budget" amplifier without listening to the BC22, you may be missing out on a musical experience with which you could be happy for a long time.
...James Causey
james@soundstage.com
Blue Circle Audio BC22 Amplifier
Price: $2150 USD.
Warranty: Three years parts and labor.

Blue Circle Audio, Inc.
RR2
Innerkip, Ontario, Canada N0J 1M0
Phone: (519) 469-3215
Fax: (519) 469-3782

E-mail: bcircle@bluecircle.com
Website: www.bluecircle.com