July 2003
Blue Circle Audio BC21.1 Preamplifier
by John Crossett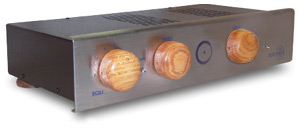 Review Summary
| | |
| --- | --- |
| Sound | "Slightly on the dark side of neutral, with a small emphasis on the lower frequencies," along with "vividness and ability with dynamic contrasts"; "gave full and complete authority to the lower frequencies, allowing them to bloom in a natural manner, but…does so without letting them dominate the balance of the entire musical spectrum." |
| | |
| --- | --- |
| Features | "A different beast under the hood from its immediate predecessor, the BC21" -- "now uses two 6922 tubes (the same tubes used in Blue Circle's more expensive BC3 and AG3000 preamps) instead of BC21's 6SN7s to create, as Blue Circle puts it, 'superior reliability, more linearity, and reduced microphonics'"; remote control is available for $250. |
| | |
| --- | --- |
| Use | Lots of gain, so you may not get as far into the volume control's rotation as with other preamps; no mute switch or phono stage. |
| | |
| --- | --- |
| Value | "Is there true musical happiness to be had with a preamp without having to dip into the children's college fund to pay for it? And if so, does the Blue Circle BC21.1 allow the music to come through and let the listener simply enjoy the high-end experience without having to worry about what might be missing? Yes and yes." |
So, Grasshopper, you seek musical nirvana via a reasonably priced preamplifier. Such a quest does you much credit, though the answers you seek may come only with the passage of time, the expenditure of effort, and an understanding of your sonic needs. Be not as the many who, in the face of such a quest, surrender their decision to others and settle for a choice made for them. Neither become as those few who abandon the search altogether and forgo the preamp completely, thereby limiting freedom of choice for front-end sources. Be instead diligent in your search, and patient. And most of all, listen carefully, for only then will come the wisdom of true understanding to the answers you seek.
In your quest, I humbly suggest that you begin your quest by spending a little time listening to the newly updated Blue Circle BC21.1 preamplifier. You may find that you need not spend as much time and effort as you had imagined.
Appearance and features
The BC21.1 ($1650 USD for the basic version used in this review; it's also available for $1900 with remote control) looks typical of a Blue Circle component. It uses the same 17 1/2"W x 3 5/8"H x 8 5/8"D chassis as other BC-series preamps and weighs a comforting 15 pounds. I found the stainless-steel faceplate with the blue backlit Blue Circle logo in the center and large wooden knobs to be extremely attractive. The BC21.1 has a simple, uncluttered faceplate with only the three knobs (for volume, balance and selecting among its three line-level inputs) and two toggle switches (for tape loop and power on/off) taking up space. Two things I miss are a mute switch, which I consider a necessity, and a built-in phono stage. An available option is a processor loop -- necessary if you want to add home-theater capabilities to your system.
The rear panel is equally simple. There is a fuse holder and removable three-prong IEC power cord on the left side (as you look at the back), and on the right are three sets of input jacks, tape-loop jacks, and one set of main output jacks -- all gold plated. The jacks are labeled both right side up and upside down, so if you're leaning over the preamp to hook things up you don't have to attempt to read which connection is which upside down -- a nice touch. About the only thing Blue Circle neglected to add are indicators for the right and left channels. But that annoyance is easily overcome by preserving proper channel orientation as you connect your system.
The BC21.1 is a different beast under the hood from its immediate predecessor, the BC21. The BC21.1 now uses two 6922 tubes (the same tubes used in Blue Circle's more expensive BC3 and AG3000 preamps) instead of BC21's 6SN7s to create, as Blue Circle puts it, "superior reliability, more linearity, and reduced microphonics." Its circuit and tube mountings have also been redesigned to more closely match those of its bigger brothers as well. It has a larger power supply and a 40% larger capacitive reservoir. This rebuild ensures that prospective purchasers will get purer sound, closer to that of Blue Circle's higher-priced preamps.
Review system
The Blue Circle BC21.1 preamp took the place of an Audio Research SP16 in my system. It was connected to an original Sunfire Stereo power amp via a meter pair of Goertz Alpha-Core TQ2 interconnects (the output impedance of the 21.1 is 180 ohms, so there was no problem with using unshielded interconnects), the amp connected to Magnepan MG1.6/QR speakers with a biwire set of Alpha-Core M2 speaker cables. For a source component, I used a Marantz 8260 CD/SACD player, again, connected to the preamp with a meter of TQ2. All components except the power amp sit on a Target rack that rests on homemade sandboxes and a mixture of medium and large Golden Sounds DH Cones and Squares. The Sunfire amp sits on small Golden Sound cones, on its own sandbox, and on a granite slab separated from the floor by four cones. I gave the BC21.1 about two weeks worth of burn-in time before I settled in to do any serious listening.
Sonics
Among the truths we audiophiles hold as self-evident is that every piece of audio equipment has its own sonic signature, and the Blue Circle BC21.1 was no exception. It didn't take long to realize that its sonics are slightly on the dark side of neutral, with a small emphasis on the lower frequencies. I don't mean to imply that the BC21.1 is bass heavy, however, because that's not the case at all. Rather, it gave full and complete authority to the lower frequencies, allowing them to bloom in a natural manner, but it does so without letting them dominate the balance of the entire musical spectrum.
I first noticed this quality while listening to Groove Note's SACD reissue of Ray Brown's Soular Energy [Groove Note/Concord GRV1015-3]. Brown's bass is up front, befitting his position as the recording's leader. Any overemphasis of the lower frequencies will cause Brown to appear larger than life and allow the bass to dominate the session. But the BC21.1 never let that happen. While it did add an extra fullness to the low end, this only served to give a superb rendition of a real, live, in-my-listening-room acoustic bass being played by one of the acknowledged masters of the instrument. Through my Maggies, I could hear every nuance of Brown's playing, from the pluck of the string to the resonance of the large wooden cavity of the instrument itself. And yet I was still able to follow the playing of both the piano and the drums easily. Very enjoyable.
Archie Shepp's True Ballads [Venus SACD TKGV-2] brought this aspect to light in a somewhat different way. Here, the BC21.1 added a tad more heft and power to the lower register of Shepp's tenor sax. On this particular recording, the sax sounds somewhat larger than life, so the addition of that extra energy made the saxophone stand out, but in a very musical and enjoyable manner.
Another of the BC21.1's outstanding characteristics is its vividness and ability with dynamic contrasts. Classical music always demonstrates these aspects well, so I turned to Mozart's Eine Kleine Nachtmusik [PentaTone Classics SACD 5186 002]. The Concertbouw Chamber Orchestra was spread out in front of me, if a bit further forward than I'm used to. I could hear the orchestra swell from soft to loud and change speeds, I noted how the different parts of the orchestra moved forward or back within the scope of each movement, all without any difficulty. This helped make listening a pleasure, not a reviewing chore.
Voice is both difficult to reproduce accurately and easy for our ears to recognize when it is reproduced correctly. The Blue Circle preamp let me unravel all the different male singers on "Desperadoes Waiting for a Train" from Nancy Griffith's Other Voices, Too [Electra CD 62235-2]. Guy Clark, Jerry Jeff Walker, Steve Earle, Rodney Crowell, Jimmie Dale Gilmore, and Eric Taylor each sing a portion of the song. And via the BC21.1, each voice, though somewhat similar to the others, was presented as distinct and uniquely separate from that of its fellows. And Griffith's voice was also clearly rendered -- its delicate beauty was allowed to flourish.
I went on a Fidelio Audio kick one Sunday morning. I spent time listening to everything from Doreen Smith's A Tribute to Julie London [Fidelio FACD006], with its creamy, smooth vocals; to Fredric Alarie's Moon Bass [Fidelio FACD003], with its deep, taut acoustic bass; to the Loescher Trio's Shadows [Fidelio FACD007], with its tart, Lee Konitz-inspired alto sax; up to and including the new Marc Vallee Trio SACD Hamadryade [Fidelio FACD010], with its unique blend of instruments and tonal colors. The BC21.1 reminded me again and again, as I listened to each of these discs, why I consider Fidelio recordings to be among the best currently available. Each disc was presented as a distinct entity and unlike its brethren. The Blue Circle preamp also allowed me to hear Rene LaFlamme's special RL1 custom-built tube microphone's ability to capture both instrumental tone as well as acoustic space.
But the disc that best summed up all that was right with the Blue Circle BC21.1 was Chesky's 4 Generations of Miles [Chesky SACD243]. Listening to this recording was for me a nearly transcendent experience. I could almost see each of the four musicians standing before me, in his own acoustic space. I could get up from my seat in the audience (yes, it's a live recording), step onto the stage, and walk to each musician's respective position. But more than just its soundstaging ability, the BC21.1 was capable of rendering each instrument as close to real as I've heard (at least, as close to real as any recording I've heard). It was beautiful.
I had only a couple of reservations regarding BC21.1's sonics -- but in the light of its wealth of strengths and reasonable price, these were easily accepted. First, it could at times appear just a bit slow-footed. The beat, whether played by the drums or bass, could seem to plod a sliver more than it should. It was never annoying enough to sabotage the music's overall coherency, but it was noticeable. Second was the amount of gain present with the BC21.1 -- 23.5dB, which is quite a bit. There was enough so that I was never able to turn the volume control above the 10:00 position without running the risk of overloading both my room and my ears. I don't necessarily consider this a huge problem, especially if you have a larger room to fill than mine, but I tend to prefer preamps that allow me to set the volume control closer to the mid-point for reasonable listening levels. Often volume controls sound their best once you get this far into their rotation.
Versus the competition
Not having heard, or having on hand, all the preamps between $1500 and $2000, I'll have to limit my comparison of the BC21.1 to my Audio Research SP16, which I consider something of a benchmark performer at its price. The BC21.1 is darker, with a slightly more forward (say more front-row) perspective, as well as having that little extra low-frequency boost. It's also smaller and much heavier, its hand-built qualities quite evident. The SP16, on the other hand, is smoother-sounding; a bit more even handed, and has more of a 15th-row perspective.
One recording that really brought home the differences between the two preamps was the RCA Living Stereo SACD of Arthur Fiedler's Gaieté Parisienne [BMG SACD 74321947112]. The BC21.1 had a way with the tympani, giving it a snap and power that the SP16 couldn't match. Both had good width to the soundstage, with the Audio Research preamp adding a tad more depth to the proceedings. But the dynamic slam of the orchestra was better represented by the BC21.1 than via the SP16. Each, however, got the essence of the music right. I'd want to listen to both carefully and in my own system before I made any final decisions.
Lessons learned
Is there true musical happiness to be had with a preamp without having to dip into the children's college fund to pay for it? And if so, does the Blue Circle BC21.1 allow the music to come through and let the listener simply enjoy the high-end experience without having to worry about what might be missing? Yes and yes.
I truly enjoyed the Blue Circle BC21.1, from its sonics to its exceptional build quality. Its few quirks, such as the lack of any form of muting and the absence of a built-in phono stage, were easily overcome by its sound. While I won't suggest that this will be the only preamp you'll ever need or want, it should definitely be on your short list of contenders.
...John Crossett
johnc@soundstage.com
Blue Circle Audio BC21.1 Preamplifier
Price: $1650 USD; remote control adds $250; Shallco attenuator adds $250.
Warranty: Three years parts and labor.

Blue Circle Audio, Inc.
RR2
Innerkip, Ontario, Canada N0J 1M0
Phone: (519) 469-3215
Fax: (519) 469-3782

E-mail: bcircle@bluecircle.com
Website: www.bluecircle.com