December 2003
Belles 21A Preamplifier
by John Crossett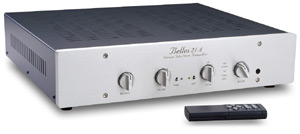 Review Summary
| | |
| --- | --- |
| Sound | "A forceful, detailed, and clear musical personality that allows you to listen deep into the sonic landscape, pulling new musical moments out of familiar material"; "tied in with the 21A's solid pace, rhythm and timing is its ease of presentation." |
| | |
| --- | --- |
| Features | "A tubed preamp that relies on the two pairs of 12AU7 tubes...to amplify the signal from any of its five line-level inputs -- sorry, no phono stage"; "the remote control is a smallish unit, with buttons to turn the unit on or off, mute the preamp, or turn the volume up or down." |
| | |
| --- | --- |
| Use | John liked the lack of "additional fancy features [on the remote control] to confuse you as you listen either with your eyes closed or in the dark." |
| | |
| --- | --- |
| Value | "The Belles 21A offers its prospective owner a beguiling blend of attributes that serve the music very, very well." |
These are times that try a reviewer's soul. Imagine becoming deeply immersed in evaluating a piece of audio equipment and then suddenly receive a call from the designer notifying you that he's just updated the piece. Just like that, back you go to square one, destined to attempt to clear your mind of the accumulated sonic data from the initial piece, and then listen to the new one with the slate wiped clean. It's not an easy task.
Such was my predicament when I began my review of the Belles 20A preamp. I received a call from David Belles announcing that his newly updated 21A was winging its merry way to me, causing both a tinge of regret (at the lost time spent with the 20A) together with curiosity and anticipation of just what sonic miracles had been wrought with the new model.
Fortunately for me, curiosity won out (no surprise), and I was eager to hear the new 21A.
Construction
The Belles 21A ($2495 USD) is a tubed preamp that relies on two 12AU7 tubes to amplify the signal from any of its five line-level inputs -- sorry, no phono stage, a function handled by the Belles 20A phono stage. The 21A's sleek size, 17"W x 3 1/2"H x 14"D, and reasonable weight, 17 pounds, combined with its pounded gray/black paint scheme allow the 21A to blend easily into its décor without using the almost-ubiquitous all-black casings that so permeate most of the audio equipment available today. The tubes come pre-mounted, so you'll not need to take the 21A's cover off for anything other than curiosity (or tube replacement). Should you be so curious, the layout of the Belles preamp is clean and uncluttered, with the tube sockets arrayed on a large printed circuit board.
The clean, simple front-panel layout of the 21A is symmetrically arranged with four knobs -- Volume, Balance, Listen, and Record from left to right. There are also two push buttons with corresponding LEDs centered between the Balance and Listen knobs as well as the Power and Mute controls. The 21A is available in black or silver finish.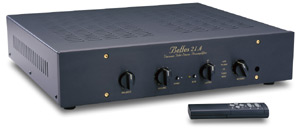 On the rear panel things remain just as easy to understand. You'll see five pairs of gold-plated line-level input jacks together with a set of gold-plated output jacks and another set for tape output. Next, there is a set of balanced outputs, for those with power amps that accept balanced input (the 21A's circuitry is not fully balanced, however). And finally, there is a fuse holder and a removable IEC three-pronged power cord.
The remote control is a smallish unit with buttons to turn the unit on or off, mute the preamp, or turn the volume up or down. That's it -- no additional fancy features to confuse you as you listen either with your eyes closed or in the dark. I like that.
Review system
I used the Belles 21A in two different systems (well, sort of). I began by inserting it in place of my Audio Research SP16 preamp -- connecting it to a Sunfire Stereo power amp via a meter and a half of Alpha-Core TQ2 interconnect. I also had the use of a Belles 150A Hot Rod power amp that I substituted for the Sunfire. Speakers were Magnepan MG1.6/QRs tied to the power amp with a biwire set of Alpha-Core MI2 speaker cables. Front-end pieces were a Marantz 8260 CD/SACD player, and a VPI HW19 Mk IV turntable, modified Rega RB300 tonearm, and Clearaudio Aurum Beta S cartridge played through the Belles 20A phono stage.
Sound
Have you ever noticed how some otherwise excellent pieces of audio gear seem to offer nothing more than sound that can be enjoyed only while you're doing something other than just listening to music? Well, the Belles 21A preamp will not be found amidst that grouping. It reaches out, grabs you by the collar, and pulls you into whatever musical interlude that it's being fed. It has a forceful, detailed, and clear musical personality that allows you to listen deep into the sonic landscape, pulling new musical moments out of familiar material. For instance, I queued up the Fine Arts Quartet & Yuri Gandlesman's triple SACD of the Mozart String Quintets [Lyrinx LYR 2214) and reveled in the newfound soundstage that separated each musician from his fellow in the recording acoustic in a way that I'd never quite experienced before. And the tone of the two violins, the violas, and the single cello was utterly pure.
The Belles preamp's ability to portray instruments as three-dimensional images, and not just those infamous cardboard cutouts, allowed me to suspend disbelief that much more easily, so enjoyment rose accordingly. One disc I love to listen to in order to hear this particular aspect is the Lee Konitz, Brad Mehldau and Charlie Haden CD, Alone Together [Blue Note CDP 7243 8 57150 2 0]. The Belles preamp offers a real impression of three musicians on a real stage (this is a live recording), performing together in a real room. Via the 21A, I was given a new insight into this favorite disc. The sensation of space, the acoustic aloneness of these three musicians, was new to me.
More strong points of the Belles 21A are its abilities in the pace, rhythm and timing departments. The new Concord SACD reissue of Gene Harris' Listen Here [Concord SACD-1006-6] was a case in point. If this music isn't propelled along at a decent pace, it completely loses its effectiveness. Via the Belles 21A, the title tune boogied right along. There was no lag in the beat to that of the music. The sense of three musicians playing in lockstep together was very, very strong and made for a highly enjoyable presentation. Oh, and if your system's resolving power is up to it, see if you can make out what the voice speaking in the background is saying, and also whose it is.
Tied in with the 21A's solid pace, rhythm and timing is its ease of presentation. Using the Belles 20A phono stage, I slipped Duke Ellington's Jazz Party In Stereo [Classic/Columbia LP CS8127] onto the platter of my turntable and reveled in the totality of the music. There was a good balance between the initial transient, the body of the note, and its decay, as well as a sense of continuity to the overall sound. All the different instruments, especially the percussion in the opening track, were kept separate, but they were still a part of the whole presentation. This let me relax, enjoy, and slip under the surface to immerse myself in the music on this wonderful recording.
But it was the Belles 21A's way with vocals that really opened my ears to just how good a preamp it is. I'd never quite understood all the hoopla that's been attached to Norah Jones' debut album Come Away With Me [Blue Note Records SACD 7243 5 41747 2 8], but when Blue Note included that disc among its initial SACD releases, I was eager to pick up a copy, if for no other reason than to hear how much of an improvement the SACD was over the Redbook CD. Well, it wasn't more than a minute or two into playing the new SACD that I suddenly got it -- the album now made sense and I understood why it has received so much praise. And that voice -- so pure, uncluttered and distinct. It was a revelation. I was lost until the disc ended; then I hit the repeat button to hear it all over again.
And it wasn't just that particular album's vocals that sold me on the 21A. I ran a cross-section of singers through the Belles preamp, from the superb harmonizing of Chris Thile, Sara Watkins and brother Sean from their debut Nickel Creek [Sugar Hill Sug-SACD-1970], to the new Sam Cooke Portrait of a Legend greatest-hits package [ABKCO SACD-92642], on through the English white-boy blues of William Topley from his album Feasting With Panthers [Lost Highway CD 088 170 241-2]. All were portrayed as living people standing right in front of my listening chair and singing just for me.
Comparisons
In the case of the Belles 21A, I was fortunate to be able to compare it not only to my reference Audio Research SP16 preamp, but also with its immediate predecessor, the 20A. It's not often that you get to hear the older model in immediate contrast to its newer sibling, so I took full advantage of the situation.
While outwardly similar-looking, the 21A has a number of internal changes (changing the cathode buffer follower to NPN transistors, input relay upgrades, and a new volume control), making it essentially a new design and not merely an updated one. These changes have given it a more neutral, less dark-sounding, and somewhat less forward sound, which allow its lower frequencies to better integrate into the sonic whole. Both Belles preamps sounded vivid and forceful, but the 21A's better overall balance is a major step up in sound quality.
Comparison of the Belles 21A to the ARC SP16 was a case of different but equal. The first thing I noticed was the increased gain, 17dB, of the Belles (22.9dB in balanced mode) to only 11.5dB for the SP16. The added gain of the Belles preamp didn't allow me to run the volume control near its middle setting, where pots are usually at their most neutral, as I am able to with the Audio Research preamp. Still, I heard no distortion or any other added sonic nasties via the 21A, so I didn't think any more about it and just enjoyed the musical presentation. I doubt this will pose any real problems for you either.
In it presentation, the 21A was a bit more on the forward and forceful side than the more laid-back sound of the SP16. But both were extremely detailed and musical, so choosing one over the other may simply come down to either system synergy, features (both offer remote volume control, but the 21A has a balance control, while the SP16 counters with a stereo/mono switch), or price. The ARC SP16 costs $500 less than the Belles 21A.
Conclusion
Most people look at change with a mixture of fear and anticipation -- perhaps reviewers do this more than most. Yet, in the case of the Belles 21A preamp, you can drop the fear and worry and replace them with jubilation. The Belles 21A offers its prospective owner a beguiling blend of attributes that serve the music very, very well. Through all my listening time, the 21A was never anything less that totally musically involving, whether inserted in my reference system, or as part of an entire Belles audio system (made up of the 21A, the 20 A phono stage and the 150 A Hot Rod power amp -- well worth considering, by the way). I dare say that this preamp will make David Belles a very busy man as he hustles to keep his production up with demand.
John Crossett
johnc@soundstage.com
Belles 21A Preamplifier
Price: $2495 USD.
Warranty: Five years parts and labor.

Power Modules. Inc.
479 East Street
Pittsford, NY 14534
Phone: (585) 586-0740
Fax: (585) 586-4203

E-mail: info@powermodules.com
Website: www.powermodules.com