August 2006
Bel Canto Design e.One REF1000 Mono Amplifiers
by John Crossett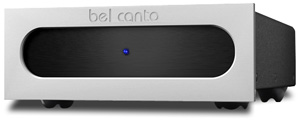 Review Summary
| | |
| --- | --- |
| Sound | "The first thing that grabbed my attention about the REF1000s' sound was their good, tight bass reproduction…. The REF1000s went fully as low as my Magnepan speakers are capable (and seemed like they added a half octave or so)." "Aiding in their bass performance is the quietness of the REF1000s…. If you hear any incidental noise, look to your other components." "Good show, Bel Canto." |
| | |
| --- | --- |
| Features | "The REF1000s use the latest generation of Bang & Olufsen's ICEpower analog switching module, the 1000ASP, to produce a reported 500 watts into 8 ohms and 1000 watts into 4. Going ICEpower has allowed John Stronczer and company to free themselves from the limitations of traditional transformer-based power supplies. By eliminating the transformer, Bel Canto claims to have lowered the noise floor and allowed the amplifier reproduce music in a more unfettered manner." |
| | |
| --- | --- |
| Use | "The REF1000 is a fully balanced design, so it's nice that Bel Canto gives you your choice of using either single-ended/RCA or balanced/XLR inputs." |
| | |
| --- | --- |
| Value | The REF1000s "offer a selection of strengths that made my listening time with them a real joy. Plus, packing all that into chassis the size of Grape Nuts boxes means that placement becomes a non-issue." |
There must be something in the water.
That's the only rational explanation I can come up with for why so many topnotch audio companies make their home and flourish in Minnesota. There's got to be something in those 10,000 lakes that stimulates the audio senses. Think about it: Audio Research, Magnepan, Atma-Sphere, Van Alstine, and Bel Canto all reside in Minnesota, and all make well-known, high-performing high-end products. I'm telling you, it simply has to be the water.
Bel Canto has been designing cutting-edge electronics for the past 15 years. Yet during that time, they've played around with just about every type of circuit available -- from tube to solid-state to digital. Now, using a new ICEpower module, Bel Canto has stepped farther into the future with their class-D, analog switching amplifiers, the e.One REF1000 monoblocks. These amps are part of an entirely new series of two-channel audio products whose small size and striking two-tone looks are constants.
I've had the opportunity to review a trio of switching amps, ranging from the diminutive Flying Mole DAD-M100pro HT monoblocks, to the larger and much more solidly built Audio Research 150.2, and now the Bel Canto REF1000s. One of the benefits of switching amps is that they need not be built the size of a small dog house. But sacrificing size hasn't meant any sacrifice in sonic abilities, something the petite REF1000s prove with assurance.
Nuts and bolts
Suave, sophisticated, sleek, sexy and small: These are the best adjectives I can come up with to give you an idea of what the REF1000s ($3990 USD per pair) look like. Stacked one atop the other, they are only a fraction taller than my Bryston 4B SST stereo amp. Sitting side by side, they are not even as wide. But don't be fooled -- these bad little boys (8 1/2"W x 3"H x 12"D and 13 pounds) are solidly built, and you'll feel like you got your money's worth just on looks alone. The front panel has only one feature besides the engraved Bel Canto logo on the chamfered silver edging: a dark panel with a cool-looking blue LED that doesn't glow overly bright to indicate that the unit is on. That's it.
Around back you'll find the on/off switch. The REF1000 is a fully balanced design, so it's nice that Bel Canto gives you your choice of using either single-ended/RCA or balanced/XLR inputs. They offer solid gold-plated, five-way binding posts for speaker connection and a now-standard IEC inlet for power-cord connection, allowing you to use either the (very good) supplied cord, or one of your own choosing. I used the supplied cords during this review and was completely happy with them.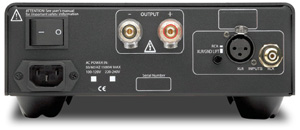 The REF1000s use the latest generation of Bang & Olufsen's ICEpower analog switching module, the 1000ASP, to produce a reported 500 watts into 8 ohms and 1000 watts into 4. Going ICEpower has allowed John Stronczer and company to free themselves from the limitations of traditional transformer-based power supplies. By eliminating the transformer, Bel Canto claims to have lowered the noise floor and allowed the amplifier to reproduce music in a more unfettered manner. As to whether or not they've succeeded, only listening will tell that story.
Sonics
The first thing that grabbed my attention about the REF1000s' sound was their good, tight bass reproduction. Low-end definition was apparent from the first notes of the new LP reissue of Four Men With Beards' The Electrifying Eddie Harris [FMWB/Atlantic 4M 106], on to the Jaco Pastorius Big Band's Word Of Mouth Revisited SACD [Heads Up HUSA 9078], through to Christian McBride's debut CD, Getting' To It [Verve 314 523 989-2]. Each had solid reproduction of either stand-up acoustic bass or electric bass played in real space. Toss in the fact that the REF1000s went fully as low as my Magnepan speakers are capable (and seemed like they added a half octave or so), and you can count on feeding that craving if you are something of a bass-head, as I am.
Aiding in their bass performance is the quietness of the REF1000s. Those ICEpower modules do an excellent job at reducing the level of background noise, justifying Bel Canto's decision to use them. They allow the music to emerge from a solid-black background. The REF1000s are as silent as the proverbial grave. Music from the lowest bass notes to the highest cymbal transients are reproduced as cleanly as the balance of your system allows. If you hear any incidental noise, look to your other components. I can guarantee that the REF1000s are not the cause.
Associated Equipment
Loudspeakers – Magnepan MG1.6/QR.
Power amplifier – Bryston 4B SST.
Preamplifier - Audio Research SP16 with internal phono stage. Bel Canto PRe3.
Analog - VPI HW-19 Mk IV turntable with TNT platter and bearing, Super Arm Board, VPI/Rega VTA adjuster, and VPI dropped counterweight; Butternut Audio-Modified Rega RB300 tonearm; Clearaudio Maestro cartridge.
CD/SACD player – Marantz SACD-8260.
DVD-V/DVD-A player – Panasonic DVD-F65.
Interconnects – Analysis Plus Copper Oval-In, Alpha Core/Goertz TQ2, DH Labs BL-1, Harmonic Technologies Pro Silway Mk II.
Speaker cables – Analysis Plus Oval 9, Alpha Core MI2.
Power conditioner – Monster HTS-1000.
Accessories - Salamander Archetype racks; Symposium Roller Blocks, Ultra Platform, Svelte Shelves, Isis shelf, Fat Padz and Roller Block Jr.
(An item that I've recently added to my listening room is a comfortable low-back leather listening chair. The low back is what's important. I was pleasantly surprised by the sonic improvement wrought by switching from a comfortable high-back chair to one that is low enough to keep the back well below the level of my ears. If you haven't invested in one yet, do so ASAP.)
With all of their power, the REF1000s gave the impression of being totally unfazed by anything thrown at them. Never, not even when asked to drive the notoriously inefficient Magnepans, could I get them to even begin to break a sweat. They remained one cool customer sonically and physically. Playing big symphonic music, such as Respighi's Pines and Fountains of Rome [Classic/RCA LP LSP- 2436], was a blast, as the Bel Canto amps just laid out the orchestra in front of me, section by section.
And, my oh my, can these babies boogie when asked to! Edgar Winter's They Only Come Out at Night [Mobile Fidelity UDSACD 2011], "Frankenstein" especially, demonstrated this, as it had all the pace, rhythm and timing that one could possibly ask for. And it was the REF1000s that finally allowed me to "get" Béla Fleck's album Drive [Mobile Fidelity/Rounder CDSACD 7003] by sorting out not only the multitude of instruments used, but also the rhythmic complexity of Fleck's and his cohorts' playing.
Hand in hand with what I note above is the manner in which the Bel Canto amps convey emotion. Many different feelings were swirling through Mozart's head in the years before he died, and most of them are encompassed in his last string quartet, No.23 in F Major, K590. As played by the Julliard Quartet on the LP Mozart, The Last Four String Quartets [Columbia MG 33976], No.23 in F Major brings forth an abundance of emotion. Each voice of the quartet is alive with the passions Mozart wrote into this superb piece of music, and all are wonderfully reproduced via the REF1000s. How do they do this? The Bel Canto amps get out of the way of the music, allowing its feeling to flow forth unfettered. The REF1000s are true to the mission of high-end audio: present a better listening experience.
However, one fly in an otherwise excellent sonic ointment is the manner with which the Bel Canto REF1000s handle vocals -- especially female. Odd this, as the phrase bel canto is Italian for beautiful singing. Given that, one would tend to think that vocal reproduction would be one of the strengths of these amps, but I found it to be just a wee bit flatter than I expected, with less sense of a real person singing. It wasn't as if I were hearing nothing more than cardboard cutouts pasted on the soundstage. It was more that there wasn't quite as much flesh on the bones, quite as much presence. The sense that the singer was there in front of me was slightly diminished.
The REF1000s also tended to gloss over just a bit those vital vocal inflections that make the human voice come alive. The purity of each voice, whether the angelic assurance of Allison Krauss, the gruff grind of John Prine, the smoky sultriness of Billie Holiday, or the bluesy growl of Dr. John, was always presented intact, all easily identifiable, albeit with just a bit less of a sense of reality than I have experienced.
Bel Canto was also kind enough to send along one of their new PRe3 preamplifiers for me to try with the REF1000s, so that I could hear an all-Bel Canto approach. I was grateful for this, as inserting the Pre3 offered a clearer view of those traits Bel Canto feels are important to proper musical reproduction. All of the strengths I've noted above regarding the REF1000s were enhanced using the Pre3, and the only weaknesses I noted were somewhat ameliorated. Purchasing the Pre3 as a trio with the REF1000s would be a smart way to ensure long-term musical satisfaction, and the three units look great together as well. They may even fit together on a single shelf of your rack.
The competition
Stacked up to my reference Bryston 4B SST ($2995), a tried-and-true conventional solid-state amplifier, the Bel Canto Reference 1000s showed a completely different side to non-tube musical reproduction. Both amps handled the frequency extremes with aplomb, both offered excellent control over my Magnepan speakers, and both ran cool and quiet. But that's where the similarities ended. The REF1000s tended to set the music behind the plane of the speakers, inviting me to step into the soundstage for a more intimate, involving musical event. The Bryston amp, on the other hand, was more forward -- placing the sound even with the plane.
The Bel Canto amps also emphasized the leading edge of each transient, rather than the harmonic envelope that follows. Not that they skimp on the harmonics, mind you; it's just that you'll notice the leading edge more. This made the REF1000s great for fast-paced music. The Bryston amp was a bit more even-handed in its way with transients and harmonic information. The REF1000s made the Bryston sound more warm and fuzzy -- well, at least as much as any solid-state amp can be described that way. The REF1000s seemed to offer a greater sense of unlimited power than the 4B SST -- though the difference in real terms was not great. While the REF1000 is a 500-watt amp (into 8 ohms) and the Bryston has "only" 300, I'm sure I didn't use those extra 200 watts very often.
The piece of music that most easily sorted out these differences was the title cut to Cannonball Adderley's Somethin' Else [Classic Records DAD 1022]. I heard Adderley's alto sax and Miles Davis's trumpet set behind the speakers, both brass instruments having air blown through them in different manners -- and it was easy to tell which was which. The Bel Canto amps stripped away any sense of romantic warmth and made each musician a separate identity in his own space. The Bryston amp, while not quite as precise, added a touch of warmth to the proceedings. Sam Jones's bass was more string tone via the REF1000s, more wooden body through the 4B SST. Both gave the impression of a large wooden stringed instrument; it's just that each presented that instrument in its own unique manner. I suppose that the one you'll find closer to your idea of real will come down to personal choice. I'd recommend a listen to both amps before making any decisions.
The final tally
So, what does all this rambling about different sonic attributes tell you? Well, it's my hope that it will get you thinking about lining up an audition of the Bel Canto REF1000s for yourself, as that's the only way you're going to know whether or not they meet your personal sonic standards. Needless to say, I was impressed with both the engineering and the sonic reproduction of the REF1000s . And they're as cute as the dickens.
They're not perfect, which makes the REF1000s no different from every other piece of audio gear out there, but they offer a selection of strengths that made my listening time with them a real joy. Plus, packing all that into chassis the size of Grape Nuts boxes means that placement becomes a non-issue.
Good show, Bel Canto. Keep drinking that water.
...John Crossett
johnc@soundstage.com
Bel Canto Design e.One REF1000 Mono Amplifiers
Price: $3990 USD per pair.
Warranty: Five years parts and labor.

Bel Canto Design
212 3rd Avenue North, Suite 274
Minneapolis, MN 55401
Phone: (612) 317-4550
Fax: (612) 359-9358

E-mail: info@belcantodesign.com
Internet: www.belcantodesign.com