May 2006
Ayre Acoustics K-1xe Preamplifier and V-1xe Stereo Amplifier by Marc Mickelson
"...you can spend a lot more money on a solid-state preamp and amp that simply don't sound as good as the Ayre K-1xe and V-1xe."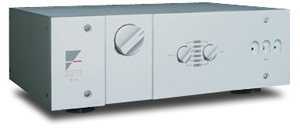 Ayre Acoustics K-1xe preamp...
Some review products are requested, and others are thrust upon us. Then there are the Ayre K-1xe and V-1xe.
When I initially arranged to review the Ayre C-5xe universal player, Steve Silberman of Ayre made a point of sending along a K-1xe preamp ($6750 USD), a V-1xe amp ($9000), and a system's worth of cables so I could hear the C-5xe in the context of an entire collection of Ayre products. Of course, after Steve set everything up and left, I began reintroducing my reference electronics and cables piecemeal in order to get an idea of what the C-5xe and the other Ayre products were doing individually. The K-1xe and V-1xe were so impressive used by themselves and together that writing about them became a sonic imperative. So here we are.
The "e" in all of the current Ayre products stands for "Evolution," the name of the upgrade that represents product designer Charles Hansen's latest thinking mostly on the proper design of a power supply for audio purposes. The Evolution upgrade was introduced in late 2004 and was applied to all of Ayre's products. It consisted of what Ayre calls "Dynamic Power," a term for a combination of proprietary technologies used on the AC side of each product's power supply. These include additional RFI filtering of the AC mains, increased peak current delivery, and filtering of rectifier switching noise. The effects? According to Hansen, a blacker background, greater dynamic contrasts, improved resolution, and a more dimensional, realistic presentation.
Besides the inclusion of Dynamic Power, the K-1xe also received an additional 10dB of gain for its optional phono stage. There were no other changes to the V-1xe. The cost to upgrade is $500 for newer units with the "x" in their model designations. Even the earliest pre-"x" units can be fully upgraded for $1850. This steep amount represents an actual upgrade cost of $350; there was a price increase of $1500 on each unit when the "x" versions were introduced roughly five years ago.
While 200Wpc stereo amps are not uncommon today, the V-1xe is an especially stout example, weighing in at 95 pounds. It uses 32 output devices per channel in a fully balanced, no-feedback circuit. Most pictures of the K-1xe omit the unit's separate power supply -- a small, black, nondescript box. Like the V-1xe (and, indeed, all Ayre products), the K-1xe is also a fully balanced, zero-feedback design. Both the V-1xe and K-1xe do allow for single-ended connection.
While the K-1xe can be ordered with or without remote control, Ayre sells very few K-1xes without it. A $250 premium, the remote operates only the unit's volume, putting a remote-controlled K-1xe one ergonomic step ahead of a fully manual preamp. Even so, I found it worthwhile and would recommend springing for it. The cost is due to the complex wheel-and-belt system needed to adjust the K-1xe's volume, which has four controls: one for each phase of each channel.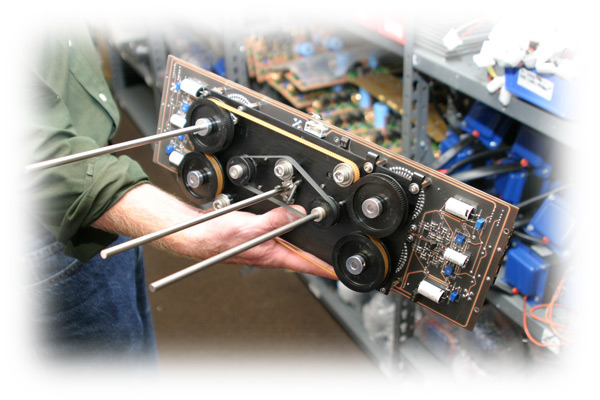 We've reviewed earlier versions of both the K-1xe and V-1xe, but I had never heard an Ayre preamp or amp in my system until the K-1xe and V-1xe tagged along with the C-5xe. The opportune phrase to describe the sound of both products is "unforced resolution." Together or separately, the K-1xe and V-1xe have a clear, even-handed, airy presentation that belies the sound of much solid-state gear, never tipping over into murky thickness or piercing leanness. They are honest-sounding products without obvious tendencies or quirks. They avoid the cold sterility of some popular electronics on the market today, and avoid those products' glare and hardness as well. The Ayre amp and preamp have an intrinsic musicality not brought on by obvious coloration but rather by an overwhelming sense of resolution and rightness. You won't mistake the V-1xe and K-1xe for tubes, but you won't care either.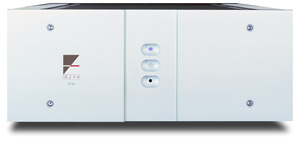 ...and V-1xe amplifier
The sheer muscle of the V-1xe is inspiring, tempting you to push its limits. It would be a great amp for tough loads, so effortlessly does it deliver gobs of power. But the V-1xe isn't just about brutish volume; it does the little things well, too. When delicacy is called for, it delivers, especially at low levels. Its noise floor is one that even the best tube amps can't touch, and it portrays space with rare aptitude.
Like so many jazz fans, I trust recordings on well-known vintage labels -- Blue Note, Verve, Prestige, Columbia. A contemporary label whose recordings are uniformly musically interesting and well recorded is MaxJazz. In the past I've mentioned Bruce Barth's Live at the Village Vanguard [MaxJazz MXJ 205], but my latest MaxJazz faves are Live at Yoshi's Volume One [MaxJazz MXJ 210] and Volume Two [MaxJazz MXJ 2145] from pianist Jessica Williams, who displays more than a little Bill Evans-like lyricism in her playing. The V-1xe can cast an immense soundstage, but in the case of the Live at Yoshi's recordings, it captured the venue's intimate-but-not-too-lively vibe, and gave both recordings a luminosity from the midrange through the entire treble range. At low or loud levels, it conveyed the essential nature of both the recording and music. While the V-1xe doesn't have the presence of Lamm's hybrid or tube amps, or the Blue Circle BC208s, it sounds quicker and more incisive than any of them. I'd put it up against anyone's $40,000 monoblocks.
As I listened to the V-1xe, I thought that it was a better product than the K-1xe, until I'd go back and listen to the latter. The K-1xe does what a preamp should: pass the signal to the amplifier without guiding the music to a particular sonic outcome. And it did this with a very wide array of partnering amps. During the time I had the K-1xe here, I also had tube, hybrid and solid-state amps from various other makers on hand. The K-1xe sounded like it was made as a mate for all of them, an extraordinary feat. Usually preamps and amps from the same maker go well together, but sometimes we discover particularly good pairings by mixing and matching -- like the Lamm ML2.1 monoblocks and VTL TL-7.5 preamp. The Ayre K-1xe's neutrality -- real neutrality, not the perception of such caused by a goosing of the treble region, for instance -- brought out the character of each amp like a paisley tie complements a white shirt. I could have lived gleefully with the K-1xe and any of the amps I had here.
Even at their prices, the Ayre K-1xe and V-1xe caused me to think about their value. Both are very expensive, but compared to much of the competition, both seem oddly underpriced as well. That's because you can spend a lot more money on a solid-state preamp and amp that simply don't sound as good as the Ayre K-1xe and V-1xe.
Much to my chagrin as a discriminating audio critic and my edification as a picky audiophile, I've written about a string of Reviewers' Choice products this year, including these two from Ayre that forced the issue. Serendipity is a wonderful thing.
...Marc Mickelson
marc@soundstage.com
Ayre Acoustics K-1xe Preamplifier and V-1xe Amplifier
Prices: K-1xe, $6750 USD (remote control adds $250); V-1xe, $9000.
Warranty: Five years parts and labor.

Ayre Acoustics
2300-B Central Avenue
Boulder, Colorado 80301
Phone: (303) 442-7300
Fax: (303) 442-7301

E-mail: info@ayre.com
Website: www.ayre.com