July 2008
Audio Elegance Dakota Amplifier Stand
by Vade Forrester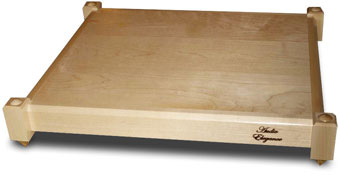 Review Summary
| | |
| --- | --- |
| Sound | "There was a sense of ease that drew me in. The music had an unforced quality that invited longer listening sessions. The soundstage was broad, and the frequency extension at both ends of the spectrum was extended but not overemphasized. All of this wasn't isolated to one song or album; all of the music took on the same relaxed character, just as I would have expected." |
| | |
| --- | --- |
| Features | "To provide a stable platform, the Dakota Collection and James River Collection offer mass-loadable shelves, but with a catch: You have to provide the mass, which reduces the shipping cost. The shelves themselves provide compartments underneath that you can fill with sand, lead shot, kitty litter, or whatever you choose." "Sharp brass cones serve as feet for the stands, and with a little pressure they can pierce your carpet in order to couple the stand firmly to the floor underneath." "Four wood finishes are available: cherry, stained oak, clear oak, and maple." |
| | |
| --- | --- |
| Use | "To avoid leaks and the accompanying mess, it's a good idea to place the fill substance in plastic bags, not just pour it directly into the compartment." |
| | |
| --- | --- |
| Value | "Its price seems fair for something built so well, and it's available in several elegant hardwoods that might actually match your furniture." |
Vibration control: Most audiophiles agree it's important, but few agree on the best way to accomplish it. Should you isolate a component from airborne and floor-borne vibration, which can modulate and distort the signal, or should you couple the component rigidly to the stand and floor to prevent vibration? Manufacturers who sell products purporting to control vibration in your hi-fi system are anything but consistent in their approach. But there is one thing we can all agree on: There is no lack of tools to help you manage vibration in your system.
One such tool is the amplifier stand, a product that's easy to overlook. Some think its sole function is to prevent you from bashing your amplifier with your vacuum cleaner, and how hard can it be to make a product that will do that? But is there more to it than that? And how on earth would you go about evaluating an amplifier stand? Those questions, and others, flitted across my consciousness as I talked to Jim Pendleton, distributor for Audio Elegance, at the 2007 Rocky Mountain Audio Fest about reviewing an amplifier stand.
Of course, I've oversimplified; amplifier stands have several functions, only some of which have to do with vibration control. These include elevating the amplifier off the floor so it has sufficient ventilation. Amp stands help manage heat generated by the amplifier, especially tube amplifiers, which can generate a lot of heat. Isolation from floor-borne vibration is another function. Vibration can modulate the audio signal passing through the amplifier, especially in tube amplifiers, where the elements inside the tubes can be microphonic. There's also the damping of airborne vibration. This can be a serious problem if your amp is located near your speakers, where high pressure from the speaker or the enclosure's port can cause the amp to vibrate.
Audio Elegance manufactures three lines of audio furniture, the Frontier series being the company's least expensive offering, the James River Collection in the middle, and the top-of-the-line Dakota Collection the most expensive and most, um, elegant. Actually, products from all lines look pretty elegant to me. Models range from a single shelf amp stand to a five-shelf double-wide equipment rack that will hold ten pieces of equipment. There is also a line of record storage shelves that match the audio racks. The furniture is constructed of solid woods -- no veneers here. Four wood finishes are available: cherry, stained oak, clear oak, and maple.
I could have chosen any of Audio Elegance's products to review, but I decided on the simplest -- an amp stand. If you're in the audio-reviewing business and base your reviews on subjective impressions, you'll soon realize that simplicity is mandatory. Typically, you'll insert a product into your reference system and listen carefully to form an opinion of the unit you're reviewing. Then you'll reinsert the original reference piece, with which you should be intimately familiar, and contrast the two pieces. It's important that you only make a single change to your system so you can assure that audible differences stem from the component you're reviewing, not some other part of the system. Evaluating an entire rack would have required removing and replacing all the equipment in a system, which would involve making many changes. So an amp stand made the most sense.
Audio Elegance's president Jeff Dicks pursues all the uses of an amplifier stand with innovation and precision. To provide a stable platform, the Dakota Collection and James River Collection offer mass-loadable shelves, but with a catch: You have to provide the mass, which reduces the shipping cost. The shelves themselves provide compartments underneath that you can fill with sand, lead shot, kitty litter, or whatever you choose. To avoid leaks and the accompanying mess, it's a good idea to place the fill substance in plastic bags, not just pour it directly into the compartment. The bottom of each compartment, on which the filler rests when the stand is upright, is secured to the top with a dozen screws. A gasket seals the bottom to the internal compartment, just in case someone elects to ignore the suggestion to use plastic bags for the loading material.
Sharp brass cones serve as feet for the stands, and with a little pressure they can pierce your carpet in order to couple the stand firmly to the floor underneath. If you have nice wood, tile, or stone floors, brass disks are provided to place under the cone points. The cones have threaded sections that are used to level the stands, preventing them from rocking on uneven floors.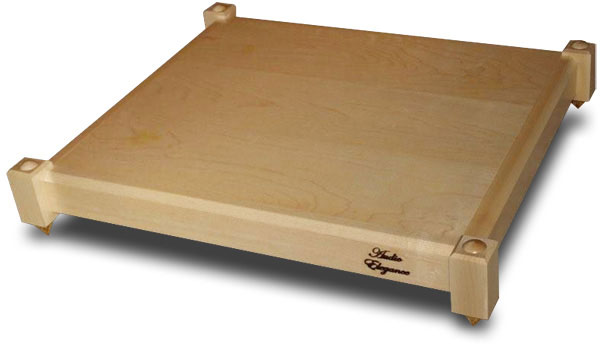 I evaluated a solid-maple amplifier stand in the Dakota line. It measures 19"W x 4 1/2"H x 16"D and is priced at $1199 USD. Its size made it look like a custom match for all my amplifiers, but other sizes are available if your amp is larger or smaller than mine. It was gorgeous; this stand fully justified the name Audio Elegance.
The amp stand shipped in a single well-packed box, and, as they say, some assembly was required. Not much, though; all I had to do was remove the bottom compartment cover, add material for mass loading, screw on the cover to hold in the loading material, and turn the stand over so the cones pointed towards the floor. For damping material, I used very fine, childrens' sandbox sand, which I've found effective for mass-loading speaker stands. It's cheap – Lowe's sells 50-pound bags for under $4. I filled four one-quart Ziploc bags with the sand. Actually, on my first attempt, I way overfilled the bags and had to remove some sand so the bags would fit in the cavity. Even so, I think the bags were technically still too full for the bottom plate to fit snugly. However, that meant the sandbags were squashed between the top shelf and bottom plate, which should provide damping and mass-loading to further reduce resonance and vibration. A little pressure on the legs caused the spikes to pierce my carpet and seat firmly on the concrete slab beneath.
Does an amp stand really have a sound of its own? This is the question I asked myself before I did any listening with the Audio Elegance amp stand underneath my Atma-Sphere amp. I was afraid it wouldn't, or, more precisely, the differences between it and nothing at all would be miniscule. But when I installed the Audio Elegance Dakota stand, it was obvious that I needn't worry. "Open," "detailed," and "refined" were sonic characteristics I noted when first listening to the Atma-Sphere amplifier on the Dakota stand. There was a sense of ease that drew me in. The music had an unforced quality that invited longer listening sessions. The soundstage was broad, and the frequency extension at both ends of the spectrum was extended but not overemphasized. All of this wasn't isolated to one song or album; all of the music took on the same relaxed character, just as I would have expected.
Associated Equipment
Loudspeakers – Second ReTHM, Maxxhorn Lumination.
Power amplifier – Atma-Sphere S-30 Mk III stereo amp.
Preamplifier – Audio Research LS26.
Digital – Meridian 508.24 CD player, Oppo DV-970HD universal player.
Analog – Linn LP12 turntable, Graham 2.2 tonearm, van den Hul Frog cartridge, Audio Research PH5 phono stage.
Interconnects – Crystal Cable CrystalConnect Piccolo, Purist Audio Design Venustas, DNM/Reson TSC, TG Audio High Purity Revised.
Speaker cables – Crystal Cable CrystalSpeak Micro, Purist Audio Design Venustas, Blue Marble Audio speaker cables.
Power cords – Purist Audio Design Venustas, Blue Marble Audio Lightning.
Accessories – Walker Audio Talisman LP/CD treatment, VPI HW-16.5 record cleaner.
Acrylic and thick maple are favorite materials in the audiophile market, so I compared the Audio Elegance stand to a borrowed $1500 acrylic stand by Custom Isolation Products and also to a maple stand I built myself from a 15" by 20" Boos Block cutting board, which cost me about $35 at a kitchen-supply store. The do-it-yourself cutting-board stand sits on four sharp, brass spikes I scrounged from a local speaker builder.
Although the DIY Boos Block stand is what I normally use, I was curious about the acrylic stand, so I started the listening with it. Using Patricia Barber's The Premonition Years: 1994-2002 [Koch Records KOC-CD-5003], a reissue of three popular discs but with improved sound, the bass was very solid and deep -- the best of the three stands. The soundstage, however, seemed a bit closed in. Instrumental timbres were all faithful, but didn't bloom as well as they are able to. Barber's voice seemed a smidgen lifeless.
When I substituted my homemade Boos Block cutting-board stand, the sound opened up considerably. The soundstage was much broader, and instruments bloomed like they do in a hall. Instrumental overtones were more fully fleshed out, so that instruments sounded more realistic. Barber's voice had its own space and sounded more human. Bass was less solid, however, though still decent.
Finally, I switched to the Audio Elegance Dakota stand. Holy Cow! The sound opened up even more, creating an expansive soundstage that had not only lateral dimension but a substantial sense of depth as well. The performance seemed more dynamic, less buttoned-down. Instrumental timbres were even more real-sounding, each instrument playing in its own defined space. Ditto Barber's expressive alto voice. Bass with the Custom Isolation Products stand seemed punchier, but bass with the Dakota stand was actually deeper with better pitch definition.
I'm sure many owners will have a field day trying different substances and combinations of substances as filler; but the results from my setup were so favorable that I wouldn't mess with success. If the results hadn't been so positive, I would have tried different amounts of sand and maybe even some kitty litter as the fill material. I don't fancy toxic materials as filler, so forget lead.
The Audio Elegance Dakota amp stand looks gorgeous and would be right at home among any fine furniture. But more important to the audiophile, it helped create spectacular sound. Its price seems fair for something built so well, and it's available in several elegant hardwoods that might actually match your furniture.
I've never used a better amplifier stand. When you see one, you'll want it, and when you hear it under your amp, you'll want it even more.
...Vade Forrester
vade@soundstage.com