October 2001
Audio Aero Prima 24/192 CD Player
by Doug Schneider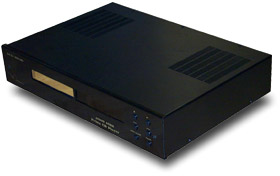 Review Summary
| | |
| --- | --- |
| Sound | "Wholly different" from the original Prima -- "eminently smooth and wonderfully rich," but also "relays outstanding texture and presence" along with "warmth and vitality." |
| | |
| --- | --- |
| Features | "A re-thought-out player"; Phillips CDM12 transport mechanism and Burr-Brown 24-bit/192kHz DACs; built-in volume control. |
| | |
| --- | --- |
| Use | Volume control operates in digital domain and is not recommended for critical listening. |
| | |
| --- | --- |
| Value | "For those who do cherish the small differences that a CD player can make…the Prima 24/192 must be heard." |
The frequency with which I've reviewed Audio Aero CD players seems to be of an almost seasonal nature. I've reviewed the Prima 24/192's predecessor, simply named the Prima, the upscale Capitole, and finally, the Capitole 24/192.
I liked the Prima for its smooth sound, but I ultimately found it lacking in dynamics -- it sounded a bit lethargic in my estimation (although after the review I was told by a couple of different people that some small tweaks could be done that would obliterate my concerns). The Capitole is a seriously sensual and seductive player that does almost everything right and caps off with a weighty, bulbous sound. But there I criticized its lack of resolution against the top-dog CD players I compared it to. Then the Capitole 24/192 entered the picture; it did almost everything the regular Capitole did right and then some, including an ability to unravel virtually everything in a recording. Any quibble I had was minuscule. In the end, I declared it to be one of the best-sounding players on the planet, and we gave it our Reviewers' Choice designation for its state-of-the-art sound.
Enter the Prima 24/192, not as rich in features as the Capitole 24/192 (and it does not have the STARS processing either), but it does have some interesting tricks of its own. From what I can tell, the Prima 24/192 seems to be a re-thought-out player.
Description
At the heart of the Prima 24/192, $1695 USD, is the Phillips CDM12 transport mechanism -- the same one used in the Capitole models. Digital conversion is done by the Burr-Brown PCM1739E 24-bit/192kHz digital-to-analogue converter. Here is where the 24/192 aspect of its name comes from, and this needs some clarification. This is a CD-only player that supports CD, CD-R, and CD-RW. It does not do DVD-A. The 24/192 simply refers to the DACs. It is a four-times oversampling unit that, like all the Audio Aero players, has a tube-based output stage. Like the Capitole 24/192, it uses 6021W subminiature tubes (although the design of the output stage in this one is different).
There is a volume control built in, but I advise against using it except for convenience. It operates in the digital domain, and setting at less than maximum volume results in resolution loss (the Capitole models have digital and analog volume controls; the analog is the one to use). On the back of the player is the detachable power cord, as well as the RCA terminated single-ended output jacks. On the front panel are the standard controls.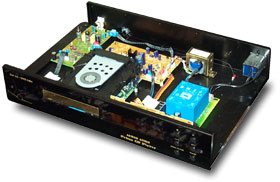 Functioning was flawless. The only weird thing to note is that when I first tried to play a disc, I could not find the on/off switch on the front panel (or the back). Eventually I gave up and just started pushing buttons -- voilà, the Prima 24/192 turned on automatically, which made perfect sense once I thought about it for a moment: one less button to push to get music playing. To turn it off you must use the power switch on the supplied remote control.
The all-metal chassis and shiny black front panel give the Prima 24/192 a subdued and elegant look that Audio Aero is known for.
System
This player started out in my home-theater system where it turned the good into something nearly great. In this system normally I just use my Kenwood DVD player for CD playback. It ran the Prima 24/192 into the Nakamichi AV-10 receiver (used only as a processor/preamp) and then on to the outstanding Paradigm Reference Active/40 loudspeakers. I left it in this system for days and reveled in the lush, sweetness it brought to this already good-sounding system. Next I moved the Prima 24/192 into my other system -- right now the 120Wpc Roksan Kandy KA-1 integrated amp driving the Mirage OM-7 loudspeakers. Speaker cables are by Magnan, interconnects varied between Blue Circle and Nirvana, and power cabling was by Blue Circle and Shunyata Research.
Sound
There are some people who feel all CD players sound the same -- any ol' player regardless of price will do the trick. While I believe this viewpoint is extreme, I can sympathize with it. I've found all but the worst CD players (usually some showing some gross technical anomaly) to sound rather similar. If you pick up even a low-cost combo DVD/CD player it will exhibit full-bandwidth response and vanishingly low distortion. Today even something bargain-basement cheap will sound reasonably good. Certainly, the difference between a $100 and $1000, or a $1000 and $5000 CD player, is not nearly the same as going between the same amounts with speakers. Still, the differences are there -- subtle differences -- and they're important. And it's these small variations that audiophiles tend to cherish, and they're what differentiate the good from the great.
I picked up an entertaining CD quite literally on the streets of Ottawa. Tupahn is a Brazilian street musician. His Covered Treasures CD [www.tuphan.com] features guitar-only versions of classic songs like "Yesterday," "Father and Son," "Stairway to Heaven" and others -- the same ones he plays on the sidewalk. I listened to him play nightly at the entrance to our Byward Market area, where he drew an impressive and appreciative crowd. I bought his self-produced CD. The recording is a little steely-sounding by nature, but the Prima 24/192 seems to impart a warmth and vitality to Tuphan's guitar that adds more than a shimmer of realism and excitement. I find the Prima 24/192 to have a velvety richness to its sound that relays outstanding texture and presence with instruments -- something the other Audio Aero players do too.
Guitar is also prominent on the All the Pretty Horses soundtrack [Sony Classical SK89465]. With the Prima 24/192, the guitar leaps from the mix with a vibrancy that I like. This disc also has some grandiose, weighty arrangements that help me judge bass depth and dynamics. The quibbles I had about the depth and attack on the original Prima are gone here. Track 7, "Malarki Opus in D Major," has speed, attack, and weight that can cause some systems to trip all over themselves. For this I mixed Paradigm's Reference Servo-15 subwoofer in the fold to get all the bass I could when I used the Active/40s. The sound was full-range, with outstanding slam. No, this isn't the type of visceral weight you can get from Simaudio's earth-moving Eclipse CD player, but it is as up to the task as any other player. Overall resolution is also good, not up to the loads-of-detail standard set by the Capitole 24/192 and Simaudio's Eclipse CD player again, but given the cost differential between the Prima 24/192 and either of these two, it is impressive.
Piano is a tough instrument to reproduce. Many times speakers cannot deliver the proper weight and tonal balance or the speed and clarity. Two sets of modestly priced speakers I use here, Mirage's OM-7 and Paradigm's Active/40, can do it fine. But having the proper speakers is only the first concern because electronics also fall short. Mainly, I've heard the instrument sound thin and almost lightweight through some CD players. Naida Cole playing Fauré, Chabrier, Satie and Ravel [Universal/Decca 748021] is a good test of what the Prima 24/192 can do with piano. Like both the Capitole and Capitole 24/192, the Prima 24/192 is a room-filling CD player, not one that sounds choked off, thin, and constrained. Again that rich and textured presentation made the piano blossom in the room. Decay and ambience retrieval are also very good. The original Prima had the robustness, but it fell short a smidgen in the speed and clarity departments. But not this player, and, as a result, I feel the Prima 24/192 is a significant step up and a wholly different player.
Vocals, which any novice listener can discern as sounding real or not in a snap, are also handled wonderfully, again with better clarity than the original Prima. You don't need a pristine recording to judge this. Tom Waits' "singing on a bender" musical style is in full force on Franks Wild Years [Island CIDM-1129]. Like almost all of Waits' albums, there is an inherent darkness and warmth built in to the sound here. Based on memory and listening notes, I believe the older Prima would have sounded too dark on this type of material -- taking the already weighty sound down to the point of plodding and being without enough clarity for the dense mix. Not true at all with this version of the player. Waits' raspy voice is rendered with excellent clarity and a full, vibrant sound. A drier-sounding CD player may make the voice sound a little more precise, but the Prima 24/192 gives it an almost tube-like fullness and richness that I like.
It's worth noting that although I've been emphasizing that the Prima 24/192 sounds eminently smooth and wonderfully rich, it doesn't seem to do it at the expense of high-frequency extension and detail. Not too long ago some companies would roll off their top-end response presumably to make edgy CDs sound a little more palatable. But the Prima 24/192 doesn't pretty things up by cutting the top end off. I used Ani DiFranco's Not a Pretty Girl [Righteous Babe Records RBR007-D], a CD that has a little bit more whispiness than I would like and not quite as pristine a top end compared to her more recent releases. The Prima 24/192 still lets these imperfections through, and this, to me, is good. I'd rather hear the flaws like this than have them obliterated like some components do in an effort to sound good.
Comparison
So where does the Prima 24/192 stand in the marketplace? It's still not the Capitole 24/192, which can still edge it out in overall resolution and that final bit of refinement. On the other hand, it's less than one-third the price. Still, I figure that those who are serious about buying the Capitole 24/192 probably won't be swayed too much by the Prima 24/192 even though it does sound very similar and is much cheaper -- price isn't as important as all-out performance in the upper echelon of audio.
In terms of its direct competitors, Redgum Audio's strange but wonderful-sounding $1600 RGCD5 that I reviewed in February is a good unit to have on your shopping list too. Both have an exceedingly smooth, non-fatiguing sound -- you can listen to them forever. And they both extract about the same amount of detail from discs -- nothing revolutionary, but nothing lacking either. Their main differences are small. The Prima 24/192 is a little more lush-sounding, which can really show itself on vocals and guitars. The RGCD5 is a wee bit more precise and a tad drier. I could live with either.
There is also the $895 Roksan Kandy KC-1. In terms of the outer chassis styling and fit'n'finish, it is the equal to the Prima 24/192. The Kandy is very nice at the price and a testament to the fact that differences between players tend to be smaller than their price tags. It's also refined-sounding, but it lacks the warmth and the final bit of "you are there" presence that the Prima 24/192 has.
Conclusion
Selling a CD-only player in this day isn't for the faint of heart -- for a couple of reasons. First, some day we may just see SACD and DVD-A take hold in the marketplace with ample software available (although I suspect that day is still a ways off). As well, there are plenty of CD players that are budget priced, like the Roksan, and they make a good argument for not spending more money than their cost. Simply put, you don't have to pay a lot today to get darned good sound.
Still, the Prima 24/192 definitely has its place. This is a wonderful-sounding CD player that is going to catch the ear of a number of audiophiles for its rich, warm and seductive presentation -- something most other players don't have. Those who don't value sonic differences (or don't think CD players have any differences) won't easily discern the value in this player. But for those who do cherish the small differences that a CD player can make, it's a different ball game, and the Prima 24/192 must be heard.
...Doug Schneider
das@soundstage.com
Audio Aero Prima 24/192 CD Player
Price: $1695 USD.
Warranty: Two years parts and labor.

Audio Aero
2 rue Louis Breguet
31700 Cornebarrieu France
Phone (33) 561-85-14-70
Fax: (33) 561-06-19-60

E-mail: jpc@audioaero.com
Website: www.audioaero.com

North American distributor:
Globe Audio Marketing
17 Maplewood Ave.
Hamilton, ON L8M 1X1
Phone: (905) 522-5040
Fax: (905) 522-2433

Website: www.globeaudiomkt.com