April 2001
Antique Sound Lab MG-SI 15DT Integrated Amplifier
by Neil Walker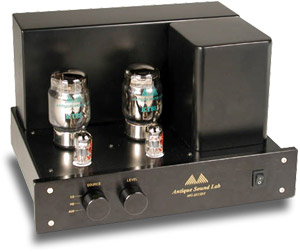 Review Summary
| | |
| --- | --- |
| Sound | "Undemanding, warm and responsive" -- "provided a degree of warmth that made piano music especially pleasant"; not for headbangers due to its power rating, but "it will take whatever you can throw at it." |
| | |
| --- | --- |
| Features | Tubes! Offers 5Wpc in triode, 15Wpc in pentode; captive power cord that begs for replacement of its plug. |
| | |
| --- | --- |
| Use | Make sure your speakers and tastes can live with its low power output; easy to place and connect due to its smaller-than-normal size; no remote control. |
| | |
| --- | --- |
| Value | "On a dollar-for-dollar basis, the Antique Sound Lab MG-SI 15DT integrated amplifier stands up very well. Think of it: $600 and you have tubes." |
With the arrival of the Antique Sound Lab MG-SI 15DT in my listening room, I was finally able to say that tube components are no longer too expensive for most music fans. Doug Schneider practically frothed at the mouth in his enthusiasm for this integrated amplifier: "Think of it, Neil! Tubes! Tubes for less than $600!" Well, I thought about it and listened to the MG-SI 15DT -- a lot. I installed it in my system and confirmed things for myself. Not only do you get tubes, but you get a pleasantly musical amplifier and a great conversation piece. This little amp is far more impressive than the most recent surround-sound solid-state amp with 43 soundfields, flashing displays, and built-in demo software that allows you to hear an approximation of what a ukulele sounds like when played in a stadium.
Sturdy, handsome, and competent best describe the MG-SI 15DT's appearance. The chassis is finished with black powder paint, and the control knobs are matching black, both with easily felt detents. The transformers and filter are underneath metal covers with the same black powder finish, and the tubes are exposed in all their retro glory. The front panel bears a silk-screened logo for Antique Sound Lab along with the volume and input knobs. The panel itself is a machined slab of aluminum, about 5/16" thick and with a matching black finish. One of the sales staff at Executive Stereo in Toronto characterized the MG-SI 15DT as "cute," and it is.
It also weighs a respectable 24 pounds and measures 12.6"W x 11.8"D x 8"H. Its bulk is not too considerable in a field where some audiophiles take pride in three-watt amplifiers, which require one person per watt to lift them. On the other hand, the MG-SI 15DT is clearly made on the sturdy side, and its weight is a fair indication of the size of its transformers. With its tube complement of two 12AX7s driving two KT-88s, it is not a rockin' powerhouse. You can easily tolerate full volume from this integrated amp, so if you really love running raves with your gear, you can stop reading right here. The MG-SI 15DT retails for $595 and comes with no phono stage or remote control -- as anyone would expect given the price. It is handsome in its tubey way, with the usual high-end complement of two knobs and an on/off switch.
It barely needs pointing out that this is a piece of audio gear that is easy to position and connect. The rear of the chassis carries six speaker terminals (if you are using spade lugs, they need to be extra wide), three sets of gold-plated RCA terminals for three line-level inputs, and a hard-wired power cord with a nondescript connector. Of all the tweaks you might consider, that plug is the most obvious, and I almost removed it to attach a hospital-grade Hubbell. But the unit had to be returned uncorrupted to the distributor, so…
I said earlier that the MG-SI 15DT is not a powerhouse, and the manufacturer's specifications bear this out. In triode mode, this integrated amp puts out 5Wpc, and in pentode 15Wpc. Its claimed frequency response at one watt is +1dB from 12Hz to 22kHz, and +1dB at full power (12Hz to 28kHz) as well. ASL says that distortion at 1 watt is less than 2.5% and at 5 watts is less than 6%. The company states that signal-to-noise ratio at 15 watts is 78dB (1.4 mV). Its input impedance is 100k ohms, and input sensitivity is 500 mV.
Sound
The real beauty of this integrated amp is that its sound does not stand out. A brief explanation is in order. Most audiophiles abhor an overt hi-fi-like sound, and for good reason. It is hard to listen to. After impressing you with unnaturally fast response to cymbal crashes, drum beats and thumps on the body of a guitar, most components have nowhere left to go. However, you do, and it is usually to the other room. Performance like this is a novelty in the showroom, but it is impossible to live with. So the search begins again for an amplifier that sounds great with actual, regular music, be it rock, classical, ambient, or jazz. Go to an audio show and try to find a manufacturer or distributor playing something that does not have a lot of "ting," "bang" and "rumble." Almost impossible. And your real question remains unanswered: Does this component or system offer me something that gives me clarity, detail, soundstaging, liveliness and depth that will allow me to live with it? "Ting," "bang" and "rumble" are only part of the music, the spices that punctuate the melodies, moods and structures with extra meaning. Rarely does a gourmand exist on pepper only. Rarely does a music lover exist on sound-effects only.
Associated Equipment
Loudspeakers – Équation 7, Reference 3A MM De Capo.
Amplifier – Audiomat Arpège integrated amp.
Digital – Audiolab DAX 800 and Audiomat Tempo 2.5 DACs; Theta Data Basic II and Vecteur D-2 transports.
Digital cable – Illuminati D60 coaxial cable.
Interconnects – JPS Labs Superconductor+.
Speaker cables – Audiostream FMS Black, "no-name" mid-fi cable.
Why this little discourse? It explains why the MG-SI 15DT is so noteworthy. It does not have the oomph of my larger integrated amplifier, nor does it have the same analytical abilities. But listening to it is an undemanding pleasure. To really put it to the test, I listened to Béla Bartók's "Music for Strings, Percussion and Celesta" played by the Hungarian State Symphony Orchestra under the baton of Adam Fischer (Bartók for Orchestra [Nimbus Records NI 5363]). The MG-SI 15DT performed very well, indeed.
Another digression. Of all types of recordings, the most revealing of any component's abilities are recordings of the symphony orchestra: When playing tutti, the orchestra is extremely difficult to capture because of the complexity of sound it produces. Some experts say that it is impossible to reproduce the orchestra accurately on the conventional CD. The theory on this seems airtight, except that any number of good CDs of full orchestras exist. When playing these recordings, good components succeed in giving you the image of the full orchestra and the detail of every instrument, even when all instruments are playing together. Of course, the orchestra can also give the reviewer the advantage of hearing, in one recording, all sorts of different materials and sound-generation methods: skins, strings, wooden paddles, metals, hand and machine plucking and striking. Finally, because an orchestra is recorded in a large venue, there is the influence of the recording venue's sonic ambience.
All that said, what did I hear with the MG-SI 15DT? I heard a lot of orchestra, beautifully reproduced. The drum strikes were appropriately strong. The strings en masse sounded the way strings should: silky, creamy, and (as one needs with the Bartók) authoritative. The winds offered lots of texture. And the bass was tough and resonant. So then I tried a disc that should give the MG-SI 15DT lots of room to show off: James Carter's Chasin' the Gypsy [Atlantic CD83304]. A bass saxophone has a lot of deep gritty texture that the little ASL integrated amp captured warmly. Same went for the introductory drum beats on track one, and for the accordion playing. Then I tried several piano recordings, starting with the Mikhail Pletnev's recording of Scarlatti piano sonatas (Scarlatti: Keyboard Sonatas [Virgin Classics, 7243 5 45123 2 2]). Sonata K. 24 in A Major, with its demanding runs of and cascades of sound, can really sound awful with the wrong electronic handling. So, no surprise, the MG-SI 15DT handled this demanding piece well and provided a degree of warmth that made piano music especially pleasant.
Inspired by the Scarlatti, I tried a few other really tough piano recordings. First up was Walter Niemann's piano transcription of Tchaikovsky's Symphony No.6 "Pathétique" played by Chitose Okashiro [ProPiano Records PPR224530]. This recording uses the full dynamic range of the CD, starting with the opening bars played at a barely audible pianissimo. So far, so good -- no need to turn up the volume; piano sounded lifelike and warm. Then came the fortissimo parts and the roaring bass. Again, no problem for the ASL. I was beginning to be impressed. So, just to give it something to really challenge its composure (and its ability to keep the notes separate), I put on Marc-André Hamelin's solo recording of pieces by Charles-Valentin Alkan [Hyperion CDA20794]. If you are unfamiliar with this mid-nineteenth-century composer and love virtuosic piano playing, this is a great album to buy. Alkan's relative obscurity is at least partly explained by the enormous difficulty he presents to the most accomplished pianists. Again, the MG-SI 15DT did not disappoint. It handled the runs and leaps of Hamelin's incredible performance with ease. What impressed me again was the natural sound and warmth of the piano.
About the end of the third cut of the Alkan, I heard you say, "Does this thing handle, sort of, ummm, popular, like rock, or folk or electronic, or is it just for the geeks and geezers of the classical crowd?" Be assured -- it will take whatever you can throw at it, but it will not likely impair your hearing for life. It handled the complexities and drive of Paul Oakenfold's double-CD set, Perfecto Presents Another World [Sire CD 31035], very convincingly and with enough volume to shake the floor, but not destroy it. Same thing with the excellent Covenant album by Greg Brown [Red House Records RHR CD148]. The MG-SI 15DT was able to retain the rough edges of Brown's raspy, deep voice and also bring out enough of the transient detail of the bass, Brown's guitar and the percussion to satisfy.
This KT-88 amp is undemanding, warm and responsive. No matter what I threw at it, it gave me a sound I could live with for a long time. In fact, best of all is its ability not to alienate your ears, a quality hard to find in the $600 range.
Comparison
With another tube integrated amp, the 30Wpc Audiomat Arpège, occupying the place of honor in my listening room, I had an excellent, if unfair, comparison at hand. I say unfair because the Arpège costs three times as much ($1900) and is an outstanding integrated amplifier in its price range. Given the difference in cost of these two integrateds, how does the ASL fare? Just fine, thank you. It does not outdo the Arpège in any category but price, but it stands up very well.
The Arpège is not easily categorized as a tube integrated amplifier. Its musicality never sounds tubey, excessively warm or excessively detailed. On the other hand, the ASL does have a tubey kind of warmth and lacks the kind of resolution I like. But it is never objectionable and offers a sound many audiophiles will enjoy. At the extremes of the sound spectrum, the ASL's performance falls off. The MG-SI 15DT does not have the same ability to control the woofer, so that you will miss some of the definition and melodiousness of good bass. At the higher end of the spectrum, the same kind of comment applies. The MG-SI 15DT cannot do the highs with the same responsiveness as the Arpège.
But neither of these comparisons is meant to be a put-down of the ASL integrated. The MG-SI 15DT is not bad in these realms, just not as proficient. Overall, the most immediate difference I heard when I switched from one amp to the other was an absence of the minute detail and sonic ambience the Arpège could provide. There were other differences as well. The more costly amp provided a sense of depth, texture and openness that the MG-SI 15DT just didn't have.
Conclusion
On a dollar-for-dollar basis, the Antique Sound Lab MG-SI 15DT integrated amplifier stands up very well. Think of it: $600 and you have tubes -- real, live, glowing, sitting-in-full-view, beautifully shaped tubes. If music is your primary requirement, if your budget is tight, and if you can take looking at a genuinely beautiful chunk of retro electronica, this is your component. For the non-audiophiles in your circle of friends, you will confirm your position as the nut. And if you are single, you will have immediate evidence of your attachment to either old-fashioned values or a taste for the arcane the moment the love of your life sets foot in your domicile.
The MG-SI 15DT is one of those products I wish had been available ten years ago. I regret the years I could have been listening to music with it instead of solid state. In a sense, I envy those who are looking for reasonably priced audio gear in 2001 because Antique Sound Lab gives you the opportunity to enjoy real music now.
...Neil Walker
neil@soundstage.com
Antique Sound Lab MG-SI 15DT Integrated Amplifier
Price: $595 USD.
Warranty: One year parts and labor.

North American distributor:
Divergent Technologies
342 Frederick Street
Kitchener, Ontario, Canada N2H 2N9
Phone: (519) 749-1565
Fax: (519) 749-2863

E-mail: divergent@divertech.com
Website: www.divertech.com