October 2002
American Acoustic Development 2001 Loudspeakers
by Aaron Weiss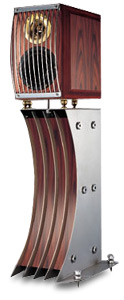 Review Summary
| | |
| --- | --- |
| Sound | "Articulate is a key concept when talking about the 2001 loudspeakers" -- "these speakers leap at every waveform that flows through them with a puppy's enthusiasm"; "have the dynamic agility, with appropriate power, to change pace on a dime." |
| | |
| --- | --- |
| Features | Very heavy -- 44 pounds each -- and solid two-way design the uses metal drivers; "the 1" aluminum tweeter diaphragm is loaded into a short exponential horn," and "the 4 3/4" woofer is composed of a hard-anodized aluminum cone with a ceramic aluminum oxide surface that hardens the cone and acts as a damping for the underlying aluminum." |
| | |
| --- | --- |
| Use | "Recommended for use in rooms up to 4700 cubic feet…approximately a 24' x 24' room with 8' ceilings -- big"; "to get the most out of the 2001s, be sure to supply them with plenty of power." |
| | |
| --- | --- |
| Value | "Not cheap for minimonitors, but they are truly high-end speakers at a middle-range price." |
Deception, surprise, and a sore back
As a category, bookshelf loudspeakers -- or minimonitors or whatever name you prefer -- are kind of like the Japanese cars of audiophilia. There are lots of them to choose from and most aren't too sexy. But they are versatile and do the job, some quite well. The moniker "bookshelf" itself is somewhat self-deprecating, as manufacturers make it clear that you should not place such loudspeakers on a bookshelf (or an end table, countertop, pile of laundry, or especially the floor). Because they are physically modest and can usually be paired with one's choice of stands, bookshelf speakers represent a viable means for high-end audio to co-exist with furniture, children, and animals, not to mention the individual who probably chose the furniture, birthed the children, and fed the animals this morning.
So when the $2500-USD-per-pair AAD 2001 speakers arrived on my driveway, I couldn't help but feel a little deceived. Between the matching optional stands and dense-as-granite loudspeakers, dragging these into my listening room became an exercise in, well, exercise. If you're looking for an intense workout that combines cardio and weight training, look no further than the complete AAD 2001 set.
The story behind AAD is the story of Phil Jones, who has achieved audiophile fame through his designs with Acoustic Energy, Boston Acoustics, Platinum Audio, and Soliloquy. Jones' AAD loudspeakers are produced in a manufacturing plant that he constructed in China, where he currently resides. The AAD line comprises a large number of speakers for two-channel audio and home theater. The 2001 is part of the company's top-of-the-heap 2000 lineup.
Jones likes metal drivers, as seen clearly in the 2001. The 1" aluminum tweeter diaphragm is loaded into a short exponential horn, which is rigid and non-resonant in order to optimize production of transients (the "attack" or rise phase of a waveform). The voice coil is direct-wound onto the diaphragm, rather than glue bonded, which AAD claims increases transient response and heat dissipation. The 4 3/4" woofer is composed of a hard-anodized aluminum cone with a ceramic aluminum oxide surface that hardens the cone and acts as a damping for the underlying aluminum. Aluminum was chosen here for its acoustic opacity, limiting internal-reflection problems that AAD claims are typical of other materials. The crossover frequency is 2.5kHz; sensitivity is quoted as 86dB.
Cabinet resonance is a common source of "lost opportunity" for loudspeakers. Resonant speaker enclosures dissipate energy that could otherwise be tickling your ears, and Jones' design of the 2001's prodigious density goes a long way in preventing lost sonic opportunities. The cabinet is composed of 1" of MDF at the front and rear and 1 1/2" on each side. It's also lined internally with lead. Internal braces are 1" MDF. The convex grille is composed of marine-grade steel; solid metal also makes up the large back plate and rear port assembly. It's easy to make specifications sound impressive on paper, but with the 2001s you can see and feel these build properties.
Physically, the 2001 is modest in size, measuring 9"W x 13H x13"D. Despite the small girth, the speaker's 44 pounds feel like a bowling ball or two has been stuffed inside. My reference ProAc Response 2S, by comparison, are about 30% larger and weigh 12 pounds less. I spent several minutes simply marveling at the fact that a box the size of the 2001 can weigh as much as it did. It became a party trick with friends: "Try to lift that!"
Besides their sheer mass, the 2001s are aesthetically striking. This is a bold design, one likely to trigger a love-it or hate-it response in potential buyers. Build quality is inarguably superb, solid and gleaming down to every bolt, driver, and binding post. The cabinet's deep, rich rosewood veneer is a crowd-pleaser to be sure (curly maple finish is also available). Where AAD departs from convention is in their unabashed love of metal, with drivers exposed behind an arcing metal grille. The aesthetic is echoed even more strongly in the optional matching stands, $1200 per pair, with their industrial steel surfaces, oversized metal bolts, and concave arc such that they appear to create an undulating wave with the speaker grille.
Setup and review system
The 2001s come with three inverted-cone gold feet that you need to thread into their corresponding underside holes. The heavy matching stands are designed with three dimples where the feet sit. No need to mess around with that gooey Fun-Tak here, even with other stands. Extra bolts are provided with which you can physically affix the cabinet's underside to the stands, although it's an awkward maneuver to execute. The stands are constructed with a sandwich design alternating wood and steel. There are no hollow spaces, so they cannot be filled with sand or lead shot, but you can add spikes to increase their coupling to the floor. If you opt for an alternate pair of speaker stands, the 2001s prefer a height of 24 inches, the typical height for loudspeakers of the 2001s' size.
The AAD 2001s are biwire-capable speakers, with two sets of binding posts on the back of each. The five-way metal binding posts are big lugs, in a good way -- easy to grip and tighten. In fact, you don't need to grip them at all using the included key, which you can insert into the binding posts and lock them down tightly without overdosing on torque. A large metal link connects the tweeter terminals to the woofer terminals for a single cable connection.
Although the 2001s are minimonitors, they are recommended for use in rooms up to 4700 cubic feet. That's approximately a 24' x 24' room with 8' ceilings -- big. The ideal location of the 2001's within a room, as with most loudspeakers, will vary depending on many characteristics of the room, including its shape, width, height, furnishings, and listening position. AAD recommends a starting point of 6 1/2' to 11 1/2' feet between loudspeakers, three feet from near walls, and 10' to 13' from the listening position. My long, narrow listening room required placement closer to the side walls (less than 2 1/2'), and benefitted from a greater distance out from the front wall (4'). With all loudspeakers, my narrow room puts some constraints on the width of the soundstage, but moving the speakers out from the front walls compensates with a nice sense of depth.
The AAD 2001's with custom stands stepped into the footprints normally occupied by my ProAc Response 2S speakers, driven by a Primare A20 integrated amplifier, Audio Harmony TWO harmonic filter, Marantz CC65SE CD player as source, DH Labs BL-1 interconnects and Canare 4S8 four-conductor speaker cables. An alternate amplifier, the BVAudio 300S, was also paired with the 2001s, as were alternate stands (Osiris Audionics 24" models).
To get the most out of the 2001s, be sure to supply them with plenty of power. While these speakers are rated to handle from 30 to 300 watts, they'll turn a little tame on you if the power demands grow and you don't have enough fuel for them. Both deep bass and large-scale dynamics can tax the 2001s. The BVAudio amplifier's extra wattage showed when it came to an extra percent or two of bass and dynamics. That said, I happen to find the Primare integrated a more articulate and lively unit, and the very minor diminishment in bass is a tiny deterrent within the bigger picture.
Also, the 2001s' grilles are not designed to be removed, so I did all my listening with them in place.
A little rock, a little roll
These speakers make a bold aesthetic statement that almost equates to a swagger, so I wanted to see if they had the sonic cajones to match. "Dead Leaves and the Dirty Ground" from White Blood Cells [V2 Records 27124] kicks off the White Stripes' third album as simple and raw as it comes: one electric guitar buzz cutting a riff through a suffering little amplifier. Jack White's bluesy but menacing delivery, "Dead leaves and the dirty ground when I know you're not around," feels raw. On lesser loudspeakers, the low-fi aesthetic can sound amateurish and flat, but the 2001s channeled all of that raw energy into the reproduction. It's the difference between low-fi and live-fi.
You can find another example of these speakers' enthusiasm for pumping life into raw recordings on "Debaser" from Death to the Pixies [DAD 7011]. Here, Frank Black pre-dates the grunge-pop movement with an ode to a surrealist French film performed in flailing verses full of sore-throat-inducing wailing. But in a good way. "Wanna grow up to be, be a debaser," Black basically screams. The 2001s convey Black's manic energy fantastically and convincingly. Hey, I want to be a debaser too, and I'm not even sure what that entails. Hopefully no evenings or weekends.
Steely Dan's Citizen Steely Dan boxed set [MCA 10981] may be a kind of pop, but it's about as far from "raw" as you can get. Instead, the Dan employs clean-room production techniques that could just as easily have been used to manufacture Pentium processors. Tracks like "Any Major Dude Will Tell You" or "With a Gun" are silky smooth, and the 2001s become all suede and Cuervo Gold with nary a stutter. Some may find this sleekness a hair too laid-back. There's a fine line between chilling out and being cryogenically frozen. Steely Dan always walked this line, but the 2001s admirably keep them on the side of the living.
The slacker rock of Pavement languidly flows through the 2001s, as Stephen Malkmus melodically warbles the English-major lyrics of "…And Carrot Rope" (Terror Twilight [Matador 260-2]) or spits out the infectious but apolitically meaningless "Embassy Row" (Brighten the Corners [Matador 197-2]). Pavement's lazy posture is betrayed by what is actually well-engineered production and songs that are more thoughtfully composed than their delivery makes them appear -- an intentional deceit, to be sure. That you can in fact discern one word from another as Malkmus mumbles out a lyric is testament to the 2001s' clarity and articulation.
In fact, articulate is a key concept when talking about the 2001 loudspeakers. It goes beyond competence -- these speakers leap at every waveform that flows through them with a puppy's enthusiasm. What makes the 2001s' articulation so noteworthy is their combination of clarity and speed. With metal-dome tweeters, you expect clarity from the loudspeaker, and these speakers present none of the transient harshness that sometimes comes along for the ride. Very clear speakers are not an extremely rare find, but the 2001s are fast, too -- or more importantly, fast when they need to be, and slower when patience is in order. These speakers keep pace and have the dynamic agility, with appropriate power, to change pace on a dime. You never feel that the 2001s are playing catch-up to the music, nor do they sound too far ahead.
You've read many a review that crows about a little bookshelf speaker, "These have more bass than you would expect," or something to that effect. The 2001 don't present more bass than I expect, but they do present the exact right amount for their mass -- strong, clear bass, musical but not thumpy. Listen to Mark Levinson's double-bass plucking throughout "Little Dog's Day," from Mark Levinson Live Recordings at Red Rose Music Volume 1 [Red Rose Music RRM 01]. Each pluck is clear and distinct, individual notes rather than an indiscernible stew. You may not feel it in the floorboards like you might if Levinson were plucking right before you, but that may depend on what your floor is made of.
Transparency is often invoked when discussing loudspeakers, and the 2001's design seems to pose a real challenge. So bold and so attention-getting, how could these loudspeakers become transparent? And would you even want them to? You can have your cake and eat it too with these loudspeakers. With their small physical size and dense mass, these speakers are tailor-made for transparency. If you're feeling technical, listen to track 10 of Stereophile Test CD 3 [Stereophile STPH 006-2], the scintillating "Soundstage Maps & Microphone Techniques." Here, a guy with a cowbell walks around a stage clanging away and announcing his position every so often. It's the kind of stuff that gives audiophiles our reputation for questionable sanity, so I listen when no one is around (I won't say how often that is). The 2001s are able to sonically disappear while aesthetically remaining in the room. It's a difficult effect to describe. My best effort: "It sounds like a guy with a cowbell is walking around the room, and oh, also, look at those nice metal decorative pieces in our room. I sure have good taste!"
Comparison
My reference ProAc Response 2S speakers serve as a good context against which to project the AAD 2001s performance. The Response 2Ses are also stand-mounted speakers; they are physically larger than the 2001s (they sit lower to the ground on 21" stands) but not as heavy and dense. In my listening room and with my equipment, the 2001 performed on par with or surpassed the Response 2Ses across the board.
Both sets of loudspeakers share a sense of dynamics and pace that you might describe as fleet-footed. The soft-dome driver in the ProAc seems a little more laid-back, giving the speakers a likewise character in the upper frequencies; edges are rounder too. The 2001s delineate edges with a touch more precision. The tonal qualities of both loudspeakers are otherwise very similar and very natural. Bass extension in the Response 2Ses is indeed greater and with a touch more muscle. Imaging and soundstage width are defined more clearly with the Response 2Ses. The 2001s image well indeed, but the difference might best be described as the difference between "believable" and "eerie."
Conclusion
The AAD 2001 is lively and articulate, raw or silky as needed. I simply could not find a musical style that the 2001s could not handle exceptionally well. Extreme bass lovers would certainly want to supplement the 2001s' bass with a dedicated subwoofer, but I found no reason to. The speakers' low sensitivity certainly lends them to favor moderately powerful amplification. I'd audition them carefully with amps below 70Wpc and feel most secure with amps above 100Wpc.
At $2500 per pair, the AAD 2001s are not cheap for minimonitors, but they are truly high-end speakers at a middle-range price. The matching stands do bring the total to $3700, which is nothing to sneeze at unless you're allergic to money. If you're shopping anywhere near or above the AAD 2001s' price, you should put them at the very top of your audition list.
...Aaron Weiss
aaron@soundstage.com
American Acoustic Development 2001 Loudspeakers
Price: $2500 USD per pair; matching stands cost $1200 per pair.
Warranty: Three years parts and labor.

American Acoustic Development Ltd.
2609 Discovery Drive
Raleigh, NC 27616
Phone: (919) 876-2571
Fax: (919) 501-2992

E-mail: info@aadsound.com
Websites: www.aadsound.com , www.solspeak.com
---
AAD-USA responds:
Our sincere thanks to Aaron Weiss for a highly favorable and fun-to-read review. Readers not familiar with Phil's history may wish to know the following. The AAD 2001 monitor presents the latest iteration of a design Jones was able to perfect over the decades since his original Acoustic Energy AE-1 was first launched. The Boston Acoustic Lynnfield 300 (no longer in production) became the next step in this "ultimate monitor" evolution. That eventually led to the celebrated Platinum Audio Solo -- specifically, its Corian/Avonite-clad Reference-1 signature version. With the AAD 2001, Phil Jones set out to improve over his personal pair of Ref-1s. That's finally retired. He markedly favors the 2001 and considers it his final word on a reference-caliber monitor.
What the anechoic measurements of course fail to show is real-world bass extension when reflective room boundaries are present. In such a 14' x 20' living/listening room environment, the 2001 comfortably reaches 32Hz. It clearly outperforms the Platinum Solo that was infamous in that regard. As Aaron correctly states, this monitor may also be used in counter-intuitively large rooms. The 2001 exhibits highly unusual dynamic output potential due to it being painstakingly optimized for thermal linearity. Everything about the design revolves around two parameters efficient heat transfer away from the voice coils to minimize thermal compression while increasing dynamic fortitude, and resonance control, which beyond the already-mentioned 3/8" internal lead lining includes encasing the driver magnets in lead. These engineering solutions contribute to the "jump" or "boogie" factor that Aaron admired during his foray into more raunchy and driven tunes.
While ultimate bass extension in a large space will certainly diminish, the AAD 2001 play plenty loud enough to offset the loss of acoustic output large cubic air volumes and increased listener distances entail. Placing the 2001 into a large space renders it sonically even more invisible than Aaron already noted. The new AAD S-2000 twin-8" down-firing subwoofer with 7-band graphic EQ then becomes the perfect mate to extend bass response to 18Hz.
Lastly, readers interested in 2000-Series comparable performance -- but with simplified cosmetics and lower pricing -- should investigate our new S-Series. We'll introduce it momentarily at CEDIA 2002 in Minneapolis. Initial details may be found in the AAD product pages on our Soliloquy website.
Sincerely,
Dave Berman
CEO
Soliloquy Loudspeaker Company, AAD-USA, Marsh Sound Design