June 2003
SLAPPA HardBody CD and DVD Storage Cases
Hey, performance and convenience -- for sale!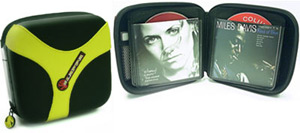 SLAPPA 32 HardBody CD
I have a great cartoon taped to the frame of my monitor at work. It's from the July 2002 issue of Esquire magazine depicting various "Nostalgia Technology" items, such as the "Rotary-Dial Cell Phone -- only $39.99!" and the, "8-Track Computer Drive -- now $199." What fun! Imagine yourself eating dinner at some swanky restaurant when a gentleman at the next table excuses himself from the conversation to place a call on his "new" cell phone. He pulls out a brick-sized device, flips it open, and begins dialing: 9… ziiiip…rat-ta-ta-ta-ta, 5…ziiip…rat-ta-ta, 7…ziiip…rat-ta-ta-ta…. How cool! But eventually the novelty would wear off as constant inconvenience and diminishing returns on performance would soon outweigh the item's sentimental value and social allure as the ultimate conversation piece.
The devil says performance and the angel says convenience. Can't I have both?
The same can now be said for LPs (please, no hate e-mail). Analog front-ends require a lot of love and maintenance. How else would you describe the hours spent cleaning the platter, brushing the grooves, aligning the cartridge, and adjusting the tonearm -- all before listening to a single note? Like being a good parent, vinyl ownership requires a lot of patience. But is it worth it? And more importantly, can I get analog quality from today's digital solutions, thereby obtaining both performance and convenience?
All audiophiles are tweak-heads at heart, but it's the really passionate ones who highlight some of the stubbornness in our thinking. I've never owned a turntable, but I've always wanted one because I think they're interesting, unusual, interactive, and most of all better-sounding than any digital gear in my price range. I know that analog can be a real pain in the butt to own and enjoy, but I'm an audiophile, and I don't sacrifice performance for convenience, right? That's why we all had preamps without remote volume control or input switching, even though the rest of the market had been implementing them successfully ten years prior.
I used to tell my wife, "Remote control mucks up the sound! It's not that big of a deal to get up and adjust the volume every time you play a new disc or change channels, is it?" Well, after a few days of listening to my then brand-new Jeff Rowland Consonance preamp with remote control, I vowed I would never again move my lazy butt off the sofa to adjust the volume. This preamp sounded great, and it made my life much easier.
Back to my high-level question: If I've determined that analog is too inconvenient for me to own and maintain, what about its performance? Is it worth the sacrifice in convenience? Hmmm, I wish I had an answer right now. Unfortunately, I'm still figuring out that aspect to my question, but hope to have some more detailed commentary in my next column as I continue to audition some current SACD and universal A/V players.
It's digital, so it must be better
While currently superior in sound quality to Red Book CD, the LP is under attack from high-resolution audio discs, namely SACD and DVD-A. As disc capacities increase, so can sound quality, as labels cram more data on and hopefully achieve better performance from the digital medium. Are we there yet? Is the digital representation just like the analog waveform? In my opinion, it's oh so close. Plop a well-recorded SACD into the wonderful dCS combo and you'll be scribbling your name onto the next petition to release more SACD titles. After listening to SACD and DVD-A on a number of top-notch and reasonably priced systems these past months, I'm confident that digital will surpass the analog benchmark for sound quality within the next few years.
So, in the meantime, while I continue to crank out the auditioning hours on high-density players in my listening chair, I'm going to pass along a great find, one with exceptional performance and superb convenience. OK, I didn't "find" it so much as "open" an e-mail from Marc Mickelson regarding a new line of hard-sided CD and DVD cases from newcomer SLAPPA. Marc wondered if I was interested in writing about a few samples from SLAPPA's Digital Products Line. Samples? As with those darn supermarket vendors handing out free pigs-in-a-blanket, how could I couldn't resist Marc's offer? Bring on the fresh-baked cookies, brownies, CD cases, whatever. I'll take 'em on.
You wrote 2000 words about a new CD case?
The SLAPPA brand is owned by Total Impact Industrial, Ltd., an OEM manufacturer headquartered in Hong Kong. They maintain a sales and distribution arm in the US through SLAPPA Distribution Company, as well as an Internet presence at www.slappa.com. The website is extremely well done, with plenty of relevant product information and direct-to-consumer e-commerce capabilities. While I browsed the website quite a bit to answer many of my own questions, I turned to the SLAPPA team as a reference for more strategic questions.
This is the age of digital, and at this moment, CD and DVD rule supreme. Both consumer electronics and the personal computer industry use the 4 3/4" disc as their standard for storage, playback, and distribution of data. Whether it's CDs, DVDs, CD-ROMs, or SACDs, everybody with a rack system and/or a PC will have any number of shiny plastic discs strewn about. Stacked on the coffee table, lined up on a shelf, or jammed under a coffee mug, this raises the question of where and how to store all those discs. Moving forward, the average consumer will accumulate more, not less, of these objects, therefore requiring more not less storage -- or perhaps better storage.
Add a disc, remove a disc -- that's how you make room
I have over 1500 CDs stored inside a large dedicated case. It takes up a good portion of one wall of my living room and probably weighs a couple hundred pounds. For awhile, I loved the idea of having all my music lined up so I could easily view and browse all titles, skimming the plastic spines with my finger as I looked for a song to fit my mood and the moment. My collection was out in the open for all to see and admire, amazing my friends and guests with what they thought was a huge and fabulous conglomeration of music. I thought it looked cool too, but my wife considered it ugly.
Last year, I decided to make room in my case for some old music and my growing DVD collection. The easy decision was to move the "B collection," all my heavy-metal and glam-rock music from high school, out of the large CD shelves and into a thick CD binder. Not knowing where to begin shopping for one, I huffed it over to the local Tower Records and found a black 200-disc-capacity CD Projects case for about $35. I didn't mind the cost, but the binder looked pretty boring, and the sleeves were too small for some of my classical-CD inserts. Yeah, I could probably fit 200 discs in the binder if I left out the inserts. But, because the sleeves were rather snug, I had to place the disc in the front pocket and the insert in the corresponding rear pocket, successfully halving the total disc capacity of the binder! Now $35 per binder seemed like $70. In addition, when completely filled with CDs, the entire binding mechanism (think junior high school and your Mead three-ring binder) slipped out from the front and back inside cover leaving the CD sleeves to dangle haphazardly without support.
I don't believe the CD Project's poor design to be an isolated case in this market. My friend's Case Logic binder was not much better. He uses a 64-disc unit to hold CD-ROMs and CD-RWs for his PC. The outside structure of the binder is fairly soft with some padding to reduce damage from drops, but I could still poke my finger through the outside padding and feel the outline of the four discs in the first sleeve. We both agreed that if the binder fell off his top shelf and landed on the corner of his monitor or desk, the contents of the binder could easily become scratched, dinged, or cracked. And when you're talking about software and data, this type of damage can compromise the integrity of the medium. Skipping music on CDs is one thing; unreadable CD-ROMs becomes a much greater problem.
So what's the good news? The good news for these two specific binders from CD Projects and Case Logic is that most people, including myself, never think about the aforementioned problems, let alone care to complain about them to friends or relatives. We don't know any better. Personally, I just assumed that all CD binders and CD cases were ugly. That is, I didn't know any better until I received my audiophile approved "supermarket samples" from SLAPPA.
So, that's what it's supposed to be like!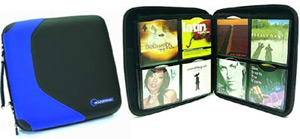 SLAPPA 128 HardBody CD
About two months ago, I received three SLAPPA HardBody CD and two HardBody DVD cases in the mail, which range in price from $13.99 to $28.99 depending on capacity. After opening the shipping box, I was immediately struck by the distinctive styling and appealing aesthetics of the cases, especially the 20-capacity 20/20 HardBody DVD case decked out in black Z-suede and leatherette. It had such a nice feel to it, and the sleek lines really stood out for me. My wife was drawn to the 128 HardBody CD case in two-tone gray with maroon, and immediately wanted to buy a few to house our jazz and classical CDs. Apparently, she doesn't think I know her inside move to forever rid the living room of jewel cases. I'm on to her, but I also see her point. We live in an apartment with a permanently fixed amount of space but a growing collection of discs. This doesn't leave much room in the future for more hi-fi equipment!
Admittedly, I am an impulse buyer. And based on looks alone, I would have immediately purchased the small 32 HardBody CD combo for the car and the 20/20 HardBody DVD for shuttling movies back and forth to the beach house. Yes, they're that much better-looking than any other mass-market storage solution out there. Check Comp USA, check Tower Records, hit Best Buy, rummage through Wal-Mart, and you'll find plenty of boring clones lining the shelves at the back of the store.
Features you can use
But the SLAPPA gear doesn't disappoint on the performance front either. Check out their website and you'll see how much thought went into the design and development of each product. Read through the "Slappa Difference" section and you'll understand why these units seem to fulfill every need and want from a consumer's standpoint. Yep, that's what the voice of the customer will do for you. Ask and probe the end user to determine, gauge, and rank needs, wants, likes and dislikes, and you'll have extremely valuable data to benchmark your product-development efforts. As critics often say, "It's easier said than done." But SLAPPA did do it, and in my opinion, very successfully.
Check out the Molded Duroshock bodies of the HardBody line. They're stiff but not hard outside shells that compress just enough to squeeze into tight spaces, but are better at absorbing shock from random impacts. All the corners are rounded to prevent corner crunch (my term) and, as I mentioned earlier, come wrapped in wonderfully tactile finishes. Combined with soft lines and high-quality all-stitched construction, the SLAPPA gear is much friendlier to hold than any soft-nylon or hard-plastic case I've come across.
The entire line also uses a unique Double-Dip Pocket to store and protect your digital discs and liners. Instead of a single plastic sleeve, the double-dip pockets provide one soft felt fabric pocket for the disc and a second clear vinyl pocket to insert the CD cover. Both pockets appear on each side of each storage page of the case, with the clear pocket sewn in front of the dark felt pocket. If you use the cases this way, you lose half the storage capacity, but you gain a neater and more logical layout.
Loading up the 32 HardBody CD Combo for a road trip was a breeze. The Donnas' Spend the Night [Atlantic 83567-2] shuttled into the case in under a few seconds, with 31 other driving albums following in quick succession. I especially liked the extra large sleeve size on the SLAPPA line. With previous CD cases, I found the sleeve fit too snug for discs alone and impossibly tight for both discs and inserts. To this day, some of my CD collection remains stubbornly locked inside my old case, a constant reminder that buying Trixter's debut and only album was probably a waste of money.
And I was surprised to see some nice extras that are both noticeable and valuable to the consumer. Little items such as a large rubber-coated zipper pullers to facilitate opening and closing, a mesh cargo pocket on the inside lid to store pens, labels and CD-packaging openers, liner notes, and a small dust cloth to keep your clean were all appreciated. And they didn't stop there. On the outside edge of every case stands a disc-label window. SLAPPA owners can hit the company's website, download a label template, fill in the label information, and print out and insert professional looking CD case labels. It's a pretty simple idea, but it provides a compelling reason for consumers to come back to the SLAPPA website. Total Impact must have really stretched to provide these additional features while keeping the price low. I think it was worth it.
"Survey says…"
Maybe it's time to ditch the large dedicated case and get binders? Well, I'd certainly have an easier time of it with the SLAPPA gear now available. Heck, I'd love to see more incentives to ditch my big wall case. How about asking the music industry to offer a lower price for CDs sans jewel cases? The extra plastic must add at least a buck to the final cost, and the cases are prone to cracking during shipping and handling. And it's more environmentally friendly to lose the jewel case up front -- less garbage!
Back on Planet Earth, I truly enjoyed my time "auditioning" the SLAPPA gear. Total Impact understands that it's the initial styling and functionality that prompt most people to buy a product, but little conveniences and small enhancements help keep them satisfied. With this philosophy, they've successfully developed a great product that's being offered direct to consumers via their website and possibly soon at your local electronics and music retailers. With slow, but rapidly building awareness and loyalty, and expanding distribution channels, SLAPPA could end up a prominent player in the growing disc-storage market. Right now, I think SLAPPA is enjoying a promising launch of a well-done product line -- no surprise when you successfully combine performance and convenience.
...Greg Kong
gregk@soundstage.com
SLAPPA HardBody CD and DVD Storage Cases
Prices: 32 HardBody CD Combo, $13.99 USD; 64 HardBody CD, $19.99; 128 HardBody CD, $28.99; 20/20 HardBody DVD, $19.99; 40/40 HardBody DVD, $28.99.

Total Impact Industrial Ltd.,
Hong Kong
Tel: 852-2801-5818
Fax: 852-2801-5808

US sales and distribution:
SLAPPA Distribution Company, LLC
Jacksonville, FL 32224

E-mail: info@slappa.com
Website: www.slappa.com