August 2002

"No way! The lights move up and down with the music!" I had a friend in college who was really into HiFi, or stereos, as we used to call it. I envied his system because it was composed of different brands, with names that I pronounced incorrectly or had never seen before. This was in stark contrast to what I had considered to be my playback reference at hat time - the huge rack system at the local appliance store.

"It has lots of speakers", said my brother, "And cool bouncing lights with an equalizer."

We didn't know that moving the EQ around turned the sound from bad to worse, or that we would eventually grow tired of continually adjusting the eight parametric bands. We just thought the lights were cool. Yeah, cool.

My friend's system had a separate unit for the equalizer function and a separate receiver with remote volume control. "It's magic… or clearly science fiction!" we would shout. He could remotely control all the CD functions too, all from his desk chair, even the CD drawer. Many hours were wasted demonstrating this function to the rest of the enthralled dorm room community. It never occurred to us that we would still need to get up and physically place the CD in the drawer. Who cares? Yes, a useless function indeed, but tons of entertainment.

But what really got my blood pumping, was my friend's loudspeakers. I drooled all over them as I stared at the big gold-plated speaker knobs. Gold… imagine that! And what about the mysterious name? It wasn't a Sony or Kenwood or Fisher or JVC, it was an Infinity loudspeaker.

"Is that name British or European", I asked in my idiotic stupor.

"No, it's from the Midwest, I think", replied my quizzical friend, "Definitely not Japanese though."

The loudspeakers didn't do anything nearly as cool as the rest of the system, but you were able to take the grilles off and watch the cones bottom out as we cranked cheesy 80's metal. At more reasonable volumes, Pink Floyd's The Wall sounded darn good to my ears. Add real wood cabinets and that cool infinity mathematical symbol to the front baffle, and it got my vote for the "Best of Dorm" award.

...Greg Kong
gregk@soundstage.com
---
Infinity Interlude 10 Loudspeakers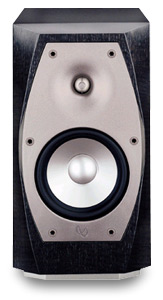 "My own lineage ain't so long and distinguished."
Over the years, I've had the pleasure of listening to many Infinity branded loudspeakers. And just like the first pair that simultaneously rocked out to Metallica's …And Justice for All, while keeping my feet elevated during those endless Sunday mornings of alcoholic recuperation, subsequent experiences were equally gratifying. I recall hearing old Kappa series floorstanders at a local dealer and wondering at what volume they were going to crap out. They never did. The amp seized up first. I remember sitting down for two hours at a local dealer in New Jersey, just to listen to the original three-piece Modulus System gracefully step through 10,000 Maniacs Our Time in Eden. Those were great speakers, innovative, and in my opinion, sounding well ahead of their time. I'm still hunting for a used pair, although I don't have any empty rooms left in the house. Years later, as a HiFi salesman, I pushed Infinity RS and Overture models to audio newbies and audiophiles alike. They sounded a bit closed in at times, and were a little rough on the top end, but generally, solid performers. The real gem at the time, was the lanky Prelude. It had tremendous imaging with pinpoint accuracy. The side-firing bass enclosure was truly extended and integrated seamlessly with the multiple mid and high frequency drivers aligned vertically along a tall slim column. From the side, they look like half notes. Line a bunch of them up side-by-side against a slat wall and you'll get something resembling large sheet music.
Today, the current Infinity line includes the updated reference Prelude series, followed by the avant-garde Intermezzo line, then the mid-priced Interlude family, and finally the entry-level Entra series. In total, there's over 25 different models and complete systems to choose from, spanning price points from $300/pair to over $16,000 per home-theater system. This kind of product breadth was a key factor in determining possibilities for a new pair of loudspeakers for a Living Room out in the suburbs. I knew I wanted stand-mounted loudspeakers and my budget was set at approximately $400/pair. They had to be stylish and have the capability to play fairly loud in a large room. As my wife and I prefer to listen to rock and alternative music, the new speakers also had to dig reasonably low in the range to flesh out the rhythms of Jimmy Eat World's recent self-titled album.
"Don't you want to try that on before you get it?"
'Due diligence' is a phrase most heard and practiced in the business world. I spend a lot of time in my job making certain that all paths have been checked, all research uncovered, and risks have been reduced to an acceptable level so that a confident decision can be made. OK, I'm shopping for loudspeakers though, not exactly a life or career threatening decision. Millions of dollars will not be made or lost based upon the decision to buy speaker A or speaker B. But, it is my money. And I don't want to just buy anything -- as I found out after purchasing a pair of Mission 771 loudspeakers.
I bought 771's off the strong reviews and because they were on sale - dirt-cheap really. While these are good loudspeakers, they are not the right loudspeaker for me or my situation. I found them to be too hot on the top and too light on the bottom. They possessed good soundstaging and image depth, but ultimately distracted me from the music instead of drawing me further inside.
What a silly move. I vowed never to make that mistake again. Really, considering I have always recommended to all my customers and readers that they audition equipment prior to purchasing it, I was being quite hypocritical. I guess I figured that since it was for a summer home, and would be used fairly infrequently, most anything would suffice. But, once you have set high standards, it's very difficult to push them aside, even for a small period of time. I have Merlin VSMse's in my apartment and want to get as close as possible to that quality of sound reproduction. It may only be possible to get a maximum of 30% of the VSM-SE's performance for $400, but darn it, then I want 30%, not 20% or 25%.
"There's Gold in them thar hills. Just gotta find it."
Infinity was an easy consideration, based upon my experiences with their previous models. I also briefly auditioned Polk Audio, Energy, B&W, and KEF loudspeakers, all chosen for their reputations based upon reviews and /or recommendations from fellow audiophiles or salespeople. Ultimately, I preferred the Infinity Interlude 10 (or IL10) to the rest of the competition during this first pass of listening sessions. That is not to say that the previously mentioned companies did not have loudspeakers that sounded great, just that the IL10 sounded the best in the retailer's sound room to my ears. Of course, the true test is to hear what the speaker can do in your own environment.
"Give it to me. I can handle the truth."
Coupled to a Sony STR-DA3ES receiver, Pioneer DV-525 DVD player, and Harmonic Technology cabling, the Infinity IL10 was immediately impressive. Although the Sony receiver and Pioneer front-end tend to push the overall sound towards the aggressive side, due to a forward top end and a recessed mid-band, the sound with IL10's in the mix came across as well-balanced. Cymbals and high-hats sounded clear and extended. Unlike the Mission 771's, the top end was mirrored by an equally extended bottom end that was quick, taut, and musical. Rock sounds fantastic through this loudspeaker, always supporting the underlying drive of the music with correct rhythm and pace. And even precious vocals are reproduced with velvety care. I spun Sheryl Crow's latest C'mon C'mon [Interscope 493260] and cued up "Steve McQueen", the opening cut. As a big fan of McQueen's movies, especially "The Great Escape," I found this song to be an instant winner in my house. But with all bias aside, the IL10's successfully captured the right balance of emotional rawness and passion, with musical technicality. Crow's slightly coarse vocals blended evenly with the bass support and guitar rhythm. Altogether, I found the IL10s to possess excellent transparency and in my opinion, also appeared to impart little emphasis to the midrange, unlike many speakers in this price range. Sibilance? No way. Even with thirty Steve McQueen's in the lyrics, not once did the IL10's hint of s-s-s-s-s… you get the point.
Readers can also forget about the 'cupping hands' issue that hindered the old RS series' midrange. Eric Dolphy's "Something Sweet, Something Tender" from Out to Lunch [Blue Note B2-46524] highlights the IL10's openness and ability to get out of the way of the music. Dolphy sounds wonderfully daring and rebellious, but at times lyrical. The IL10s contain similar traits, in that it is at times, difficult to pinpoint the speaker's character. Most of the time, I felt it to be quite neutral, especially for what is considered an inexpensive loudspeaker in the world of high-end audio. It neither jumped out at me from any one group of frequencies, nor did it appear to have any significant suck-outs. I even drove it to high volumes in a large room with cathedral ceilings without witnessing major breakdowns on the speaker's part. In fact, much of the hardness and coarseness in the sound that arrived during high volume playback was probably due to the limited power of the receiver. At times, the IL10 exhibited characteristics of many studio playback monitors, without the usual dryness or overly flatness of the complete sound. Macro dynamics? Check. Micro dynamics? Check. Agility? Check.
"Looks aren't everything, but they sure do freakin' help!"
I like the design of these speakers too. They have a modern flair to them with a sophisticated edge. The shape is interesting, and a welcome departure from the common box shape. They have deep beveled edges to the front baffle that provide that 'swept-back' illusion, as if they were shooting forward at 100 mph, forcing the speaker to lean back from the force of the on-rushing wind. A true two-way design, the IL10 contains a single 1" Ceramic Metal Matrix Diaphragm (C.M.M.D) that's crossed over at 2800Hz to a similarly designed 6 1/2" woofer. The C.M.M.D cones are unique in that they are a hybrid of aluminum and ceramic materials, allowing Infinity to produce a unit that blends the strengths of both materials so that they complement each other - sum is greater than the parts, so to speak. These drivers are both mounted to the 1 1/2" thick MDF baffle via a silver colored mounting plate, rounding out the sleek lines of the speaker enclosure. My pair was finished in a maple colored vinyl finish, about par for this price range, and actually very practical as it requires no maintenance from the owner. But don't think you can stick them on a shelf and wait for The Who to jump out. First, they're physically large stand-mounted loudspeakers at 15 5/8" x 8 1/2" x 11 1/2" and 18 lbs. each. Second, speakers of this caliber should be given the best possible location because their performance will increase as the upstream equipment improves, the listening room acoustics improve, the quality of the recording improves, and the placement of the speakers in the room improves. For starters, this means leaving the bookshelf for, well books, and getting a good solid pair of speaker stands. Later, experiment with placement (yes, you need to bring them out away from the walls) and toe-in/rake angle.
"I think I'm gushing."
I gotta tell you, I love these loudspeakers. Yes, I love these loudspeakers (just to reiterate). They sound great in my Sony/Pioneer/Harmonic Tech system out on Long Island. But they sound even better plugged into my reference Panasonic/Birdland Audio/Jeff Rowland/Cardas system in Manhattan. Contrary to what I had expected, instead of magnifying any of the IL10's flaws, the higher quality equipment helped showcase the loudspeaker's already fantastic performance. They much sound bigger than they appear, play loud with ease, play high-quality low bass for a small enclosure and driver, maintain a reasonably flat response, provide excellent transparency and clarity without unnatural hardness or perceived treble push, image and soundstage well, possess wide dynamic range, and in my experience, work well with all types of music.
I'm thinking of chartering a fan club, perhaps with the acronym STEVEMCQUEEN. I don't know what words the individual letters will represent, but somehow "IL10," "Infinity," "Best-in-class," and "Wow" will find its way in there.
I'm banking there's plenty of inventory to go around as the fan club has already helped generate some significant 'buzz' in the industry - well, maybe just in my immediate little world. I've already pushed a pair on my buddy from Chicago. He's looking for a set for his newly renovated master bedroom, while I consider another pair for the 'burbs. And hopefully, I'll follow-up this month's column with a future one that speaks to Infinity's matching powered subwoofer, the IL100. Just need to find one. Stay tuned.
...Greg Kong
gregk@soundstage.com
Infinity Interlude 10 Loudspeakers
Price: $400 USD per pair.
Warranty: Five years parts and labor.Infinity Systems, Inc.
250 Crossways Park Drive
Woodbury, NY 11797
Phone: (800) 553-3332 or (818) 407-0228
Fax: (818) 993-7614

Website: www.infinitysystems.com