May 2005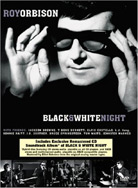 Roy Orbison - A Black & White Night
Image Entertainment ID2770OBDVD
Released: 2005
Format: DVD and Hybrid Multichannel SACD (two discs)
by Roger Kanno
roger@soundstage.com
| | |
| --- | --- |
| Musical Performance | |
| Recording Quality | |
| Image Quality | |
| Overall Enjoyment | |
Image Entertainment has re-released Roy Orbison's A Black & White Night as a two-disc package that includes the original concert film on DVD-Video disc and either an accompanying hybrid multichannel SACD or a DVD-Audio disc. I received the SACD version for this review. The original A Black & White Night on DVD-V was released back in 1999, and it is still one of my favorite concert DVDs because of the great performances and the excellent DTS audio mix.

A Black & White Night captures a wonderful concert, the legendary Orbison being joined by some talented, well-known musicians, such as Bruce Springsteen, Elvis Costello, and Jackson Browne. Even the "backup" singers are stars: k.d. lang, Bonnie Raitt, and Jennifer Warnes. At this late point in Orbison's career, his falsetto vocals were still strong. He sounded excellent on this recording. Sometimes just taking a group of talented musicians and throwing them together with little rehearsal does not result in a great concert or a great recording. A Black & White Night works because it is about Orbison and his music. The other musicians take a backseat and essentially become his band and provide backing vocals.

The original DTS DVD-V version of A Black & White Night was, and still is, one of the best-sounding live concerts available in any format. Orbison's trademark vocals sound great on both the new DVD-V release and the SACD. Compared to the original release, the DTS track on the new DVD-V sounds like it might be slightly improved, but the differences are subtle. The hybrid multichannel SACD takes the sonic improvements a step further, with noticeable increases in image clarity and greater soundstage depth. The improvements are immediately obvious, from the crowd noise establishing the ambience of the venue and the opening notes of the first cut, "Only the Lonely." The Dolby Digital and PCM tracks are quite good, but pale in comparison to the DTS and SACD mixes that should thrill Orbison fans.

The concert is filmed in black and white, as its title implies, and although the picture lacks some detail and suffers from slightly excessive contrast, it looks good, especially when one considers that it was filmed over 15 years ago. What is bothersome is the choppy direction and camera work that sometimes make it difficult to follow the flow of the music. There are also a few too many tight shots. These give the concert a claustrophobic feel. The meager extras on the DVD-V disc consist of musician biographies, photographs, and a note from Roy Kelton Orbison, Jr.

Even if you own the original A Black & White Night on DVD-V, you should consider getting this new release for the improved sonics of the SACD and, presumably, the DVD-A disc as well. If you don't already have it, getting this excellent DTS DVD concert video and a high-resolution multichannel audio disc is a stone-cold bargain.
---
GO BACK TO: