February 2005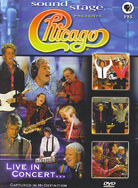 Soundstage Presents Chicago – Live in Concert
Koch Vision KOC-DV-6244
Released: 2004
Format: DVD
| | |
| --- | --- |
| Image Quality | |
| Recording Quality | |
| Packaged Extras | |
| Overall Enjoyment | |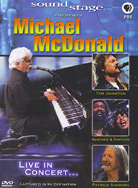 Soundstage Presents Michael McDonald – Live in Concert
Koch Vision KOC-DV-6245
Released: 2004
Format: DVD
| | |
| --- | --- |
| Image Quality | |
| Recording Quality | |
| Packaged Extras | |
| Overall Enjoyment | |
by John Crossett
johnc@soundstage.com
Hmmm, a SoundStage! writer reviewing Soundstage Presents DVDs. And not just reviewing music, but music videos. The world is full of ironies, isn't it?
SoundStage! actually had nothing to do with these Soundstage music videos. These are concerts from the PBS TV show by the same name. And if you are of a certain age, the music on these DVD videos will bring back pleasurable memories of past glories. Songs such as "Saturday In the Park," "25 or 6 to 4," and "Colour My World" from Chicago, and "It Keeps You Runnin'," "Minute By Minute," and "Takin' It to the Streets" from McDonald, virtually comprise a soundtrack to the '70s and '80s.
It is extremely difficult for someone who grew up listening to Chicago (from Chicago Transit Authority on) to see a band that has only four of its original members. The replacements, though talented, don't quite measure up. As for Michael McDonald, I have always felt the Doobie Brothers sold out when they brought McDonald on, moving from a rock/blues/alt. country band to a pop-oriented, let's-just-make records-that-sell band. McDonald's performance here, with strings no less, are thoroughly professional -- and predictable.
The picture quality is good, the shots concentrating completely on the bands, and the surrounds are used to make one a part of the audience, not the band. The sound is quite good, if you don't compare it to CD or high-resolution formats. If you are a fan of either of these artists, these videos will please you to no end. After all, seeing them is like watching (as well as hearing) a greatest-hits album. And if you are new to these artists, well, where ya been?
---
GO BACK TO: