June 2004
Bringing It All Back Home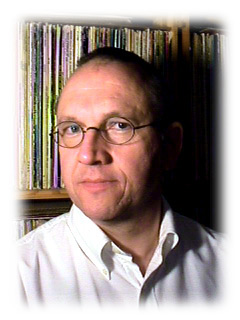 The third week of March, I lucked into a ticket to see Bob Dylan on March 31st at the Trocadero in Philadelphia. Dylan had scheduled a series of shows in small theatres and clubs, including three nights in Philly at the Tower Theatre, the Electric Factory, and the Trocadero. A friend of mine gave me a heads-up about the shows, but by the time I knew my calendar was clear, all three were sold out. Luckily, my friend knew someone who had an extra ticket, which, bless him, he sold to me for the original price. I left work an hour early, which allowed me to time my drive so I'd hit rush hour traffic on the Schuylkill Expressway. Even so, and even with the additional delay caused by my own poor navigation, I got to the theatre about 45 minutes before the doors opened.
I'd never seen Dylan live. When I started going to concerts in my teens, Dylan was playing arenas in large cities that I couldn't get to easily. By the time I could get to them, I had soured on arena and stadium concerts -- I still don't go to them, if I can help it. I was looking forward to this rare chance to see Dylan up close. The Trocadero is a former burlesque house in Philadelphia's Chinatown area that seats (or, more accurately, stands) about 1200. I had to confirm that number on three websites before I believed it. It feels much smaller and more intimate than that. At 8:15, the lights went down and Dylan and his band came to the stage. An offstage voice introduced him, but I only caught "…found Jesus…" and "…voice of a generation…" above the din.
I wasn't prepared for how good Dylan's touring band is. Bassist Tony Garnier has been with him since 1989, guitarist Larry Campbell since 1997. The drummer, George Receli, joined him about two years ago and guitarist Freddie Koella is the newcomer at a little less than a year. At the Trocadero, Dylan stood at the left side of the stage playing an electronic keyboard. My disappointment at his not playing guitar faded as soon as began singing the opening song, "The Wicked Messenger." The arrangement, like many the band played that night, differed radically from the version I knew and it took a few lines from Dylan before I could get my bearings.
Dylan has been confounding peoples' expectations for most of his career. A critic for another audio magazine wrote of seeing him recently and feeling he was "bombastic." The show I saw was one of the most powerful I've ever seen by any musician, but I'm not prepared to say that writer was wrong for feeling the way he did. If you like Dylan, you're bound to have your assumptions dashed occasionally. But I felt a jolt of energy when he leaned into the mike and began to sing. His voice is now so raspy you wonder how it can go above a whisper, but it sounded full and strong - - fierce at some moments, tender at others. Perhaps I was caught up in the excitement of seeing a musician I've long admired, but the music I heard that night was immediate, exciting, and alive.
Nearly 63, Dylan clearly has no interest in being a vehicle for boomer nostalgia. When a writer for Mojo asked him in 1998 why he resisted the idea of being an icon of the '60s, he said, "I think that's just another word for washed-up has-been." He's still looking for new things in his songs and new ways to hand them back to us. He gives Campbell and Koella a tremendous amount of solo time and neither guitarist goes through the motions -- both seemed as excited as Dylan was to discover what they could pull out of the songs. Koella glanced at Dylan frequently, as if to confirm that he was meeting his boss's standards. Dylan's harp solos were as electrifying and as charged with possibility as the guitar solos and his own vocals.
Anyone who's heard Dylan's live recordings already knows how much he plays with and changes his songs in performance. There are now two more examples available of his restless examination and transformation of his own work, a two-CD set of a concert Dylan performed at New York's Philharmonic Hall on Halloween 1964 (The Bootleg Series, Vol. 6, Bob Dylan Live 1964, [Columbia/Legacy CD C2k 86882]) and a DVD of his 1994 MTV Unplugged appearance [Columbia Music Video DVD CVD 58516]. Both the CD set and the DVD sound terrific. The 40-year-old recording sounds clean and lively, with a rich concert-hall ambiance. The two-channel sound on the DVD is remarkably detailed -- the instruments are cleanly separated and precisely placed in a deep soundstage (the DVD also features a 5.1 surround mix, but I don't have a surround system). It also looks great.
The 1964 show gives us a young Dylan who, his career newly minted, is ready to move forward. He giggles at points like a kid nervously testing his boundaries. The audience included a lot of left-leaning folkies who had supported him from the beginning and expected him to continue to write protest songs. Dylan was ready to play rock and roll -- his next record, Bringing It All Back Home, would make that official. Dylan introduces three songs from that record, "Gates of Eden," and "It's Alright, Ma (I'm Only Bleeding)," and "Mr. Tambourine Man," and he's clearly wondering how they'll be accepted. He performs them with confidence and pride, but when he recorded them a few months later he sounded cockier and his voice was firmer. He performed them both times on acoustic guitar, but the earlier versions still feel like folk music, the later ones like rock'n'roll.
The 1994 performance marked Dylan's return to form after a series of albums and tours through the mid-'80s and into the '90s that were badly received. He had recorded two discs of traditional folk songs -- Good As I Been to You (1992) and World Gone Wrong (1993) -- that revitalized him and on the Unplugged show he sounds confident and focused. The band, especially Bucky Baxter on pedal steel and Dobro and Brendan O' Brien on Hammond organ, provides tasteful backing and Dylan himself plays some solos on acoustic guitar. What surprised me most, both on the DVD and in the show I saw, is how he much he seems to enjoy being both the leader and a player in the band.
In both the older and later concerts, Dylan tinkers with the tunes, drawing out new meanings by shifting the emphasis in a line or altering the melody slightly. After seeing him live and listening again to the several live performances now available, including the 1966 "Royal Albert Hall" set [Columbia Legacy C2K 65759] and the 1975 set from the Rolling Thunder tour [C2K 87047], I'm struck repeatedly by his constant drive to renew himself by experimenting with and remaking his songs. He seems highly charged, more alive when he's performing. He challenges his listeners to keep up with him, whether he's shifting styles or transforming a tune from something they know well into something they must listen to closely all over again. Bob Dylan refuses to take the easy way out, and he won't allow us to either.
...Joseph Taylor
musiceditor@soundstage.com
---
GO BACK TO: