Mike Masztal
---
November 1997
Clements 206di Loudspeakers
If you've been consistently reading SoundStage! and other audiophile journals, you've undoubtedly noticed that the price tag on certain pieces of equipment have been escalating. The AudioNote Gaku-on sells for $245,000/pair, and an increasing number of speakers are selling in the upper five-figure range. The good news is while the price envelope seems to be expanding, the performance envelope, in my opinion, is shrinking. In last month's issue, I reviewed the Wisdom Audio Adrenaline. It was an incredible speaker and for $25,000, it should be. But I can't afford them. My whole system costs less than one-half their price. How about something for the other 99% of burgeoning audiophiles who have those pesky obligations like food, rent, utilities and the kids shoes. Well, if value is an important consideration in your hi-fi budget, read on.
During a recent visit to my favorite audio shop, Audio Essence, Jim Kean, the owner, said I had to listen to the new Clements speakers he had. The Clements had received some rave reviews from some Atlanta Audio Society friends who attended '97 CES, so I was anxious to hear them. After an hour or so of excellent sound, I thought SoundStage! needs to review these. All it took was a phone call to Phil Clements and the $850 Clements 206di were in my car heading back to Atlanta.
My System
Source: CAL Delta transport, Alpha DAC retubed with Brimar CV4004 (my thanks to Kevin Deal for his assistance); Pre-amp: Aranov LS-9000; Amps: Aranov LS-9100 monoblocks; Speakers: JM Labs Daline 3.1; Interconnects: JPS Labs Superconductor; Speaker wire: Nordost Super Flatline; Power cables: JPS Labs and Camelot Sir Bors. Listening room is 12' by 18' by 8.5', complimented by Corner Tunes and home brewed room tunes.
The Design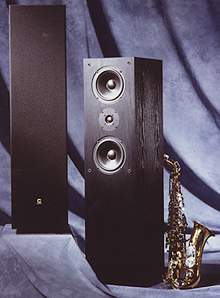 Phil Clements, best known as the designer of the Clements RT-7 ribbon/dynamic hybrid from a few years back, has launched a new line of affordable stereo and home theater speakers. Phil has incorporated a number of designs which account for the excellent performance of his new speaker line. One unique and proprietary design parameter involves both the drivers and the crossover engineering. A 6 dB/octave minimum phase filter network and impedance compensation network are employed to minimize or eliminate electrical phase shift through the crossover region. However, it is combined with woofers that roll off on the top end at 12dB/octave and tweeters which roll off on the bottom end at 12dB/octave. When the 6dB/octave electronic crossover slope and 12 dB/octave driver slopes are combined, 18 dB/octave acoustic filter slopes are achieved. The advantages of the steeper slopes are increased sensitivity, greater component power protection and increased overall sound cleanliness and detail. The crossovers are hand built and hard wired using mylar and polypropylene capacitors in a bypass configuration.
The minimum impedance for the 206di is 8.5 Ohms and the rated impedance is 10 Ohms. This represents a very stable load to any amplifier. For those with moderately priced amplifiers/receivers, the 206di should be an excellent match since it won't strain the amp's power supply. I should also note that the entire line of Clements speakers have essentially the same design characteristics and are similarily voiced. An important consideration for those assembling a stereo/home theater system.
The 206di measure 38" high by 9.5" wide by 11" deep and weigh 47 lbs. each. Driver configuration is a 2 way design consisting of a pair of 6" woofers and a 1" tweeter in a D'Appolito arrangement with a rear facing 4" port. One pair of 5 way binding posts are mounted about 18 inches from the bottom. Phil Clements also includes a heavy duty set of spikes with the speakers to allow for stable coupling to the floor.
Set-up
Since these speakers were demos, no break-in period was necessary. Setting the 206s up in the same place as my Dalines, i.e., 24" from the rear wall and 33" from the side walls overloaded the room and produced a thick atonal bass and mid-bass that blurred the critical midrange. Moving them out to 34" from the rear wall cleared up that problem. With the speakers pointing straight ahead, there was a sight gap in the center soundstage. Positioning with a very slight toe-in allowed the middle soundstage to fill nicely. I preferred listening with the grills off.
The Sound
I first listened to my favorite CD, Ottmar Liebert's VIVA!. 63 min, 45 secs later, I was quite enamored with the sound. Enough fun stuff. It was time for the "Parris Island" discs [Parris Island is the site of U.S. Marine Basic Training]. Steve Tibbets' The Fall of Us All (ECM 1527) has a percussion section that would make Santana proud. There are also some hard transients on that CD that not only test an amplifier's guts, but also the ability of a speaker demonstrate their dynamics. The 206s handled them very well and they can also play very quiet passages while maintaining low level detail. Their ability to reproduce soundstage is very good. John McLaughlin's Live at the Royal Festival Hall (JMT 834 436-2), is an excellent example of what "ambience" and "soundstage" is supposed to be. Using Strunz and Farah's Primal Magic ( Mesa R2 79023), the Clements showed their quickness by accurately playing the 32nd note runs without blurring the sound. Orchestral music is reproduced well without instruments blending into an amorphous sound. Spatial relationships, like the physical position of each singer in a chorus, were stable as evidenced on track 8, "Running From Mercy" on Ricki Lee Jones' Traffic From Paradise (CD Geffen 24602).
Piano and vocals are also beautifully reproduced. Sarah McLachlan sounded like she was in my room on track 12 (a vocal/piano reprise of "Possession") of her Fumbling Toward Ecstasy disc (CD Arista 18725-2). I found that the 206di speakers did not emphasize sibilants on recordings of sibilant-prone artists like Emmy Lou Harris or Loreena McKennit. The Clements also handle good old rock and roll with the punch we've all come to appreciate. Bass response was very good with a tonal correctness to the sound. Compared to my Dalines, the Clements 206di have the characteristic "box speaker" sound, but no more than the other 99.99% of box speakers out there. They are also not quite as transparent as the Dalines, but are a lot more authoritative in the low end. All in all, the Clements are pretty much on par with my Dalines. The difference being the Daline's transparency and lack of 'boxiness' versus the Clements' better low end.
Impressions
My only concern with these speakers is their price. At $850, they're TOO CHEAP!!! The Clements 206di can accomplish 95% of what my Dalines can (plus more bass) at roughly half the cost! Quite an accomplishment considering the Daline 3.1, in my opinion, perform far beyond what one might expect from their $1400 price tag. Unfortunately, there are a group of audiophiles who believe there is an absolute correlation between price and performance and probably won't give the Clements a listen. While there is some truth to that belief, you cannot quantify performance by the number of digits on the price tag. I've learned that the hard way.
In summary, the Clements 206di is a steal at its price and anyone with a speaker budget of up to $2500 should audition it. The potential savings can be applied toward a new power cord for your CD player, better interconnects, etc. These upgrades, in my opinion, will offer more performance enhancement than spending an equal amount on a different speaker. My congratulations to Phil Clements for using his expertise to design a great speaker line at reasonable cost. Hopefully, it will become contagious.
...Mike Masztal
mikem@soundstage.com
A special thanks to Jim Kean, of Audio Essence in Adairsville, GA for loaning me his floor sample for review.
Clements 206di Loudspeakers
Price: $850 USD per pair

Clements Loudspeakers
c/o Philip R. Clements
3450 W. Baylor Ln.
Chandler, AZ 85226
Phone: 602-899-3565
Fax: 602-899-8963

E-Mail: prc@internetmci.com
Web-Site: www.clements-prc.com
---
A sincere "thank you" goes out to all associated with SoundStage!, and especially Mike Masztal for his review of my Clements 206di loudspeakers. If all those associated with SoundStage! are as gracious, responsive, and conscientious as Mike has been throughout his work on the review your organization is very fortunate and to be envied.
What can I say about the review other than, GREAT! I was really impressed with the range of quality CD's and the broad music types that Mike used for the review, which no doubt put the speakers through some demanding paces.
A couple of comments I might make involve my purpose for the Clements "di", (Dynamic Image), line and a note about the uniqueness of the filter slope technology involved. Feedback from across the U.S. as well as several foreign countries where my products are distributed universally agrees with Mike about the speakers being "too cheap."
I constantly get asked why I don't substantially raise prices to be more commensurate with the products' performance capabilities. My goal with the "di" line was to produce high-end performance products under $1000 a pair for the popular priced marketplace. Many technologies, material combinations, and processes learned and applied over the past decade are now well proven and accepted in yielding certain specific, desirable sound performance results. We today define these results with such descriptive nomenclature as coherence, naturalness, depth, stage, imaging, impact, etc., all such being very much associated with high-end audio performance, and rightfully so. Historically, when specific, high-cost technologies become proven and accepted, in this case for example open slope electrical filters and impedance networks known for their signal accuracy and lack of phase shift, in time usually filter down to the popular price market. Unfortunately, this path with loudspeakers has had but very few travelers.
What I did was incorporate such technologies with a popular priced, popular marketplace aesthetic finish. The special driver engineering incorporated to derive steep acoustic filter slopes with the use of only single pole electrical filters and impedance compensation networks is unique to Clements products, and done to maintain signal and performance integrity.
The line today consists of 4 bookshelf models, 3 floor standing models, 2 center channels and 2 powered subs, with pricing from $250/pr. to $998/pr, all incorporating the same engineering features. This includes the new bipolar surround speakers for home theater, which makes them the only surround speaker products available with the accuracy of open slope filter networks. When combined with their matched front and center channel models, it represents the only complete theater system I know of with matched components, and, matched open slope, impedance network topologies. The same sound qualities and price/performance value is now available for enhanced home theater enjoyment.
Thanks, again, from all of us at Clements Loudspeakers to all the folks associated with SoundStage! A special thanks goes to Mike Masztal for his dedicated time and interest, and his wonderful review of the Clements 206di. I look forward to working with SoundStage! and Mike again.
Respectfully,
...Philip R. Clements
prc@internetmci.com
---