One of the more anticipated product introductions from this year's CES was actually held at T.H.E. Show. Magnepan introduced the replacement for the long-praised MG1.6 with its new MG1.7. While it looks very similar, there are some significant changes that make the MG1.7 an even greater value.
Magnepan has moved away from the use of planar magnetic drivers for the midrange and bass in the new MG1.7 by using quasi-ribbons that extend down further into the lower midrange and upper bass for better overall sound. They've also added a quasi-ribbon super tweeter for additional sparkle on top. These design changes aid in creating a wider sweet spot and bring the 1.7 closer to the sound of Magnepan's true ribbon designs. Then, for an additional departure from the MG1.6, the new MG1.7 uses wrap-around aluminum trim on the sides. The price, however, remains highly affordable at $1995 per pair in basic fabric and trim.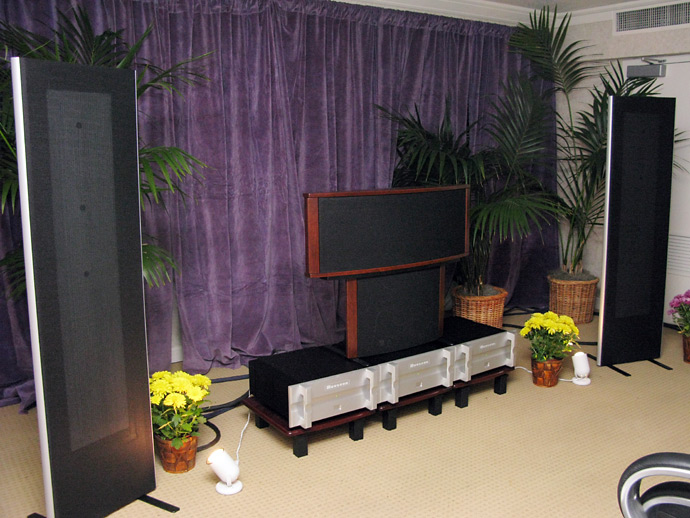 It didn't take long to hear the changes. Wendell Diller, Magnepan's marketing manager, played a selection of classical and jazz titles that showed off the increased resolution and deeper, tighter bass along with the extra top-end extension. And they still offer all the midrange magic of the MG1.6 speakers. Needless to say, John Crossett was highly impressed, especially as a former MG1.6 owner. Right after he listened to the M1.7s he said, "Makes me want to return to the planar fold right now!"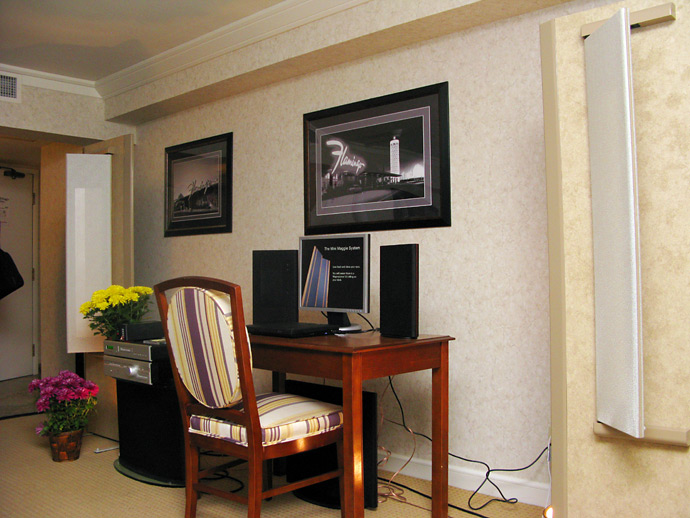 The demo of the MG1.7 speakers, via a multichannel arrangement with the Magnepan CCR center-channel ($3000) and MC1 (shown, $850 per pair) rear surrounds, was certainly worth the wait. (The computer-based system in the middle was part of another Magnepan demonstration.)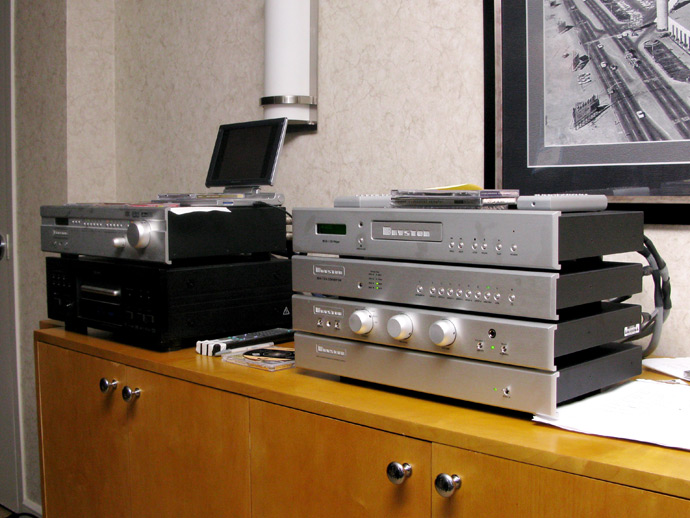 The electronics were almost entirely from Bryston. Amplification was multiple Bryston 28B-SST2 stereo power amps ($8500 each), and the preamp-processor was a Bryston SP 2 ($6295). For a digital source Magnepan used an older Esoteric SACD/CD player.
The MG1.7 looks like another classic speaker for Magnepan, and one that might have as long a run as its predecessor. The new MG1.7 was a worthwhile wait.