February 2003
The 2003 Jimmy Awards

On the first day of the CES, I awoke to music. The digital clock read 6AM. I had awoken this way yesterday and would do so again tomorrow. It was Groundhog Day all over again. Like Bill Murray's character in the movie, I was doomed to relive the CES until I had learned a lesson. Did it happen? We shall see.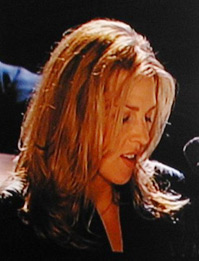 Arriving at the breakfast buffet enhanced the sense of déjà vu. Scrambled eggs, bacon, and gravy biscuits had counted all my days. There was music in the air: the Cowsills, the Kinks, and Sam Cooke with voices forever young. Had I been staying at the San Remo for the past 40 years? As she filled my coffee mug, the waitress gave me a knowing wink. No, it couldn't be -- Diana Krall?" Groundhog Day meets The Twilight Zone.
Before leaving the Las Vegas time warp, I would suffer frequent reminders of an earlier life. Precognition struck at the TG Audio pizza party, the Key Largo barroom, and the lobby of the Paris hotel where a statue came to life, scaring the hell out of nearby strollers but not me. Having seen the trick before, I merely smashed him in the jaw and continued strolling.
In the Las Vegas Convention Center, certain exhibits were starkly familiar. The Krell Industries booth was a Krell display from years past, right down to Dan D'Agostino's scowl. At the Fujitsu stand, the flat-screen TV lineup had not changed since 1999. Even the suggested retail prices were the same as four years ago. I wonder if the makers of plasma screens aren't conspiring to fix prices.
Memory glitches occurred most often at the Alexis Park. Famous brands such as ProAc, Kimber Kable, and conrad-johnson seemed predictable to me, even though new designs were on display.
As I made the rounds, I looked for unusual brands to help break the spell of Groundhog Day. By visiting strange as well as familiar rooms, I attained a modest level of heightened awareness. If this year's Jimmy Awards seem top-heavy with first-impression products, including several prototypes, please bear with me. Certainly, the excellence of the Old Guard continues, but my 11th Show in 12 years found me drawn to the distinctive in concept, appearance, and country of origin.
While not all the Jimmy Awards for 2003 go to the wondrous and unproven, the list is laced with newcomers in their respective categories. For example, the best multichannel-music demonstration came from Audio Research. Audio Research! Why only a year ago, the company was "dedicated" to stereo gear. Now, here were the ARC men showing early adopters how it's done. To me, the Audio Research demonstration was a category buster. Now, I have to ask myself if the audio world is really multichannel after all. If ARC says so, I had better re-think my position. The kindling wood of stereo-only heresy is piled up around my knees. Someone I least suspected has already struck the match.
Let us begin then, with Jimmy Awards for audio/video products.
Multichannel preamp-processors
The Bel Canto Design PRePRo ($8000) is a digital audio/video control center that comes with every current processing capability either standard (DTS ES) or optional (THX Ultra 2). Connectivity via Creston or AMX R232 software is included. For me, the hook is a 5" color TFT monitor as first seen on the Mark Levinson No.40 ($30k). The tiny screen enables one to program settings without turning on the main video source. The monitor is dimmable in low-light conditions. For those with really good eyes, the PRePRo could serve as a personal television, although at 35 pounds it would be a chore to carry around.
If one is dying to own a preamplifier/processor with a 5" TFT monitor but cannot afford the Bel Canto PRePro, Fosgate Audionics offers the FAP-1, a less-specified unit that retails for $2995. Although THX playback capability is missing, the FAP-1 seems be the most economical way to secure a monitor for A/V programming. Although the Jimmy Awards are not necessarily about price/performance ratios, the FAP-1 seems to offer excellent value for money.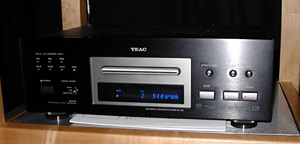 As part of their award-winning surround-sound demonstration, Audio Research introduced an analog control preamplifier, the MP1 (price to be determined). For hobbyists who listen to multichannel music playback more often than video soundtracks, the MP1 should be an excellent keystone. The combination of MP1, M150 (ARC's multichannel "digital" amplifier), TEAC Esoteric multi-source player (right), and Magnepan loudspeakers produced the most natural-sounding multichannel-music system I have ever heard. Width and depth of image were impressive, while the rear-channel information was unobtrusive. Congratulations to Audio Research for getting it right the first time out. (Actually, Audio Research marketed a surround-sound analog processor ten years ago with mixed success.)
Multichannel amplifiers
From the land of The Lord of the Rings comes the Plinius Odeon. New Zealand's newest amplifier is configurable in one to six channels with 200W modules. If dual-mono boards are fitted at the factory, the Odeon can drive up to 12 (!) channels of 100 watts each. Displayed in a stereo system, the amplifier produced a mellow, effortless sound. Price depends upon the number of modules, but ranges from $6000 to about $10,000. Extra channels can be fitted in the field. For its expandability, reasonable cost, and "sense of immense reserve" the Odeon takes home a Jimmy Award.
From the land of La Dolce Vita comes the Audio Analogue Cinecitta 6CH six-channel amplifier ($5995) shown on silent display. Audio Analogue wins an award for making the traditional amp-in-a-box an object of desire. From clothing to cars, the Italians know the art of graceful design. At 150Wpc, the Cinecitta 6CH should deliver the sonic goods and look handsome doing so.
Multichannel players
The Denon DV2900 ($999) is a progressive-scan DVD player that does it all -- CD, SACD and DVD-A. It comes with a Sil504 Silicon Image chipset, 12-bit, 108MHz video DACs, and digital bass management. Hook the player up to one of several excellent Denon receivers and the multichannel music reproduction should prove mesmerizing. The low (?) price tag makes me wonder what's missing.
Someone from Audio Research whispered that the TEAC Esoteric DV-50 ($5500) bested several "universal" players in listening tests conducted by their resident Golden Ear, Warren Gehl. Earlier, when I spoke with a TEAC representative about their Esoteric line, he failed to mention the DV-50. Maybe it's not for Paradise consumption.
Bel Canto ambushed me at the CES with their all-format playback machine. John Stronczer, Bel Canto's CEO, is a personal friend but he never breathed a word that such a player was in the works. Wise man. I tend to blab such news to my cronies at SoundStage!. Although the machine does not yet have a model name or number, sagely it has a suggested retail price of $8000. Running its analog outputs into the Bel Canto Pre6 should produce results that justify the expense.
The folks at Platinum by MSB Technology have improved upon the MSB CD player by making it a Super DVD Audio Player ($7995) that handles all formats, including SACD multichannel. The transport mechanism requires the use of a CD caddy, which may not be an issue for most people. When the Platinum Super Player decoded Roger Water's Q-Sound disc in stereo, the sound effects were behind me, in the hallway, and outside the window. As Doug Blackburn points out, if components and loudspeakers were phase correct, Q-Sound recording could have given us "virtual surround" performance without forcing the multichannel changeover we are presently enjoying.
Video sources
The DreamVision DreamWeaver DLP projector ($13,000) produced an image superior to any I've seen at the cinema in Paradise. Then again, how many movie theaters keep their projectors clean and the light sources at full power? Still, the DreamWeaver showed that the second-generation Texas Instrument DLP chip when mated to Carl Zeiss optics and massaged by Faroudja handiwork is almost the equal of heavier, more expensive CRT projectors.
Hidden in a tent on the main floor of the LVCC, the Sanyo PLV-Z1 1/4 HD projector filled a 60" screen with a decent picture. I am not a big fan of Liquid Crystal Display but learning that the Z1 lists for $2495, I decided Sanyo deserved a Jimmy Award for catering to the masses. Still, I wonder why the Z1 was so hard to find. If you blinked, you missed it.
Discount chains have yet to come to Paradise, which may explain why I had not heard of the Norcent brand. I was impressed enough with Norcent's 46WVGA850 flat-screen television monitors to ask the exhibitor to sell me one. He suggested I order it through my local Wal-Mart. I was so flustered I forgot the price. Has to be a lot cheaper than a Pioneer plasma TV, though, doesn't it? I mean, if you can buy one at Wal-Mart....
Home-theater-in-a-box
The closest I could find to a "virtual surround" system was the Niro TWO6.1 Home Theater ($2195) from Nirotek America Corporation. The system includes a 6.1-channel AV receiver, an active subwoofer, and a pair of curved boxes that house a left, right, and center loudspeaker in each unit. One box goes on top of the television and the other goes behind the sofa. From where I sat, the rear effects were too loud, but the front channels gave a nice illusion of three-dimensionality. For movie soundtracks in a small room, the NIRO is an elegant "solution." Add a DVD player, set it and forget it.
Karaoke-in-a-box
One of home entertainment's dirty little secrets is that Karaoke systems are fun, even outside the local gin mill. Therefore, going where no other self-respecting hi-fi journalist dares to tread, I designate a special Brass Jimmy Award to Leadsinger's LS-VSK wireless Karaoke microphone ($499). The Leadsinger mike connects to a television or a car cigarette lighter. Optional chips contain 800 American pop songs or 1500 Russian pop songs (e.g., "I Left My Heart in Vladivostok"). Leadsinger's celebrity shill was former teen singing sensation Deborah (Debbie) Gibson. Looking strong in jeans and high heels, Debbie had a hundred of us reaching for checkbooks. If you're a lonely guy, a Leadsinger might improve your social life, or at least take your mind off it.
Home-theater speaker systems
The collection of Magneplanar models ($10,675 for six speakers) in Audio Research's SoundStage! LIVE Standout Room wins my vote for best surround-sound loudspeakers for music playback. The system should sound great for movie soundtracks, as well, but I doubt A/V receivers could manage the task without overheating on non-stop action movies.
Starring in a video turn was the TAD Model-1 five-channel lash-up. At a cool hundred grand, it damn well should have. Colleague Roger Kanno, a home-theater critic, was less enthusiastic than I. He remarked that the midrange tonality could have been a bit fuller, and image depth was flatter than he liked. In light of those informed comments, I bestow a provisional Jimmy Award on the promising TADs. In stereo playback, I thought they were aces.
Finally, I would like to single out Swans Speaker Systems, Inc. ($90k and counting) for making a fight of it on the floor of the Convention Center. Their mega-driver array played loud enough to drown out the buzz of foot traffic. The system's sweet spot was wherever one stood or sat, and dynamics were true to life. Despite the midrange colorations, I was so impressed with the system's air-moving capabilities as to spend a full five minutes letting the waves of sound wash over me. In tribute to their heavy use of metal baffles, SSSI wins a brushed-aluminum Jimmy statuette.
Now, let us survey the audio-only terrain.
Preamplifiers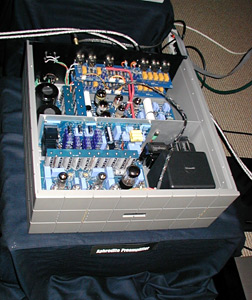 The Halcro dm10 ($16,900) proved a perfect architectural match for the Australian amplifiers on demo at the San Remo. Under show conditions, judging a preamplifier's sound is impossible. However, the elegant dm10 has such panache that anyone who can afford a Halcro amp must add either the dm10 preamp or the dm8 line stage ($12,900) to match the décor. No doubt Halcro owners can bear the cost without much pain. For being readily marketable to a captive audience, Halcro's preamp takes home a Jimmy.
My favorite monolith at CES was the Silvaweld Aphrodite (right, $12,000). Despite sporting 17 tubes, including rectifiers and regulators, the Silvaweld linestage resembles a scale model of a suburban office building built of duraluminum. After admiring Aphrodite, I had a strange urge to watch Blade Runner for the fortieth time.
From the land of Black Orpheus comes the Audiopax Model 5 ($3975). Perhaps its Brazilian provenance excited my desires, but this preamp struck me as a potential jewel. The designer, Eduardo de Lima, is a gentleman who resonates with intelligence. If he says his preamp is tunable for timbre, I believe him. If he says the Model 5 offers world-class dynamics and definition, I believe him. If he says I have to fly to Rio de Janeiro to audition the unit, I believe him. With Carnaval only a few weeks away, I must have some frequent-flyer miles somewhere.
Tube power amplifiers
For one formerly known as "amp man," the Nelson Audio room was a den of iniquity. The Chinese manufacturer filled a floor with lovely glass amps that use either EL34 or KT66 valves. The selection ranged in wholesale price from $460 for a 30W integrated to $845 for a 70W monoblock. While not as inexpensive as first-generation JoLida amplifiers, the Nelson examples seemed of more robust construction. Watch out for China!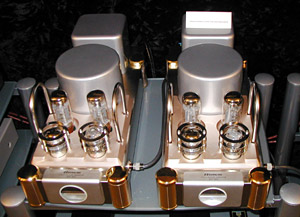 Music Hall is the US importer of the Shanling SP-80 tube amplifier ($2495) that looks too good to be true. Nevertheless, I respect Roy Hall as a man who knows good value when he hears it. His "entry-level" Creek amplifiers and Epos loudspeakers are outstanding performers. For its visual allure, while relying for its performance on Music Hall's aegis, I award the amplifier a jade Jimmy. Watch out for China!
As a movie, Heaven's Gate was a box-office disaster, but as an audio device, Joule Electra's Heaven's Gate ($7900/pair) should ring up plenty of sales. Using four tri-nipple 6C33C tubes made famous by Lamm Industries, each parallel single-ended transformer-coupled monaural amp is rated at 70 watts of pure class-A power. The green transformer covers are a nice touch. Products like Heaven's Gate make me wish I had reviewer's dibs.
Solid-state power amplifiers
Germany's Accustic Arts bills its 110-pound AMP II-AC as "The Big Beauty" (right). In brushed aluminum with silver insert, it is eye-catching.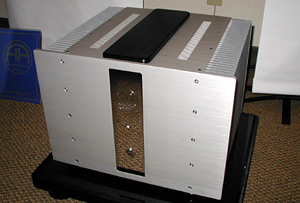 Twelve MOSFET output devices per side produced a sound of mountain air clarity -- no MOSFET mist -- with a hint of clover-like sweetness at the edges. Nursing a hernia, I am nowadays attracted to small rather than big beauties, but the Amp II-AC filled me with a Teutonic lust.
Suitable for manhandling is the petite Orpheus Laboratories Three that weighs about 35 pounds, stands less than three inches tall, and plays with muscle-amp gusto. Using "Power Loop" constant power modules from sister-company Anagram Technologies, the Swiss gnome puts out 40Wpc in stereo mode ($4600) and a robust 150 watts in mono ($8400). Although the sound in the Orpheus room was so-so, the loudspeakers may have been below par. For cramming big-amp technology into a diminutive chassis, Orpheus Laboratories deserves a Jimmy Award. Small is beautiful.
Tiny is ravishing. The Birdland Pleyel-Ag ($1795) weighs five pounds! Paired with its Silver Series sibling, the Odeon-Ag 24/192/SACD DAC, the Pleyel produced a memorable experience driving Cabasse loudspeakers. Rated at 18Wpc, the Pleyel bridges to 60 watts in mono. The goal of its "Solid-Tube" technology is to combine bipolar, JFET, and MOSFET transistors in a way that enables "masking [of] the shortcomings of each other." Whatever, it works. A silver statuette goes to Birdland Audio for its mini-amp technology.
Integrated amplifiers
Leading the way in an increasingly popular field, the Pathos Logos ($3995) was another example of Italian creativity. An art critic might say the Logos' provocative cutout display traces its inspiration back to Leonardo's "Leda and the Swan." So, need I say it? Watch out for Italy!
Glowing through a porthole on the face of the Vincent & T.A.C. SV 236 ($2995) are a pair of small-signal triodes. Didn't get to hear the SV236, but based on its looks, I like its chances in the market. Beware of Germany.
Two of my favorite solid-state amplifiers, the Bel Canto eVo2 and the Audio Research 150M, use Class T digital technology. No wonder I liked the sound of the Sonneteer Bronte ($1295), which also packs a digital module from Tripath Corporation. The Bronte can be used as an integrated amp or "daisy-chained" as power amp in a custom installation. Big wattage, no heat, and low price make the Sonneteer Bronte a serious contender for Jimmy's Amp of the Year Award. Finalists will be announced in September.
CD players
Despite the buzz about SACD/DVD-A playback, the CD player market is alive and well, and some of the best of breed are coming from Europe. Made in Italy, the Synthesis And ($1195) appeared good-looking and bargain-priced. In a natural maple and gray color scheme called "Bionaif," the And inspires oohs and ahs. For a high-style system, match the And with the Shine integrated amp and Natural Sphere Eco-Bio loudspeakers also in Bionaif livery. Then, try to explain the names.
Also Italian, the Opera Audio Consonance CD-2.2-WT-R ($1995) uses a Philips VAM 1202 drive mechanism, Crystal's CS4396 24/192 DAC, and a pair of 6H30 "supertubes" in the analog stage. Balanced outputs indicate the seriousness of the player's purpose. For a sand-based system that needs a touch of tubes, the Consonance CD-2.2-WT-R might be the ticket.
From the land of Fawlty Towers comes the Talk Electronics Thunder 3.1 ($3595). The (English) player gives a taste of (Switzerland's) Anagram Technologies upsampling technology as used in the award-winning (French) Audio Aero Capitole Mk II without costing $8700. Talk says the analog output uses a dedicated mains transformer and a "highly accurate current to voltage converter stage." With the optional analog volume control ($200), the Thunder 3.1 could be a Mark Levinson No.390S killer.
Loudspeakers
The best stand-mounted loudspeaker I heard in Las Vegas was the Harbeth Super HL5 ($3000). Knowing of Harbeth's cult-like following in the UK, I expected to be impressed upon entering the room. Instead, I was floored. The soundstage was huge. Bass drive was the equal of floorstanding speakers costing many times more. The speakers were pure fun! I'm no expert on tonality, but my advice to audiophiles on a budget is to audition Harbeth loudspeakers to see if they suit your taste. You may be money ahead if you do.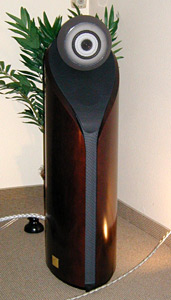 Although I love monitors that overachieve, a big loudspeaker system has its own virtues. The most virtuous full-range speaker I heard was the Cabasse Kara ($14,995). Driven by McIntosh electronics, the Karas had dynamics to rival horns, a clarity to match electrostatics, and instrumental focus to best minimonitors. I re-visited the Cabasse room twice to verify my initial impressions. Yep, I was right the first time. Anyone with $10-20k to invest in loudspeakers has to listen to the Karas. With the new breed of high-resolution amplifiers, the Karas should produce a realistic experience, even in stereo!
Accessories and cables
At the outset of his impressive satellite-subwoofer demonstration, Jim Smith of Avantgarde sang the praises of the Grand Prix Isolation System equipment rack (from $2400 depending on shelving). He said a Grand Prix rack was the equivalent in system performance to adding a new amplifier. I have not "heard" a Grand Prix rack but Jim's endorsement is good enough for me.
Eichmann Technologies, from the land of The Road Warrior, showed its full line of economy-priced interconnects and speaker cables. Eichmann also introduced a passive device called the Topper ($89 for a set of three) designed to adorn a component's top cover and dissipate stray electric currents. I have tried prototype Toppers in my system and can attest to their positive impact on the sound.
Paul Wakeen, the former distributor of Aurios MIB isolation footers, brought his Stillpoints ($275 per threesome) to the San Remo. Using ceramic balls in a clever vibration-absorbing base, the Stillpoints could be Aurios beaters at a lower price, and a lot easier to use.
Conclusion
When my personal Groundhog Day ended, I was left with a question: Are the days of US dominance in world hi-fi sales numbered? Thirty years ago, high-end audio was the creation of American ingenuity and a symbol of US prosperity. Now, manufacturers in "client states" are striking back. Overseas markets for American hi-fi exports are no longer secure. Foreign companies are finding their own expertise in audio design and are learning marketing skills. As an importer of North American products, I dread the potential slippage. But on behalf of consumers the world over, I welcome the trend.
In addition to the US recipients, congratulations to Jimmy Award winners from Australia, Brazil, China, England, France, Germany, Japan, Italy, New Zealand, and Switzerland for challenging the hi-fi establishment. In the end, we will all benefit from new ideas and competitive pricing. Now, if the governments of the world would lower import duties on A/V products, we'd see a more level playing field. In which case, brands stamped "Made in USA" might gain a share in overseas arenas. As a capitalist, I say let the best products win. Watch out for competition!
...Jim Saxon
jim@soundstage.com