November 2002
The Audiophile Shopper
On most workdays, I dress like a former dot.com millionaire: t-shirt, baggy trousers, and work boots. Today's informal clothing is ideal for my business. It accommodates the lifting and shoving of heavy equipment and also hides the bulges that come with maturity. Thank goodness oversized duds are in. I am a slob de jour, but my tastes are conformist.
Occasionally, I wistfully remember the good old days when I dressed up to go to work. Before becoming a hi-fi addict, I was a clothes junkie. My suits were made in England, shirts in Hong Kong, and the shoes were Swiss. I owned dozens of neckties, a result of the triage of expense-account dining. A psychoanalyst might say I chose attire as a way to compensate for unprepossessing looks. Nevertheless, I was a dandy.
On a recent trip to South Florida, I glimpsed myself in an airport men's room and was shocked. The man in the mirror was in the throes of a fashion emergency. The double-breasted "travel" blazer looked dated, lumpy and too small. The dress shirt was tight in the collar and the necktie resembled a swatch of bordello upholstery. Seeking reassurance, I glanced down at my 15-year-old Bally tassel loafers -- yuck. We used to call such footwear "nose-pickers." They resembled shoes Tony Soprano might wear in a witness-protection program. I combed my hair and mugged in the mirror, but my self-esteem refused to rally
After I landed in Miami, a good friend said during dinner that she liked my shirt. I realized she has commented favorably on the same shirt for many years. I protested that good oxford cloth was hard to find nowadays. Not so fast, she implied. Why just recently, she had discovered oxford-cloth shirts in the Brook's Brother's outlet store at Sawgrass Mills discount mall. This begged a question about the man for whom she was scouting threads, but I decided to spare myself further anguish and focus on her beguiling décolletage. At ten the next morning I was in line for the mall to open.
For foreigners and locals alike, the sprawling bazaar knows as Sawgrass Mills has a magnetic appeal. Beneath its multi-acre roof are stores featuring world-famous brand names at bargain-basement prices. In my case, I was hot to visit the discount branch of Brooks Brothers, a haberdasher I have seldom frequented because their clothes are too predictable. An old office mate of mine, Rich Cohen, once dubbed Brooks Brothers "the Ugly Store." In five decades I have found almost nothing to buy there. However, on behalf of Miss Décolletage, I hoped to relieve them of a half-dozen oxford-cloth shirts.
My luck was true to form. That is, no luck. The Brooks Brothers at Sawgrass Mills stocks 10-point oxford-cloth shirts that wrinkle by noon and wilt by Happy Hour. My trusty 16-point oxford, on the other hand, can survive a workday as well as a night on the town. Sadly, none of the apparel I saw at the Brooks outlet had the quality of goods on offer at their 346 Madison Avenue store in New York. To me, the Brooks at Sawgrass Mills is a pretender. It is neither a Brooks Brothers nor a discounter. Quality is low; prices are high. Grading the store in terms of value for money, I give it a failing score of 59.
Sailing on, searching for heavy oxford cloth of the Kennedy era, I disembarked at five or six stores, but eventually foundered in a sea of shiny broadcloth. Heading for a mall exit, I found myself in front of a marquee that read, "Off 5th -- Saks Fifth Avenue." The hyphenation spoke to me. It hinted of bargain prices on overstocks of real Saks clothing, rather than shoddy goods purchased for resale at "discount" prices.
During my days in New York, I was always intimidated by shopping at Saks Fifth Avenue. The service was courteous and professional, expecting you gladly to pay asking prices that were beyond the means of a lowly bond salesman. Beyond a tie or two, I have only ever purchased gifts at Saks. Included with the gift, I always bestowed the Saks shopping bag it came in. Pride takes weird shapes.
For my own purposes, it was a better deal to order custom-made coats and trousers from a Savile Row tailor than to buy off the rack at Saks. In most cases, bespoke tailoring not only fit better but also cost less to acquire. But times change. The last time I inquired, my old tailor, Fallon & Harvey, was charging almost $2000 per suit. If "Off 5th" were truly a discount store, it might prove a bracing place to browse. The shirt quest over, I entered whistling.
Dodging female huntresses in a full-shop mode, I infiltrated over to the men's clothing section. There, I beheld rows of garments that disappeared into the horizon -- a thrilling sight. The last time I saw so much good wool under one roof was at the Solid Gold nightclub on Federal Highway in Ft. Lauderdale. Nowadays, such wool is out of fashion. The shaved look is in.
Furtively at first, and then more boldly, I began flipping collars and sleeves, feeling for the inner lining, the stitching, and the fabric density that give a suit jacket its "hand." It had been awhile since I rubbed quality woolens between thumb and forefinger, but I knew the tailoring on offer was good stuff.
The notion of seeing myself once again in a quality garment warmed my innards. Outside the presence of a salesman, I slipped on a sport coat, size 41. It turned out to be a straitjacket. Whatever happened to the baggy look? Next up, a 42 long I could barely button. Finally, I spied a size 44 in heather plaid that reminded me of fall days on campus. Slipping it on for a color check, I faced the mirror and received a mild jolt. The jacket fit like a second skin. How did I grow three sizes in ten years?
My neck hairs started to vibrate. Someone was watching me. "Looks perfect," said a voice next to my ear. I spun around expecting to confront the leering face of a city slicker salesman. Instead, I found a slightly bemused older gentleman holding several garments over his arm as if he were on his way to alterations. "I'll be right back," he assured me. I could have bolted then without buying anything, but I was intrigued. How could a size 44 sport coat be cut small enough to fit me?
I was also intrigued by the price. If the tag was honest, Saks had originally stocked the garment at $1895. This princely sum had been marked down twice to a final resting place of $249. Now, that's what I call discounting! Of course, the original asking price was probably a fantasy.
I took off the jacket and inspected it. The feel was luxurious. I knew that fine English woolens are designated "Super" with a numerical grade. For instance, "Super 80s" means a count of 80 threads to the inch. A garment made of Super 80 material will wear very well, indeed. It will also fetch a high asking price. The barley-colored sport jacket I was holding had a tag in Italian that read "lana Super 120s." This designation was off the chart. I didn't know Super 120s even existed. The best suit I ever owned was a Super 100s. Cost over $500 -- in 1977! My greed level rose sharply. I pressed the inspection.
As expected, the lapels were hand-stitched, but so were the side vents, the neckband, and the silk lining. The inside pockets were edged in the same fabric as the jacket, and two of the three had button flaps to enable slinging the jacket into an overhead bin. The muted orange-brown plaid matched up at the lapels and outside pockets. The shoulder pads were subtle; the waist moderately shaped to make a 50-something look svelte but not pretentious. At the back of the jacket, the pattern met in a perfect V at the seam. Whoever directed the stitching of this garment knew something about master tailoring.
However, there were two details that escaped the overseer: (1) There was no thread inside the lapel to anchor the stem of a boutonnière; and (2) the top front button was only finished on the outside and not on the inside. As for (1), who wears a flower with a sport jacket, anyway? As for (2), the current fashion for a three-button sport coat is to wear the top button buttoned, an uncomfortable style in my book, but one that explains the oversight. I should have deducted a few points for each transgression, but when I saw that the sleeves were left open, I was too impressed to care.
Open sleeves means that a fop can be a show-off. Custom-made suits and jackets have cuffs with four buttonholes that open. Off-the-rack sport coats do not have such buttonholes because the sleeves cannot be adjusted after the holes are cut. Furthermore, as a cost-saving measure, most sport coats do not have enough cuff fabric to permit after-market buttonholing. This jacket was designed to have real buttonholes. Sleeve buttons were contained in a separate pouch in an inside breast pocket and extra cuff material was provided. I was hooked. A poor man's custom-tailored sport coat was only a set of buttonholes away!
When the elderly gentleman returned, my attitude was positive, but I needed convincing. The salesman was game. Taking the jacket away from me, he looked at the label, which I couldn't read without my glasses. "Ah, Gianluca Isaia, one of our best brands," he said. "See here? Made in Naples." He pointed to the insignia with a measure of pride.
"Naples?" I replied. "Why not Rome, or Milan?"
"Naples is very good."
"Well, I wouldn't brag about a jacket from Naples. Maybe spaghetti."
"The Isaia brand is world famous."
"Really? Is there a review I can read?"
"Review? What are you talking about?"
"In my business, people don't buy anything without a review."
"What business is that?"
"Hi-fi."
The elderly gent's eyes glazed over. He stroked his jaw in a bemused reaction I call Close Encounters with an Audiophile.
"You sell stereo equipment?" he asked. Mulling over my assent for a moment, he said, "I don't see the connection."
"Well, we audiophiles like to see something in writing that verifies quality, a discussion that justifies the price. You know."
The older man got my drift. "You mean like Consumer Reports. I don't think they're doing clothing, yet."
"Well, how does this brand compare to the other lines you carry?"
The salesman brightened up. "Oh, it's much better than the rest," he said with genuine enthusiasm. "See here." He started to show me the jacket's virtues.
"Yes, I know all that," I interrupted, "But does the Isaia company have a website I can look up?"
The old gentleman clutched the coat to his chest. His voice took on the slightest edge. "What are you talking about?" he said.
"You know, a page on the Internet. I'd like to read about the company's history, its track record, number of dealers." I held up my palms. "For me, this is a major purchase, an investment, really. I'd like to know where the company stands in the industry. For instance, who buys this stuff? Wall-Streeters, entrepreneurs?"
"Gee, I don't know about those things, Mr…?"
"Jim." I said.
"Mr. Jim. "You see, I don't own a computer," said the salesman.
"Does that mean you don't have e-mail? How can I reach you if anything goes wrong, Mr…?"
The salesman waved a hand. "Red, just call me Red," he replied. "Look, Mr. Jim, you're confusing me. I don't work on commissions. If you want the jacket, fine. If not, maybe you should try someplace else. Have you been to Brooks Brothers?"
"No Brooks Brothers," I replied. "This is the jacket I want -- even though I don't need it. But I want to know is, Red, am I making the right decision?"
The salesman circled behind me and held the jacket so I could slip it on. As I buttoned the middle button, he slapped me on the shoulders. "Look in the mirror," he said. "See how it fits? Perfect. See how you look in it? Great. What else do you need to know?"
I had to agree that the color was good, the fit impeccable. "Just give me a little reassurance about the price," I whined. "It's more than I want to pay."
The salesman grimaced. "You saw the sticker. The jacket's been marked down twice. We're practically giving it away. See here?" He held up the cuff with the tag on it. "It originally sold in New York for $1900. "
I quickly admonished him. "That's the suggested retail price," I said. "The street price was probably less than a grand."
Red was quick. "Even if it was $995, so what? You're only paying $249."
"Plus tax," I added, lifting my arms, checking the way the jacket stretched.
Damn, it felt good to see myself in real clothes again. "I'll take it," I announced grandly.
The old gent rolled his eyes. "You won't regret it, Mr. Jim."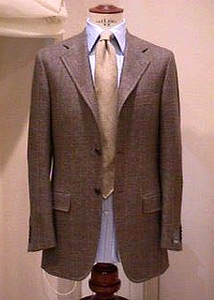 After leaving with my authentic Gianluca Isaia sport jacket, I felt the urge to read about the label on the Internet. Was there not an online magazine that reviewed men's clothing, or at least a chat group that weighed the pros and cons of various brands? Certainly someone somewhere had a good (or bad) word to say about the Isaia label. Upon my return to Paradise, I searched vainly for websites or commentary on high-class clothing. Apparently, fine ready-to-wear does not rise to the level of an Internet concern.
However, Gianluca Isaia has his own website, www.gianlucaisaia.com, a slick pictorial affair where I was thrilled to see an exact photo of the sport jacket I had purchased.
How did he know? Unfortunately, no reviews or testimonials from end-users are included. Although the proud owner of an Isaia creation, I am frustrated by not being able to debate its virtues or seek peer approval from others like myself. Audiophile habits die hard.
Therefore, I have decided to start a new venture that builds upon my critical skills as an audiophile/clotheshorse: www.saxononthreads.com. I plan to solicit tailored clothing from such makers as Versace, Armani, Oxxford, Luciano Barbera, and anyone else who prides themselves on their tailoring. After wearing free suits and jackets for six months, I will conduct periodic "shootouts" describing which threads wore best, or elicited the most admiration from the opposite sex. A separate newsletter will divulge discount locations in exchange for a significant fee.
After the launch of Saxon on Threads, I will volunteer to support the fashion-impaired who cannot discriminate between Polo and Boss, Pierre Cardin and Pierre Balmain, and so on. Look for rec.highendclothing.net in the spring, assuming it can be done for no money. Also in the works is a chat group, "The Duds Asylum," for people who like to argue tweeds vs. worsteds or post reviews of their favorite garments. A free site, "Duds," will emulate Blanche Dubois by relying on "the generosity of strangers" to pay the overhead. Capping this empire will be www.ClothesOut.com, a joyously commercial location where merchants and consumers alike can unload fine apparel at auction or via classified ads -- caveat emptor.
Meanwhile, if you represent a tailored-clothing manufacturer, please ship me your suits, trousers, and jackets to review -- and shoes, if you have them. I need shoes. I can cover shoes, as well. Maybe shirts. Send shirts, especially oxford cloth. That should do it for Saxon on Threads. Remember our motto: "Jimbo knows clothes." Trust me.
...Jim Saxon
jim@soundstage.com