February 2002

The 2002 Jimmy Awards

People never get sick in Paradise. They just catch a bug and die. The weekend before CES I should have been so lucky. Instead, I arrived in Las Vegas with a Force 10 cold, a walking weapon of mass destruction. My coughing and sneezing imposed upon many a sedate demonstration. If you attended CES and felt lousy afterwards, blame me. Those hellish microbes you ingested came from Costa Rica duty-free. I apologize.

At least my discomfort was eased by a couple of circumstances. First, I had the good fortune to meet up with Rob Woodland, managing director of Eichmann Technologies, makers of the amazing Bullet Plug RCA connector. Rob traveled some 22 hours from Brisbane, Australia to attend CES. During the time we palled around before separating for business meetings, Rob's positive attitude lifted my spirits. As well, his Aussie anti-cold pills were a solace. While listening together, we most often agreed on the sonic merits of an exhibit, although Rob did a better job of discerning high-frequency response. I found myself asking him, "How are the highs?"

Secondly, the people who demonstrated were unusually gracious about my noisy conduct. If the hacking persisted, I headed for the door, but almost everyone asked me to stay or at least come back. Regarding human frailties, CES 2002 seemed a kinder, gentler Show than years past when even a loud whisper could get one banished from a room. For their hospitality, I would especially like to thank David Wilson and his Wilson Audio team, Terry Combs of Viva, and Lawrence Blair and the people at Impact Technology who went out of their way to ask after my well-being, holding up proceedings until I recovered.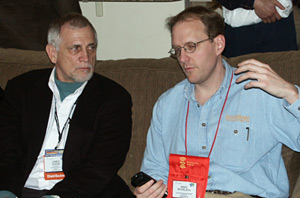 Editor-in-chief Marc Mickelson vigorously describes the things Jim couldn't hear.
Because of clogged ears during the Show, naming Jimmy Awards for 2002 is not fair of me. However, as the Enron episode teaches us, life is unfair. Thus, I press on but with a disclaimer worthy of the accounting firm of Arthur Anderson: the following lists mainly those products featured in demonstrations whose dynamics, imaging and rhythmic drive penetrated the fog in my head, providing more of a visual than aural experience. I make no representations about the tonality, transparency or high-frequency response of anything I witnessed.
Also, please note that a product's absence from the list doesn't mean I didn't like it. Most likely, I never heard it. The CES is so sprawling that if one "hits" 75% of the rooms, he is probably doing a cursory job. Figure I spent quality time in no more than half the exhibits.
Fanfare please for the 2002 Jimmy Awards!
CD players
As an ARC dealer, I was gratified to see the Audio Research CD3 ($5000) used in a number of rooms, including the wickedly clever demonstration conducted by Wilson Audio Specialties, about which more later. Suffice it to say that a number of CES exhibitors agree with my assessment of the CD3. It elevates CD playback to new heights of musicality.
Another ubiquitous CD player was the Audio Aero Capitole 24/192 ($6200) whose gold livery would spruce up any exhibit. A well-known reviewer of my acquaintance said his vote for best CD-based system was the Acapella room where the Capitole held center stage. This assessment supports my hunch that the Audio Aero player sounds as good as it looks.
I would like to list the MSB Technology's Reference CD player ($5000), which enabled a Nearfield Pipedreams speaker system to fill a large room with glorious sound. However, I wasn't happy with the loading system in which the CD is enclosed in a plastic tray. For an audio dealer, loading and unloading CD jewel boxes is an unwanted chore, especially after a few beers. Adding a second little box to load and unload is the road to hell. However, music lovers should welcome the loading shuttle since it also acts as a clamp and is therefore sonically desirable. To paraphrase the teenage judges on American Bandstand, I give the MSB Reference CD player half a Jimmy; I liked the beat.
Digital transport
Sakura Systems, purveyors of 47 Laboratory's diminutive electronic components, has found a way to thwart copycats -- self-cloning. The lower-priced Shigaraki line of electronics has the look and sonic signature of the "big" 47 Laboratory system. In a quick comparison between the original and the cloned line, I thought the Shigaraki components acquitted themselves with aplomb. I may not be ready for the company's integrated amplifier that is shaped like a bookend, but I would like to try the open-faced Shigaraki CD Transport ($1750) in my system. The Shigaraki open deck appears similar in concept to the 47 Laboratory PiTracer CD transport ($25,000) and could be the high-end bargain of 2002.
Digital processors
Ever since purchasing an Octave Research OR-1 "Silver Hammer" power amplifier out of pure lust 20 years ago, I have wondered why polished-steel faceplates aren't used as a sales hook. Finally, someone has re-discovered the idea. The Gill Audio Design Elise digital converter ($6000) is a gleaming monolith that attracts the eye as well as ear. Matched with shiny Art Audio amplification, the Elise gave a sense of pace to several demonstrations I found highly motivational. There's a strong urge in Paradise to pair an Art Audio Jota amplifier with an Elise DAC. Perhaps, next year….
I can't vouch for the sound of the Weiss Engineering DAC ($8000), but its specifications are deserving of further inquiry. Could this DAC be the digital Holy Grail, a processor to better the $20,000+ dCS Elgar/Purcell combination for less than half the price? My hope is that someone at SoundStage! will receive a unit from Weiss to review and then ship it to me for a second opinion.
Say you'd like to sample upsampling but don't want to spring for a new DAC? The legendary Mr. C.C. Poon has just the solution you are looking for, the Monarchy Audio DIP 48/96 Upsampler ($299). This compact black box interfaces between your DVD/CD player and outboard DAC and upsamples Redbook compact discs to the 24/96 standard and downsamples DVD-A to 16/44.1. If your transport is not capable of reading 24/96 software, all is not lost. For another $299, Monarchy Audio will provide a DIP 24/96, which will give you the output you need to take advantage of the 48/96 Upsampler. This seems fiendishly clever.
Preamplifiers
In an unprecedented twist, a company that began life as a loudspeaker manufacturer has become an innovative amplifier designer. Roger Sanders' Innersound electrostatic loudspeakers work best when driven by powerful solid-state amplification, which usually signifies a $$$ outlay. To overcome this objection, the good Dr. Sanders invented the Electrostatic Amplifier, which costs next to nothing (we hi-fi vendors sneer at $3000) and limits the output to 1000 watts. At CES, I got my first peek at the Innersound Preamplifier, which at $3000 costs next to nothing (sneer, sneer) and is said to motivate the kilowatt amp to unprecedented heights of resolution. The unit offers interesting interface capabilities soon to be found on higher-priced competitors.
Luke and Bea Manley proudly displayed the fruit of three years gestation, the VTL TL7.5 preamplifier ($10,000). Since VTL has long represented good value for money, the 7.5 is expected to go toe to toe with the leading SOTA contenders, including the heavyweight Mark Levinson No.32. Being intimately familiar with the sound of the ML No.32, I'd be capable of judging whether the Manleys' mission has been accomplished. However, given that Levinson gear pays the rent here, I'm not about to put my sofa-interface on the line to find out.
I had no chance to judge the sound of the Pass Labs X2.5 line stage, but I assume it improves upon the Pass Aleph P, or else why build it? Half a Jimmy goes to my old friends at Pass Labs for building a unit that looks as good as it must sound, which wasn't the case with the rustic Aleph P.
One of the least-expensive preamplifiers at CES was also one of the best. The British-built Audion Premier 1.0 sells for $2495. Yet, this modest little tube device with remote control was the cerebrum of a $40,000 system that produced sound to match the price. I like expensive toys, but love good value.
Integrated amplifiers
Integrated amplifiers are said to be more popular in Europe than in the Americas. However, Bel Canto's new eVoi integrated amp ($3000) might change the perception that such cost-effective products are best sent overseas. On the third day of CES, while hoarse, feverish, and dead on my feet, I had the pleasure of absorbing music from a system consisting of the Bel Canto integrated and Soliloquy 6.2 loudspeakers. The sonic osmosis was revitalizing, a magic tonic. Yet, I don't think the littlest eVo should only be matched to "like-priced" loudspeakers such as the Soliloquys. I hope to try the Bel Canto with Wilson Audio's Sophia loudspeakers. Could be a synergistic system for the almost rich to consider.
While I did not hear the Vincent SV233 integrated amplifier perform, the German-made unit's stunning looks gave me cause for alarm. The shape of the front panel is very similar to the faceplate on the Mark Levinson No.383 integrated amp. The Vincent uses Burr-Brown op-amps in the preamplifier section and 16 transistors with a 500W toroidal transformer per amplifier channel. The power rating is 200 watts into 8 ohms. I seem to recall an anticipated U.S. retail price of $3500, which is $2500 less than the cost of the 100Wpc ML No.383. I give the Vincent SV233 a tentative Jimmy until someone I trust auditions it and says I shouldn't.
For people who love tubes on a wood-finished chassis, the JJ Electonic JJ828 offers a family heirloom. Utilizing four KT88 tubes per side, this showpiece outputs 70Wpc in an ultralinear push-pull circuit. The JJ828 is also couch-potato friendly, providing a remote control encased in wood to match the faceplate. In a showroom filled with black remote control units, a wooden remote in reddish brown would be easier to find, which is reason enough to stock one. Since the Slovakian manufacturer is looking for U.S. distribution, no MSRP has been set. However, a retail sticker of $2500 would seem competitive if not predatory pricing for this trophy.
Solid-state amplifiers
My favorite basic amplifier at CES was the Halcro M58 ($35,000 per pair), which produced solid images from Wilson Audio's MAXX loudspeakers. Pictures of Australia's proudest power towers do not prepare one for their majestic appearance. These mono amps are the size of Great Danes. To see them is to covet them. As soon as the company's U.S. service center is functioning, Halcro will overcome the only objection I can think of (besides the price!) to buying a pair. The year 2002 could be an interesting one for amplifier manufacturers, but if the market for expensive power amps has room for growth, Halcro should flourish.
For anyone looking for amplifier towers at less than half the cost of Halcro's, the Theta Digital Citadel could be just the ticket. These sculpted beauties retail for $16,000 the mono pair, which at 400Wpc and 160 pounds, seems like a lot of product for the money, assuming your budget permits browsing in the clouds. Although Theta Digital abandoned its traditional Golden Nugget extravaganza in favor of a silent booth at the LVCC, a third-party manufacturer had borrowed a pair of Citadels with which to demonstrate its products at a CES. Many others should have done the same.
Tube amplifiers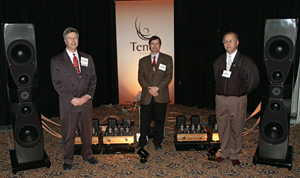 This year's top seed in the Lamm-beater tournament is Tenor Audio's 75 Wi OTL integrated monaural amplifiers ($19,900 per pair). I base this placing on the notion that Rockport's Hyperion loudspeakers sounded much better this year driven by Tenor amplification than they did last year powered by something else. However, I have no way of knowing whether the Tenor 75 Wi is a match for the awesome Lamm ML2, widely regarded as the reference tube amplifier. Still, I was impressed to learn that Show attendee Mike Levine had chosen Tenor's tube amps over Halcro's M58 solid-state towers after auditioning both models. Although that's only one man's opinion, I'd say it's supporting evidence that the Tenors rock.
One of my favorite Alexis Park demonstrations involved the Pipedreams "Baby" loudspeakers driven by the new VAC Virtu 105/105 ($6000). The Virtu's elegant chassis floats on three feet instead of four and begs the question, Why doesn't all hi-fi gear use a three-point foundation? Sporting KT88 tubes, the Virtu 105/105 can be switched between 50W triode and 105W partial-triode class-AB1 operation. The sound in the VAC/Nearfield room seemed to hover just above eye level, a lovely sensation.
Avantgarde's impressive horn loudspeakers were on display in several rooms, but I thought the Duos gave their most moving presentation when driven by Viva Aurora monaural amplifiers ($24,000). Unlike some state-of-the-art triode amplifiers, the Auroras also have snazzy looks that permit an easy sense of pride of ownership. For $24k, a product should offer more than "just" good sound.
The handsome mirror-finished Art Audio Jota single-ended triode amplifier ($8000) also appeared in several high-impact systems. While under the influence of cold pills, one finds it difficult to judge the sound of an amplifier. Nevertheless, I credit the Jota for the toe-tapping rhythmic drive in rooms displaying with Art Audio.
Loudspeakers
My favorite loudspeaker under $2500 was the Galante Audio Rhapsody ($2400). Brian Galante positioned the Rhapsody duo six feet apart, yet the speakers filled a 24-foot expanse with wall-to-wall imaging. The sound from these highly efficient monitors was smooth and charismatic. I wanted to take the demo pair home in my suitcase, but they were promised to someone who whined louder.
Another smuggling candidate was the Verity Audio Parsifal Encore Monitor ($3500). The top half of the award-winning Parsifal is a major-league loudspeaker all by itself. In a large room, spread well apart, the Encore Monitors filled the space around, behind and between them as only a pedigreed design can do. Anyone searching for an open-sounding monitor should consider the Parsifal Encore.
An intriguing design under $5000 was the EOSS Musiko Soundpoles ($4,995), a four-piece system resembling Pipedreams on a hunger strike. Each EOSS needle shape contains seven Kevlar composite drivers and a ribbon tweeter in a 3.5"x 3.5" x 72" aluminum frame. The Soundpoles roll off at 180Hz where powered subwoofers take up the slack down to 35Hz. I can't vouch for the tonality, but the imaging seemed holographic with a wide sweet spot. It's refreshing to find a new technology that doesn't try to write off R&D by overpricing the first production units.
The Classic Ribbon Speaker from Red Rose Music ($8000) also displayed a wide listening angle and tight focus. If Red Rose exported the Classic Ribbons without requiring an importer to become a full-service Red Rose Music dealer, I might be interested in stocking the speakers. Since that isn't likely, let us bestow a Jimmy and move on.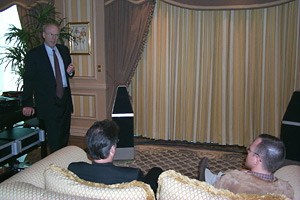 The trickiest demonstration at CES was the one in which the new Wilson Sophia ($11,700) displayed a "whole cloth" sound similar to that of a single driver. The soundstage(!) was also very well developed. At the conclusion of the presentation, David Wilson revealed that the driving source was a $650 Parasound amplifier. I was had! Mr. Wilson's point is that a consumer looking to upgrade his system needn't worry that the purchase of the Sophia required a commensurate investment in amplification. The exhibition convinced me, although I plan to hold the line at $2995 when it comes to a matching amplifier.
The best $14,000 loudspeaker caught me completely off guard. Just before closing time on the last day of the Show, with several exhibits still beckoning, I stumbled into a room at the end of a corridor. There, Mr. Randy Bankert of O.S. Services had arrayed six pairs of loudspeakers and at least as many amplifiers in a semicircle. The loudspeakers playing were Zingali HM112 Home Monitors ($13,999). Within seconds, I sank into a state of bliss. It may have been the music, the volume (just shy of "live"), or the heat in the room (from 150 glowing tubes!), but whatever it was, I remained transfixed for the next 45 minutes. Luxuriating in the O.S. Services room, I decided the Zingali exhibit was a good one to end on.
Note: O.S. Services has informed me that its dealers are offering the HM212 at an introductory price of $11,999. I guess if you have $12k to spend, you have $14k, but still, the lower price is nice to consider.
Now the award process gets tough. There were three big loudspeaker models that impressed me for different reasons. Given that they were so similar in price, I can't choose just one. The 7' Nearfield Acoustics Pipedreams ($30,000) threw the most expansive soundfield (with tweeters on the outside). The German-made Acapella Audio Arts Companile ($32,000) was the most dynamic. The Impact Technology Airfoil 5.2 ($35,000) provided the most lifelike density of image. I found myself returning to the host rooms several times to see if I could declare a clear winner. Couldn't do it. Therefore, I am going to risk devaluation by awarding a Jimmy to each of the three manufacturers.
However, I would also like to sneak a half a Jimmy more to Nearfield Acoustics for showing their new "baby" Pipedreams. This loudspeaker uses 29 drivers per channel and retails for $10,000. The only reservation about the baby is that it rolls off at 40Hz, making a subwoofer mandatory. Still, my friend Rob Woodland thought the smallest Pipedreams were just the ticket for late-night listening Down Under. I think they'd be fun in Paradise, as well.
Cables and accessories
Not to give this noble category sort-shrift, but I was unable to determine the merits of cables, line conditioners, footers, and flotation devices at CES. However, two product lines that were featured in several of my favorite rooms, the Shunyata Research Hydra ($2495) line filter, and Acoustic Zen cables (including the $1488 Gargantua power cord). I use the Hydra in my system and regard it as indispensable. Almost two dozen CES exhibitors agree with me. The four-figure Gargantua is something I will have to admire from afar, but the Acoustic Zen Tsunami AC cord and MC2=Zen digital cable are fixtures in my system.
Special Platinum Jimmy Award
In addition to the regular gold Jimmy Award, I've decided to bestow a Special Platinum Jimmy for an exhibit that revived the flagging spirits of a weary man. Among the cornucopia of goodies in the O.S. Services room were pieces of a system that came together so powerfully I lost my senses for a time. Ironically, the setup was the reverse of the Wilson Sophia demo. The loudspeakers were relatively inexpensive but the amplifier cost $25,000! The full Platinum Jimmy system is as follows:
Shearne Audio Phase 7 CD player with HDCD - $3095
Audion Premier 1.0 remote control preamplifier - $2495
Cadence Audio Canasya Hybrid 845 push-pull monoblocks (50W class A, 200W class AB) - $24,995 per pair
Zingali Overture 3S loudspeakers (92dB sensitivity, 4ohm load, 36Hz-29kHz frequency response) - $5395 per pair
Acoustic Zen interconnects and speaker cables
My thanks to Randy Bankert for his music selections, as well. Especially memorable were Kurt Elling's Flirting with Twilight [Blue Note Records 2001, 72435 31113 28] and Seis de Solar's Alternate Roots [Messidor 1995, CD 15831-2].
That wraps it for this year. I'm sure I missed your favorite product line. Sorry 'bout that. Maybe next year we'll have a Jimmy Committee to cover everything.
...Jim Saxon
jim@soundstage.com