December 2008
Xindak Muse Deluxe 1.0 CD Player
by Alfred Fredel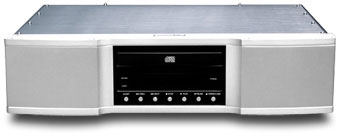 Review Summary
| | |
| --- | --- |
| Sound | "The tube analog output stage definitely helped to round out the sound, presenting an enjoyable, comfortable midrange. When listening to the solid-state RCA outputs, I found the unit to be a bit antiseptic and not very engaging." Via the tube output, "each instrument of the trio (piano, bass and drums) sounded accurate, and the unit conveyed the music of this intimate acoustic setting with a clear soundstage. The music was both warm and rich, which served to enhance the playful interplay between the players and their instruments." "However, when it came to the higher frequency regions, while the Muse Deluxe 1.0 was respectable, it could have used just a bit more clarity and focus." |
| | |
| --- | --- |
| Features | "It uses solid technology, adopting Analog Devices AD1852 DACs and a Texas Instruments delta-sigma sample rate converter to upsample the data. There is also a precise clock circuit to reduce jitter and distortion, this specially designed by Xindak engineers." "There are three pairs of high-quality analog outputs: one pair of XLR outputs (the Muse Deluxe 1.0 does not have a truly balanced circuit) and two sets of RCA outputs. Xindak has chosen to use a single 6922 in line with a pair of the RCA outputs to lend some analog warmth to the player's sound." |
| | |
| --- | --- |
| Use | "The remote is very cleverly laid out with several features, including a dimmer that turns down the LEDs so you can turn out the lights and enjoy the music without the blue lights from the player beaming into your eyes." "Although the player read and played most of the CDs I fed it, there were times that it would just not read some of my favorite discs, no matter what I did." |
| | |
| --- | --- |
| Value | "It targets the value-conscious consumer in a crowded field of mid-priced players, and it manages to hold its own." |
This year's Olympic games gave China the opportunity to show off its athletic muscle and cultural richness while demonstrating the coming of age of its thriving economy. As the world's foremost manufacturing power, China caters to companies from around the world that have chosen to have products built there and then ship them back to their markets, often with great cost savings and the resulting increased profit margins. Several decades ago, Chinese-manufactured products were of poor quality and were almost considered disposable. In recent years, that has all changed. Factories in China are now more sophisticated and are very capable of producing goods that are more reliable and of high quality.
In the world of audio, there are many products that are manufactured in Chinese factories but designed in North America, Japan or Europe. Taking advantage of this incredible opportunity of having some of the most important audio companies playing in its own sandbox, the Chinese have started to learn from their Western business partners and are busy at work creating their own companies while designing and manufacturing their own audio products. But when the first Chinese components hit the American market, they were considered a great bargain until tales of catastrophic failures and charred entertainment centers started to flood in to the audio dealers. Needless to say, most dealers dropped these products like hot potatoes. Today, these incidents are not as common, and Chinese manufacturers seem to have addressed the quality-control issues.
One deeply rooted Chinese audio manufacturer is the Chengdu Xindak Electronic Company, which has been building audio equipment since the late 1980s and has a fairly strong foothold in the Far East. Makers of amplifiers, CD players and cables, Xindak, as this company brands its products, is noted as a high-quality manufacturer in its market. The Muse Deluxe 1.0 ($1250 USD) is the company's most ambitious CD player and is built to compete with the big boys on the world stage. It is a Red Book-only player that can handle CDs, CD-Rs and CD-RWs and plays both standard and 3" discs. It offers some interesting features that you don't often see with CD players.
I like the industrial look that the designers of the Muse Deluxe CD player are trying to achieve, but it is not quite there yet in my eyes. The unit measures 17"W x 4 1/2"H x 15"D and is heavy at about 22 pounds. The choice to use what appears to be a beautiful machined-aluminum front for the chassis with a black center control section is nice; however, the gunmetal-gray painted back panel does not mesh well with the overall look of the product. In addition, there are bolts that stick out on the top and sides that should probably be more flush with the chassis. I was painfully reminded on several occasions that they were there as they scraped my hands when positioning the unit on my rack.
The remote is very cleverly laid out with several features, including a dimmer that turns down the LEDs so you can turn out the lights and enjoy the music without the blue lights from the player beaming into your eyes. The remote feels like a heavy bar of aluminum, but ergonomically is a little uncomfortable to handle because of its width and sharp edges. As with many products from China, the Muse Deluxe 1.0's instruction manual is poorly written and provides little information about maintenance. Gloves and a cover for the player are also provided.
Inside, the Muse Deluxe 1.0 is well laid out. It uses solid technology, adopting Analog Devices AD1852 DACs and a Texas Instruments delta-sigma sample rate converter to upsample the data. There is also a precise clock circuit to reduce jitter and distortion, this specially designed by Xindak engineers. As part of the analog-signal amplification, the unit uses Burr-Brown OPA2134 and OPA134 op amps, military-grade resistors, and high-quality mica capacitors.

There are three pairs of high-quality analog outputs: one pair of XLR outputs (the Muse Deluxe 1.0 does not have a truly balanced circuit) and two sets of RCA outputs. Xindak has chosen to use a single 6922 in line with a pair of the RCA outputs to lend some analog warmth to the player's sound. For power, the unit uses a specially designed, closed 70VA transformer with high flux and low magnetic leakage. This has a steel shield that helps to reduce electromagnetic interference.
On the front are the main power switch as well as a sleep button, while around back is provision for a detachable power cord. For use with an external digital-to-analog converter, the unit includes coaxial and TosLink outputs.
Care and feeding of the Muse
All of my gear runs through several levels of AC filtering, including a Jack Bybee Quantum filter and a PS Audio Ultimate Outlet that are all connected to hospital-grade outlets. I have also upgraded the power cords to my equipment, with products from Audio Art and Transparent. I believe that using high-quality interconnects and power cords is essential to good sound.
Nowhere was the effect of this philosophy more apparent than with the Xindak CD player. While the supplied power cord will do the job, an upgraded cord is a must. What I heard was like night and day. With the supplied cord, the sound was a little unfocused and seemed a bit constricted. While the soundstage was fairly believable with the supplied cord, I noticed a sizable difference when I used my Transparent Powerlink Super power cord with the player. The sound really opened up and became richer.
Associated Equipment
Loudspeakers – Magnepan MG1.6.
Amplifier – PS Audio HCA-2.
Preamplifier – PS Audio 6.1.
Digital – Audio Refinement Complete and Cambridge Audio 840C CD players.
Analog – Moth Audio Alamo X turntable with Moth Audio Mk 3 tonearm and Goldring 1042 cartridge, Linn Basik turntable with Linn Akito tonearm and Linn K5 cartridge, Pro-Ject Phono Box SE phono stage.
Interconnects – Audio Art ICE-3.
Speaker cables – Audio Art SC-5.
Accessories – PS Audio Ultimate Outlet, Bybee Quantum AC Filter, Bybee Slipstream filters, Custom myrtle support cubes.
This unit is one of the most sensitive pieces of equipment with regard to how good, clean power can improve performance that I've encountered. Because the unit I received was brand new, I ran the Muse Deluxe 1.0 for over 100 hours to allow it to break in before sitting down to take a good listen. I also encountered an operational quirk: Although the player read and played most of the CDs I fed it, there were times that it would just not read some of my favorite discs, no matter what I did.
My initial impression via the tube outputs was that the unit's presentation was warm with a very believable soundstage. The tube analog output stage definitely helped to round out the sound, presenting an enjoyable, comfortable midrange. When listening to the solid-state RCA outputs, I found the unit to be a bit antiseptic and not very engaging. I can't imagine that the XLR outputs would have sounded much better, given that the player doesn't offer truly balanced circuitry. I listened to the tube outputs for most of the review period, because I believed they offered the best sonics. In this configuration, the unit excelled in the presentation of much of the vocal and acoustic selections that I played.
I began serious evaluation of the Muse Deluxe 1.0 with music from Luciano Pavarotti, one of my favorite tenors of the modern era. In Primo Tenore (London, 417713-2), Pavarotti performs "Che gelida manina" from Puccini's La Bohčme with the New Philharmonia Orchestra. On the Muse Deluxe 1.0, his voice had its characteristically ringing, bright quality. It was not forward or overbearing, as I have painfully heard on several other systems. The Xindak CD player was a bit reserved and warm. The unit sounded quite realistic and musical; the orchestra in this recording had a sound that was full and rich with a good sense of presence.
Next, I moved on to a recording by Ellis and Wynton Marsalis of music from the Peanuts series called Joe Cool's Blues (Columbia CK66880). On "Peppermint Patty," I was introduced to what were to be two of the strengths of the Xindak CD player. Each instrument of the trio (piano, bass and drums) sounded accurate, and the unit conveyed the music of this intimate acoustic setting with a clear soundstage. The music was both warm and rich, which served to enhance the playful interplay between the players and their instruments. To round out my acoustic sessions, I chose Women of Latin America (Putumayo PUT228-2) to give the unit a little more meaty acoustic music that it could chew up. On this album, Tania Libertad sings an Afro-Peruvian tune called "Anda Mareado," which calls for a good deal of Afro-percussion and cajón along with strong vocals. Here the Xindak CD player held the bass line together in tight fashion, and the snap of the percussion instruments was very natural. Again, the sound was clean, clear and warm without any grain or harshness.
At this point, I switched back to the solid-state outputs to listen to them again, but the comfort that I had found with the tube output stage was immediately lost in the unit's fully solid-state sound. The warmth was not there, and the perceived musicality that I had grown to enjoy also vanished. What was left was a dryer version of what I had previously heard.
When given more challenging music that included driving percussion, electric guitar and rhythm that naturally demanded quicker responses, the Muse Deluxe 1.0 was right on top of it, with an accurate reading of the content of several of the discs that I played. On "Burning Down the House" from Talking Heads' Speaking in Tongues (Sire CD23883), the guitar-and-percussion intro was right on target and sounded just how I would have imagined it would have sounded in the studio. The bass again was warm and tight; it sometimes becomes muddy with much of the tube gear that I have heard. This tightness is a very good quality for a modestly priced unit; however, when it came to the higher frequency regions, while the Muse Deluxe 1.0 was respectable, it could have used just a bit more clarity and focus -- the sort of tightness, perhaps, that it displayed in the bass, which would have given the entire presentation greater precision.
All in all, the Muse Deluxe 1.0 turned in a solid performance. It targets the value-conscious consumer in a crowded field of mid-priced players, and it manages to hold its own.
Bring on the competition
One of the most difficult things for a reviewer to accomplish can be establishing a relevant head-to-head comparison of comparably priced products. Each has its own strengths and weaknesses, and their makers have their own design philosophies, putting their best foot forward to offer a satisfying experience. When faced with qualitative equals, it's difficult to delineate one from the other.
And yet we try. The Cambridge Audio 840C ($1499) is on the cutting edge of the digital world with advanced technology that employs highly sophisticated Adaptive Time Filtering (ATF) asynchronous upsampling DACs developed by Cambridge Audio in partnership with Anagram Technologies of Switzerland. The ATF system interpolates 16-bit/44.1 kHz CD data to 24-bit/384kHz data through the use of a 32-bit Analog Devices Black-Fin DSP. This provides information to two 24-bit/384kHz DACs from the same company in a dual-differential circuit. Each channel also has completely separate analog-filter circuitry, and the unit's design and layout are symmetrical. I chose the 840C as my comparison point, because both it and the Xindak Muse Deluxe 1.0 are manufactured in China and, of course, are similar in price.
The first recording that went into rotation was The Sky is Crying (Epic EK547390) by blues master Stevie Ray Vaughan. "Chitlins Con Carne" presents an aural palette that includes electric guitar, electric bass and drums -- nothing unusual. I was interested in hearing how both units handled imaging and detail retrieval with this recording. The Muse Deluxe 1.0 sounded detailed but a bit reserved, presenting an enjoyable and relaxed performance. It was laid-back and smooth -- perhaps a bit too smooth with this cut for my tastes. When I placed the same CD in the Cambridge Audio 840C, it was obvious that I was dealing with a totally different animal. The instrumental detail and the imaging were fiercely accurate, almost as if the musicians were playing right there in front of me. Where the Muse Deluxe 1.0 was polite and well-mannered, the Cambridge Audio 840C tore into the music with fire and complete commitment.
Next on my list was Sarah McLachlan's Fumbling Towards Ecstasy (Arista 18725-2), an album that uses a good deal of electronica and highlights her extremely wide vocal range. On the cut "Fear," she sings in what is probably the top of her vocal range. On this tune, the Muse Deluxe 1.0 turned in a strong performance, with detail retrieval that cleanly separated all the musical components of the tune. It also sounded very even and exhibited good tonal balance. I did, however, find that there was a little bit of sizzle missing from McLachlan's upper register. Turning back to the Cambridge Audio 840C, the higher frequencies of her stratospheric soprano were as clear as a bell with a "no holds barred," faithful reproduction reminiscent of the many times that I have heard McLachlan in live performance.
Finally, I turned to one of my favorite dramatic mezzo-sopranos performing a classic aria from Cavalleria Rusticana. In The Art of the Dramatic Mezzo-Soprano (Telarc CD-80557), Dolora Zajick performs some of the most beloved arias with the Royal Philharmonic Orchestra. This CD is well produced and well recorded and is a fitting ending to this duel between two formidable CD players. This time, I began with the Cambridge Audio 840C and was immediately drawn into the music and performance through the unit's captivatingly wide soundstage. "Voi lo sapete" was four minutes of sonic bliss, which I again found remarkably accurate compared to the several occasions that I have heard Zajick perform this aria live. The Muse Deluxe 1.0 sounded similar to the 840C in many ways, but it was also more conservative and relaxed, reducing the impact of Zajick's voice.
There is no doubt that these are both good CD players, but their sonic signatures and objectives are completely different to my ears -- and to yours as well, I would bet.
Some final thoughts
The Xindak Muse Deluxe 1.0's performance is quite good -- best via its tube outputs. Its delivery is a bit reserved, never pushing the envelope of dynamic range, yet it has a solid soundstage and reproduces the music in a believable way. It has a warm, refined sound, and for those listeners seeking a more subtle and relaxed presentation, it may be absolutely ideal. From a price standpoint, the Muse Deluxe 1.0 represents good value, and is worth auditioning if for no other reason than to determine if the tube outputs present the right sound for you.
...Alfred Fredel
alfredf@soundstage.com
Xindak Muse Deluxe 1.0 CD Player
Price: $1250 USD.
Warranty: One year parts and labor.

Chengdu Xindak Co. LTD
No. 126, Section 2, East 1 Round
Chengdu, Sichuan, China
Phone/Fax: +86 (28) 84711993

Website: www.xindak.com

US distributor
Lotus Audio Import
230 Madison St.
Oakland, CA 94607
Phone: (510) 759 - 4865

E-mail: Lotus.Audio@Yahoo.com
Website: www.lotusaudioimport.com