December 2008
Wadia Digital 581ise CD/SACD Player
by Uday Reddy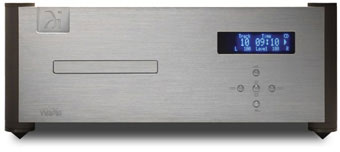 Review Summary
| | |
| --- | --- |
| Sound | "The first thing I noticed was the midbass reproduction, particularly the reproduction of the kick drum, which was tight and focused via the 581ise. The overall sound was smooth, with no evidence of any digital artifacts -- a good start." "In addition to the expansion of the soundstage and realistic re-creation of the venue, the 581ise excelled at conveying the dynamic contrasts and forceful impact that make symphonic music so engaging." "The 581ise's overall strength lay in the reproduction of live or minimally miked recordings." |
| | |
| --- | --- |
| Features | "The Wadia 581ise uses a number of proprietary innovations, including updated versions of Wadia's renowned DigiMaster decoding and upsampling software (no off-the-shelf DACs for Wadia), RocLock and Clocklink jitter-reduction technology, and Swift-Current zero-feedback current-to-voltage converter. The Direct-Connect system puts the 'i' in 581ise, providing digital volume control and allowing the user to bypass the preamplifier and drive the amplifier directly, eliminating one stage of electronics that could degrade the signal." "The fully balanced 581ise also has three user-selectable digital algorithms for optimizing sonic performance." |
| | |
| --- | --- |
| Use | "Once the unit was broken in, I experimented with the different processing algorithms to determine which sounded best. For 88.2kHz, 96kHz and DSD source material, Wadia's DigiMaster v2.5 software is implemented.... In use, I honestly didn't notice much of a difference among the different algorithms, so I listened via algorithm A, which was the default setting." |
| | |
| --- | --- |
| Value | "The $11,000 and change that the Wadia 581ise costs is a lot of money at any point in time, not just in these times of economic downturn. But consider what you get for your outlay: over 20 years of state-of-the-art digital design prowess, vault-like construction, remote control with digital volume control, and a commitment to future-proof upgrades regardless of what technologies are yet to come." |
Unlike so many audiophiles, I gladly traded up to CD from LP 20 years ago. Granted, digital sound wasn't perfect, but neither was analog, although, compared to early CDs, vinyl had the more involving sound. However, with the steady improvements in computing power and digital-to-analog conversion, digital formats are approaching the analog ideal. When I purchased my Wadia 830 CD player in 2000, high-resolution formats were on the horizon, but a format war was brewing. Therefore, like many others, I sat on the sidelines awaiting a winner. Although SACD triumphed over DVD-A, there's been no mass-market penetration and little major-label support for it, but it's just as well, as the average listener is content to listen to MP3 files on an iPod.

For audiophiles, however, SACD represents an embarrassment of riches with substantial hardware support and continued software releases and reissues in both two-channel and multichannel formats from independent labels and some major labels, particularly in terms of jazz and classical music. Until Blu-ray audio or high-resolution downloads become widely available (don't hold your breath), SACD is it.

So it was with great anticipation that I looked forward to using and writing about the Wadia 581ise ($11,450 USD). I've been a Wadia partisan for the last eight years, and there are few companies that have had the kind of track record that Wadia has had over the past 20 years, which includes being the first company to produce an outboard DAC, to recognize clock jitter as distortion, to offer a digital volume control, and to develop audio-optimized upsampling.

The Wadia 581ise uses a number of proprietary innovations, including updated versions of Wadia's renowned DigiMaster decoding and upsampling software (no off-the-shelf DACs for Wadia), RocLock and Clocklink jitter-reduction technology, and Swift-Current zero-feedback current-to-voltage converter. The Direct-Connect system puts the "i" in 581ise, providing digital volume control and allowing the user to bypass the preamplifier and drive the amplifier directly, eliminating one stage of electronics that could degrade the signal. Unlike other manufacturers, Wadia uses a proprietary DSD-processing algorithm at the final stage of output for SACD. Having 24-bit resolution, this converts the signal from DSD to PCM, based upon Wadia's belief that this generates phase-perfect and bit-accurate SACD playback, resulting in a more faithful reproduction of the recording. The fully balanced 581ise also has three user-selectable digital algorithms for optimizing sonic performance.

The 581ise measures 7 1/4"H x 17"W x 16 1/2"D. While sharing nearly the same footprint as my 830, it's twice as high. Its machined-aluminum chassis is perhaps the main reason it weighs in 55 pounds. The external finish is available in either anodized black or silver. At each corner is a supporting column with an isolation cone at the base. Four discs are supplied to protect the finish of the underlying furniture. As this is the "se" version of the 581i (now discontinued), in addition to the analog RCA and XLR outputs, there are also digital inputs and outputs for AT&T glass-fiber, S/PDIF, TosLink and AES/EBU connections.

Included with the 581ise is a machined-aluminum remote that replicates most of the functions on my 830's remote in a lighter and more compact package. In addition to the standard playback functions, the remote also has volume control (50dB in 100 0.5dB steps) if driving the amplifier directly, and with it you can adjust balance, invert phase, select between the CD and SACD layers of hybrid discs and select the different digital algorithms.

Settling in

The 581ise that I received came from Wadia straight from the factory and had no playing time on it. Unlike loudspeakers, which I've found to require significant break-in time, electronics usually settle in rather quickly. Not so with the 581ise. Straight out of the box, the sound with both CD and SACD was thin, brittle and uninvolving and really didn't begin to shape up for more than a month.

Once the unit was broken in, I experimented with the different processing algorithms to determine which sounded best. For 88.2kHz, 96kHz and DSD source material, Wadia's DigiMaster v2.5 software is implemented. However with 44.1kHz and 48kHz sources, there are three algorithms to choose from. Algorithm A is DigiMaster v2.5, while algorithm B is said to provide a more extended top end. Algorithm C, while said to have the same extended top end as algorithm B, is billed as having a more relaxed presentation. In use, I honestly didn't notice much of a difference among the various algorithms, so I listened via algorithm A, which was the default setting.

Other than the prolonged break-in time, there were two other minor issues. First, like other CD/SACD players, disc loading times were longer with the 581ise than with my 830 or other CD-only players. Second, switching between the CD and SACD layers cannot be done on the fly, making A/B comparisons more difficult. You have to stop the disc, switch layers, then listen again.

Listening

After giving the 581ise ample playing time, I began my evaluation with my usual mix of jazz and rock CDs. The first thing I noticed was the midbass reproduction, particularly the reproduction of the kick drum, which was tight and focused via the 581ise. The overall sound was smooth, with no evidence of any digital artifacts -- a good start.

However, after switching genres to classical music, the strengths of the 581ise became markedly apparent. The first disc I played was a CD of Tchaikovsky's ballets suites conducted by Herbert von Karajan (Decca 289 466 379-2). While beautifully played, this music has always sounded somewhat dark and murky in tone via my Wadia 830, but via the 581ise it was as if the entire sonic image had been scrubbed clean, with the murkiness replaced by a crystal-clear tone. I don't want to sound like an audio geek obsessing about recorded artifacts, but hearing the musicians turning the pages of their scores sounded so holographic that it was easy to suspend disbelief and imagine that I was there in the hall. More impressive was the depth and width of the soundstage, which helped give an accurate sonic picture of the Sofiensaal, capturing its natural reverb beautifully. I've written previously of the limitations of my current listening space, which, given its small volume, restricts the size and depth of the soundstage. With the 581ise, it was easy to forget these limitations because of the player's front-and-center perspective, and this was a quality I experienced with every classical disc I played.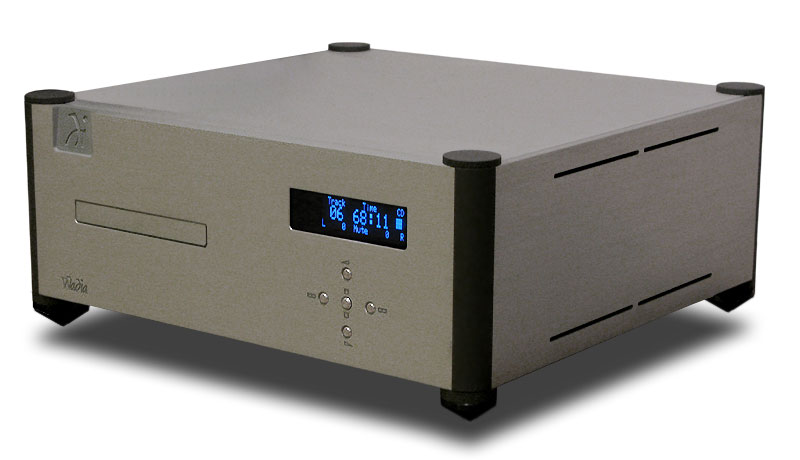 In addition to the expansion of the soundstage and realistic re-creation of the venue, the 581ise excelled at conveying the dynamic contrasts and forceful impact that make symphonic music so engaging. The deep-bass intro to John Williams' score for Jurassic Park on CD (MCA MCAD-10859) was so powerful that it felt as if I had a subwoofer in the system. Moreover, the lush and harmonically dense overture had layers of sound that seemed to wash over the room in waves of music that were majestic yet never overwhelming.
One recording I've cherished is the live performance of Frank Zappa's The Yellow Shark (Rykodisc RCD 40560). Having been a fan of Zappa since high school, I had purchased this CD because it had been recommended as a sonic spectacular useful for evaluating components. Indeed, sonically it is spectacular, but it was never more than a musical curiosity for me, and I never really understood it. Therefore, I ended up using it to test the resolving power of components, never listening to it for sheer enjoyment. With the 581ise, works such as the soaring, anthem-like "Dog Breath Variations" and the furiously played "G-Spot Tornado" (I'm not making this stuff up) kept me in rapt attention from the beginning, instead of fading into background music. I now definitely understand this recording.
Having noted such acute reproduction of symphonic music with the 581ise, I went back to listening to some jazz, pulling out the Miles Davis/Gil Evans collaborations of the late '50s and early '60s. On the remastered Miles Ahead CD (Columbia/Legacy CK 65121), Davis plays with a 19-piece orchestra, and the re-creation of the soundstage and the studio's sound were outstanding, comparable to what I was experiencing with symphonic music. Even small-scale jazz ensembles, such as that captured on the Bill Evans at Town Hall CD (Verve UCCU-5100), demonstrated similar qualities, but to a smaller degree. These qualities were less noticeable with multi-miked jazz and rock'n'roll recordings, which, by the nature of their recording and production, have less of a studio or hall feel.
My previous exposure to SACD was confined to demos at hi-fi shops and audio shows in less-than-ideal settings, so I wasn't sure what to expect in my own room. Indeed, with jazz and rock SACDs, the sound was lively and engaging, with improvement in soundstaging but no apparent improvement in overall resolution, except for ABKCO-era Rolling Stones hybrid discs, which represented a significant improvement over the original 1980s CD releases. Although the sound was far from disappointing -- quite excellent, in fact -- I was left with a nagging "That's it?" in the back of my mind. In light of the reviews I've read of SACD hardware and software over years, I was more than a little let down, feeling like a victim of hyperbole.
Associated Equipment
Loudspeakers – Wilson Audio Sophia.
Integrated amplifier – Jeff Rowland Design Concentra, Luxman L-509u.
Digital – Wadia 830 CD player.
Interconnects – Transparent Audio Ultra MusicLink, Nordost Frey.
Speaker cables – Transparent Audio Ultra MusicLink.
Accessories – Audio Power Industries Power Pack II.
Although I didn't have any SACDs of classical music on hand, after hearing the 581ise handle this genre on CD so superbly, I went out and purchased an RCA Red Seal Living Stereo reissue of Van Cliburn performing Tchaikovsky's Piano Concerto No. 1 and Rachmaninoff's Piano Concerto No. 2 (BMG 82876-61392). Comparison of the two layers revealed subtle but noticeable differences in terms of the re-creation of the hall's signature sound, though they weren't huge, the SACD layer showing increased depth and width. However, with regard to resolution, the SACD layer was clearly superior. Strings had more bite and vibrato, and the lower registers of Cliburn's piano had more resonance. These details, combined with an already superb reproduction of the soundstage, created solid, three-dimensional aural images that added to the illusion of being present at the performance.
Having experienced the improvement in SACD over CD with classical music, with those impressions in mind, I revisited the other recordings that I had listened to earlier but had found lacking. One thing I noticed was that the benefits of SACD were more noticeable in live performances rather than in studio recordings. On 4 Generations of Miles (Chesky SACD243), the already excellent-sounding CD layer's soundstage was less deep and the sonic images less focused. With SACD, on "All Blues," George Coleman's sax floated front and center, while Mike Stern's guitar shimmered gently to the left and, just behind Coleman, Ron Carter's bass and Jimmy Cobb's drums solidly anchored the back end of the soundstage, whereas with the CD layer, the players were less distinct and harder to place within the soundscape. While not as dramatic a difference as I noticed with classical music, via SACD the 581ise stripped away the layers separating me from the live event. Conversely, with Pilgrimage (Heads Up HUSA 9095), Michael Brecker's final recording before his untimely death in 2007, improvements in overall resolution and soundstage width and depth were impossible for me to distinguish when comparing the CD layer to the SACD layer, confirming my initial impression that the 581ise's overall strength lay in the reproduction of live or minimally miked recordings.
Sonically, the only faults I found with the 581ise were a slight analytical character, which manifested itself as excess treble energy, and an overall cool sonic signature. However, late in the review period, a Luxman L-509u integrated amplifier arrived and out of curiosity I connected the 581ise to it. Ahhh, much better. The coolness remained, but the analytical nature was completely gone, and an analog-like warmth that I had come to expect based upon my experience with my Wadia 830 was back.
It was with the Luxman integrated, which has a preamp input, that I was able to test the 581ise's digital volume control. Wow, what a difference this made. On "Heather" from Live At Yoshi's Vol. 1 by Jessica Williams (MaxJazz MXJ 210), with the preamp out of the way, the background was more black, sonic images more three-dimensional, and the song had more emotional and physical weight, particularly at the bottom end, than I'd previously experienced. The Van Cliburn Tchaikovsky/Rachmaninoff SACD not only had greater bottom-end weight, but also had the scrim of 46+ years seemingly pulled off it, so that it sounded more like a modern recording. I never imagined that I would hear such a dramatic improvement, and I am now an ardent convert to the advantages of Wadia's digital volume control. At some point, I will replace my Rowland integrated with either a standalone amplifier or an integrated amp with a preamp input, so that I can take advantage of my Wadia 830's digital volume control.
Sibling rivalry
My Wadia 830 ($3500 when still available) has aged very well over the past eight years, and although it's no longer available, its performance still exceeds that of many newer models from other manufacturers. So how does it compare to its younger sibling? Although the 830 does not play SACDs, I did compare its CD performance to that of the 581ise. Soundstaging was wider and deeper with the 581ise, as I would have expected, but the most noticeable distinction was tonal, especially with regard to bass. The midbass and lower bass were less tight and punchy via the 830. On Marcus (Concord Jazz CCD-30264), Marcus Miller covers a tune he first played with Miles Davis almost 30 years ago, "Jean Pierre." On this track, via the 581ise, his plucks and slaps of the strings had more impact, whereas with the 830 this quality was more muted, especially with regard to the resonance of the strings.
Treble reproduction was more of a toss up. Highs were more detailed via the 581ise, with more of a crystalline sparkle, but they were never edgy. Through the 830, the top end sounded almost softened or burnished, but never dull. Perhaps this is why the 581ise did not mate as well with my Jeff Rowland Concentra integrated, the 830's top end giving it an advantage with regard to warmth. Paired with the Luxman integrated, this was a non-issue, and the 581ise bettered the 830 in every way, with no qualifications necessary.
Too bad I still didn't have the Esoteric A-100 integrated around. I'd have loved to listen to the 581ise with a tube integrated amp. But even with the pair of solid-state integrateds I did have, the Wadia 581ise acquitted itself very well.
Conclusion
The $11,000 and change that the Wadia 581ise costs is a lot of money any day, not just in these times of economic downturn. But consider what you get for your outlay: over 20 years of state-of-the-art digital design prowess, vault-like construction, remote control with digital volume control, and a commitment to future-proof upgrades regardless of what technologies are yet to come. (There's even an upgrade to my 830!) With SACD, digital reproduction has advanced to the point that many of the complaints about it have been resolved, and the 581ise handles SACD beautifully. However, the 581ise is worth its price for its reproduction of music on CD alone. The rest is just gravy on top of an already outstanding meal.
...Uday Reddy
uday@soundstage.com
Wadia Digital 581ise CD/SACD Player
Price: $11,450 USD.
Warranty: Five years parts and labor; one year on transport mechanism.

Wadia Digital
1556 Woodland Drive
Saline, MI 48176
Phone: (734) 786-9611
Fax: (734) 786-0163

E-mail: sales@wadia.com
Website: www.wadia.com