November 2009
TEAC AG-H600NT Stereo Receiver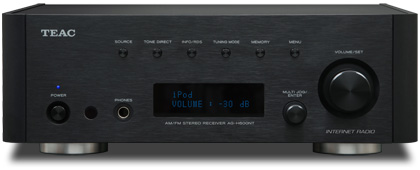 If, today, I were asked to design a stereo receiver (assuming I had the requisite knowledge and skills, which I don't), I'd at first think such a request downright loopy. I mean, isn't a receiver one of those throwback devices that no one uses anymore, having years ago been superseded as a source of sonic bliss by the iPod and the computer? Next I'd be told that people still spin vinyl . . . and buy CDs . . . and . . .
Wait a minute. People still do those things, and they still listen to radio. Based on this alone, receivers should not be out of fashion. And I suspect that, for a whole generation of music lovers who expect to be able to carry entire music collections in a pocket of their Abercrombies, the all-around compactness (if not portability) of a receiver has a better chance of integrating itself into that lifestyle than do most other components. So it's back to the future, right? After spending some enjoyable time with TEAC's latest take on the modern receiver, I'd have to say, Yes indeed!
Description
Perhaps best known historically for its reel-to-reel and audio-cassette tape recorders, TEAC America is one of a group of related companies owned by the Japanese firm TEAC Corp., and which include TASCAM, makers of pro-audio equipment, and the Esoteric brand of perfectionist audio components. The AG-H600NT and the matching PD-H600 CD player are TEAC's flagship products, occupying the top of their Reference range. "Top" in this case carries a retail price of $1499 USD, but as you'll see, the combination of build quality, overall sophistication, and features means the AG-H600NT is a very good value.
That value is first apparent in the seeing and the touching. This is one elegant example of industrial design. The lack of visible screws on the side and top plates, along with the resonance-free fit of the anodized-aluminum casework, give the convincing impression that the AG-H600NT is much more expensive than it is. And while 15 pounds may not seem that much on paper, when combined with the receiver's compact dimensions (11.4"W x 4"H x 12.6"D), the impression given is one of solid heft. More goodness is to be found in the connectors, which are, for the most part, of the gold-plated variety; the five-way speaker terminals are especially nice, well-spaced, chunky affairs.
It's obvious that TEAC spent time on the user interface, which made the AG-H600NT a genuine pleasure to operate. The seven buttons and two knobs (all metal, and nicely machined) on the front panel grant access to most of what the H600NT can do, but you'll find that the main control panel is on the well-organized and well-constructed remote control. In fact, the only things you can't control with the remote are the channel balance and the three-band tone control; for those, you need the multifunction volume knob. I wish that these, too, were adjustable from my listening seat, but I suppose one can't have everything. In a nod to purist aspirations, preset tone and balance settings can be disengaged with a touch of the Tone Direct button, which also shuts down the LED display, thus eliminating the possibility of noise from that circuit contaminating the audio signal.
What else do you get for your 1500 clams? This being the 21st century, the AG-H600NT provides not only FM and AM reception but also, as it says right there on the faceplate, Internet Radio. Free radio is the game here; the TEAC can't directly receive subscription satellite radio, such as XM/Sirius, although these services are also available online. Access to the Web, by the way, is through either an Ethernet connection or wireless WLAN (aerial provided). More goodies include an interface with TEAC's optional DS-20 iPod docking station ($49.95), RCA inputs for a moving-magnet cartridge, two more pairs of line-level inputs, and a single pair of line-out jacks. A 1/4" headphone jack is on the front panel.
With so many features in such a small package, the AG-H600NT still has useful speaker-driving grunt. Thanks to an efficient class-D amplifier, TEAC (narrowly) specs the H600NT at 75W into 8 ohms at 1kHz and 0.5% THD. If that distortion figure looks too high to you, TEAC publishes another THD spec: "0.05% (8 ohms, 1kHz, 40W)." Although there are no ventilation holes anywhere on the case, TEAC advises that nothing be placed atop the AG-H600NT. However, during the time I had it in my system (July and August), the top plate never grew more than slightly warm to the touch.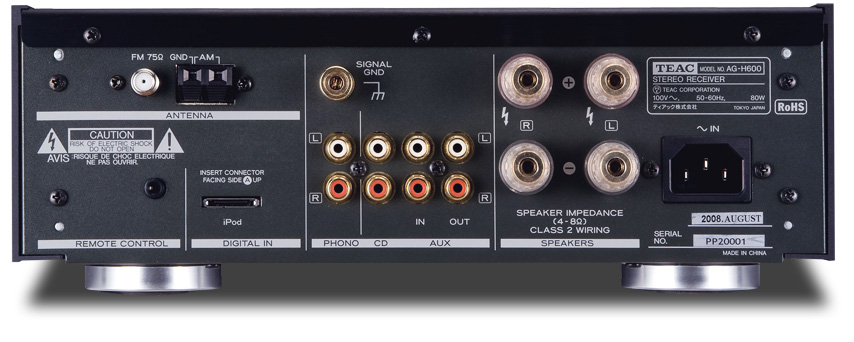 System
The AG-H600NT shared shelf time with my NAD C 325BEE integrated amplifier (50Wpc into 8 ohms) driving Snell E II floorstanding speakers through Kimber Kable KWIK 12-gauge speaker cables. The 8-ohm, 93dB-sensitive Snells should be a very easy drive for any amplifier. Unfortunately, my Totem Acoustic Model Ones had "left the building," so to give the TEAC a more challenging load, I hooked up the Aperion Audio Intimus 4T speakers, which are rated at 6 ohms and 86dB sensitivity. Source signals were passed through Kimber PBJ interconnects from my vintage Kenwood KT-8300 tuner, almost-vintage Rotel RDD-980 CD transport and Meridian 203 DAC, and VPI HW-19 Jr. turntable with AudioQuest tonearm, Shure V 15 V-MR cartridge, and Bellari VP129 phono stage. Headphones were Sennheiser HD 600s. For FM reception I used an omnidirectional whip antenna mounted about 25' above the ground. All electronics were plugged into hospital-grade receptacles on a dedicated 20A circuit. My wood-framed listening room measures 15'L x 12'W x 8'H and has two large archway openings in adjoining walls.
Use and listening
Like peeling an onion, one must strip away the many layers of functionality to get a grip on a receiver's basic sound. Using the TEAC AG-H600NT as an integrated amplifier to drive signals from my CD rig, my overall impression was of a dry, fairly lean sound that served some recordings better than others. Paul McCartney's driving eighth notes on "Get Back," from the Beatles' 1 (CD, Capitol CDP 5 29225 2), may have been the most primitive bass line he ever played, but it's fun to hear him jump the octaves while providing the song's low-end propulsion. The TEAC pulled back on this a bit, stressing more the quarter notes of John Lennon's rhythm guitar and Ringo's shuffle riff on the snare drum. I was able to get some of the low end back by turning up the bass tone control, though that meant turning off the Tone Direct feature. The results were about the same when I connected the much smaller, less-efficient Intimus 4Ts. The Beatles are one thing; if Sir Paul's bass isn't completely up-front and center, the rest of the band isn't exactly a chore to listen to. But how about music that absolutely must have a solid bass foundation in order to jell?
For a time, Astrud Gilberto was the "it" girl of the 1960s bossa nova craze. Having never performed professionally, she was asked to sing "The Girl from Ipanema" on an album her husband, Joćo Gilberto, made with Stan Getz. That record became legend and she found herself with a major singing career, whether or not she was up to it. Still, with Gil Evans as arranger and conductor, her 1966 album, Look to the Rainbow (Verve 821-556-2), is one of my favorites; the arrangements are wonderfully inventive and swing like mad, and once you hear Astrud, it's pretty easy to see why she was such the thing. With that sexy-Brazilian-girlfriend voice thing goin' on, she must have driven men wild back then (and probably still does). On the other hand, if such things as pitch and rhythm are important to you, she may drive you crazy in another way. The liberties she takes in this regard are really astounding, but for it to work (and it does), the swinging low end of the backing band must be present and accounted for. The AG-H600NT got most of it, but with a greater focus on the singer than I'm used to hearing.
Real singers [ahem] fared much better. The TEAC's presentation of Dusty Springfield singing "The Look of Love," from the Casino Royale soundtrack (CD, Varčse Sarabande 302-066-409-2), was breathtakingly intimate and in-the-room-with-me realistic. Indeed, I could not have asked for better resolution. And although Sting's QSound-enhanced The Soul Cages (CD, A&M 6405-2) sounded flatter than I'm used to hearing through my reference amp, his mandolin playing on "All This Time" jumped out of the mix in a way he probably intended yet had escaped me till now. There was also a good lock on Dominic Miller's superbly played rhythm guitar. I'm happy to be able to write that last bit; out of the box, rhythm basically eluded the 600NT. Give it at least a couple of weeks' run-in time before doing any critical listening.
The tuner section was as user-friendly as I could have wanted. Stations can be found either manually or with the Auto Tune feature, and you can preset up to 30 each of your FM and AM favorites. Of course, your mileage may vary, but from my location in the New York metropolitan area Auto Tune found 50 FM and 16 AM stations (I used the included indoor AM antenna). The TEAC's FM reception was very quiet, in some cases bettering my Kenwood's (plugged into the TEAC's auxiliary input), although the KT-8300 is probably due for a realignment. Listening through the Kenwood to a WQXR broadcast of Mahler's Symphony No.1, with Claudio Abbado conducting the Lucerne Festival Orchestra, let me hear with little effort that it was indeed a live performance taking place in a hall filled with people. This was not so obvious through the TEAC. Keep in mind, however, that the TEAC absolutely trumped the Kenwood in such areas as user controllability and lack of station drift.
Switching out the Kenwood for my Bellari VP129, I began to explore the AG-H600NT's own phono stage. "Five Years," from David Bowie's The Rise and Fall of Ziggy Stardust and the Spiders from Mars (LP, RCA AYL1-3843), sounded good, but the outboard, tube-amplified Bellari made the music flow more, and was able to better reproduce a three-dimensional, full-bodied sound. A later and very fine pop recording is Tracy Chapman's eponymous debut album (LP, Elektra 60774-1). Chapman's voice was a wee bit "shouty" on "Talkin' 'Bout a Revolution," while the familiar three-dimensional soundstage was somewhat flattened. Overall, I recommend that the AG-H600NT owner use and enjoy the built-in phono stage until finances allow for a good outboard unit to be patched into the auxiliary inputs. Headphone listening was good, and the optional iPod dock worked as advertised, allowing me to fully access all music files with the receiver's remote control.
By far the biggest kick I got out of the AG-H600NT was its Internet Radio feature. TEAC says that over 12,000 Internet Radio stations are now available; if, like me, you find that number a bit intimidating, you'll be somewhat soothed to know that one can navigate easily by station name, location, genre, or popularity. You can also search for podcasts, as well as for new stations that have recently joined the ever-growing ranks of Internet Radio. You can also, as with FM and AM stations, make a list of favorites with the AG-H600NT directly, or set up an account with an Internet Radio portal and organize and list your favorites there. The TEAC will be able to communicate with the portal as soon as you give it the receiver's access code, as is fully explained in the owner's manual. I thought the fidelity was pretty close to the best FM broadcasts, and, unlike when I listen through my PC, I never once experienced a dropout or other streaming glitches.
With the TEAC PD-H600 CD player
The day after I received the AG-H600NT, TEAC sent me their matching PD-H600 CD player ($999) and suggested I listen to them together, as they were designed to complement each other -- visually, functionally, and, most important, sonically. I'm working on a full-blown review of the CD player, but for now, I'll just say that it matched the receiver in build quality and in some of its purist features, such as the ability to turn off the LED display. The remote control, which looks exactly like the receiver's, initially vexed me -- I kept picking up the wrong one. Then I did what I was supposed to do: I connected the units with the included system-control cable, which allowed me to control both with the receiver's remote.
It took some looking to find material that revealed a distinct difference between my digital rig and the PD-H600 played through the receiver. I don't know yet whether there was some inter-component magic going on, or if the PD-H600 was simply a superior CD player (I suspect a little of each), but I did hear a more distinct, less muddy double bass on Schubert's "Trout" Quintet with Rudolf Serkin (CD, Sony Classical 5128722). And I don't know if this is a good or a bad thing, but Glenn Gould's "vocals" came through much clearer than I've heard before as he played Bach's Goldberg Variations (CD, Sony Classical/Legacy S3K 87703). Stay tuned for more!
Conclusion
In the AG-H600NT, TEAC America has achieved a quality that, through the years, the best receivers have been famous for: big bang for the buck. While it sets no records in any one area, it does so many things so well that I could see it being the basis of a fine music system, not unlike Fisher's storied receivers back in the day. Indeed, partnered with the matching PD-H600 CD player and a good pair of efficient bookshelf speakers, I could see spending many enjoyable hours marveling at and listening to what TEAC's AG-H600NT can do.
. . . Ron Doering
rond@soundstage.com
TEAC AG-H600NT Stereo Receiver
Price: $1499 USD.
Warranty: One year parts and labor.
TEAC America, Inc.
7733 Telegraph Road
Montebello, CA 90640
Phone: (323) 726-0303
E-mail: av-tsc-ip-sales@teac.com
Website: www.teac.com