June 2010
Tannoy Definition DC8 Loudspeakers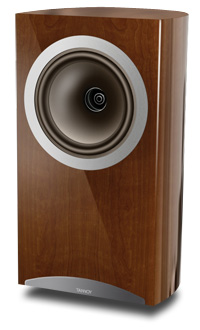 Because the hi-fi world is in a constant state of flux, with new trends and new audio companies emerging all the time, the true test of a company's relevance is its longevity. Few companies have stood the test of time. When you think of classic audio companies, names like Quad and McIntosh instantly jump to mind. Both were founded before 1950, and both still make popular products today. But there's one firm that's older than both.
Tannoy, one of the most respected and best-known names in loudspeaker design, has been making audio products since 1926. In World War II, Tannoy was commissioned by the British War Department to manufacture public-address systems for various military installations. In 1948, the Oxford English Dictionary listed Tannoy as a colloquialism meaning "a public address system." The phrases Tannoy announcement and over the Tannoy are still used today in the UK to indicate announcements made over PA systems.
But these days, competition among speakers makers is fierce. Can a company that has been around for over 80 years develop loudspeaker technologies that can compete in the 21st century?
Enter the Definition DC8
The Definition series, Tannoy's most recently developed range of loudspeakers, is a contemporary-looking line offering, according to Tannoy, "a wealth of high-tech features, innovative materials and cutting-edge processes to enhance the music experience." The company further claims that the Definition line "distills, refines and perfects Tannoy's eight decades of loudspeaker expertise."
There are three Definitions: two full-range and one stand-mount model. My review samples were a pair of DC8 stand-mounts finished in high-gloss cherry ($3600 USD per pair). I was struck by how big the two-way DC8 is (it won't be mistaken for a minimonitor): 18.5"H x 10.7"W x 10.2"D, and weighing 22 pounds. The speaker needs a rigid foundation, and luckily I had a pair of hefty Partington Super Dreadnaught stands to put them on.
I couldn't help but notice the first-rate craftsmanship that has gone into the DC8. The high-gloss finish (black and dark walnut are also available) and metal accents are perfectly crafted, and add a touch of class. Looking modern, with a touch of quiet confidence, the DC8 should blend beautifully into a posh living room or entertaining area. It's a great example of British class and style.
The DC8 uses the latest evolution of Tannoy's Dual Concentric driver. An 8" cone of treated paper pulp handles the midrange and bass duties and is rigidly fastened to the cabinet using Tannoy's Differential Material Technology (DMT). According to them, DMT aids timbral accuracy by firmly coupling driver to cabinet. At the center of the driver is a 25mm WideBand titanium-dome tweeter, driven by a pure neodymium magnet assembly, that kicks in at 1500Hz and extends the response all the way to a claimed 35kHz. The Tannoy designers believe that the human ear can perceive sounds above 20kHz, and that their tweeter makes possible "supremely accurate fine detail resolution of high frequencies but such wide bandwidth capability also effectively enhances the listening experience throughout the entire frequency range. WideBand technology reduces phase error and significantly improves transient performance below 20kHz." Tannoy believes that putting the tweeter at the very center of the drive-unit time-aligns the two drivers, and that this, in turn, allows a pair of such speakers to create a cohesive soundfield that greatly increases accuracy of imaging. This sort of design is difficult to implement, but Tannoy has been doing it a long while now.
A feature unique to the Definition models is their cryogenically treated crossover. Deep Cryogenic Treatment (DCT) is often used to alter the crystal structure of different materials. The most common audio application of DCT is to cables. It is believed that subjecting metals to DCT alters their crystal structure by decreasing internal stresses, which can lead to more efficient signal transfer. It has been argued by many advocates of DCT that the process leads to higher resolution of detail and increases the sound's overall realism. Tannoy subjects its entire crossover assembly to DCT: "Using a proprietary process, the Definition crossover is supercooled to -190 degrees centigrade and thawed over a set time period. This permanently reduces internal stresses in the microstructure of the crossover's component materials, leading to better signal transfer and superior resolution of fine detail." Silver-plated OFC copper is found throughout the DC8. All internal components are connected to biwirable WBT speaker terminals of electroplated brass. A unique fifth speaker terminal can be used to ground the driver chassis, which is supposed to help eliminate RF interference. I didn't use this feature for this review because I lack an adequate way of simultaneously grounding the two speakers.
All of these advanced technologies are housed in an elegantly curved cabinet made of high-quality birch plywood, sourced only from trees grown in cool climates. Tannoy uses such wood for its natural hardness and supposed good acoustical properties. The DC8's curved backside has the benefit of reducing internal reflections and resonances that can muddy the sound. And on the rear of the cabinet is a bass port tuned to 42Hz.
System
My reference system for this review consisted of an Oppo BDP-83 Blu-ray universal player hooked up to a Peachtree Audio Nova integrated amp via unbalanced interconnects from Artisan Silver Cables. Alternatively, I used my HP Pavilion notebook to stream digital files via a Kimber Kable USB cord from a 500GB Western Digital external hard drive. The amplifier was connected to the Tannoys via Monster Cable MCX-2s speaker cables. Power was run through a Lindy power conditioner.
Sound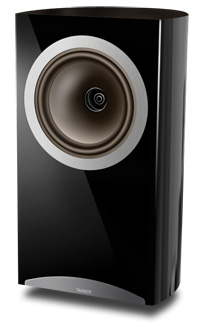 Although my review samples arrived fully broken in, I nonetheless had the Tannoys in my system for about a week's worth of normal use before doing any critical listening. The DC8 is claimed to have a sensitivity of 88dB, and the pair of them were easily driven to high volumes by my 80Wpc amplifier. A few days after receiving them I was sitting at my computer looking for news of the 2010 Consumer Electronics Show, and had music playing in the background. Michael Bublé's version of "Georgia On My Mind," from Crazy Love (CD, Reprise 9362497077), came on, and I couldn't help but stop and listen. The DC8s seemed to make possible that emotional connection with the music that I look for in a speaker. This got me excited about doing some critical listening.
But it took some time to correctly position the Tannoys in my listening room. I had some trouble at first, because the rear port was making the sound bass-heavy. The DC8s definitely needed some room to breathe. I found that placing them about 5' apart and 7' from my listening chair was ideal. They needed 3' of clearance from the front wall to tame the bass port. When all was dialed in, I was presented with a smooth, coherent sound that was tonally consistent from top to bottom of the audioband. The coincident alignment of woofer and tweeter paid dividends in regard to imaging, and in an impressively large soundstage that was high and wide with a great sense of depth. Musicians never sounded small through the DC8s. Instead, they felt life-size, which helped draw me in to each recording. Musicians were clearly presented, each in his or her own space and surrounded by a natural sense of air. It seemed as if the musicians were playing out in front of the loudspeakers. Like most quality stand-mounted speakers, the DC8s performed a good "disappearing" act.
Listening to the Black Crowes' "She Talks to Angels," from Shake Your Money Maker (CD, Columbia 714635), was revealing. This song's great opening, with acoustic guitar, gives me a good first impression of a loudspeaker's tonality, and the Tannoy had no trouble with it: The guitar sounded quite lifelike, its notes decaying naturally, and the DC8 accurately portrayed the instrument's warmth. The guitar's timbre also sounded accurate, indicating the speaker's neutral tonal balance. When Chris Robinson's bluesy vocal chimed in, I was intrigued by its natural warmth and clarity -- the DC8 presented what was on the recording. The speaker sounded neither cold nor overly warm and lush, but had a natural fullness that was inviting. When "She Talks to Angels" got up to speed I was drawn in by the track's rhythm and pace, which were well presented by the Tannoys. The bass was tight and articulate, adding to the blend the right amount of low frequencies to complement the mids and highs.
I then played "Moondance," from The Best of Van Morrison (CD, Polydor/UMGD B000009DDJ). There's a lot going on in this track, which challenges a loudspeaker to sort it out correctly. All of the instruments demand equal attention; an inferior speaker will make "Moondance" sound congested. The DC8s re-created the soundstage terrifically, sorting out the individual sounds nicely. A good sense of air surrounded the instruments, each of which was presented in its own acoustic space with realistic distances between it and the others. This is one of my favorite songs, and the DC8s flexed their muscles by making the piano sound crisp and clear. The double bass was so well defined that I heard subtle nuances in the bass that have escaped lesser speakers. What pulled the entire performance together was Morrison's voice, which had great presence. However, this is also where I pick my only nit: While the DC8s rendered voices clearly, they had a slight tendency to smear when a voice came on strong. Think of the "hall effect," in which you hear a voice echoing off the walls -- this was what happened in the louder vocal sections. This was only marginally noticeable with only some recordings, but nonetheless it was there, and suggested a touch of coloration in the sound.
A huge fan of classic rock, I would have been disappointed had a speaker of this size been unable to handle it. But the DC8s presented rock with adequate power while remaining composed, and they had no trouble keeping pace; song after song, I was impressed by how they pulled me in. When I spun a little of Journey's "Don't Stop Believin,'" from The Essential Journey (CD, Columbia/Legacy 732083), the Tannoys captured the song's energy, and demonstrated that they were capable of a tight bass, a tuneful midrange, and a treble that was smooth but not fatiguing. However, while the treble was clear and extended, after dozens of songs I noticed that the treble sounded slightly rolled off at the top of the audioband. This didn't detract from the sound, however, instead making for a smooth top end, in contrast to some speakers' tendency to sound bright and edgy. It was just a little less crisp when the treble hit its limit. This could make the sound a tad less exciting, but this is a matter of taste. Overall, the DC8 was a little laid-back, and not in any way "in your face." It grabbed my attention with numerous positive attributes, but overt detail wasn't one of them.
Sticking with rock, I played Heart's "Magic Man," from Essential Heart (CD, Columbia B00007E8W2). This track opens with screaming electric guitar, and the DC8s' tweeters obliged by handling the highs with composure. They were able to resolve the subtle nuances of the crashing cymbal and the delicate sound of the chimes. I give the speakers a lot of credit; it's difficult to resolve these types of low-level details during a loud passage. It's also worth noting that this track's shifting vocal dynamics were accurately portrayed -- not an easy task, especially when trying to reproduce a voice as dynamic as Nancy Wilson's.
Comparison
When it came time to compare the Definition DC8 with a similar speaker, I relied on my experience of B&W's 805S, a well-rounded, two-way stand-mount design ($2800/pair, recently discontinued). Like the DC8, the 805S has a clear, smooth midrange that's highly competent with a wide range of music. Where the 805S outshone the DC8 was in its transient speed: The 805S can go from quiet to all-out assault in a flash. The DC8 wasn't sluggish -- it was capable of powerful dynamic swings -- but because the 805S is a touch faster, it had the upper hand in the dynamic-contrast category. Similarly, both speakers have a rich midrange that can captivate me with their realistic renderings of singers and instruments. Each had an out-of-the-box sound that put the musicians in the room with me. Both could retrieve lots of detail, even from loud, complex passages. The 805S, however, had the upper hand in microlevel detail. The B&W's tweeter was capable of resolving more information; the Tannoy's tweeter had a high degree of resolution, but I heard high notes more clearly through the B&W. To my ears, the 805S is the more transparent speaker; little nuances in songs came through more clearly.
The sound of the DC8, on the other hand, could be characterized as smooth and clear. I emphasize smooth because I found the DC8 very inviting. Though not as transparent as the B&W 805S, it was transparent enough to make me feel I was hearing fairly deep into recordings, which took on a warmth and a richness that helped me forget about reviewing. Often, I found myself searching for my favorite records. I didn't mind that the DC8 wasn't as exciting in the highs as the 805S. Alternatively, the DC8's bass punch with rock consistently grabbed my attention. And both speakers had top-notch bass definition. No, neither will shake the paint off the walls the way some full-range floorstanders do, but each made up for this with tight, articulate bass that added cohesion to its overall sound -- an attribute that will endear them to fans of stand-mounted speakers. Overall, your personal taste will determine which you prefer.
Conclusion
I enjoyed my time with the Tannoy Definition DC8. It's highly engineered, beautifully built, and has a well-rounded sound. While I have a few criticisms -- the treble could be a little more extended, the microlevel detail could be more fleshed out, and powerful vocal passages could be a touch clearer -- I was impressed enough that I would recommend it in the future.
Taken as a whole, the DC8 proved itself a high-quality speaker through which I could easily connect with the music. From first note to last, I could sit back and enjoy the performance. The midrange was warm, the treble sweet, the bass tight and articulate. Every speaker has its strengths and its weaknesses, and in the Definition DC8 the former far outweigh the latter. Tannoy has done a great job; they've built a loudspeaker that practically guarantees the company's continued success and longevity.
. . . Kevin Gallucci
keving@soundstagenetwork.com
Tannoy Definition DC8 Loudspeakers
Price: $3600 USD per pair.
Warranty: Five years parts and labor.

Tannoy Ltd. UK
Coatbridge, North Lanarkshire
Scotland ML5 4TF
UK
Phone: +44 (0)1236-420199

E-mail: enquiries@tannoy.com


Website: www.tannoy.co.uk

TC Group Americas
335 Gage Ave., Suite 1
Kitchener, Ontario N2M 5E1
Canada
Phone: (519) 745-1158
Fax: (519) 745-2364

E-mail: info@tcgroup-americas.com