January 2009
Stello DA100 Signature Digital-to-Analog Converter and CDT100 Transport
by Tim Shea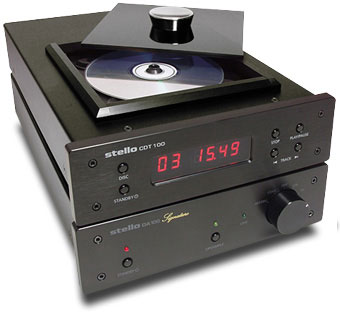 Review Summary
| | |
| --- | --- |
| Sound | "One of the first discs I played was Donald Fagan's Morph the Cat (Reprise 49975), and via 24/192 upsampling, what was immediately apparent was how the sound decoupled itself from the speakers and stretched from wall to wall. In comparison, when I switched back to the other modes the sound became increasingly smaller and more localized between the speakers." Also, "the little things like sibilants and bows scraping on strings seemed better integrated when fully upsampled." "I kept coming back to 24/192 for pure listening enjoyment." |
| | |
| --- | --- |
| Features | The DA100 Signature "sports a custom-designed sixth-order filter and asynchronous sampling-rate converter using proprietary clock circuitry to address jitter, which is claimed to be extremely low." It "will take a native digital input of up to 24 bits and 96kHz and upsample to 24 bits and96kHz or 24 bits and 192kHz at the push of a button." The DAC and transport share five inputs/outputs: "AES/EBU, optical (TosLink), USB, S/PDIF coaxial, and, most notably for audiophiles, I2S." |
| | |
| --- | --- |
| Use | "And what of this vaunted I2S connection? Well, I'd like to tell you it took the experience to a whole new level, but that was not the case.... I suspect that the I2S cable provided was a little more polite-sounding than I would like in the context of my system." "A more eccentric feature is that for the CDT100 to read each new disc's TOC information you need to press the Disc button, otherwise it will continue to report the information from whatever disc was previously under the puck." |
| | |
| --- | --- |
| Value | "To me, the inclusion of I2S indicates that April Music really cares about providing the best sound possible along with high value." |
Musicality. Now there's a word that's overused in audiophile circles. Musicality is one of those things that most of us seem to be able to hear and appreciate, but ask any number of people what it means and you're likely to get as many definitions as people you ask. Why is that? I think the simple answer is that musicality can mean different things to different people depending on their individual preferences, biases, and past experiences with live and recorded music.
So why bring up musicality? Well, it's the word that came to mind when I first heard the Stello DA100 Signature DAC and CDT100 transport in my system. Also, after finally getting around to reading the Stello manuals, I found that it played a prominent design role for these Stello 100-series components. "You'll be amazed how digital sound can be transformed into something musically seductive and emotionally satisfying," say the manuals.
Now, I suspect about a third of audiophiles will read this and think it sounds very intriguing. Another third will have red flags going up, sensing that such emphasis on musicality must mean adding something to the music that isn't there to begin with, or subtracting something that is present. And then there's the last third, who, like me, have a goodly dose of both reactions. Having had the opportunity to review the excellent Stello DP200 preamp/DAC four years ago, I wasn't too concerned because I found that unit to be quite refined and neutral in character. Doug Schneider has also been very positive in his reviews of the various iterations of the Stello DA220 DAC, and both units have earned Reviewers' Choice nods. But the DA100 Signature and CDT100 are part of April Music's entry-level series of downsized components, so it remained to be seen if any necessary cost- or size-cutting efforts affected their performance.
Background and description
For those of you who may be unfamiliar with the company, April Music is based in Seoul, Korea and has been around for ten years. The DA100 Signature ($995 USD) and CDT100 ($895) are siblings to the S100 stereo amplifier and HP100 preamplifier/headphone amplifier as well as a non-Signature version of the DA100, all of which are the same general size and weight. The DA100 Signature weighs a sturdy 8 pounds and measures 8 3/8"W x 2 1/8"H x 11 1/2"D. In addition to its fully discrete, class-A analog output stage and sizable, custom-made 25VA toroidal transformer, the little DAC includes some unexpected tasty bits for its price class, such as WIMA polypropylene capacitors, 1% tolerance metal-film resistors, beefy Cardas RCA connectors, and Neutrik XLR connectors.
The DA100 Signature sports a custom-designed sixth-order filter and asynchronous sampling-rate converter using proprietary clock circuitry to address jitter, which is claimed to be extremely low. It has five inputs, including AES/EBU, optical (TosLink), USB, S/PDIF coaxial, and, most notably for audiophiles, I2S (more on this later). That last connection is one of the main differentiators between the Signature and non-Signature versions of the DA100 (along with many other DACs at several multiples of its cost). So, yes, feel free to use the DA100 Signature to upgrade the sound of your cable box, computer, and basically almost anything with a digital output. (Note, however, that it does not support an ASIO driver for use with a computer soundcard.) The rotary knob used to select among the inputs clicks into place with a solid "thunk" that is fully consistent with the quality hinted at in the design elements listed above. This thing is built.
That being said, I need to disclose that the first unit I received started to malfunction shortly after arrival. April Music promptly sent a replacement that worked perfectly but then insisted on sending another unit that was tested at the factory. It also, not surprisingly, worked perfectly. The majority of the review was conducted with the third sample.
So what does all this supposed quality and engineering get you? Well, the DA100 Signature will take a native digital input -- up to 24 bits and 96kHz -- and upsample to 24 bits and 96kHz or 24 bits and 192kHz at the push of a button. Bypassing upsampling altogether is also possible. Unfortunately switching can only be done from the front of the unit (there is no remote), and although I understand there are cost concerns at these price levels, it would have been nice to be able to toggle through the three options with a remote to more easily detect performance differences. But, hey, at least the option is there, which is more than many DACs can boast. The signal-to-noise ratio is claimed to be 120dB along with a typical dynamic range of 110dB.
Anyone who has operated a CD or DVD player can operate the CDT100 right out of the box -- with a couple exceptions. First, it is a top-loading unit that demands you place a magnetic puck on top of the CD before playing (there is also a top cover you can put on, but it is optional). A more eccentric feature is that for the CDT100 to read each new disc's TOC information, you need to press the Disc button, otherwise it will continue to report the information from whatever disc was previously under the puck.
Other than these little personality traits, operationally the CDT100 was very easy to use and live with. The only standouts were the display, which has a four-level brightness control and is big enough to see from across the room, even with dirty contact lenses. Very nice. The negative counterpart is that track access can be relatively slow, although not painfully so. I will say that operationally I found the CDT100 to be just fine and much preferred to my Oppo DV-970HD transport, with its woefully inadequate display and scan capabilities. Size and weight of the unit are exactly equal to that of the DA100 Signature.

Now, about this I2S thing. For those who are unfamiliar with this connection, it is widely held to be the best available for digital transmission. Much the way a component video cable differs from and improves upon a standard composite video cable -- by parsing the video signal into its individual components -- an I2S cable carries the bit clock, word clock, master clock and audio data on their own dedicated conductors rather than bunching them together as on a more typical digital connection. One of the main advantages of this format is that the DAC does not have to recover clock information from the data stream, thus avoiding a common source of jitter. Jitter is a blurring of timing information within the digital signal and can produce smearing and distortion that are audible and unpleasant. An additional benefit of transmitting the digital signal this way is that the DAC doesn't have to use the S/PDIF or AES/EBU transmit and receive circuitry that can also be a potential source of jitter, so this is yet another case in audio where less is more.
The downside is that this type of connection is more expensive to implement, and I was very surprised and impressed to see it on components in the DA100's and CDT100's price class. In fact, off the top of my head, I can't think of another DAC/transport combo near the sub-$2000 price range to offer this connection. To me, the inclusion of I2S indicates that April Music really cares about providing the best sound possible along with high value.
Sounds of April Music
There is certainly a lot of flexibility in terms of tailoring the DA100 Signature's sound to your liking. As far as the upsampling goes, the best analogy I can think of is, again, in video terms. On many HDTVs I see at friends' homes and in bars and restaurants, it looks like the sharpness control is cranked up way too high, giving the perception of added detail but carrying with it some unnatural noise. As you turn down the sharpness you lose some of that perceived detail, but you also gain a smoother, more filmlike presentation that seems much more pleasing and natural, at least to my eyes.
Associated Equipment
Loudspeakers – Soliloquy 6.2.
Amplifier – Bryston 2B-SST C-Series and McCormack DNA 0.5 Rev. A.
Preamplifier – Bryston BP 6 C-Series and Marsh Sound Design MSD-P2000b.
Digital – Oppo DV-970HD universal A/V player (used as transport), Electronic Visionary Systems Millennium DAC 1 digital-to-analog converter.
Interconnects – Acoustic Zen Silver Reference II and Stereovox Colibri-R.
Speaker cables – Acoustic Zen Satori, Stereovox Firebird.
Digital cable – Apogee Wyde Eye and Stereovox XV2 coaxial cables.
The various upsampling modes in the DA100 Signature gave my ears the same exact treatment. Toggling from the bypass setting to the 24-bit/96kHz upsampling mode and ultimately to 24-bit/192kHz resulted in slightly less perceived detail, air, and space but also imparted an increase in smoothness, continuity, and naturalness. While the lower modes sounded quite good on their own, there was more highlighted detail seemingly for its own sake, while the 24-bit/192kHz mode allowed the detail to blend into a coherent overall performance. Although not quite as detailed, its portrayal was consistently the most balanced and natural of the bunch, and dare I say the one that would keep vinylphiles most interested.
One of the first discs I played was Donald Fagan's Morph the Cat (Reprise 49975), and via 24/192 upsampling, what was immediately apparent was how the sound decoupled itself from the speakers and stretched from wall to wall. In comparison, when I switched back to the other modes the sound became increasingly smaller and more localized between the speakers. Despite the smoothing effect, the trumpet in "The Great Pagoda of Funn" still sounded a little hard, as it probably should with the mute in, but tonally there was more there compared to the other modes. Bass was also deeper and richer, if a little less tight and quick.
I switched to something a little subtler, Usher's demonstration CD Be There (Weichen Publishing House CO. LTD, no catalog number), which contains some interesting tracks of varying styles. I try not to be too subjective in reviews because it's difficult for anyone who's not me to take a whole lot from it, but on "Serenade," the fully upsampled cello was more expressive and emotionally involving. And on "Wind Blowing Gently," I had a significantly stronger feeling that the singer was singing right to me, a feeling that was greatly diminished in the lower modes. I would also note that the little things like sibilants and bows scraping on strings seemed better integrated when fully upsampled. I don't know whether this was due to a slight softening of transient details or whether the signal itself was achieving a more accurate and balanced form, but my guess would be a combination of both. Regardless, it was there.
Back when I reviewed the Stello DP 200, I used Sera Una Noche (M A Recordings M052A) to gauge the unit's ability to throw a believable three-dimensional soundstage and came away feeling it was indeed a strength. The DA100 Signature sounded very similar in this regard. But it was this disc that also served to uncover something about the upsampling: As it was increased, the trail of reverb information within the space became relatively shorter in duration and length. There was still a very strong sense that this disc was recorded in a large space, which it was, but it was more like you might expect to hear at a live concert rather than a detailed recording of one. Was this editorializing for the sake of musicality, or were the lower-rez modes artificially dialing up the sharpness control? To be honest, I enjoyed both for this recording, but I kept coming back to 24/192 for pure listening enjoyment.
More on the DA100 Signature and CDT100
A couple of years ago I called Stello "the best-kept secret in high-end audio." I wrote that because not enough people knew about this Korea-based company and its great product lineup. That's starting to change, particularly because Stello has been around for some time now. But I suspect that there's still a long way to go, and products like the CDT100 and DA100 Signature will help in this regard.
As a CD spinner, the CDT100 works well, but I have two nits to pick. First, while some people like top-loading CD players and transports, I don't. You usually have to put the component on the top of the equipment rack to gain proper access to it, and when you put the disc in the player you have to secure it with a supplied "puck" to hold it in place. This means more hassles than with a front-loading player. Second, the CDT100 doesn't automatically read the table of contents when you put a new disc in. You have to press Disc. If you don't, the CDT100 will actually remember the TOC from the disc before and play back according to that track listing. I found that a little strange. On the other hand, the CDT100 only costs $895, so, considering all the outputs and that it's built so well, it's easy to overlook those things.
I have no complaints about the DA100 Signature, and when the combo plays music (via I2S in my listening sessions), I was nothing but thrilled with the result. The CDT100/DA100 Signature combo sounds refined and detailed, and it can be compared against the best out there, whether it's a one-piece player or separates. The midband is very clear and well detailed, the highs sweet, and the bass range articulate and highly controlled. Imaging is razor sharp, and the ability to project depth, usually the result of high resolution, is superb.
It's been a long time since I reviewed the DA220 with my Theta Data Basic transport (June 2004, to be exact), but if memory serves me correctly this setup is better. So, at the combo's asking price, $1890, I have nothing to complain about. Like the DA220, to better it, you'd have to pay multiples of the asking price, and even then you wouldn't be guaranteed that you'd get improvement, perhaps only something different.
On their own or together, the DA100 Signature and CDT100 are very good products that, like the original DA220, are benchmarks for value. You can certainly spend more, but you won't necessarily get digital separates that are better-sounding or have more features.
...Doug Schneider
das@soundstage.com
What about the DAC's quirky little companion, the CDT100 transport? Here the differences were tougher to discern, as throughout the frequency realm I found the CDT100 to be perfectly balanced. Where it really strutted its stuff -- and set itself apart -- was in creating a sense of transparency and dimension within the soundstage. Voices became a little clearer and spatial relationships easier to discern, especially front to back. Now, these required a lot of switching back and forth to identify, and that balance may not seem like much for your roughly 800 bucks, but the CDT100 certainly complemented and unleashed the inherent abilities of its DAC brother. What's more, I was able to hear the same differences when using the CDT100 with my own DAC, so it was consistent and repeatable. If you care about such things and you're currently using a budget transport, I'd say the CDT100 is well worth considering.
And what of this vaunted I2S connection? Well, I'd like to tell you it took the experience to a whole new level, but that was not the case. There were some clear and significant advantages in terms of individual instruments and voices coming across as more "of a piece" rather than different sounds being combined into one. And there was more of an organic flow to the music, but the problem was that the I2S cable supplied by April Music was different in sonic character from the more revealing Stereovox XV2 coaxial cable I use as a reference. So it was impossible to separate which improvements or shortcomings were due to the cable and which to the format itself. I suspect that the I2S cable provided was a little more polite-sounding than I would like in the context of my system, and I think an I2S cable from Stereovox (if it existed) would have proven to be very interesting. Given what I heard with this flawed comparison, I tend to think there are some significant performance advantages to be had here, and I consider the availability of the I2S connection at the Stello components' price point to be a major bonus. I certainly would be intrigued enough to explore further.
How does April stack up to May or June?
Relative to my longtime reference, the Electronic Visionary Systems Millennium DAC 1 ($650 when available) and Oppo DV-970HD universal A/V player ($149 when available), the Stello units sounded more similar to than different from my references when the DAC was in bypass mode. The EVS DAC 1 and Oppo player were relatively more robust, up front, and dynamic, but the Stello products countered with more refined highs and upper mids and a more dimensional presentation that unfolded behind the speakers. On balance, it was kind of a toss-up, with the nod going to the Stello DAC given my preferences. However, once the 24/192 option kicked in things were different. That almost phasey imaging detached from the speakers and spread throughout the room was the deal-maker that more than offset the slightly diminished sense of perceived detail.
As for the CDT100, it displayed superior transparency that resulted in a better spatial rendering of images throughout the stage compared to my Oppo DV-970HD. The fact that it costs more than five times as much as the Oppo player is significant, but so are the build quality, audio-related features, and performance advantages offered.
I could live with either of these two budget DAC/transport combinations, and I'm happy I live with one of them. But if I had my pick, it would be the Stello DAC and transport, especially with 24/192 upsampling engaged.
Conclusion
Overall, I found the Stello DA100 Signature to be an extremely flexible DAC with a refined sonic character. Its gave me multiple ways to experience and enjoy music. I always see people asking for a DAC that sounds more like analog, or at least one that doesn't sound like digital. Especially with the DA100 Signature in 24/192 mode, I would heartily recommend giving this one a listen. The fact that it's built well and offers USB, AES/EBU, and I2S inputs along with a couple different upsampling options, is merely icing on the cake, especially at its asking price. The benefits wrought by the CDT100 were more subtle but still tangible and meaningful if transparency and dimensional imaging are important, and to most audiophiles they certainly are, no matter where they can get them. The fact that the CDT100 is the perfect mate to a DAC as accomplished as its sibling is a big selling point, but I found the benefits translated to my decade-old DAC as well.
There has been an explosion of digital processors that promise to bring new levels of performance to cable boxes, computers, and music servers. Given the high level of performance these Stello devices can deliver, it's almost sickening to think of them being wasted in an armoire feeding crappy computer speakers or some mid-fi home-theater/audio combo rig. I have no doubt they'd improve the sound in those applications, but given the level of performance and refinement I heard in my system, doing this would be like using a Porsche to deliver the mail.
To those who have been looking for a digital source that won't offend your analog senses or sap too much green from your vinyl budget, you may find a viable option in the Stello DA100 Signature and CDT100 -- and even some musicality from a digital source.
...Tim Shea
tims@soundstage.com
Stello DA100 Signature Digital-to-Analog Converter and CDT100 Transport
Prices: DA100 Signature, $995 USD; CDT100, $895.
Warranty: Two years parts and labor.

April Music, Inc.
894-18 Alpha Bldg, Bangbae-Dong
Seocho-Gu, Seoul 137-829 South Korea
Phone: 82 2 3446 5561
Fax: 82 2 3446 5564

E-mail: info@aprilmusic.com
Website: www.aprilmusic.com

US distributor:
May Audio Marketing
2150 Liberty Drive, Unit 7
Niagara Falls, NY 14304
Phone: (716) 283-4434, (800) 554-4517
Fax: (716) 283-6264

E-mail: mayaudio1@aol.com
Website: www.mayaudio.com

Canadian distributor:
Justice Audio
111 Zenway Boulevard, Unit 8
Woodbridge, Ontario L4H 3H9
Phone: (905) 265-8675, (800) 572-0205
Fax: (905) 265-8595

E-mail: sales@justiceaudio.com
Website: www.justiceaudio.com