July 2009
Simaudio Moon LP5.3 Phono Stage and Moon PSX5.3 Power Supply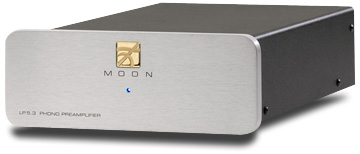 Sometimes I wonder why I bother to mess with vinyl at all: cleaning and keeping clean records, fiddling with and adjusting turntables, and all the related insanity that goes along with buying and hoarding LPs. Just ask my significant other -- apparently, just living with a vinyl fanatic can be exhausting. But then along comes a moment that seems to stop time and make everything right again. I recently had just such an epiphany when I returned home with a Westlake-mastered copy of Pat Metheny's Bright Size Life (LP, ECM 1-1073). The sound was so right and glorious and beautiful that I don't think I drew a breath for what felt like minutes. Server-based music library? What was I thinking?
Shortly after the above vinyl reformation I received for review Simaudio's Moon LP5.3 phono stage ($1500 USD) and Moon PSX5.3 dedicated power supply ($1250). I remember my first exposure to Simaudio gear, when, several years ago, I listened to their then top CD player and Moon Evolution i-7 integrated amplifier through a pair of Gershman loudspeakers. The transparency and neutrality of these components was commendable, and their fit'n'finish was top-notch. I remember enjoying my time with them, even if ultimately I thought them a little squeaky-clean: missing that tonal richness that tube lovers like me love to love.
In June 2007 my colleague Ken Choi wrote a review of the standalone Moon LP5.3 phono stage, to which I refer you for his impressions and a breakdown of the LP5.3's details. Suffice it to say that I mostly agree with Ken's very thorough review, especially regarding the LP5.3's "self-effacing" quality -- it did, indeed, just sort of disappear and get on with its job. Details on the microlevel were superb, and presented as part of an overall cohesive picture rather than thrust in my face. Ken stated that he hadn't noticed a big difference in sound over the course of his listening period. My review sample came with the factory's 48-hour burn-in already performed, and I was advised to let it break in for at least two weeks (the manual recommends 300 hours). I did, then added a few more weeks in the bargain. I did notice that the extra playing time seemed to open up the top end quite a bit, and the bass seemed to bloom somewhat and gain some low-end richness.
Overall, I thought the standard Moon LP5.3 a very good phono stage. It was extremely quiet, and was never confused or muddled when the music got complex. It was very simple to set up, thanks to its excellent and thorough manual, and the ability to simply set gain and loading will make it easy to accommodate any number of cartridges. Perhaps the LP5.3's only real drawback was in the area of macrodynamics, where big music sounded slightly lackluster and contained. Even after that long break-in, the LP5.3 never seemed to really let go -- like a parent who can't let the kids just go out and play.
But just as I thought I was getting a handle on a very competent and, dare I say, very good phono stage, I plugged it into the Moon PSX5.3 dedicated power supply. Gadzooks, was this thing dynamite.
The Moon PSX5.3 comes in the same sturdy, nicely finished housing as the Moon LP5.3, right down to the chunky aluminum faceplate and cool blue LED power light at dead center. To use the PSX5.3, you must first open up the LP5.3 and set its jumpers for operation with the dedicated power supply, all of which is very simple and takes a matter of minutes. A supplied umbilical cord runs from the PSX to the main unit, and the power supply is simply plugged into the wall or power conditioner. The PSX5.3 contains what Simaudio calls a "high-quality toroidal transformer," four stages of DC regulation, 32,500uF of total capacitance, dual-choke inductance, a special "pi-type" filter to reduce AC transmission noise, and a "dual-action" voltage-regulation system to further lower noise. Finally, Simaudio claims a mind-numbing 150dB drop in DC signal noise within the LP5.3's circuitry when the PSX5.3 is in use. This is an astonishing figure -- and even more astonishing when you consider how quiet the Moon LP5.3 is on its own. The manual suggests placing the two boxes a minimum of 18" apart and away from other components; the supplied umbilical was just long enough to make it easy to place the PSX5.3 far enough away from my rack.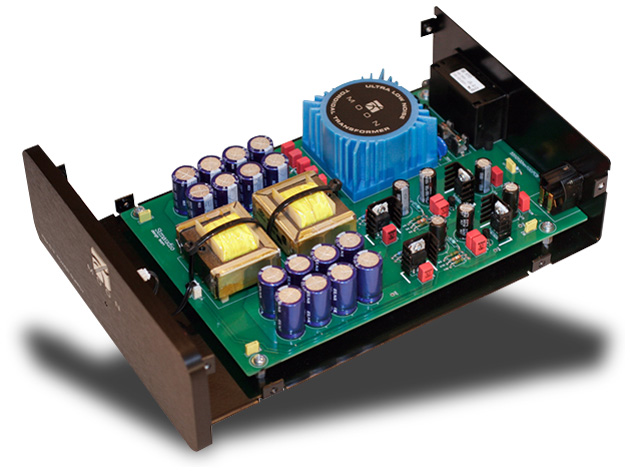 Dynamite? With such a low noise floor, you'd expect that things would pop and sparkle, and indeed they did. In tandem, the Moon LP5.3 and PSX5.3 provided the quietest background I've ever heard from a phono preamp, which made for a very enveloping presentation and a very soothing and fulfilling listening experience. The flow of the music was amazing -- it just spilled out, note after note, laying bare even the gentlest inflections of phrasing and the minutest swells of volume. I don't know if it was because I didn't have to listen as hard, but I found it much easier to just relax and let the music take over. The Moon LP5.3 alone supplied ample musical detail, and more than most phono stages in this price range; powered by the PSX5.3, it was simply superb.
The biggest difference in the Moon LP5.3's sounds with and without the Moon PSX5.3 was in how it handled macrodynamics and space. I noted before that the stock model was a little reticent macrodynamically; not so with the PSX5.3. Large-scale music now had room to breathe, and seemingly unlimited dynamic reserves. Large orchestras were frightening, and the dynamic range now seemed huge rather than slightly truncated. In fact, I think my small monitor speakers were the limiting factors here, and that the Moon components had more to give in this regard than the speakers could handle. For those with full-range speakers, I'm willing to wager that there's more gas in the '5.3s' tanks. A full-range speaker would probably also expose more of the Moons' bottom-end heft. Yet even in the midrange and the upper treble there was a sense of greater strength, and images seemed more forceful and dense.
This gain came with no sacrifice in the delicacy and extension of the very top end. And that extension was truly world-class, opening up the slightly dark top end of the stock LP5.3. Rarely have I heard brass and violins this extended and crystal-clear at the very tops of their ranges. I don't know if this was the result of the incredible silence of the two Moons working together, but I do know that all that extension and clarity revealed to me heretofore unnoticed shortcomings in the uppermost treble region of more than a few of my LPs. With some older jazz recordings that I've listened to for a long time I could hear subtle tape distortions I hadn't noticed before. As they say, every rose has its thorn; several recordings that I'd long thought exemplary fell a notch in the light of this pair of Moons.
Along with this extension came the second biggest gain over the stock LP5.3: space. As in cavernous. Many phono preamps can give you clearly outlined images and a sense of distances between performers, but these distances are often defined relationally between the instruments and players. Although the LP5.3 solo did this better than most, with nice layering and even nicer imaging, it did so without revealing the full acoustic envelope of the given venue. With the PSX5.3 patched in, that full acoustic environment popped out of the inky blackness of the noise floor to provide a dramatic exposition of recording environments with recording after recording. If the room was small and the drums were tucked away in a corner, I could hear it; likewise a band in a big room, where all the room reflections and room dimensions came shining through. I've listened many times to my original Quadraphonic copy of Miles Davis's Bitches Brew (Columbia GQ 30997), but rarely if ever had I heard the band laid out within the large room the way it was through the Moons. Rather than just taking positional cues from the band itself, now the entire acoustic was more integrated and holistic, letting me hear the space around the players.
I was mighty impressed by the pairing of Simaudio's Moon LP5.3 and Moon PSX5.3. The stock LP5.3 is a great phono stage, and a bit of a steal at $1500. But add the PSX5.3 for another $1250 and you have a very serious high-end phono stage that competes with options way up the price ladder. For those of you who are skeptical that a power supply can wreak this kind of improvement in sound, I'll add that, years ago, I, too, was a nonbeliever -- until I heard a number of digital products and power amps that had been modified in similar ways, and the benefits seemed, to my ears, undeniable.
Simaudio should be proud that, in today's economy, they can offer in the Moon LP5.3 this high a level of performance to vinyl lovers, and offer to those same vinyl fanatics a reasonably priced upgrade route that actually lifts them into the sonic big leagues.
Digital? What was I thinking?
. . . Graham Abbott
grahama@soundstage.com
Simaudio Moon LP5.3 Phono Stage
Price: $1500 USD.
Simaudio Moon PSX5.3 Power Supply
Price: $1250 USD.
Warranty: Ten years parts and labor.
Simaudio Ltd.
21 Lawrence Paquette Drive
Champlain, NY 12919
Phone: (877) 980-2400, (450) 449-2212
E-mail: sales@simaudio.com
Website: www.simaudio.com