June 2010
Legacy Audio Studio HD Loudspeakers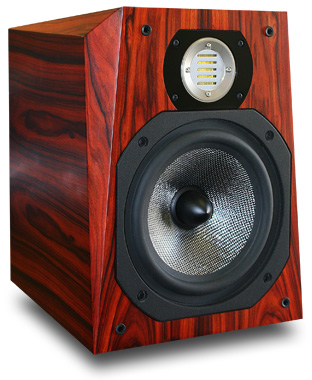 As I listen to music through my trusty hi-fi, I wonder more and more about the gap that may exist between the sound I'm hearing and the sound heard by the artist, producer, engineer, and/or whoever pushed and slid the controls on the mixing board, just before he or she gave the thumbs-up and called it a wrap. Why a gap? Because the gear such professionals use tends to be very different from that available through your usual Hi-Fi Hut. For example, since bulletproof reliability is a top requirement in the studio, tubed equipment is rare. On the other hand, self-powered speakers are very popular in professional arenas, acceptance of this technique in the home being restricted in the most part to subwoofers.
Another difference is philosophical. Again and again, we hear audio professionals saying that they want to hear everything in the mix, which suggests a need to hear the good and the bad so that they can shape the mixes of the sounds they're presented with. But when was the last time you saw a home speaker marketed this way? There are exceptions, of course: those companies that have plenty of street cred in both home hi-fi and professional circles, any short list of which would have to include Legacy Audio.
Description
Audio engineer Steve Hoffman. Producer Rick Rubin. Legacy Audio isn't shy about telling the world that these studio giants use Legacy speakers as reference equipment. Nor does the company mince words in its refreshingly rational statements about speaker cables and amplification:
"There are no perfect cables. The best way to approximate the ideal would be to keep loudspeaker leads as short as practical."
"Extensive measures have been taken to ensure that each Legacy speaker system represents a smooth, non-reactive load to virtually any amplifier."
"Even through decades of refinement, loudspeakers are still notoriously inefficient transducers, requiring huge amounts of power to recreate the impact of a live performance."
In a nutshell, Legacy speakers promise to be nontweaky, amplifier-friendly transducers that can take the watts if you've got 'em, and this holds true throughout their full range, from the top-of-the-line Helix to the subject of this review, the entry-level Studio HD ($1385 USD per pair).
The Studio HD is a stand-mounted, two-way, reflex speaker that measures 13"H x 10.8"W by 10.8"D and weighs 28 pounds. I recommend placing them on stands between 24" and 26" tall. The driver complement comprises a 1" dual-pole, neo-ribbon tweeter with a folded Kapton diaphragm, and an 8", Rohacell-reinforced woofer cone of Silver Graphite (carbon fiber) on a cast frame. The frequency response is a claimed 41Hz-30kHz, +/-2dB. The Studio HD's low-frequency reproduction is aided by a flared, rear-firing port 2" in diameter. The impedance and in-room sensitivity numbers are 4 ohms and 93dB, respectively, and the recommended range of amplification is 25-200W.
Two-way speakers are nice and simple, and ditto their crossovers; however, this simplicity can demand a lot of the drivers. The Studio HD's crossover frequency of 2.8kHz requires that its tweeter cover a range of just under 3kHz to over 30kHz. Conversely, the range of the 8" woofer must extend up to and slightly above 2.8kHz without breakup, which is also difficult to achieve. Only very-well-designed, high-quality drivers need apply.
The Studio HD is attractively finished in a choice of Maple or Walnut veneer or Piano-Black lacquer. The craftsmanship is outstanding: the HD is finished on all outside surfaces, and the drivers are nicely recessed so that their frames lie flush with the front baffle. In addition to the port, the rear panel presents two pairs of macho-size five-way binding posts for biwiring or biamping. The tweeter and woofer posts come connected by a set of massive, copper bus bars. I was very happy with this equipment; if I had a nit to pick, it would be that it was hard to get a good grip on the smoothly machined thumbscrews. For a tight connection, I used a small pipe wrench.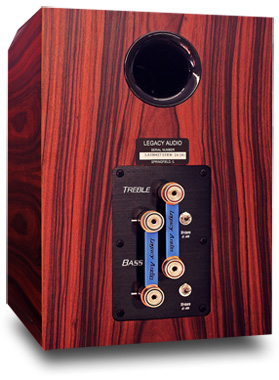 Legacy provides some room-effect adjustability by including, near the binding posts, switches for bass and treble attenuation. The treble switch cuts 2dB at 10kHz, the bass switch 2dB at 60Hz. The latter also effectively raises the impedance, thereby aiding budget amps and receivers. I found the sonic effect of this switch gear to be extremely subtle at best, and heard little or no difference between their on and off settings. I did most of my listening with the speakers set flat.
Strangely, the grilles came packed in separate boxes attached to the outside of the main shipping carton, which weighed about 60 pounds all told. Even more curious, the foam cutouts that encase the speakers within the carton seem shaped so that the speakers can be shipped with the grilles already attached. As all things in this world that can happen will happen, sure enough, each grille had evidently felt the full weight of the total shipment at least once during the carton's journey to my home, and so arrived damaged. The grilles themselves are attractive, but fairly dulled the sound, so I did most of my listening without them.
System
The Studio HDs were connected to my reference NAD C 325BEE integrated amplifier (50Wpc at 8 ohms) via double 10' runs of my home-brew, solid-core speaker cable, which I made by braiding three strands of hookup wire from RadioShack. Fun to make, looks terrible, sounds fantastic! The speaker stands were Quiklok BS-300s. Comparison speakers were my Snell EIIs. Source signals were passed through Kimber PBJ interconnects, mainly from my combo of Rotel RDD-980 CD transport and Meridian 203 D/A converter. The digital link was a 2m length of Canare Digiflex Gold 75-ohm coax cable. Headphones were Sennheiser HD 600s. All electronics were plugged into hospital-grade receptacles on a dedicated 20A circuit. My wood-framed listening room measures 15"L x 12"W x 8"H and has two large, arched openings in adjoining walls.
Use and listening
Out of the box, the Studio HDs sounded a bit pinched at both ends of the audioband, and needed a full week of playing before they fully opened up. When they did, the change in their character was in no way subtle. These speakers had a very extended and detailed treble -- I'll go into that in a bit, but once you hear it, you'll know you're listening to something special. Using test tones, I found the HDs capable of useful energy down to 30Hz or so, but below 40Hz the amplitude dropped off fast, as you'd expect from a smallish reflex design. The woofer sounded pretty flat throughout its range, with a bit of a boost (perhaps 3-4dB) at 40Hz in my room. I ended up positioning the speakers about 2' from the sidewalls and 2' from the front wall, about 6.5' apart. The speakers were toed-in ever so slightly toward my listening position, which was 6.5' from each speaker's baffle.
When reviewing gear, I like to listen to music I like -- not so much because I'm familiar with it and so can better identify any differences in reproduction (though I am and I can), but more because it relaxes me. That's right -- relaxed, off guard. I've found that only when I'm in that state do I catch (or miss) those little bits of information that elude me if I'm anxious, or straining to hear something. I put on the Casino Royale soundtrack (CD, Varèse Sarabande 302 066 409 2) and sat back, waiting for Dusty Springfield to appear in my listening room and purr "The Look of Love." I've played this recording at least a hundred times, and Dusty has always been in the room with me. Not this time. Oh, Dusty was still Dusty, and her performance was without equal, but it was obvious where she was: a recording studio. I'd always imagined she'd recorded this track in a studio (where else?), but for the first time, I could plainly hear the space she was singing in.
Too much information? Not for me. Going forward four decades, Corinne Bailey Rae's eponymous first album (CD, Capitol CDP 3 66361 2) also presented itself in a new way through the Studio HDs. Now that I know it's there, I could probably go back and hear through my Snells the creaking chair at the beginning of "Like a Star," or the LP groove noise added to certain tracks, but the Studio HDs presented this information as up-front and obvious.
In this way, the Studio HDs were certainly behaving like the "studio monitors" they're marketed as. But as deft miners of information, how would they sound with recordings I've found objectionable during listening sessions for other reviews? Mostly depending on the speakers in my system, I've had mixed experiences listening to Anonymous 4's An English Ladymass (CD, Harmonia Mundi HMU 997080). While the Aperion Intimus 4T did much to find the good in this recording, more upmarket speakers (particularly the Totem Model 1) have been less kind to it. The resolving power of the Studio HD also laid bare problems in this recording -- though they suggested that there was too much energy in the midtreble, rather than the distortion artifacts I'd "heard" through the Totems.
While the Studio HDs weren't exactly warm, I never felt the need to turn up the bass control, regardless of listening level. Bass was always there, and nice and tight. Paul Chambers' double bass in "So What," from Miles Davis' Kind of Blue (CD, Columbia/Legacy CK 64935), was bouncy, articulate, and pitch perfect. Bass was also in plentiful supply when needed, the HDs conjuring convincingly low organ-pedal notes in Saturn and Uranus, from Holst's The Planets, in the recording by Charles Dutoit and the Montreal Symphony (CD, London 417 553-2).
But if the Studio HD had a calling card, it must have been in how it handled the high treble. Adding to my list of new experiences from well-worn recordings, XTC's "The Ballad of Peter Pumpkin Head," from Nonsuch (CD, Virgin TOCP-65720), was a revelation. The HD removed veils and dug up information from the mix that I had not known existed. In this case the speaker gave me a veritable guided tour of this track's upper-octave percussion; the ability to clearly hear both a hi-hat and the previously missing tambourine, fully differentiated and played at the same time, put a big smile on my face. The change in sound was at least as dramatic when I played Duke Ellington's Black, Brown and Beige (CD, Columbia/Legacy CK 65566). The solo brass instruments were pulled farther forward out of the mix than I'd heard before, while the rhythm section was more recessed. The details that I know I heard included the individual chuffs of the mouthpiece sounds from the reed and brass players.
And if you love the acoustic piano, you should definitely give the Studio HD a listen. Never before had I heard a loudspeaker breathe so much life into the instrument, whether it was Bill Evans ("So What"), Glenn Gould playing Bach (CD, Sony Classical SMK 52596), or Antonio Carlos Jobim on his great album Wave (CD, A&M 0812).
Conclusion
I thought it would be interesting to revisit my November 2009 GoodSound! review of the Aperion Intimus 4T, in hopes of learning just how two speakers so different in price and execution could both lead to a positive listening experience. Of the $650/pair 4T, I felt that its two overarching qualities were a forgiving sonic signature matched by the alluring domestic friendliness afforded by its small size and unfussy placement requirements. At $1385/pair excluding the necessary stands, the Studio HD requires an additional level of commitment from the listener, in terms of both monetary outlay and care in setup. The HD also has the ability to point out flaws in upstream electronics, so be prepared to upgrade.
However, I think the rewards far outweigh the investment. Legacy Audio's Studio HD appeals to both the heart and the head. Its truth of timbre helped the pair of them to convey the raw emotion of music when it was there, a quality shared by the Aperions. The Studio HDs, however, are in an entirely different realm when it comes to conveying information that satisfies the intellect. Never once did I find the Legacys fatiguing, or the information they presented distracting. Instead, they took me places I'd never been before. I enjoyed the ride every step of the way.
. . . Ron Doering
rond@soundstagenetwork.com
Legacy Audio Studio HD Loudspeakers
Price: $1385 USD per pair.
Warranty: Seven years parts and labor.

Legacy Audio
3023 E. Sangamon Avenue
Springfield, IL 62702
Phone: (800) 283-4644
Fax: (217) 544-4644

E-mail: info@legacyaudio.com


Website: www.legacyaudio.com