May 2009
JBL WEM-1 Wireless Transmission System
by Marc Mickelson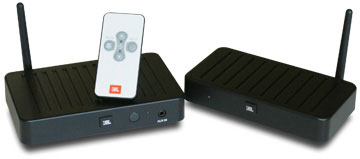 Review Summary
| | |
| --- | --- |
| Sound | "Every source streamed with it sounded light and lively. JBL claims 20Hz-20kHz frequency response for the WEM-1, and I have no reason to question this. However, compared to the sound of my reference electronics, the WEM-1 was far less authoritative. CDs, LPs and even the sound from the tube tuner were leaner and more tonally pale. Each source resembled the others to a certain degree instead of fully displaying its unique sonic personality." |
| | |
| --- | --- |
| Features | "Called a 'wireless expansion module,' the WEM-1 is a self-contained package for streaming analog audio without wires or extra channels of amplification." "The main parts of the package are the transmitter and receiver.... The transmitter accepts two stereo inputs: one at speaker level and one at line level. You can connect to both at once, switching between them." "The receiver has only speaker-level stereo outputs, and that's for good reason: In addition to its other functions, it is a 50Wpc amplifier capable of driving speakers rated at 8 or 4 ohms." |
| | |
| --- | --- |
| Use | "Do you want to send analog audio from a main audio system to a pair of speakers in another part of your house? The WEM-1 can do it. Do you want to connect rear speakers in your home-theater system without running lengths of speaker cable to them? The WEM-1 can do it. Do you primarily use a single source, such as a CD player or turntable with phono stage, and want to cut down on the amount of room required for the equipment and the number of cables needed as well? The WEM-1 can do it, along with solving other audio-distribution issues." |
| | |
| --- | --- |
| Value | "The WEM-1's price is negligible given all that it can accomplish." |
JBL has been synonymous with original, even historic loudspeaker designs since its founding by its namesake, audio pioneer James B. Lansing, over 60 years ago. For audiophiles of my dad's generation, the Hartsfield and Paragon were the most-coveted JBL speakers. The Hartsfield was a large horn-loaded speaker meant to be placed in a corner, while the Paragon, which resembled a finely made low-slung credenza, was a single-cabinet stereo design whose midrange drivers fired toward a curved wood panel that reflected the sound, creating a spacious stereo image. For my generation, it was the L300, a squat dynamic speaker that used JBL's most advanced drivers to pound out full-range sound. For me and some of the guys I knew in high school, a pair of L300s was as desirable as a Dodge Charger with a big-block V8, and certainly more useful at a Friday-night party.
Today, the K2 9800 and Everest speakers carry JBL's legacy of innovation into the new millennium. Add to those the WEM-1 ($359 USD), which isn't a speaker at all. Called a "wireless expansion module," the WEM-1 is a self-contained package for streaming analog audio without wires or extra channels of amplification. But this terse description doesn't capture the richness of the WEM-1's feature set. You can use it in a number of ways -- from an add-on to a home-theater system to a single-input preamp-amp combination. In fact, just as I thought I had figured out all the ways the WEM-1 could be used, another would come to mind.
The main parts of the package are the transmitter and receiver. Both are small in size -- 6 3/16"W x 1 1/8"H x 4 5/8"D for the transmitter, 6" W x 1 1/8"H x 4 7/8"D for the receiver -- and abundant in features that open up possibilities for their use. The transmitter accepts two stereo inputs: one at speaker level and one at line level. You can connect to both at once, switching between them. The two inputs are available for the sake of flexibility, although I suspect the line-level inputs will be used more often than the speaker-level inputs.
The receiver has only speaker-level stereo outputs, and that's for good reason: In addition to its other functions, it is a 50Wpc amplifier capable of driving speakers rated at 8 or 4 ohms. The idea is that the transmitter takes in the signal at line- or speaker-level, sends it to the receiver, which amplifies it for the speakers to which it is connected. Volume can be controlled at the source or, more conveniently, at the WEM-1's receiver with the included credit-card sized remote, which offers volume up and down, mute, and input switching. This arrangement gives tremendous flexibility. Do you want to send analog audio from a main audio system to a pair of speakers in another part of your house? The WEM-1 can do it. Do you want to connect rear speakers in your home-theater system without running lengths of speaker cable to them? The WEM-1 can do it. Do you primarily use a single source, such as a CD player or turntable with phono stage, and want to cut down on the amount of room required for the equipment and the number of cables needed as well? The WEM-1 can do it, along with solving other audio-distribution issues.
The system comes with just about everything you'll need to use it, including power adapters, power cords for use around the world (the user's manual is printed in nine languages), interconnects, and the remote control. The only things missing from the package are lengths of speaker cable. The rationale here is that you'll already have these or will need custom lengths depending on how you integrate the WEM-1 with your audio or home-theater system.
There are a few things to consider, however, before putting down your money for the WEM-1. First, the receiver and transmitter operate at 2.4GHz, which is commonly used for home networks and cordless phones. Interference can occur, affecting the WEM-1's ability to send and receive. For such situations, the transmitter and receiver have four ID settings that should solve any problem. These are also handy if you want to use more than one WEM-1 system to stream audio from different sources, and they also allow you to stream to more than one receiver at a time. The speaker terminals are the spring-loaded type with openings that are so small that they will accommodate only bare wire or pins of very small diameter. Beefy speaker cables terminated with spades or banana plugs simply won't work with the WEM-1. Finally, as you may have already figured out, the WEM-1 is not a completely wireless system. You have to run speaker cables from the receiver to your speakers. However, the receiver and transmitter come with mounting brackets so they can be tucked away, and if they have to sit out in the open, they are small, handsome and unobtrusive.
From theory to practice
Setup is easy and can be accomplished in ten minutes or less. The first thing you'll have to decide is how to connect the transmitter to the source of the music. The speaker-level connections are your only option if you are using a home-theater receiver that doesn't have line-level outputs for the channels you want to stream with the WEM-1. For a majority installations, the line-level inputs will make the most sense, and in some cases, such as the way in which I used the system, they are really the only suitable way to integrate the WEM-1. After you've set up the transmitter, you connect the speaker terminals of the receiver to your speakers and ensure that there is a sight line to the receiver so the infrared remote control will work.
Both transmitter and receiver are in standby mode when they're plugged in. When a signal is sensed, the system comes to life. LEDs on the front of the receiver give the status of the system: solid green when the transmitter and receiver are communicating, flashing green when they are not. Slowly bring the volume up with the remote control and you'll begin to hear the signal transmitted wirelessly. If you connected the transmitter to outputs that offer no volume control, such as the tape outputs of a preamp or the main outputs of a CD player, the WEM-1's receiver will assume this duty. Otherwise, you'll want to increase the WEM-1 receiver's volume all the way and use the volume control at the source to adjust the level of the speakers with which the system is being used -- or vice versa. After ten minutes of no signal, the system goes back into standby mode.
If you are using the WEM-1 with a home-theater system, the receiver has its own full-range subwoofer output, and for use with specific JBL speakers, it offers custom EQ settings. It also has a 1/8" stereo input on the front for easy connection of a portable music player. The JBL engineers have certainly sweated the details, but one potentially useful feature is missing: a pair of line-level outputs on the receiver, which would allow for streaming to a line-level input instead of to a pair of speakers only.
Associated Equipment
Loudspeakers – Infinity Primus 150, Wilson Audio MAXX Series 3.
Power amplifiers – Audio Research Reference 110 stereo amp, Lamm Industries M1.2 Reference and ML3 Signature mono amps.
Integrated amplifier – TEAC A-1D.
Preamplifiers – Audio Research Reference 3, Aurum Acoustics Integris CDP, Zanden Model 3000.
Digital – Audio Research Reference CD8 CD player, Ayre C-5xeMP universal player, Esoteric X-01 CD/SACD player.
Analog (33/45rpm) - TW-Acustic Raven AC turntable, Graham Engineering Phantom B-44 tonearm, Dynavector DRT XV-1s and DRT XV-1s Mono cartridges, Audio Research PH7 phono stage, Lamm LP2 phono stage, Aurum Acoustics Integris CDP phono stage.
Analog (78rpm) - Gemini PT-2410 turntable, Grado Prestige 78E cartridge, Technolink TC-778 phono stage.
Tuner – Fisher R-200.
Interconnects – AudioQuest William E. Low Signature and Sky, DH Labs BL-1 II, Shunyata Research Aeros Aurora-IC.
Speaker cables – AudioQuest William E. Low Signature, DH Labs T-14, Shunyata Research Aeros Aurora-SP.
Power products – Shunyata Research Anaconda Helix and Python Helix (Vx and Alpha variations), Essential Sound Products The Essence Reference power cords; Shunyata Research Hydra V-Ray Version II power conditioner, Essential Sound Products The Essence Reference power distributor.
In use
Shortly after I received the WEM-1, I bought a Fisher R-200 AM/FM tuner at an estate sale. The R-200 hit the market in 1964, and I was sure that the particular unit I purchased would need some repair work or, at the very least, some of its 15 (!) tubes replaced. I was surprised, therefore, that after giving it a good cleaning, it fired right up. I actually have two audio systems with which I wanted to use the R-200, so the WEM-1 came in particularly handy. I connected the tuner to my main system, the WEM-1's transmitter to the tape outputs of my preamp, and the receiver to speakers in my office. In short order, I was enjoying the tones of NPR commentators in vintage vacuum-tube glory. By connecting the WEM-1's transmitter to the tape outputs of the preamp, I was able to switch among the main system's inputs, streaming SACDs and even LPs to my office as I chose.
Later on, I flip-flopped the configuration in order to listen to 78rpm records on my main system, connecting the transmitter to the tape outputs of my integrated amp and the receiver to the big Wilson Audio MAXX 3 speakers. Talk about an odd couple! The receiver is the size of a few decks of cards, while the MAXX 3s are each as tall as my wife and weigh four times what she does. Still, the whole thing worked perfectly. There I was listening to the twang of Red River Dave and the Sourwood Mountain Boys on 78s I had found at another estate sale for next to nothing, no lugging a turntable and phono stage from one room to the other required.
Evaluating the WEM-1 in purely sonic terms is a bit tricky because it takes the place of speaker cables and the amplifier, not to mention that the transmitter adds components of its own to the signal path. Every source streamed with it sounded light and lively. JBL claims 20Hz-20kHz frequency response for the WEM-1, and I have no reason to question this. However, compared to the sound of my reference electronics, the WEM-1 was far less authoritative. CDs, LPs and even the sound from the tube tuner were leaner and more tonally pale. Each source resembled the others to a certain degree instead of fully displaying its unique sonic personality. Compared to my TEAC A-1D integrated amp ($350), the WEM-1 fared much better. The A-1D has a MOSFET output stage that adds some warmth to its sound. The WEM-1 sounded cooler and more gaunt, but also slightly faster and more nimble. Still, I missed the bit of warmth of the integrated amp.
As part of my office system, I could easily live with the WEM-1's sonic performance, although limiting its use to streaming audio from a source to a pair of speakers a few feet away would be a waste of technology. Using it to bring the sound of my main system into my office was a neat trick. In terms of range, I wasn't able to tax the WEM-1 in my house. It had no trouble sending music from one end to the other, even with the presence of a WiFi network and two cordless phones. Occasionally when I moved the transmitter or receiver, the music would cease, but this interruption was only a second or two long. The receiver runs warm to the touch, likely because of its amplifier circuitry, but its small size means that it doesn't create much ambient heat, so it can be tucked into a confined space.
On the air
The JBL WEM-1 is not a product you buy for reasons related purely to sound. Rather, you buy it because of what it can do: expand the range of an audio or home-theater system situated in one room to speakers around your house, or simply cut down on the amount of speaker cable you need to run. My house is awash in 2.4GHz radio signals, and yet the WEM-1 worked perfectly out of the box, its utility increasing as I devised new ways to use it. Using it for streaming the output of unusual sources, like a tube AM/FM tuner or dedicated 78rpm turntable, was a welcome luxury, but for people with complex home-theater systems, it may prove indispensable for adding extra surround-sound channels without having to run wires under carpet or through walls. The WEM-1's price is negligible given all that it can accomplish.
If you still own a JBL Paragon, whose size and appearance make it difficult to place in many living rooms, the WEM-1 system may be the perfect way to enjoy it no matter where it is. And I can only imagine how cool it would have been to lug a pair of L300s outdoors -- only an AC outlet needed for connection to some vintage Aerosmith and Led Zeppelin at neighbor-annoying levels. Old-school JBL, meet the new millennium.
...Marc Mickelson
marc@soundstage.com
JBL WEM-1 Wireless Transmission System
Price: $359 USD.
Warranty: One year parts and labor.

JBL Consumer Products
8500 Balboa Boulevard
Northridge, CA 91329
Phone: (818) 893-8411

Website: www.jbl.com