November 2008
Infinity Primus P162 Loudspeakers
by Jeff Stockton
Budget Leader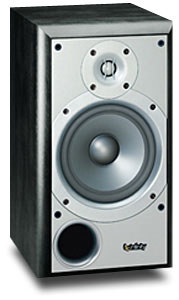 Review Summary
| | |
| --- | --- |
| Sound | A "seductively smooth midrange and propulsive bass." The P162 "plays surprisingly loud with only a few watts of power and is free from edginess and smearing, and its bass blooms beautifully without strain." "Bass wasn't quite seismic, but it eliminated any doubt with regard to its explosiveness." |
| | |
| --- | --- |
| Features | "These speakers carry a 6 1/2" woofer, along with a 3/4" tweeter. Both were designed by Infinity and employ the company's Metal Matrix Diaphragm driver technology, which Infinity claims produces low-mass cones of high rigidity by anodizing both sides of an aluminum core to a consistent thickness." "The speaker's frequency response is spec'd +/-3dB from 49Hz-20kHz, anechoic sensitivity is rated an excellent 90dB, and the impedance is 8 ohms." |
| | |
| --- | --- |
| Use | "I noticed a slight increase in treble detail with the grilles off, and the P162s' handsome presentation encourages you to leave them off and enjoy the in-studio styling." |
| | |
| --- | --- |
| Value | "It would be difficult to pay less for a pair of speakers and get as much as the Infinity Primus P162 delivers. Put another way, you can definitely pay more for speakers and not get as much high-fidelity sound." |
When I sold stereo equipment at an electronics chain store in the late 1980s, one of the first questions I would ask a customer was, "How much would you like to spend?" I thought it was a fair question, but many customers balked, offended at the idea that I was trying to separate them from their money.
Twenty years later, there are any number of manufacturers willing to take as much money as you can spend on audio equipment. And certainly there are sonic benefits to be realized from, say, a pair of cost-no-object $20,000 or $40,000 speakers. But as engineering and manufacturing technologies have trickled down, the cost of satisfying hi-fi equipment has actually decreased. Today, when faced with a pair of inexpensive gems like the Infinity Primus P162 loudspeakers ($318 USD per pair), the challenge is to put aside prejudices that cause us to believe that we have to spend a lot to get a lot. The fairer question becomes, "How little would you be comfortable spending?" The Infinity Primus P162 is a speaker to build a system around -- it's that good.
Description
The Primus series has been designed to serve as the centerpiece of a home theater, with floorstanding, center-channel and bookshelf models in the line (the P162 is the largest of the three two-way bookshelf models). Boxed individually, the first impression the P162 gives is one of bulk. You get used to seeing 5 1/4" woofers in average-sized monitors, but these speakers carry a 6 1/2" woofer, along with a 3/4" tweeter. Both were designed by Infinity and employ the company's Metal Matrix Diaphragm driver technology, which Infinity claims produces low-mass cones of high rigidity by anodizing both sides of an aluminum core to a consistent thickness. They go on to say that this maximizes transient response, controls frequency response and improves resolution. The P162's tweeter hands off to the woofer at 3000Hz.
The cabinet is a little deeper than is the norm for minimonitors this size (and in this price range) and measures nearly 15"H x 8"W x 11"D. The P162 weighs 16 pounds. Vinyl black-ash finish has come a long way as well: The P162 is tightly wrapped and solid, with curved front edges on the cabinet framing a silver plastic baffle that matches the color of the drivers.
The tweeter is protected by two pieces of plastic that are bowed in slightly to resemble a pair of chromosomes. Porting in the front increases your options for positioning the speakers as close to the wall as you need to, but my listening tests were done in approximately the same spot where my reference speakers sit, on 20" stands about two feet from the wall. The black fabric grilles connect in the usual fashion via inserts on the front baffle, but they curve with a flourish over the top. I noticed a slight increase in treble detail with the grilles off, and the P162s' handsome presentation encourages you to leave them off and enjoy the in-studio styling.
Around back, the P162 is finished with gold-plated five-way binding posts. The speaker's frequency response is spec'd +/-3dB from 49Hz-20kHz, anechoic sensitivity is rated an excellent 90dB, and the impedance is 8 ohms.
Listening
Speakers are the voice of your audio system, and at entry-level pricing it's not unreasonable to look and listen for a reasonable facsimile of the best sound that's available. In many important respects, this is exactly what the Infinity Primus P162 offers. It plays surprisingly loud with only a few watts of power and is free from edginess and smearing, and its bass blooms beautifully without strain.
Ryan Adams' Heartbreaker (Bloodshot 71) offers guitar rock, mandolin-driven mountain ballads, and rootsy country. "To Be Young (Is to Be Sad, Is to Be High)" kicks things off with a holler, and the P162s delineated the jangly guitars from the cracking drums while letting the music loosen up without slackening or unspooling out of its grip. Adams' collaborators on this date were David Rawlings and Gillian Welch, who in their own music play and sing with the spirit of their old-timey forebears. On lesser equipment, I've occasionally been confused by the backing vocals on "Bartering Lines." Welch sometimes sounds like Rawlings, the voice recessed too far to reveal itself fully. Through the P162s, there was no doubt it was Gillian Welch. Each voice coming through the speakers had its own musical character and identity, most tellingly on "Oh My Sweet Carolina," where the P162s were able to explore every subtle crack in Adams' delivery. When Emmylou Harris came in on the chorus, the separation and lucidity were startling.
Associated Equipment
Loudspeakers – Axiom M22, Athena Technologies AS-B 2.2.
Integrated amplifier – NAD C325BEE.
Digital – Oppo DV-970HD universal player.
Interconnects – Monster Cable Interlink 200.
Speaker cables – Element Cable Double Run.
Beginning his career as a session musician and gradually gaining more attention as a sideman for Emmylou Harris, Buddy Miller has released his own solo records, each characterized by the guitarist's crystalline production style, with an entrancing depth of field and clear separation of instruments. On Universal United House of Prayer (New West 6063), Miller's vocals come to the fore to lead a band filled with gospel fervor. On "Worry Too Much," the P162s accurately conveyed the ominously predatory Hammond B-3 and the nightmarish squeal of Tammy Rogers' fiddle that surround Miller's hotly recorded vocals, deftly handling his range from secretive speech to banshee wail. For "Shelter Me," Miller's voice cried out in the foreground while his background singers held their ground in back, then darted to the front and in from the sides, like wind rushing through cracks in an old cabin. "Wide River to Cross," a duet with Emmylou Harris, was filled with authentic world-weariness and stark honesty -- both of which the P162s readily conveyed.
Bad Company may have had the hits, but Free had bassist Andy Fraser, and Paul Rodgers' vocals were never to be as strong and soulful as they were out in front of Fraser, guitarist Paul Kossoff, and drummer Simon Kirke. On the Millennium Collection (Universal 490735), "Fire and Water" possesses a tremendous drum sound, and the P162s established the song's steady foundation with impressive punch and emphatic slam throughout. On the upper end, Kossoff's guitar stung with pure electricity on "I'm a Mover," yet the P162s were able to deal with the more subtle dynamics of Rodgers' piano on "Catch a Train." The speakers were even able to refresh and resuscitate "All Right Now," a song I've heard a thousand times. The P162s reminded me of what makes this a great song: full bubbling bass, guitar jabs that seem to float, and a snappy British blues beat, all presented with transparent realism.
By now, I'd begun to give in to the Infinity P162s' seductively smooth midrange and propulsive bass. It proved to be a wonderful speaker for reggae, reproducing Burning Spear's Marcus Garvey (Mango 539377) and its miasma of Robbie Shakespeare and Ashton "Family Man" Barrett's bass playing, as Earl "Chinna" Smith's skanking guitar chops and Winston Rodney's keening, incantatory vocals cut through the smoky haze. Rodney doesn't sing so much as chant, and on the title track, the P162s accurately conveyed the loping rhythm and lyrical repetition of his phrasing, its audible nuances intact. On "Slavery Days," Rodney's lead was presented in sharply detailed contrast to Rupert Willington's and Delroy Hinds' more mellifluous supporting voices, all in three-dimensional fashion. But I kept coming back to Jack Ruby's production, as if the CD had been mixed on the antique, idiosyncratic, patched-together analog gear in Lee Perry's Black Ark Studio. The P162s presented a ripeness that gave the sound an overall warmth, but without being smeared or mushy. Bass wasn't quite seismic, but it eliminated any doubt with regard to its explosiveness.
Comparisons
Technically, the Axiom M22 ($470 per pair) falls under the company's "bookshelf" category, the third step up from more commonly sized two-way models in Axiom's line. The M22s are unconventionally tall, standing 20"H x 7"W x 8"D, with each having a 1" tweeter and two 5 1/4" midwoofers. Picture a standard bookshelf speaker as the upper two-thirds, sitting on top of an extra midrange/woofer. At 16 pounds, the M22 and P162 are equally heavy, but the similarities really end there. The M22 is half a head taller, and the P162 is 3" deeper. The latter is a true two-way, while the former looks like a three-way. It's 50% more expensive, as well.
My M22s, while fundamentally neutral, proved to be airier and slightly more articulate than the P162s and had an easier time separating the crisp, sterling highs of Greg Brown's solo-acoustic guitar from his irresistible baritone voice recorded live In the Hills of California (Red House Records RHR-180). While the P162s conveyed all the wistfulness and resigned optimism in Brown's phrasing on "China" and were perfectly suited to Brown's anxious plea to let his daughter get better soon on "Say a Little Prayer," the M22s were more adept at dealing with the undercurrent of silence suspended in these performances. Their ability to focus the ears on details and subtleties previously unrevealed across a vast dynamic range was superior to the P162s, as if through the Axiom speakers the music were allowed to hover slightly above the soundstage.
Because the Infinity speakers are priced to be a true entry-level choice and because the Axiom M22 is not, I also compared the P162s to a pair of Athena Technologies AS-B 2.2 speakers, a discontinued model of almost equivalent size, engineering and suggested retail price ($249 per pair when available). While the '2.2 was a similarly engineered two-way monitor, it lacks the P162's sturdiness, the cabinet sounding a bit more hollow when you knock on it, and the music it makes is looser and woollier, almost tubelike.
With the Athena '2.2s, as Chris Whitley's high falsetto on "Indian Summer" from Dirt Floor (Messenger 4) changes from reassuring baritone to anxious tenor on "Indian Summer," it was not as tightly defined and delineated as through the P162s. Through the P162s, the stomp of "Scrapyard Lullaby" was believably realistic, and the wistful mood of Whitley's National Steel guitar and gentle vocal were liquid and soothingly reassuring. Back to "Indian Summer," for the Athenas the track didn't quite retain its bluesy relentlessness, and it lost a bit in airiness and clarity, as Whitley's slide squeaked up and down the neck of his instrument.
All speakers around $300 per pair make sonic compromises -- or perhaps better stated, sonic choices. The Athena speakers err decidedly on the warm side, while the Infinity speakers accentuate the bass in a palpable way, defining and delineating throughout their range. Thus, these $300 speakers couldn't sound more different.
Conclusion
There are some reviewers who argue in favor of the source as the most important link in the audio chain. Amplification has its supporters, as well, and a strong case can be made for making a good integrated amp or high-quality separates the heart of your system. The vast majority of opinion, however, favors the speakers as the most critical choice to be made when building a system, and even if your budget is limited there still are many fine choices available from manufacturers with solid reputations and years of research and development in the crowded "bookshelf" category. PSB, Paradigm, Axiom, Energy, and Polk all come to mind.
It would be difficult to pay less for a pair of speakers and get as much as the Infinity Primus P162 delivers. Put another way, you can definitely pay more for speakers and not get as much high-fidelity sound. The P162 is forceful without being overbearing, and even at near-uncomfortable volume levels, this sensitive performer remained revealing, detailed and grain-free while sounding uncompressed and uncongested.
You could spend twice as much, or ten times as much, but neither guarantees freedom from buyer's remorse. Neither does the purchase of a pair of P162s, but you can guarantee yourself naturalness, vibrancy and dynamism, as long as you're willing to put your faith in the idea that bargains still exist, and sometimes you get more than you pay for.
...Jeff Stockton
jeffs@soundstage.com
Infinity Primus P162 Loudspeakers
Price: $318 USD per pair.
Warranty: Five years parts and labor.

Infinity Systems
250 Crossways Park Drive
Woodbury, New York 11797
Phone: (800) 553-3332

Website: www.infinityspeakers.com