April 2010
Hegel Music Systems H200 Integrated Amplifier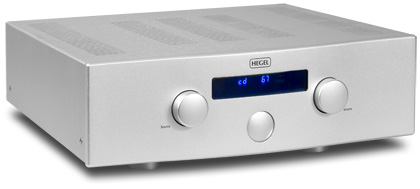 Associated Equipment
Speakers -- Wilson Audio Specialties Sophia
Integrated amplifier -- Jeff Rowland Design Group Concentra
Digital sources -- Wadia 830 CD player, Logitech Transporter, Apple MacBook laptop computer
Interconnects -- Cardas Audio Neutral Reference
Speaker cables -- Cardas Audio Neutral Reference
Headphones -- Sennheiser HD 600, Ultimate Ears UE 11 Pro
Headphone amplifier -- Ray Samuels Audio Emmeline "The Predator"
Accessories -- Audio Power Industries Power Pack II, Cardas Audio Signature XLR, RCA and BNC caps
Scandinavian countries, especially Denmark, have enjoyed a long history rich in audio innovation and audio manufacturers, the latter including such storied names as Dynaudio, Ortofon, Bang & Olufsen, and Electrocompaniet. Add to that Hegel Music Systems, which, like Electrocompaniet, hails from Norway. New to the North American market, Hegel produces digital source, DAC, and amplification components. The H200 ($4400 USD), one of three Hegel models of integrated amplifier, combines in a single chassis technology from Hegel's H2A mk2 and H4A mk2 power amplifiers and P2A mk2 preamplifier.
Hegel's underlying philosophy is to extract the best sonic performance from the source by using off-the-shelf components and Hegel's own patented SoundEngine, which uses no global negative feedback and, Hegel claims, cancels crossover distortion as the signal passes through all stages of the amplifier, purportedly delivering all the benefits of class-A amplification in a class-A/B amplifier, with none of the drawbacks associated with either type of design.
Specs and design
The Hegel H200 is a dual-mono class-A/B design with a generous 200Wpc on tap into 8 ohms and a minimum load rating of 2 ohms. Clearly, the H200 should be able to drive most loudspeakers without a problem. The claimed frequency response is 20Hz-20kHz, +/-0.2dB, the claimed distortion less than 0.01% at 100W.
At 17"W x 4.7"H x 15"D and 38 pounds, the H200 is nice 'n' tidy and easy to move around. Two colors are offered, silver and black, but unless you really love black, go with silver -- the sleek, curved, matte faceplate exudes modern, minimalist, Scandinavian design, but the black of my review sample obscured those details. Central on the front panel is a blue LED display for source and volume level, and below it is the Power button. To the right of the display is a large Volume control, and to the left is a matching Source knob for selecting among CD, Balanced, Auxiliary, and Home Theater (the last to switch in a separate A/V processor).
The rear panel has two pairs of five-way binding posts on each side, and a centrally located IEC socket for the detachable AC cord. Along the top of the rear panel are the inputs and outputs: in the center, a balanced XLR input, flanked by two single-ended RCA inputs; to the right of these, a pair of RCA inputs for use with an outboard A/V processor; and, to their left, two pairs of preamp outputs and one Record Out, all RCAs. The top panel is brushed aluminum, with ventilation slots.
The H200 comes with a metal remote control with buttons for Volume, Mute, and Source; it can also control a Hegel CD player. My only complaints are that the remote's buttons are very small, and that the absence of backlighting made it difficult at first to use it in the dark. After a few weeks I knew where the buttons were, and usually hit the right one.
Listening-room upgrade
Until now, my very first review for SoundStage!, in November 2007, was the only one that had been the result of my experiences in a dedicated listening room. Just before that review was published, my family and I moved into a +40-year-old, 1800-square-foot tract house in which my listening room was a small spare bedroom with less-than-optimal acoustics. The soundstage was narrow and shallow, and while the reproduction of the treble and midrange were decent, the bass left a lot to be desired -- the lowest octaves were less well defined than I'd have liked, though I was able to fix this a bit with some well-placed furniture. I consoled myself that the arrangement was temporary.
And it was. Last August we finally moved into our newly built, 3120-square-foot house, where once again I have a dedicated listening room. At 17'L x 15'W x 13'H, with a cathedral ceiling, my new room's volume is larger than that of any other listening room I've had, and the results have been impressive. The room's width exceeds by 3' that of the next widest room I've had, and this means a broader, more diffuse soundstage that sounds more natural than the tightly focused, hyper-realistic images I'd heard in my previous rooms.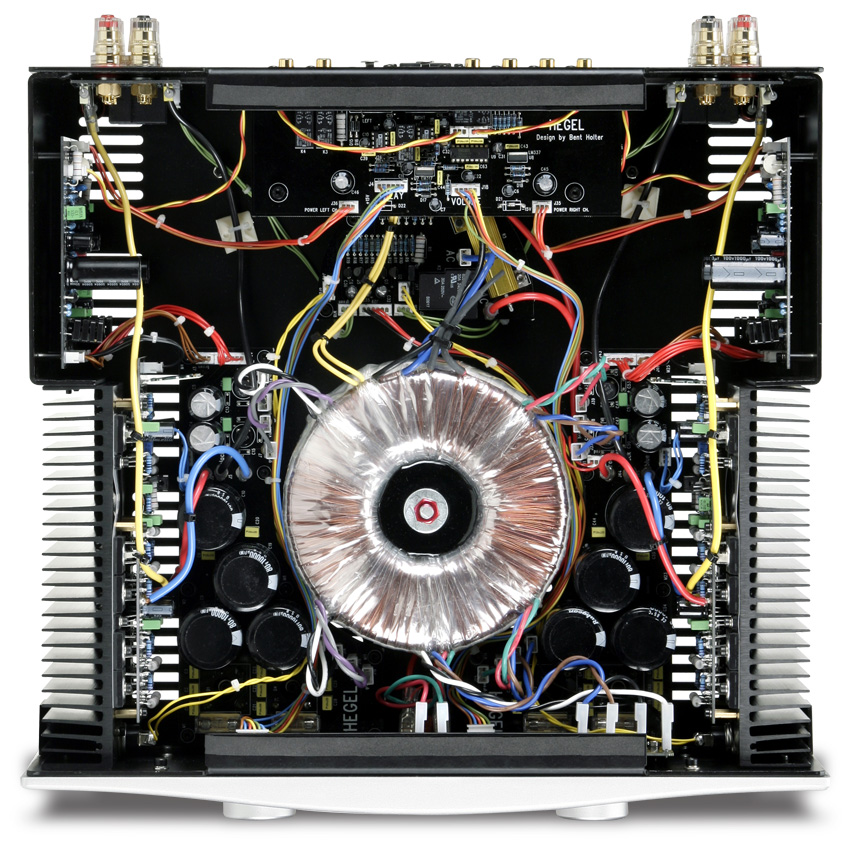 Listening
After inserting the H200 in my system, I used it for background music the first few days, mostly listening to my new boxed set of The Beatles in Mono (CD, Capital 99451). The owner's manual states that some break-in time is necessary, and my first impression of the H200's sound was that it was tonally somewhat dark. However, after about a week's worth of listening, the sound opened up and the dark quality disappeared. Several weeks later, just before I went on vacation, I powered down the H200. When I returned, so had that dark quality, but it disappeared again after a few days. I conclude that, when not in use, the H200 should be left powered up in Mute mode, and turned completely off only if the user doesn't plan to listen to it for an extended period.
Apart from that, the H200 performed well, and was at least as transparent as the other integrated amps that have graced my rooms over the last two years. The coin toss and Pete Townshend's footsteps in "Music Must Change," from the Who's Who Are You (CD, MCA MCAD-11492), was as vivid as I've ever heard, with no obscuring of fine detail. The H200 also compared favorably with other recently reviewed amps in being very quiet, producing stable images that emerged from a black background with nice detail and focus. While the soundstage was wide, the depth of that soundstage was even more impressive -- I could hear far into it, something particularly noticeable with recordings of classical music. As I listened to Percy Grainger's The Warriors, performed by the Philharmonia Orchestra conducted by John Eliot Gardiner (CD, Deutsche Grammophon 445 860-2), I could hear well into the deeper recesses of the recording venue, London's All Hallows Church, despite the fact that this is a forward-sounding, room-filling recording.
If I had to describe the H200 in one word, that word would be propulsive. Its ability to handle wide dynamic swings and sudden shifts in rhythm meant that it was adept at handling uptempo music, especially rock and jazz fusion. Bass lines were tight, nimble, and easy to follow, devoid of any sense of hesitancy. Kick drums and tom toms had pounding, pulsating impact. On Chick Corea and John McLaughlin's Five Peace Band Live (CD, Concord CRE-31397-02), the rhythm section has a powerful undercurrent that lays the foundation on which the jams are built. As Christian McBride dug in deep with his bass and drummer Vinnie Colaiuta kept steady time, the H200 had no difficulty in keeping the flow of this music going. Similarly, in the middle break of the Who's "The Real Me," from Quadrophenia (CD, MCA MCD2-11463), as Roger Daltrey sings accompanied only by John Entwistle and Keith Moon, the bass and drums maintain a forceful presence to complement Daltrey's in-your-face belting. The H200 definitely kept my toes a-tapping.
However, the H200 was no sledgehammer when it came to microdynamics, and here is where Hegel's proprietary SoundEngine probably had its biggest impact, with refinement in the reproduction of the treble and midrange. The H200 displayed finesse during quiet passages, and had a light touch with more delicate music, such as acoustic guitar, solo piano, and gentle percussion. In "Ganges Delta Blues," from the Ry Cooder and V.M. Bhatt's A Meeting by the River (CD, Water Lily Acoustics WLA-CS-29-CD), the lush interplay among Cooder's bottleneck guitar, Bhatt's mohan vina, and Joachim Cooder's tablas was meticulously reproduced, with every subtle inflection laid bare. On "Flamenco Sketches," from Kind of Blue, Miles Davis' piercing, probing solo on muted trumpet is followed by John Coltrane's and Cannonball Adderley's respective solos on tenor and alto sax, all conveyed with natural, brassy warmth. And with all of their emotional intensity intact, the solos themselves floated in a well-defined space, framed by the rhythm section playing softly behind them.
Of all the amps I've reviewed over the past two years, the H200 was probably the most difficult to compare with my Jeff Rowland Design Group Concentra ($5600, now discontinued), because it was most similar. While two of those review subjects, the Esoteric A-100 ($19,000) and the Luxman L-509u ($10,000), were clearly better than the Concentra, and other amps equaled or exceeded the Rowland in certain aspects, the H200 was so close in so many respects that, had this been a blind test, I'd have had a difficult time telling them apart.
What finally allowed me to do so wasn't a specific sonic trait or signature, but what sort of music I found myself preferring. If I was listening to something slow and graceful, such as a jazz piano trio, then I leaned in favor of the Concentra, for its slightly richer midrange and airier treble. But when I wanted something a bit more vigorous, such as rock or jazz fusion, then the H200 got the nod, for its nimble bass. But regardless of the music, I could listen to either amp and not miss the other -- that's how similar they were.
Conclusion
The H200 may be new to North America, but Hegel Music Systems has brought to the table a formidable competitor in terms of both performance and price. Being able to perform as well as amps costing much more marks the H200 as a great value -- and in these trying economic times, even more of one. Paired with a high-quality, high-value digital source and speakers, the Hegel H200 could be the anchor of a killer midpriced system. Hats off for a job well done.
. . . Uday Reddy
udayr@soundstagenetwork.com
Hegel Music Systems H200 Integrated Amplifier
Price: $4400 USD.
Warranty: Two years parts and labor.
Hegel Music Systems
P.O. Box 2, Torshov
NO-0412 Oslo, Norway
Phone: +47 22-60-56-60
Fax: +47 22-69-91-56
E-mail: info@hegel.com
Website: www.hegel.com
Hegel Music Systems USA
Fairfield, IA
Phone: (641) 209-3210
Fax: (641) 209-3076
E-mail: ben@hegel.com
Website: www.hegel.com