February 2009
HeadRoom Bi-Amped Audiophile Desktop System
by John Crossett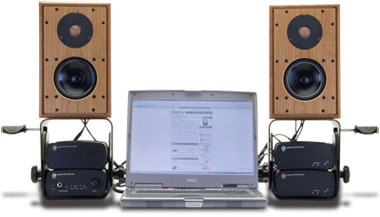 Review Summary
| | |
| --- | --- |
| Sound | "Full and rich. There was almost none of the exaggerated left/right soundstage I expected to hear with a pair of speakers so close to my ears. The soundstage wasn't overly deep or wide, but within its boundaries there was a magnificent sense of air and space." "The bass was surprisingly strong and deep for a system featuring speakers that use a small woofer that is only specified to 75Hz." "Instruments like electric or acoustic guitar, cello, violin and especially piano were colored only by the tone and timbre of the instrument itself, the HeadRoom system adding little or nothing of its own." |
| | |
| --- | --- |
| Features | "This system comprises a preamp, power supply for the preamp, a pair of power amps, stands and speakers that take up little more than one square foot of desktop space, yet it can all be configured in various ways to satisfy your listening needs." "In another of the intelligent moves HeadRoom made in the design of this system, the Ultra Desktop Amp, Desktop Power Supply and Desktop Bi-Amp Amplifiers sit firmly one atop another via grooves in the rubber surround on the tops. Smart. This allows the amps and power supply to nestle snuggly inside the special stands HeadRoom created, which means that there is no wasted desktop space." |
| | |
| --- | --- |
| Use | "One of the first things I found was that despite the fact that this is meant to be a desktop system, speaker placement and adjustment are as vitally important as what I lavished on speakers used in my main system. Get it wrong and you'll still achieve good sound, but not great sound." "Buying the system complete means that it's a simple matter of placing everything on your desk and hooking it all up. I had the review system up and playing in less than an hour." |
| | |
| --- | --- |
| Value | "No, it's not inexpensive, but audiophile systems seldom are." "This system is the current standard bearer for delivering musical enjoyment to deskbound audiophiles. If I had the money, it wouldn't be leaving my desktop -- and I might not be leaving my desk!" |
How much time do you spend in front of a computer each day? I spend far more time than I ever thought I would or would really want to. But because the computer has become such an important aspect of our lives, I'm willing to bet that many of us are spending much of our precious time sitting in front of our computer screens -- and mostly in silence. Until now I've used headphones for listening to music when writing, sending e-mail or just surfing. While this kind of listening is enjoyable, it isn't always the most comfortable way to spend long periods of time.
Thus HeadRoom saw a need for a system that would include headphone listening when you seek privacy, and also a system that would adhere to the traditional way most audiophiles listen -- with well-designed, good-sounding speakers. You may be wondering about the feasibility of placing a pair of honest-to-goodness audiophile-approved loudspeakers on your desk. Both desktop space limitations and sound-integration issues are problems that need to be overcome for such a system to be viable. Fortunately HeadRoom thought of a solution for both of those problems. The Bi-Amped Audiophile Desktop System ($5860.80 USD for the complete system as tested) was created to offer the potential for truly excellent sound while requiring only a small amount of desktop real estate. This system comprises a preamp, power supply for the preamp, a pair of power amps, stands and speakers that take up little more than one square foot of desktop space, yet it can all be configured in various ways to satisfy your listening needs.
Parts is parts -- or what makes up this system
At the very heart of this system is the HeadRoom Ultra Desktop amp ($1599) at a tiny 6 1/4"W x 3 "1/3H x 6 1/4"D and about 2 pounds. The name is a bit misleading. The Ultra Desktop Amp is really a headphone amp or stereo preamp. Features include both 1/4" and 1/8" headphone jacks, a rear-mounted output switch, a brightness switch, a crossfeed switch and a gain switch. Of course, there is also a large volume-control knob. The output switch lets you cut off signal to the speakers when you want to use headphones. The brightness switch is to compensate for what HeadRoom calls "the slight warming action of the processor." You get a choice of two different filters; the first boosts signals above 3kHz while the second starts that boost an octave earlier. I tried both, and while I could hear a slight difference, I found that the middle off position was best for my situation. The crossfeed switch is a HeadRoom feature that feeds a bit of each channel's signal to the opposite channel, thereby opening up the sound so it doesn't seem to be coming from between your ears when listening to headphones (it does nothing for speaker listening). The gain switch offers three different settings, mainly useful for headphones, as many headphones' impedance and sensitivity require the amp to output more power. When using the Harbeth speakers, I left it in the low-gain position, as this allowed me to run the volume control at around the 10:00 position.
Around back is the analog input-selector switch, which chooses between the two sets of RCA single-ended input jacks, and the digital input selector switch to choose among optical, coaxial and USB digital inputs. Below this is a source selector that chooses between digital or analog inputs. There are the input jacks for the digital connections and finally the 15V DC power input jack that connects to the outboard power supply.
Inside is the Max DAC, at the heart of which is an Analog Devices AD1896 192KHz stereo asynchronous sample-rate converter. The rest of the Max DAC is made up of all the premium audiophile parts. For powering the Ultra Desktop Amp you'll want the Desktop Power Supply ($399), which also clocks in at the same size as the Ultra Desktop Amp but weighs in at a more robust 3 pounds. Due to the small size of the Ultra Desktop Amp, placing the power supply inside it would severely compromise its performance, so HeadRoom offers you either a wall-wart power supply or the Desktop Power Supply, which provides cleaner power. It connects to the Ultra Desktop Amp via a five-pin DIN connector.
To power anything but headphones you need one of the amps HeadRoom has designed for this type of system. There are multiple choices available depending on need and budget. There's a single stereo power amp ($899), 45Wpc into 4 ohms; a pair of monoblocks that deliver a whopping 150W into 4 ohms ($1599 per pair); or, going whole hog, there are the biamp models with 50wpc at 4 ohms ($1699). The last amps are the ones I received for this review. The speakers HeadRoom provided are biwireable, and the biamp amps have two separate pairs of speaker binding posts just for that purpose -- the other models have only one set of binding posts. Besides, 50Wpc is more than enough, given how close I'm supposed be sitting. Out front are the green LED to indicate that power is on, and two red LEDs for amp temperature and over current -- neither of which ever came on during the review period, and I ran the amps 24/7 and hard enough to give them a chance to overload. Then there is the output switch that enables or disables the signal from reaching the speakers.
In another of the intelligent moves HeadRoom made in the design of this system, the Ultra Desktop Amp, Desktop Power Supply and Desktop Bi-Amped Amplifiers sit firmly one atop another via grooves in the rubber surround on the tops. Smart. This allows the amps and power supply to nestle snugly inside the special stands HeadRoom created ($499 per pair), which means that there is no wasted desktop space. The stands are sturdy and fully adjustable, up and down, forward and back. I found them perfectly designed for their intended use. They also have a rubber coating top and bottom to ensure that the speakers and stands stay where they're placed.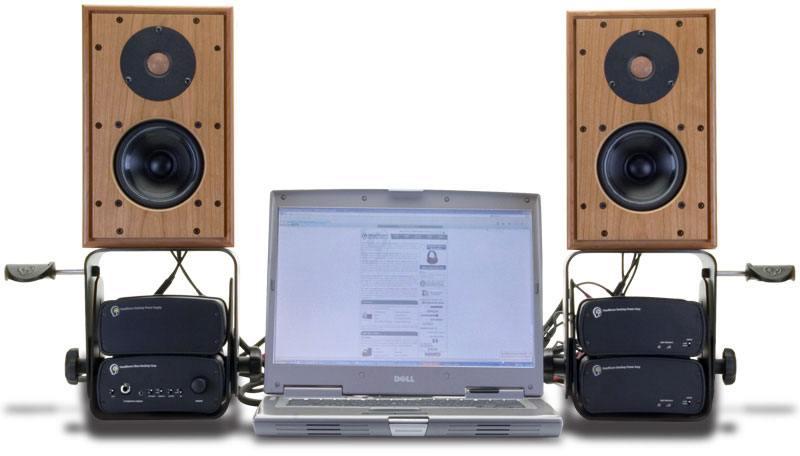 Finally, HeadRoom sent along a pair of Harbeth HL-P3ES-4 biwireable speakers ($1995 per pair). At 7 3/4"W by 12"H by 7 1/2"D, they are just the right size -- not too big and not too small. At 13 pounds, they aren't too light or too heavy either. Their frequency response is said to be 75Hz-20kHz, +/- 3dB and they have a 6-ohm nominal impedance. Sensitivity is rated at 83dB/W/m. The power recommendation is 25 to 120Wpc. The HL-P3ES-4 uses a 4 3/8" polymer-cone woofer and a 3/4" aluminum-dome tweeter that is covered by a gold mesh screen for protection. The cabinets are made of real cherry wood, not veneered MDF. Thus they look as good as they sound.
To top everything off, HeadRoom also sells all the cables you'll need to connect everything. HeadRoom recommends DiMarzio interconnects ($99 per 4 1/2' pair) and speaker cable ($179 per 5' pair; two pairs are needed for the biamp system). HeadRoom also sells assorted coaxial, optical and USB cables if you don't have any already. For this review, I added to the Desktop System an Oppo DV-983H universal player connected to the HeadRoom Desktop amp with an Analysis Plus Black digital cable.
Buying the system complete means that it's a simple matter of placing everything on your desk and hooking it all up. I had the review system up and playing in less than an hour. Let me tell you, it's much more fun listening to music than setting up equipment!
Sound
I began my listening time with the HeadRoom Bi-Amped Audiophile Desktop System using the included pair of Harbeth HL-P3ES-4 loudspeakers. Let me state right up front that this is absolutely one fun system both to use and listen to. The feeling of sitting at my computer and being totally enveloped in sound was intoxicating. But one of the first things I found was that despite the fact that this is meant to be a desktop system, speaker placement and adjustment are as vitally important as what I lavished on speakers used in my main system. Get it wrong and you'll still achieve good sound, but not great sound. Spend a little time making sure all is correctly positioned and the sound will astonish you with its quality. This is where those custom-designed and -made HeadRoom stands begin to pay dividends. Their adjustability in both height and tilt make sure you can set your speakers of choice in the position for best sound.
Once the system was set up properly -- with the speakers a bit less than two feet from my chair -- the soundfield generated by the HeadRoom electronics and Harbeth speakers was full and rich. There was almost none of the exaggerated left/right soundstage I expected to hear with a pair of speakers so close to my ears. The soundstage wasn't overly deep or wide, but within its boundaries there was a magnificent sense of air and space. As I thought, given the size of the Harbeths (each about the size of a shoe box), the images produced were a tad smaller than normal. However, those images were consistent across the spectrum and still offered a full sense of detail.
The bass was surprisingly strong and deep for a system featuring speakers that use a small woofer that is only specified to 75Hz. The opening lines of "Come Together" from the Across the Universe soundtrack album (Innerscope B0010271-2) offered plenty of deep bass. The HeadRoom/Harbeth system passed this test with flying colors. The HeadRoom amps definitely had the guts to reach as deep as the speakers could go. They had enough grunt to make the Harbeths sound almost full range. Even so, the very deepest bass simply wasn't there, but the Harbeths' powerful midbass could still cause my insides to rumble with its power. Plus, the Desktop Bi-Amped Amplifiers not only seemed far more powerful than I thought, they delivered their power with a clarity and sense of detail that caught me by surprise. Should more bass be desired, HeadRoom suggests adding a subwoofer if space permits. I would concur.
Given Harbeth's history as the maker of portable monitors for live recordings, I expected the midrange of this system to show me what makes minimonitors special to so many audiophiles. I wasn't disappointed. Vocals of every stripe were easily produced in a manner that made each distinct. The HeadRoom electronics stayed clear, clean and neutral, with nothing added to mar the sound. This system could make female singers as diverse as Maria Muldaur and Emmylou Harris sound not only different but also totally themselves. Mudaur's latest album, Yes We Can (Telarc CD 83672), and the song "War" offered up her mature, deep, Southern-blues style, while Harris's "Moon Song" from All I Intended To Be (Nonesuch 480444-2) showed that even in middle age she still sings like the proverbial angel. Male voices came shining through without the slightest hint of added chestiness. Roy Orbison's powerful voice from his album Black and White Nights on the CD layer of the SACD (Image Entertainment 1D277008DVD) demonstrated that even before his death his voice still possessed that youthful vigor and supple tone that made identifying it easy.
Instruments like electric or acoustic guitar, cello, violin and especially piano were colored only by the tone and timbre of the instrument itself, the HeadRoom system adding little or nothing of its own. Since this is a complete system, each component is well matched to the others, creating a perfect storm of desktop listening pleasure. The Red Book layer of the latest in the ongoing series of Mozart's Complete Sonatas for Violin and Fortepiano Vol. 6 (Channel Classics CCS SA 26208) with Rachel Podger and Gary Cooper was particularly beautiful. Podger's violin was all string, bow, resin and body, while Cooper's fortepiano was clearly separated from and behind Podger's violin. It was also a much larger stringed percussion instrument. I could almost see the hammers beating on the strings as Cooper pressed the individual keys.
I found the treble to be on equal footing with the balance of the sonic spectrum presented by this system. Smooth, extended, and sweet, it made any well-recorded jazz sound especially impressive. Struck cymbals had both the sharp initial strike of wood on bronze seamlessly melded with harmonic information that wafted off into a black background.
Tone and timbre were very nearly spot-on, with just a hint of solid-state thinness marring an otherwise realistic presentation.
Another aspect that stood out was that the Audiophile Desktop System could smooth out the rough edges caused, I think, by the added jitter of USB-based sources, which is a testament to the Analog Device's DAC HeadRoom chose to use. After much varied and diverse listening, I found that this system wasn't designed for any particular musical genre. It handled whatever I threw at it with aplomb, from rock to jazz through to rap and classical. About the only people who will be disappointed by this system based around speakers are true bass heads – and, as noted, they can add a subwoofer if they so choose.
Once I felt I had a handle on the Audiophile Desktop System's sound via the Harbeth speakers, I moved on to headphones. Since HeadRoom has made its name on headphone listening, I expected this to be the real strength of this system, and again I wasn't disappointed. I tried to use as many different headphones as I could to give the Desktop electronics a full workout. I lined up AKG K701s, Beyerdynamic DT 770s, and Audio Technica ATH-AD700s. These gave me three completely different sonic perspectives from which to judge the agility of the HeadRoom system. It was now that both the gain and crossfeed switches played a major role in tailoring things. I used the crossfeed circuit for all my headphone listening, as I found during the review period that it helped me enjoy my headphone time to the fullest. The gain switch was a godsend. Both the AKG and Beyerdynamic headphones needed the switch to be set to either the medium or high positions, as both crave power to come alive. The Audio-Technica 'phones are nowhere near as demanding, so the low-gain setting worked just fine for these highly sensitive headphones.
I found that with headphones that emphasize the bass, such as the closed-backed Beyerdynamic DT 700s, the HeadRoom system offered full, deep, powerful, clean low frequencies. When I listened to the AKG K701s, the bass didn't seem to go as deep but was more detailed, textured and clear. (Actually it did go as low. It was just that the bass of the K701s was more an equal part of the sonic spectrum than that of the DT 770s.) The Audio-Technica ATH-AD700s were light, airy and sweet, but they lacked the bass kick of the others. Voices were a bit dark and heavy via the DT 770s, nigh-on perfect through both the K701s and the 'AD700s. Highs were a bit closed in via the DT 700s, wide open with the K701s and just a bit thin via the 'AD700s. All of this was just what experience has taught me to expect from these headphones, proving that the HeadRoom system didn't add any colorations of its own to the sound.
Soundstaging isn't a strong point of headphone listening, but the HeadRoom System let each headphone I listened to portray soundstaging to its fullest, thanks to that crossfeed circuit. Image placement was excellent no matter what set of headphones I used. Soundstage size varied, though, depending on the kind of headphone I used. The open-backed AKG and Audio-Technica headphones offered a wider portrayal than the closed-backed Beyerdynamic 'phones.
Comparisons
Comparisons? To what? The HeadRoom Bi-Amped Audiophile Desktop System is unique in its design and makeup. By not forcing you to be tethered to your desk by a headphone cable and keeping itself small in footprint, it opens up the notion of working at your desk or anywhere in your office and still being able to hear music. But sit at your desk and it places you in the sweet spot, thanks to those neat, innovative adjustable speaker stands. Because this is where you will be spending most of your time, the HeadRoom system makes sure that this position offers the best sound. Plus, the system's versatility gives you multiple input options that allow you to listen to any source you wish.
I will say that my listening to the system via headphones beat the pants off any of the portable HeadRoom amps like the Total BitHead or Portable Micro Amp with DAC that I've been using. There was simply more clean power behind each note, and a better sense of how each note was created and played, together with how each one related to the rest to create a piece of music.
As a speaker-based audio system, I could never get my bedroom audio system to offer sound as cohesive and integrated as that at my desk. Finding another all-in-one solution this versatile will be difficult indeed -- though I have no doubt the success HeadRoom will enjoy with this system will draw others into the field. But as of now this system stands alone.
Conclusion
The HeadRoom Bi-Amped Audiophile Desktop System lives up to its name. It truly is a system approach with multiple input options for sources that have audiophile sound quality and appeal. No, it's not inexpensive, but audiophile systems seldom are. However, if you find that you spend a good portion of your time parked in front of a computer screen and seek the solace that only top-quality musical reproduction brings, then this system becomes a very real option -- and the only one at this point in time. By giving you the choice of audiophile quality listening either via speakers or headphones you get the best of both worlds wrapped up in a neat little package.
This system is the current standard bearer for delivering musical enjoyment to deskbound audiophiles. If I had the money, it wouldn't be leaving my desktop -- and I might not be leaving my desk!
...John Crossett
johnc@soundstage.com
HeadRoom Bi-Amped Audiophile Desktop System
Price: $5860 USD.
Warranty: Two years parts and labor; 30-day initial-purchase guarantee.

HeadRoom Corporation
2020 Gilkerson Drive
Bozeman, MT 59715
Phone: (800) 828-8184

Website: www.headphone.com