May 2010
Esoteric A-03 Stereo Amplifier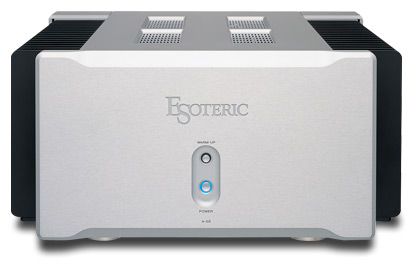 For years, Esoteric made what many considered to be the best universal disc player on the market. The DV-50 set a high standard of sound quality in its reproduction of recordings stored on CDs and SACDs, as well as DVD-Audio and DVD-Video discs. What really set this model part, however, was its build quality. At 47 pounds, the DV-50 was built like a tank. The designers went to great lengths to build a sturdy chassis that would isolate the optical disc from outside contamination. But then, everything about the DV-50 was supernice. The aluminum finish of the faceplate is a hallmark of Esoteric products, and the rear-panel layout was intelligent, with high-quality connectors. The combination of these characteristics with reference-grade audio and video performance justified the DV-50's price of $5500 USD. This put the player in rarefied air, but its performance, design, and build quality made it worthy of the adjective "high-end."
Now in for review is a class-A stereo amplifier from Esoteric, the A-03 ($14,000 USD). It measures 17.5"W x 8.6"H x 17"D and weighs about 70 pounds. My first impression of the A-03 was of how attractive it is. The photos I'd seen of it had not done it justice -- this amplifier is stunning. The front faceplate is natural aluminum subjected to a combination of blast and short-scratch finishing. It's 20mm thick, with Esoteric engraved on it. An indention below the logo houses the Power and Warm-Up buttons, each backlit by a blue light. Press Warm-Up and the amp readies itself to play by using less power than if you were to just turn it on and leave it on. In Warm-Up mode, the total power consumption is 220W, or about 45% less than full throttle. Once the Warm-Up button is pressed, it blinks a few times, and the amp reaches its optimal operating temperature.
The symmetrically placed heatsinks on the A-03's sides are processed from black Alumite, a liquid compound that is an excellent casting agent. Poured into a mold, Alumite solidifies in three minutes, to a consistency very much like manufactured plastic. The little ridges on the sinks increase their surface area, which means they can dissipate more heat. Great effort went into making the chassis of the A-03 as inert as possible; however, when I rapped a knuckle on the amp's top plate, I did hear a slight resonance.
The input and output connections on the A-03's rear panel are far enough apart to permit easy connections. The amp has one pair of speaker binding posts per channel; these are WBT-0710Cu terminals, whose conductor cores of pure copper are gold-plated for high conductivity and low resistance. The input connections are the standard balanced XLR and Esoteric's own RCA terminals. In the top right corner is a selector for choosing between RCA and XLR input, and just below that is a switch to select between BTL (bridge-tied load, or mono configuration) and Stereo. The A-03 is claimed to output a minimum of 50Wpc into 8 ohms, 100Wpc into 4 ohms, or 200W into 8 ohms in BTL.
Audiophiles read a specification like "50Wpc" and immediately assume that it refers to a low-power amplifier. However, while that is the A-03's official power-output spec, I'm told that, in reality, its maximum useful output into 8 ohms is more like 77Wpc. The A-03 has large, independent toroidal transformers, one per channel. According to Esoteric, this enhances the amp's ability to "supply current to each channel's speakers, while preventing interference between channels. By using an independent transformer and power circuit for the voltage amplifier stage, which drives the current amplifier stage, the effect of variations of voltage is suppressed and the current amplifier receives a stable power supply. Separating each circuit block into power circuits and providing independent transformers reduces cross-channel interference and enables both robustness and delicacy of expression within the music."
But why class-A, a very inefficient way of converting AC power into sound? Because the output devices of a class-A amp are always switched on, the unused energy is converted into heat and expelled into the listening room. Sure enough, the A-03 ran hot -- after an extended listening session, its heatsinks were hot enough to burn the skin. But while such inefficiency can heat a room while raising your electrical bill, the benefits in sound quality make up for it -- class-A amps are generally low in distortion and high in linearity, which means they sound cleaner and more natural to many people's ears. The A-03's signal/noise ratio of 117dB is impressive, and supports Esoteric's claim that the A-03 has great sound. But did it?
System
The Esoteric A-03 was connected to my Rockport Technologies Mira loudspeakers and the preamp section of my Simaudio Moon Evolution 600i integrated amplifier. Also in the signal chain were a Bel Canto DAC3 DAC, and an Apple MacBook Pro laptop computer used as a music server. Speaker cables and interconnects were Analysis Plus Solo Crystal Oval.
Sound
There are moments in audiophile time when the way a particular song sounds at a particular moment sticks with you forever. The funny thing is, as you try to pursue that elusive sound by adding new gear to your system, it's rare that you ever recapture such moments. Perhaps the memory of a particular audio system's reproduction of that recording has been unfairly placed on an unrealistic pedestal. Or perhaps it really was a truly special combination of components in an outstanding room.
Such a moment happened to me a few years ago, while I was listening to the Wailin' Jennys' version of Neil Young's "Old Man," from their 40 Days (CD, Jericho Beach 0403), through a pair of YG Acoustics Kipods. The acoustic guitar that opens this track sounded as real as any music I've ever heard through an audio system. With the A-03 in the chain, my Rockport Technologies Miras provided an equal sensation. The strings of the guitar were incredibly focused. Each pluck of the pick was ultraprecise, and resonated out from the image of the guitar as if from an actual instrument in my room. The sound had the palpability of a physical object occupying three-dimensional space. This was a rare moment, and an accomplishment by my audio system that I will remember long after the A-03 has been returned to Esoteric. To say that the A-03 got the best from my speakers is an understatement. In fact, I now have newfound respect for the amplifier's importance in the audio chain -- I always knew it was critical, but I hadn't realized it could define the sound of the system, just as we expect speakers do. The exceptional synergy of the combination of A-03 and Rockport Miras created a sublime sound in my room.
Something else I immediately noticed was the improved immediacy of large-scale music, such as Gustav Holst's The Planets, with David-Lloyd Jones conducting the Royal Scottish National Orchestra (CD, Naxos 8.555776). This remarkable recording features driving brass that requires a gutsy amplifier to fully control the speakers in order to re-create its intensity. I couldn't help feeling that hearing this performance through the A-03 was a completely different listening experience from any I had had before. It was as if the A-03 -- and its mere 50Wpc -- had breathed more life into the orchestra, and I was hearing an inspired, once-in-a-lifetime performance that was filled with passion -- a performance I won't soon forget.
The A-03 sent a wave of energy through my Miras that allowed them to perform at a level I was unaccustomed to hearing from them. With recordings, such as The Planets, that have an immense dynamic range, an amplifier with exceptional damping factor can really earn its stripes. Because the A-03 could properly scale the force of the brass section, then recover quickly enough for the drumstrokes, which are farther back in the soundstage and lower in level, it reproduced a greater sense of realism. The sharp leading edges and natural decay in which this recording abounds require a fast, controlled audio system to be properly reproduced. Nothing in my audio system had changed other than the amplifier, and it had made all the difference.
The Esoteric A-03 also helped reveal more life in smaller details of recordings. My favorite CD at the moment is Neil Young's Live at Massey Hall 1971 (CD, Reprise/WEA 43328). The sounds of the audience and the ambience of Massey Hall can be heard to varying degrees, depending on the system you're listening through. I've said to friends that while I can enjoy the CD while listening to it in the car, only when I hear it through a well-put-together high-end system can I fully appreciate Young's performance. With the A-03, the applause of the crowd was more vivid than I'd ever heard with my system. Small details, such as Young's movements on stage and the sound of him fumbling with his guitar, all seemed a bit more forward and present. My system had always delivered his voice with proper space, scale, and depth, but now I felt there was more life in the performance.
Young's singing fluctuates in level and intensity all through Live at Massey Hall, but especially in a song like "A Man Needs a Maid," which can overload a room and push a speaker's tweeter to distortion if played too loud. My Miras showed no stress, even at very loud levels, and neither did the 50Wpc Esoteric -- further proof that the on-paper specs don't tell the A-03's whole story. And, as in the Wailin' Jennys' version of "Old Man," Young's acoustic guitar sounded more natural, more present in my room. In fact, at no time did I ever even sense a lack of power -- the Esoteric sounded like a 250Wpc amp, with grunt in the bass and an effortless quality everywhere else in the audioband, just as you'd expect from a powerhouse solid-state amp.
Comparisons
I have owned two class-A amplifiers, including my first "real" stereo amp, the Krell KSA-50S ($3300, long discontinued). Krell has always had a reputation for providing a great foundation for deep, powerful bass, in part because of their massively built power supplies, and the 50Wpc KSA-50S lived up to that rep. My next class-A amp was the Coda Model 11 ($5500, discontinued), rated at 100Wpc and noticeably more powerful than the Krell in the low end, the latter already excellent in that regard. My latest stereo amp, the Classé CA-2200 ($5500), outputs 200Wpc in class-AB. The differences in the sounds of the Classé and Coda were night-and-day. While the Classé had plenty of punch for the bottom octaves -- almost matching the Coda Model 11 -- the Classé's sound was much sweeter and more detailed from the midrange frequencies up.
The Esoteric A-03 combined the best qualities of the Krell and the Coda -- very strong, deep bass and plenty of drive down low -- with the Classé's overall neutrality and detail. It was truly the best of all worlds. I found details in music to be a bit more forward than I'd experienced before the A-03's arrival, which could be a good thing. For instance, when listening to recordings featuring a cello, I found the instrument had greater physical presence in the room: more shape, and a better sense of space within the soundstage. The increase in low-frequency detail within each stroke of the bow reminded me of far more expensive audio systems that I have experienced in the past. My system was now operating on another, higher plane.
The Esoteric A-03 costs more than twice as much as any of the amps I've listed above -- and twice as much as any amp I have ever reviewed. But it was, quite simply, sonically superior to all other amplifiers I've had in my system, and not by small margins. It was the most neutral, but also the most extended in the highs; it was as strong in the bass as the best, but countered that with excellent balance throughout the audioband; lastly, it was as quiet as any amp I've heard in my system, while also able to scale a wide dynamic range with frightening realism. In a word, it was just better.
Conclusion
For an audio product to be truly high end, it must first sound great; second, it must be rugged and reliable; and third, the execution of the design, from the build quality right down to the finish, must be impeccable. The Esoteric A-03 is such a product.
However, there's one other thing. If I'm going to buy a product, it's vital that its manufacturer have a reputation as impeccable as the one Esoteric has earned. I'm reminded of a recent editorial Jeff Fritz wrote on Ultra Audio, in which he paraphrased Warren Buffett: "It's far better to buy a wonderful audio component at a fair price than a fair component at a wonderful price." I believe that the Esoteric A-03 is that sort of wonderful audio component.
If you're in the market for a new stereo amplifier and can afford an A-03, you may find it to be the last amplifier you ever buy. I fell in love with this amp from the moment I pulled it out of its box. The Esoteric A-03 is the best stereo amplifier I have ever heard in my room, and I was thoroughly impressed with it in ways I hadn't expected. If I could afford it, it would make a huge improvement in the sound of my audio system. Actually, it did.
. . . Randall Smith
randalls@soundstagenetwork.com
Esoteric A-03 Stereo Amplifier
Price: $14,000 USD.
Warranty: Three years parts and labor.
Esoteric Division
TEAC America, Inc.
7733 Telegraph Rd.
Montebello, CA 90640
Phone: (323) 726-0303
E-mail: esoteric_info@teac.com
Website: www.esoteric.teac.com