June 2010
Dynaudio Focus 360 Loudspeakers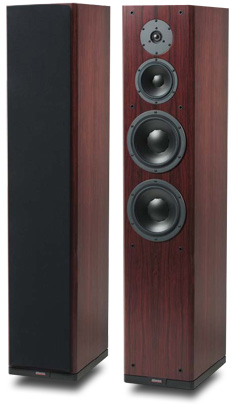 Associated Equipment
Speakers -- Rockport Technologies Arrakis, Paradigm Reference Signature S2 v.3
Amplifier -- Boulder Amplifiers 2060
Preamplifier -- Boulder Amplifiers 1010
Sources -- Apple MacBook running iTunes and Amarra, Bel Canto DAC3VB/VBS1 DAC, Simaudio Moon Evolution 750D DAC/transport
Speaker cables -- Shunyata Research Aurora-SP
Interconnects -- Shunyata Research Aurora-IC
Power cords -- Shunyata Research Anaconda Helix Alpha/VX, Python Helix Alpha/VX, Taipan Helix Alpha/VX
Power conditioner -- Shunyata Research Hydra V-Ray II

All consumers -- even audiophiles! -- want good value for their money, but too often reviewers lose sight of that most basic tenet of consumerism. To leave unaddressed in a product review the issue of value is to neglect the very essence of what an informed reviewer should be concerned with -- along with, of course, the host of other characteristics that ultimately define a product and its place in the market.
About six years ago, when I lived in a rental house while my current home was being built, I owned a pair of Dynaudio Confidence C2 speakers for just over a year. The Confidence C2, still available for $13,000 USD per pair, is a four-driver, two-way design in a tall, narrow cabinet that weighs about 88 pounds. I really liked it. It was well balanced if a touch warm, with full bass and meaty highs. The biggest drawback that I heard was that the 87dB-sensitive C2 needed to be fed a lot of power before it began to be musically involving. At lower output levels it wasn't the most expressive loudspeaker, but at mid-level volumes and up it could sound fantastic.
Imagine my surprise when I got Dynaudio's press release announcing the subject of this review: the Focus 360. Here is a three-way loudspeaker -- as opposed to the two-way C2 -- that also has four drivers, a cabinet weighing 81 pounds, and a retail price only slightly more than half the C2's: $7000/pair. The Focus 360's finishes of real-wood veneer are even nicer than what I remember of the C2's, and it includes some of Dynaudio's best drivers, such as the Esotar2 tweeter and cast-frame mids and woofers. The Focus 360 is also 1dB more sensitive, according to Dynaudio, at 88dB/2.83V/m.
From a value perspective, the Focus 360 was clearly, from afar, a speaker that held a lot of promise. That was all the prompting I needed to request a pair for review.
360-degree view
The Focus 360 is more impressive in person than the photos on Dynaudio's website give any hint of. It's large -- 48.8"H x 9.8"W x 15.2"D -- with substantial, seemingly very dense cabinet walls that taper slightly from front to rear. In fact, when I saw the Focus 360 in person for the first time, at the 2010 Consumer Electronics Show, I exclaimed to Mike Manousselis, Dynaudio's head of US operations, "That's the Focus 360?!" I was surprised that it looked so attractive -- on the website, it looks a bit boring. But at the show, it looked bigger and sleeker and had a nicer finish than those photos had led me to expect.
The 4-ohm Focus 360 is a full three-way design, with a pair of 8" Magnesium Silicate Polymer (MSP) woofers mounted below a 5.75" MSP midrange. Above that mid driver is the Esotar2 soft-dome tweeter -- Dynaudio's best. Overall, it's an impressive array of drive-units: the two bass drivers have a theoretical advantage over a single unit in the areas of output capability and low distortion. Relieving the 5.75" midrange of bass duties at 400Hz also lets Dynaudio use a smaller driver in the midband, which could produce a better-behaved response at the top of its passband (the larger the driver, the more trouble it has reproducing higher frequencies). Being a three-way, the Focus 360 also avoids having the midrange reproduce bass frequencies, which should translate into lower distortion as well. Lastly, the Esotar2 tweeter, crossed over at 2200Hz to the midrange, handles power famously well, and (I came to find out) gives up nothing to some of the stiffer, more exotic diaphragm materials available to speaker manufacturers today. The Focus 360 has a claimed frequency response of 31Hz-25kHz, +/-3dB -- when room gain is taken into account, that's almost full-range sound.
The Focus 360 has a single set of good-quality binding posts for single wiring, these recessed in a terminal cup at the speaker's bottom rear. Above that cup is a flared plastic port for the reflex loading of the bass drivers. Peering into this port, I noted the foam lining the cabinet's interior walls, and could see at least two shelf braces for added panel stiffness. Although the cabinet isn't what I'd call dead, knocking on it produced no thin or rattly sound. The 360's simple-looking but beautiful cabinetwork is offset by an understated black plinth at the bottom, a small Dynaudio logo affixed to its front. The grilles are a bit cheesy in construction, with tiny plastic pins that are sure to break if used often. But I'd rather a manufacturer skimp on the grilles than on the speaker itself -- and anyway, I almost never use speaker grilles. Screw-in floor spikes are provided.
The Focus 360 is available in four real-wood finishes: Maple, Cherry, Rosewood, and Black Ash. My Maple samples were flawlessly finished with book-matched grain.
Sound
The most striking aspect of the Focus 360's sound was its neutral midrange. I found it so lacking in coloration that it highlighted, in comparison, the relatively non-neutral sounds of most other speakers. This was true with the voices of both male and female singers. For instance, Michael Bublé's "Always On My Mind," from his Call Me Irresponsible (CD, Reprise 100313), was tonally natural, full of information, and palpably in my room. Bublé's voice on this recording is a touch larger than life, and that's how the Focus 360s presented it within their well-delineated soundstage, reproducing all the detail in his voice with a neutral sonic demeanor. There was no editorializing in the midrange -- something that any true high-fidelity speaker must not do.
Bass was taut, but not too much so. It was quite natural and neutral -- characteristics that were the hallmarks of the speaker overall, though they were still most audible in the midband. Still, the Focus 360 was able to admirably energize my room with bass with tracks such as "Low," from electric bassist Jonas Hellborg's The Silent Life (CD, Day Eight Music 26). The 360s did more than just hint at how low the electric bass guitar can play -- they had genuine weight and solidity well into the 30-40Hz region in my room. The bass was also nicely articulated and plucky, with smooth transitions up into the midbass. The bass frequencies were a fully integrated part of the whole picture, indicating a good blending of the drivers' outputs. Admittedly, the 360s couldn't do subwoofer-type bass and shake the whole room -- but neither did they blow up when I experimented with recordings that go ultralow. With the great bulk of the music I listened to, I never felt the need to hook up a sub.
The highs, too, were quite good. In fact, this is an area audiophiles need to pay particular attention to when auditioning the Focus 360. If you assume that only an exotic hard-domed tweeter can sound ultradetailed and airy, you'll be surprised to find out that the Esotar2 in the Focus 360 can deliver all the detail and air you could ever want. I listened to many, many tracks to determine just where the Esotar2's weak spots were, and man, did I have a hard time finding any. The Indigo Girls' "Get Out the Map," performed live on Lilith Fair: A Celebration of Women in Music (CD, Arista 07822-19081-2), includes some distinctive crowd noises at the beginning of the song, as the voices are accompanied by some simple pluckings of a banjo. The Dynaudios fully differentiated these sounds from one another in space, while weaving a nice ambience that suffused my Music Vault. The sound was both extended in frequency and light on its feet, with great density of information.
The 360s' soundstaging and imaging were very good to excellent. I could easily map performers on the soundstage, which was both wide and deep, aided no doubt by my room, which has a good sound of its own. An example was violinist Marianne Thorsen's recording of the Allegro of Mozart's Violin Concerto 4, K.218, with Øyvind Gimse and the Trondheimsolistene, from the 2L sampler The Nordic Sound (BD/SACD, 2L 2L-RR1-SABD; Thorsen's recordings of Concertos 3-5 are available on 2L 2L38SACD). The performers were impressively spread across my room, with images clearly located beyond the speakers' outer side panels, when appropriate. There was none of the image wander that indicates a poorly matched pair of speakers. Central images were scaled just right, and images didn't seem too tall or too short.
At this point, it might sound as if the Focus 360 was almost a perfect speaker. Not quite. The one area that could stand improving is its overall transparency -- its ability to lift that last thin veil that prevents tiny details in the recording from reaching the listener. This is a very small flaw -- the Focus 360 just barely fails to communicate only that last iota of microdetail. I noticed this most in the upper and lower bass, though it did extend a bit into the lower midrange.
Against . . .
I had on hand an interesting comparison loudspeaker: the Paradigm Reference Signature S2 v.3. At $2598/pair, the Paradigm costs less than half as much as Dynaudio's Focus 360. However, as you perhaps read in my "The World's Best Audio System," in March 2010, the Paradigm easily competed with speakers costing much more than themselves. Against the Focus 360, the Paradigm was quite competitive in the mids and highs. Of course, the major design advantages you're paying for with the Dynaudio are its two bass drivers, its three-way configuration, and a big enough cabinet to house it all, and those advantages pay dividends -- as would be expected, the Paradigm is no match for the Dynaudio in the bass. The Focus 360 simply goes lower, and with excellent fidelity.
The midrange was another matter. If you expected these two well-designed loudspeakers to sound exactly alike in that region, well, they don't. The Dynaudio was simply more neutral, sounding like nothing if not the actual recording playing through them. The Focus 360 was the epitome of uncolored. The Paradigm, on the other hand, was mostly neutral. It had a touch more energy in the lower midrange, however, that made it sound just a bit richer and more tonally full. This was most obvious with male voices, of which the Paradigm cast slightly more bottom-heavy, fuller images. I got the sense that these two sound characteristics were carefully chosen: The Paradigm warmed up the lower mids a smidgen to make up for its lack of low bass, while Dynaudio, which did produce true bass, let the mids stay as neutral as could be.
It was in the highs that I expected to hear huge differences between the two models -- how could the Paradigm's beryllium tweeter and the Dynaudio's soft dome sound in any way similar? Well, they did. In fact, with some tracks, if you could isolate just the highs, the two speakers were virtual overlays of each other. I guess that goes to show that you can't simply look at driver material and assume that you know how that driver will sound in the context of a given speaker model. The implementations of these materials are keys, and in this case the disparate materials are incorporated into great tweeters, and these tweeters designed into terrific loudspeakers. Simply put, both tweeters were champs at retrieving detail, and at producing a clean response out to the highest highs. I could trip up neither of them, even when I played high-resolution material with ample energy up top.
Summing up
Manufacturers of high-value loudspeakers whose products challenge far more expensive gear aren't all that common. Two speakers that come to mind are the PSB Synchrony One ($5000/per pair) and the Paradigm Reference Signature S8 v.3 ($6500/pair). Both have set standards for what can be achieved at their respective real-world prices, delivering full-range sound that you just wouldn't expect for that money. Up to now, Dynaudio had no model that could directly compete with them in terms of performance for price.
That has changed. The Dynaudio Focus 360 offers a lot of performance for $7000/pair. In fact, in terms of value, it's the most impressive speaker I've yet heard from the specialty Danish manufacturer -- and one of the most impressive speakers I've reviewed in some time.
The Focus 360 is big, bold, and surpassed my expectations. I can't imagine Dynaudio not selling a lot of them. It's easily one of the best loudspeaker values now available.
. . . Jeff Fritz
jeff@soundstagenetwork.com
Dynaudio Focus 360 Loudspeakers
Price: $7000 per pair.
Warranty: Five years parts and labor.

Dynaudio A/S
Sverigesvej 15
DK-8660 Skanderborg, Denmark
Phone: +45 86-52-34-11
Fax: +45 86-52-31-16

Website: www.dynaudio.com

US distributor:
Dynaudio North America
1140 Tower Lane
Bensenville, IL 60106
Phone: (630) 238-4200
Fax: (630) 238-0112

E-mail: sales@dynaudiousa.com


Website: www.dynaudiousa.com