April 2009
Bel Canto Design e.One REF500 Mono Amplifiers
by Bob Wood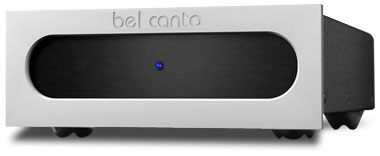 Review Summary
| | |
| --- | --- |
| Sound | "The REF500s were of a rare variety that displayed dynamic prowess, perhaps due to their lower overall gain." "This lower-than-usual level resulted in plenty of "there" there, without thinness. Voices seemed especially lifelike, and I noted more chest than throat. Even at low volume, there was plenty of resolving power." "I also heard the effects of a low noise floor, which were noted as a more resolving, involving, and detailed sound. In other words, even at low levels, I could hear low-level detail." |
| | |
| --- | --- |
| Features | "The [fully balanced] Bel Canto REF500...represents a new generation of the company's e.One switching amplifiers -- the second iteration, containing the third version of B&O's ICEpower module." The input stage is "tweaked with Caddock resistors, low-ESR decoupling capacitors and low-noise regulated power supplies. The target benefits are reduced sensitivity to power-line effects, lower noise, better power delivery, and increased dynamic capability." "The REF500s are rated at 500 watts into 4 ohms and 250 watts into 8 ohms." |
| | |
| --- | --- |
| Use | "Under the caveat "your mileage may vary," your choice of cables with the REF500s will help you fall in love or drive you to divorce. The best advice I can offer is to experiment." "There are no air vents, and they are not needed. At my listening levels, the amps reached only a warm level." |
| | |
| --- | --- |
| Value | "They are a step forward in the march of class-D amplification into the world of organic high-end audio." |
Class-D amps suffer from a couple of widely held misconceptions: "D" stands for "digital" (not true) and brings with it nasty artifacts (not always true) versus the smoother sound of conventional "analog" amplifiers. In reality, class-D amps, also called switching amplifiers, switch their output devices on or off at very high speed. This allows for great efficiency, as more than 90% of the input current is converted to output power. Plus, class-D amplifiers can be bantam weight and tiny when compared to the much heavier traditional amplifiers. Because class-D amps don't generate much heat, heat sinks aren't necessary. To some, light weight equates to fewer parts, less circuitry and lower quality.
The Bel Canto REF500 ($4990 USD per pair) represents a new generation of the company's e.One switching amplifiers -- the second iteration, containing the third version of B&O's ICEpower module touted to increase clarity and improve high-frequency extension while lowering high-frequency distortion. The ICEpower module contains its own switching power supply, which can accept either an AC or DC input. Bel Canto cascades its own proprietary 300-volt DC power supply ahead of the ICEpower module. This, Bel Canto feels, cuts noise and, with more energy storage built in, gives more weight or "gravitas" to the sound. Together, these are said to effect a cleaner, quieter sound.
Then there's the input circuit. It is tweaked with Caddock resistors, low-ESR decoupling capacitors and low-noise regulated power supplies. The target benefits are reduced sensitivity to power-line effects, lower noise, better power delivery, and increased dynamic capability. So the REF500 isn't simply an off-the-shelf module inside a fancy box. Bel Canto has gone to great lengths to find ways to improve what comes stock from B&O. The final design is auditioned in-house on electrostat, ribbon, and dynamic speakers.
The REF500s are rated at 500 watts into 4 ohms and 250 watts into 8 ohms. If you want more power, the REF1000s double this output. The damping factor for the REF500 is greater than 1000. Dynamic range is specified at 121dB. Frequency response is given as +/-0.5dB 20Hz-20kHz. Each amp weighs 15 pounds and measures 8 1/2"W x 3 1/2"H x 12"D.
The industrial design is first-rate. The minimalist front plate, a dark panel with a blue power LED, is framed by a surround of substantial silver edging sporting an engraved Bel Canto logo. On the rear you'll find switchable balanced XLR and single-ended RCA inputs (the REF500's circuit is fully balanced), five-way WBT speaker binding posts, a power switch, and an IEC power-cord receptacle. There are no air vents, and they are not needed. At my listening levels, the amps reached only a warm level.
System and setup
My gear includes a VSE-modified Sony SCD-1 CD/SACD player, a Great Northern Sound-modified Audio Research LS5 Mk III preamp, and Wilson Audio WATT/Puppy 7 speakers. All interconnects are balanced Audience Au24. Speaker cables are also Audience AU24. Power arrives from a dedicated 100-amp breaker box, with each dedicated outlet filtered by Audience a1Rp conditioners. The CD/SACD player and preamp rest on Aurios footers and a Salamander rack that is inset into the wall and backs into a closet. Power cords are Electraglide Reference Fatboys. I recently replaced NuForce 9 SE V2 monblocks with a single Classé Audio Delta CA-2200 stereo amp. The room was designed by Rives Audio.
While Bel Canto has made some effort to reduce the effect of interactions with wires, known to be a class-D issue, when I swapped out my Electraglide power cords for what I believe are an old pair of Bybee PCs I had cryo'd, I did hear a difference, as I would ascribe much more etch to the Bybee cords. This was most noticeable on poorly recorded or hammered-with-processing CDs. Under the caveat "your mileage may vary," your choice of cables with the REF500s will help you fall in love or drive you to divorce. The best advice I can offer is to experiment.

Regarding burn-in, I listened to the REF500s right out of the box to simulate an impatient new owner, then again at 50 hours, and finally did the bulk of my listening after 300 hours. No question, the impatient buyer will be disappointed. The sound is congested and muffled, and the soundstage is constricted. At 50 hours, the improvement was obvious. The presentation opened up, displaying more more air and ease. At 300 hours, I settled in for extended listening and heard what I describe below.
Sound
The Bel Canto REF500 is the seventh class-D amp I've heard in my system. Each sounded different from the others. There was something missing, hyped or transformed in the lower mids to upper bass that flavored many of the class-D efforts I've heard. Also, some designs came down on the analytical side of the spectrum, noted in the high frequencies with greater edginess, while others were more organic. All seemed to feature great bass.
The REF500s were of a rare variety that displayed dynamic prowess, perhaps due to their lower overall gain. This resulted in a playback level that had me leaving my chair to turn the music up and engendered listening satisfaction. I listened through CDs completely, enjoying it all. I don't mean to imply that there was something added at low volumes or subtracted at high ones; such was not the case. With the 19-track compilation CD Don't Mess With Texas (TMP Music 310304), which was recorded in many studios by many artists, the vocals were clear with no hint of grain. The presentation wasn't euphonic, as the wide variety of performances, studios, and mixes still showed distinct character. This lower-than-usual level resulted in plenty of "there" there, without thinness. Voices seemed especially lifelike, and I noted more chest than throat. Even at low volume, there was plenty of resolving power.
I then put on a CD that was highly touted once upon a time: James Brown Live at the Apollo (MFSL UDCD583). I had only listened to it briefly, disappointed, and filed away years ago. Now I understood why this seminal performance was so well regarded. It's odd in a way: Brown is in one channel, the Flames are in the other, and you almost wish for a flip switch so you can put him in front of the band. The audience is heard in both channels. He could clearly hypnotize an audience -- a master entertainer in an amazing performance. The air was clean, scrubbed by the call and shrieking response between performer and audience, and all the while the band pulsed in soulful power. Even the shrieks were clean, and there was no shatter to the high frequencies.
I also heard the effects of a low noise floor, which were noted as a more resolving, involving, and detailed sound. In other words, even at low levels, I could hear low-level detail. I eventually cranked up the volume. I probably know Steely Dan's Gaucho SACD (Universal/MCA 7048) better than any other disc in my collection. I never tire of it. My notes again indicate more chest than I am used to on voices, even within the choruses, which were exceptionally well resolved, as was the voice of lead singer Donald Fagen. I could hear the clarity of his voice on "Chase the Dragon" and "My Rival." I wrote in my notes: "a righteous mellowness serving the music appropriately -- the reeds, horns, synthesizer." Translate that to mean there was plenty of swing. Think of organic sound, just as in real life.
Through the REF500s, the drum-and-bass intro to "Babylon Sisters" was sized just right. The extremely subtle, whispered "Santa Ana winds" was right there, fully present. Choruses appeared deeper in the soundfield, yet were clearer and better resolved than I've heard. Crescendos were free of any sonic pollution. And I found that this disc, which has always sounded rather dry, to have some soft reverb overlaying the music. Again, that's resolving power.
There's a nice mellow side to Steve Miller on his Born 2B Blue CD (Capitol C2-48303). With the Bel Canto amps, little tastes of ear candy (guitar licks, picks, finger snaps) popped out of the mix, hard left or right, sometimes seemingly forward of the soundstage. On this disc, Miller's close-up, layered, intimate vocals appeared and disappeared into thin air like slow-motion bubbles. On "Filthy McNasty," Bobby Malach's saxophone was holographic. Billy Peterson's purring bass line was like a big cat. On the title track, Milt Jackson's vibraphone was palpable. The significance of what I heard here is that the position and depth of the little touches were easily distinguished -- not lost in the louder music. With some amps, they are also too bright, in others dulled by the surrounding louder material.
Playing the SACD from Jaco Pastorius's Big Band, Word of Mouth Revisited (Heads Up HUSA 9078), I was impressed by the cut "Barbary Coast." This is exciting and alive with dynamics. Definition -- from cymbal shimmer to brass blat to bass runs -- and staging brought the band into the room. How could anyone hear that and wonder about whether class D has arrived? This cut had the impact of a defibrillator!
Big Country's eponymous debut CD (MCA MCAD 11446) always seemed to me to have just a touch of edge to the vocals. Through the REF500s, though, what was once misheard as a trace of spit resolved itself into very closely doubled vocals. The well-recorded guitars and harmonica imaged appropriately on point. I believe I heard more detail to pick up the vocal trick, but not at all in any analytical sense.
James Taylor's new Covers CD (Hear Music HRM 30829-02) seems to have been recorded with great care. Taylor's voice is the standout. It sounds real -- completely unprocessed. With the Bel Canto amps, the horn section, the strings, and the backup singers were nicely present. Listen to the intimate violin on "Wichita Lineman" and the gentle brushes on the drums in the background. Or check out the dynamic drive to "It's Growing" or "Some Days You Gotta Dance." The REF500s delivered this musical detail intact, including a superb vocal presentation with plenty of body weight, not just nose and throat.
Consider a line between "analytical" and "organic"; you can draw another line parallel to it stretching from "thought" to "feeling." The REF500s live on the "organic," "feeling" side of this continuum. There was a sense of effortlessness -- no strain or disproportion. Initially I thought the REF500s might be a little bass shy compared to other class-D amps I've auditioned, giving the lower mids more prominence, but I came to feel this was more in comparison to what I was used to hearing, rather than a true characteristic of the amps. It's in this frequency range that I've heard a darkness in certain other class-D amps. I've also felt that some of the others had hyped lower-bass prominence. Not so with the REF500s.
Brief comparisons
Since I'd just sold my NuForce 9 SE V2s ($5000 per pair), I couldn't play them side by side to compare directly to the REF500s. Still, the impressive NuForce amps seemed to go lower in the bass and were more analytical in the highs. The REF500s countered by making music sound more natural and real. The last amp I reviewed, the Classe CA-2100 ($4000), a conventional class-AB amp, certainly had a different, brighter texture to the lower mids in direct comparison to the NuForce amps, and a greater sense of rhythmic drive than the REF500s.
As for imaging, I heard more soundstage detail than I am used to with the REF500s, but the soundstage itself didn't extend beyond the usual in my room. The stage spread wasn't wider than my speakers, which, with some material, can wrap around me 270 degrees.
Each of these amps has obvious strengths, but all of them sound rather different. If you value the musical realism brought about by a more relaxed presentation, the Bel Canto REF500s are the amps to audition -- and perhaps buy.
Conclusion
Efforts at Bel Canto to improve the third-generation ICEpower module seem to have succeeded. The REF500 monoblocks delivered on the promise of low noise, as evidenced by good detail retrieval and heft amidst notable dynamic drive and power. They were subject to burn-in and cabling issues, as most amps are. I enjoyed my time with them and suggest a personal audition -- just be sure they are fully burned-in before you reach any decision. They are a step forward in the march of class-D amplification into the world of organic high-end audio.
...Bob Wood
bobw@soundstage.com
Bel Canto Design e.One REF500 Mono Amplifiers
Price: $4990 USD per pair.
Warranty: Five years parts and labor.

Bel Canto Design
212 3rd Avenue North, Suite 274
Minneapolis, MN 55401
Phone: (612) 317-4550
Fax: (612) 359-9358

E-mail: info@belcantodesign.com
Internet: www.belcantodesign.com