January 2010
Bel Canto e.One S300iU 24/96 Integrated Amplifier-USB DAC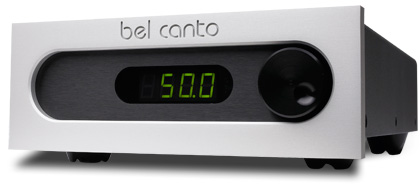 In high-end audio, more money doesn't always buy you more sound quality. I remember shelling out $1000 at Circuit City for a pair of Polk Audio speakers -- it blew my mind. Nowadays, the cornerstones of my audio system are a pair of Rockport Technologies Miras, which cost a mere 16 times as much as those Polk towers of a decade ago. To me, my Miras are worth every penny, and I've heard and learned enough over the years to be secure in that judgment. On the other hand, I've also learned that other upgrades I've made haven't been worth their considerable cost. So I keep my ears open, hoping to find products that will keep me grounded, yet let me get the most out of my music collection.
Value
One such product is the Bel Canto e.One S300iU 24/96 ($1995 USD), an integrated amplifier and USB DAC that supports sample rates up to 24 bits/96kHz. It comes in a very small package -- at only 8.5"W x 3"H x 12.5"D, the S300iU will fit almost any décor or space, whether a dedicated listening room or an executive office. The chassis is powder-coated black, and faceplate is silver. The front panel has only a small display and a single large knob with several functions: press it for two seconds to turn the S300iU on or off; rotate it to adjust the volume; briefly press it to see which input is selected, then rotate it to select another.
On the rear panel are four analog inputs with RCA jacks and one USB input, and on the right side of the rear panel are the five-way binding posts. The S300iU's small size meant that I had trouble using my Analysis Plus speaker cables, which are terminated in spades. I was able to make it work, but I had to raise the S300iU a bit. A thinner gauge of speaker cable, or cables terminated with bananas, would work better. On the far left of the rear panel are the power inlet and a pair of analog outputs.
Minus the i (for integrated) and the U (for USB DAC), the S300 is a $1600 dual-mono amplifier that has been a part of the Bel Canto line for a few years now. The S300 and the S300iU share the same e.One amplifier specs: Both are dual-mono designs based on Bang & Olufsen's very efficient class-D "switching" ICEpower circuitry, and are rated at 150Wpc into 8 ohms or 300Wpc into 4 ohms. The DAC used in the S300iU is not the 24-bit Burr-Brown chip used in the Bel Canto DAC3 ($2495), but a slightly less costly Cirrus Logic design. The S300iU has a slightly lower signal/noise ratio (>95dB) than Bel Canto's PRE3. But the S300iU accepts 24/96 signals via USB, a feature my older DAC3 lacks. Finally, the S300iU comes with a small remote control with only six buttons: Standby, Pre In, DAC In, Volume Up/Down, and hard or soft Mute.
The e.One S300iU 24/96 was very simple to install in my system. For music, it replaced my Simaudio Moon P5.3 preamplifier, Classé CA-2200 stereo power amplifier, and Bel Canto DAC3. Combined, those products retail for $12,400, not to mention the four XLR cables that the S300iU renders unnecessary. After connecting a pair of speaker cables and a power cord, and a USB cable to my digital source, an Apple MacBook Pro, I was ready to go -- after first making sure I'd checked my Mac's Audio MIDI settings and selected "Bel Canto 24/96" as the default output device.
But my audio system pulls double duty as the sound system for my home theater, and having a preamp with home-theater bypass (HTB) is a must. Luckily, the S300iU does. I used the front right and left RCA outputs of my Integra DTR-9.9 A/V receiver to connect to input 4 of the S300iU. The volume level for that input is fixed, so it can be controlled by an A/V receiver. Two quick presses of the Bel Canto's big knob put the input into HTB mode: the S300iU's preamp section would no longer be used, and the display now read "HTB." When I want to switch between music and movies, I press the remote's Pre In button; then I can select the input designated for movies, or the USB input.
The S300iU's volume settings range from "0" to "100," in increments of 0.5dB; I found 60 to 64 to be just about right, depending on the music. Above a setting of "50," the volume level didn't increase as quickly as it did from "0" to "50," and it was slower still above "60." This keeps you from accidentally increasing the volume too quickly -- a problem I have with the Simaudio P5.3, whose volume scale goes from "0" to "30," making it a bit more difficult to fine-tune. The average volume level I use with my reference preamp is "20," but adjusting it by one increment up or down seems coarse in comparison with the Bel Canto.
After setting up the S300iU, I didn't critically listen to music for a few weeks. Instead, I broke the unit in for the recommended 100 hours by listening to TV and movies. Another nice feature of the Bel Canto's preamp section: When you cycle through the inputs, the unit soft-mutes the volume, to smooth the transitions between sources.
Sound
The DAC chip in the e.One S300iU 24/96 is very good. Although this 24-bit Cirrus Logic chip is much less expensive than the 24-bit device used in Bel Canto's DAC3, I didn't feel that the difference in resolution was night-and-day. Recently, while blind-testing two USB DACs, a friend and I could easily pick a clear favorite every time. While I wasn't able to perform a blind test of the DAC3 and S300iU 24/96, I don't believe I could have accurately chosen which was which more than 50% of the time. Through its USB input, the S300iU was very detailed, with fine resolution. I never felt as if any information I knew to be on a recording was missing.
My early listening impressions were quite positive. For such a small product, the S300iU was fully capable of filling my medium-size room with big sound. The Rockport Miras are 4-ohm speakers, and I thought the Bel Canto's amplifier section did an admirable job of controlling and propelling their 10" woofers. The electric bass in Jonas Hellborg's "Black Market," from his The Silent Life (CD, Day Eight Music 28), gave the S300iU an opportunity to display its control in the lower octaves. This album is full of bass solos, most of which require an audio system to have both great agility and deep bottom-octave capabilities. My Rockport Miras have those qualities, but could the S300iU provide them with the necessary power and control?
Yes and no. I found that the S300iU was able to keep pace with the slapped bass, and the transient quickness was there as well. However, the impact wasn't quite as visceral as I've heard through much more expensive separates. Still, for such a small component to admirably drive a large three-way speaker says a great deal about just how capable the S300iU's amplifier section is.
In the upper frequencies, I found the S300iU easy on the ears. Radiohead is one of my favorite bands, and their recent album In Rainbows (CD, ATO 21623) is a disc to inspire the next generation of alternative artists, as well as their legions of fans. "Reckoner" begins with a tambourine in the left channel and a lone cymbal in the right; the tambourine is close-miked, while the cymbal has a little more air around it. I felt these sounds were smoother through the S300iU than through my reference gear. The highs, while extended, also seemed a little more controlled. Through my reference gear, these instruments sound larger, their higher frequencies more extended. I liked the Bel Canto's controlled, silky-smooth sound, however.
Finally, Neil Young's "Tell Me Why," from his Live at Massey Hall 1971 (CD, Reprise 43328), has become one of my favorite tunes. Ever since I bought the disc earlier this year, it's been in my car stereo, and I doubt I'll replace it any time soon. The sound quality of this live recording is so transparent that listening to it on a true high-end rig is something special. I usually listen to this CD at lower levels than normal, to make the session as intimate as possible. At higher levels, Young's voice can sometimes overload the room a bit; a lower level helps keep the size of the vocal image closer to what he'd sound like if he were actually in the room. I felt that the S300iU reproduced this performance as realistically as it could be. While Young's voice can sometimes be a bit harsh, I felt the Bel Canto softened it just a trace without taking away from his performance. Also, his acoustic guitar was clean and precise, and occupied just the right amount of space in the soundstage.
Once set up, the S300iU seemed to "disappear" from my listening room. Throughout my time with it, I found it a very well-rounded product with very little sound of its own. In fact, I so enjoyed my time with the S300iU that I was in no hurry to reinstall my reference gear. Not only did it do an admirable job of feeding my speakers a high-quality audio signal, but this $1995 component replaced $12,400 worth of audio gear while taking up considerably less space.
The e.One S300iU might best be described as a gateway product for someone who's 50% into movies and 50% into music. Until a few years ago, I would have described myself as just such a 50/50 guy; in fact, I was using an Anthem Statement D2 processor to do both jobs. Switching to a separate preamplifier made a huge difference in my enjoyment of music. I still love my movies, but I'm now a music guy who's maximized his system to excel at two-channel audio. Had the S300iU been around a few years ago, it would have definitely caught my ear, especially as I dove into the world of computer audio.
The S300iU is on a level completely different from that occupied by my Integra DTR-9.9 AVR. Music had much more dimensionality through the Bel Canto, and soundstages were deeper, and contained tighter, better-defined images. From top to bottom, highs were more extended, lows had greater weight, and mids were much sweeter. The only advantages of an AVR are its abilities to manage the bass and correct the room with DSP -- but my room is already treated, and I don't use a subwoofer when listening to music. The Bel Canto was just a more precise instrument that let me hear the best from my speakers. If you're ready to take your home-theater system to the next level and explore the realm of two-channel audio, I can't think of a better product to take you there.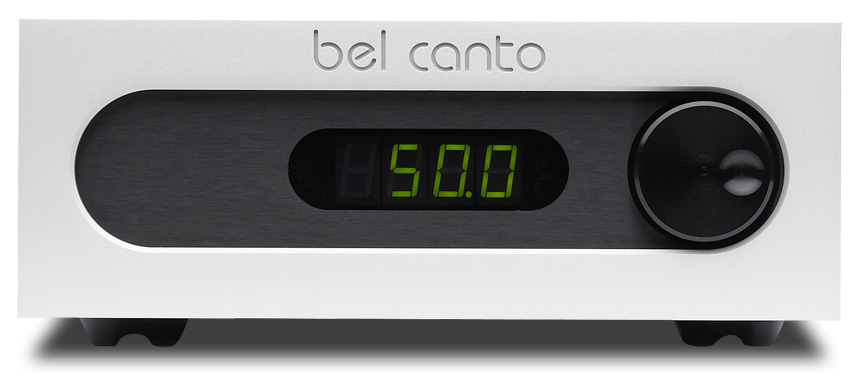 Conclusion
Bel Canto's e.One S300iU 24/96 is a top-notch product in both performance and price, and the fact that it comes in such an unassuming package makes it one of the more unique high-end bargains I know of. While not the last word in anything other than style and convenience -- no product can be everything to everyone -- the S300iU did everything better than I'd expected it to, given its price and size. Perhaps best of all, at $1995, this do-it-all component is priced low enough to attract entry-level buyers to the high end. Once they get a taste of what the S300iU has to offer, they may never feel the need to upgrade.
. . . Randall Smith
randalls@soundstage.com
Bel Canto e.One S300iU 24/96 Integrated Amplifier-USB DAC
Price: $1995 USD.
Warranty: Two years parts and labor (nontransferable).
Bel Canto Design
221 1st Street North, Suite 300
Minneapolis, MN 55401
Phone: (612) 317-4550
Fax: (612) 359-9358
E-mail: info@belcantodesign.com
Website: www.belcantodesign.com