October 2009
Audio-Technica AT33EV Moving-Coil Phono Cartridge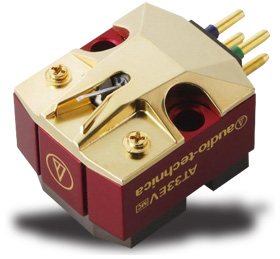 Here in the US, aficionados of moving-coil cartridges have many models to choose from. We have everything from excellent, affordable performance to state-of-the-art designs that, for some of us, are made of solid unobtanium. Yet some cartridges not imported to the US that have nonetheless found their way here, mostly through the gray market, have garnered cult followings that clamor for their official importation. Such is the case with the Audio-Technica AT33EV. Once obtainable only through dubious sources that provided no warranty, support, or service, this cartridge still managed to sufficiently wow US audiophiles to get Audio-Technica to take notice and begin to officially import and support it. If those AT33EV owners who post on the various Internet forums are to be believed, this is good news for all.
So when offered the chance to listen to a sample, I jumped. In November 2007, I reviewed Audio-Technica's OC9 ML/II moving-coil cartridge, and found that its excellent sound and very affordable price ($599 USD) made it a Reviewers' Choice. Would A-T's AT33EV ($899) better its less expensive cousin and lay claim to being the choice for the audiophile on a budget who still wants a healthy helping of top-quality MC sound at a reasonable price?
Design
The AT33EV is a half-inch, standard-mount, square-bodied cartridge in a titanium finish. There are no predrilled holes, so you'll have to use the screws with nuts and washers. Fortunately, the owner's manual, small as it is, is clear about the easiest, safest, and really the only way to accomplish this. The body is made of precision-cast hard aluminum with a synthetic resin sandwiching the structure top and bottom, to keep it vibration-free. However, with its boxy shape, beware certain chunky record clamps -- the cartridge can bump up against them as it glides through the runout groove.
The AT33EV has a 0.3 x 0.7 mil nude elliptical stylus on a tapered pipe cantilever of Duralumin, and comes with a very protective stylus guard. Inside are a neodymium magnet, and dual, wire-wound, PCOCC moving coils. Audio-Technica claims a frequency response of 15Hz-50kHz, and an output of 0.3mV at 1kHz. I didn't find this latter figure to be wrong, but I've heard from another user that he had to turn his volume level up much higher than he'd expected. Just in case, I recommend that your phono stage be a low-noise model that can handle low-output cartridges. The AT33EV has 30dB of channel separation, and A-T recommends a tracking weight of 1.8-2.2gm. The cartridge's mass of 6.9gm should work well with most tonearms.
Audio-Technica recommends loading the AT33EV with a resistance of 100 ohms -- though they're not saying that a higher choice might not work better. After trying a number of different options, I settled on 100 ohms as right for my system, but I strongly suggest you try as many resistance settings as you can, to find the one that sounds right to your ears.
System
My review system contained a VPI HW-19 Mk.IV turntable with SME 309 tonearm, connected to the phono stage with a Furutech AG-12 phono cable. For comparisons, I used either my Lyra Argo i or Audio-Technica AT-OC9ML/II MC cartridges. From the turntable, the signal was passed to my Audio Research PH5 phono stage, from thence to my Audio Research LS17 line stage, on through a new Bryston 4B SSTē power amp, and finally to my Paradigm Reference Studio 100 v.3 loudspeakers.
All interconnects were Solo Crystal Ovals, and all speaker cables were Solo Crystal Oval 8 biwires -- both from Analysis Plus. All electronics sat on Symposium Roller Blocks Series 2+ or Symposium Roller Block Jr.s, which in turn sat on Symposium Fat Padz, Symposium Pod Points, a Symposium Ultra Platform, Symposium Svelte Shelves, or a Symposium Isis Shelf. Accessories included two three-shelf Salamander Archetype racks, a Furutech deStat, Gutwire Notepads, a Blue Circle Audio BC6000 power conditioner, a VPI HW-16.5 record-cleaning machine, a Zerodust stylus cleaner, and a Hunt EDA carbon-fiber record brush.
Sound
I didn't have as much time with the AT33EV as I would have liked, thus I can't really tell you how long it took to break in. However, it sounded very good right off the bat -- good enough to make me happy I had a sample to listen to -- and continued to improve throughout the review period. A week to ten days in, the sound grew a bit murky, which made me nervous that it would stay that way. But after a few more days the sound returned to where it had started, then improved from there. A week of noticeable improvements was then followed by continuous improvement in the sound that was slight but steady.
When everything had finally sorted itself out, the major characteristic of the AT33EV was that its sound fell on the dark side of neutrality -- not too heavily, but noticeably. However, if you love bass, you're going to adore this cartridge. It let the lower frequencies fully bloom, with a clarity that should bring a smile to the face of any bass (or cello) lover. Yet despite this, the AT33EV never slowed or clogged up the sound, but remained quick on the draw whenever the music asked it to be.
While the AT33EV may be a darker-sounding cartridge than many, it did nothing to muddy the bass. Words I noted down to describe its bass performance were good, strong, deep, tight, detailed, and rich. When I listened to the beginning of America's "Tin Man," from their Greatest Hits (LP, Warner Bros. BSK 3110), the bass line was presented to me as never before. The A-T cartridge let me hear each pluck and purr of the electric bass guitar. Suddenly, I could better hear how that bass line carries the song along, and propelled it to its status as a pop classic.
Hand in hand with its way with the bass was the AT33EV's manner of handling transient response. Again, each note was very nearly fully formed, from opening pluck through harmonic to full decay. No single aspect seemed pushed forward or shortchanged. I find this impressive in a cartridge that sells for only $899. And wait till you hear it reproduce a well-recorded drum set. Wow. I had the feeling I was in the same room with the drummer.
I got another nice surprise when I moved my attention up to the midrange. The AT33EV presented the soloist, whether singer or instrumentalist, as the star attraction, pushing him or her slightly ahead of the band. Not a big thrust -- more of a gentle nudge, as befitting their part in the music. I enjoyed this, even if it wasn't entirely natural.
Overall, the AT33EV's midrange was magical. Any album I listened to that contained a tenor sax, Hammond B3 organ, or voice was presented as fully real; a well-rounded, three-dimensional person or instrument. So well did the AT33EV handle the midrange that, if you should try one and it fails to impress, I'd suggest looking at the other links in your audio chain; I'm pretty sure you'll find that the cartridge is not the problem.
Many audio components seem tailored for particular kinds of music, and the AT33EV's bread and butter was ballads. It preferred Ben Webster and Ike Quebec to late John Coltrane, Mozart to Mahler, James Taylor to the Who. However, when I asked it to get down and shake its booty, the AT33EV responded with an enthusiastic "OK!" -- if not with the ultimate control. It had very few problems rocking out when asked, reproducing enough of the pace, rhythm, and timing (PRaT) I expected at its price. Thanks to the AT33EV's low-end performance, I could listen to Frank Zappa, Joe Walsh, the Who, or any rock band with pure enthusiasm. But when I played something slow and sexy, I swooned at how well it made the music come alive. Listening to some of my old Billie Holiday LPs, I was in heaven -- so pure was the tone, so realistic her voice, that I was transported to the event. Pure bliss.
The AT33EV also breathed life into every well-recorded classical LP I played. It presented each orchestra as a complete organic whole, not just a bunch of sections that happened to inhabit the same acoustic space. For instance, a new favorite of mine (a gift from my good friend Marc Mickelson) is Clifford Curzon's recording of Mozart's Piano Concertos 20 and 27, with Benjamin Britten conducting the English Chamber Orchestra (LP, London CS 7251). This Holland London reissue of the original Decca, recorded by the legendary engineer Kenneth Wilkinson, sounds mighty fine -- and the AT33EV kept it that way. Each instrument, from Curzon's piano to the strings, horns, and woodwinds, was presented as not only spatially but tonally accurate. And the dynamics, while not top of the line, were never stunted enough to take away from my listening pleasure.
To me, the mark of a good MC cartridge is that it let my best albums sound like my best, while letting my less-than-stellar LPs (i.e., the bulk of my vinyl collection) sound still listenable. The AT33EV passed this test with flying colors -- through it, the music superseded any sonic degradation. Every album I played was enjoyable, but the ones I knew would sound great did, just as I'd expected them to. A top-notch MC will marry all its own strengths -- speed, dynamics, the breath of life -- to the top attributes of a good moving-magnet cartridge: harmonic richness and a lovely midrange. Once again, the AT33EV passed with high grades.
Comparisons
I made the Audio-Technica AT-OC9ML/II moving-coil cartridge ($599) a Reviewers' Choice back in November 2007, and I stand by that assessment -- I have yet to hear a better MC cartridge that offers so much of what top-flight MCs do at the price of an average MM cartridge. But the AT33EV, despite costing $300 more, ratchets up all the strengths of the OC9 another notch or two. Where the OC9 offers speed, the AT33EV went faster; where the OC9 sounds surprisingly harmonically rich, the AT33EV gave more fullness with no sacrifice in transient response; where the OC9 lets me sample high-end MC sound, the AT33EV let me sit at the table. The OC9 admits the listener to the high-end MC door for a pittance; the AT33EV will make you shell out a bit more, but you'll enjoy the party more.
To my mind, if you're going to spend more, you darn well better get more for your money, and the AT33EV offers just that. I'll leave the choice to your tastes and budget, though I still feel the OC9 is the best entry-level MC cartridge available, if only because there's quite a bit more competition at the AT33EV's price point than at the OC9's.
But you won't regret giving the AT33EV a listen. You may just find that its strengths more easily match your musical expectations than do those of other cartridges that are tailored for a different particular sound. If you already have an OC9 and like it, then when the itch to upgrade comes (and it will), buying the AT33EV will provide you with that extra dollop of sonic excellence for not much more money. It punches above its weight.
Compared to my twice-the-price Lyra Argo i ($1500), the AT33EV is still a fine cartridge, though it sounds a bit more coarse and loose in comparison. As MC cartridges go, the Argo i sounds more suave, sophisticated, refined, and smooth than the AT33EV; it digs deeper into the groove to extract those little bits of extra information that make my LPs sound more realistic, and with a sense of evenness that eludes the Audio-Technica. But that's as it should be, given the price difference. Does the Argo i double my pleasure? Yes. You might disagree, and I'd not argue with you. But keep in mind that, when we get into the price range of the Lyra, we're beginning to enter the realm of diminishing returns.
Conclusion
I found the Audio-Technica AT33EV a superb moving-coil cartridge that I could happily live with, enjoying each record I placed under its stylus. It brought out more of what's embedded in the grooves of my LPs than any MC in its price range that I've heard. It also made each album sound much more realistic than has any entry-level MC cartridge I've heard. Though, as I've said, it fell on the slightly dark side of neutral, in the end, its relative evenness of sound carried the day. While I would still call Audio-Technica's AT-OC9ML/II the budget MC of choice, the AT33EV is a cartridge to seriously consider if you're looking to enter the world of MCs, or to move up from your entry-level MC.
Having cartridges like the AT33EV around will make life difficult for makers of high-priced MM cartridges -- there's now reason to question how much more improvement you'll hear for all those extra dollars. Certainly, with the AT33EV, there's no reason to not get all the sonic bliss you can for less money. I'm glad Audio-Technica is now officially importing and supporting this excellent cartridge, which I heartily recommend.
. . . John Crossett
johnc@soundstage.com
Audio-Technica AT33EV Moving-Coil Phono Cartridge
Price: $899 USD.
Warranty: One year parts and labor.
Audio-Technica U.S., Inc.
1221 Commerce Drive
Stow, OH 44224
Phone: (330) 686-2600
Fax: (330) 688-3752
E-mail: sales@atus.com
Website: www.audio-technica.com